Let's face it: The Web3 space moves really fast. Considering how quickly things can change in the metaverse, a week in NFTs might as well be a month IRL.
Don't get us wrong — the merrier, the more people onboarded into the space. But because of the constant influx of great art and ideas, it's becoming increasingly difficult to keep up with all the news, launches, and general happenings.
Well, you can put the days of endless Twitter and Discord scrolling behind you as we pull together a weekly list of upcoming drops you don't want to miss. Here's what to look out for this week.
Adam and Hewan
Who: Yatreda, a family of artists from Ethiopia who makes art in the style of "tizita," which means nostalgia and longing for the past.
What: Digital art collection
When: Nov. 1
Where: Fellowship Trust
Why: In their words: "Adam and Hewan is another story which belongs to the world, but the way we artistically interpret it is based on my understanding studying the Tewahedo tradition. We all want to see ourselves in the first people, and this week, the world will know our Yatreda version."
DEADFELLAZ INFECTED S3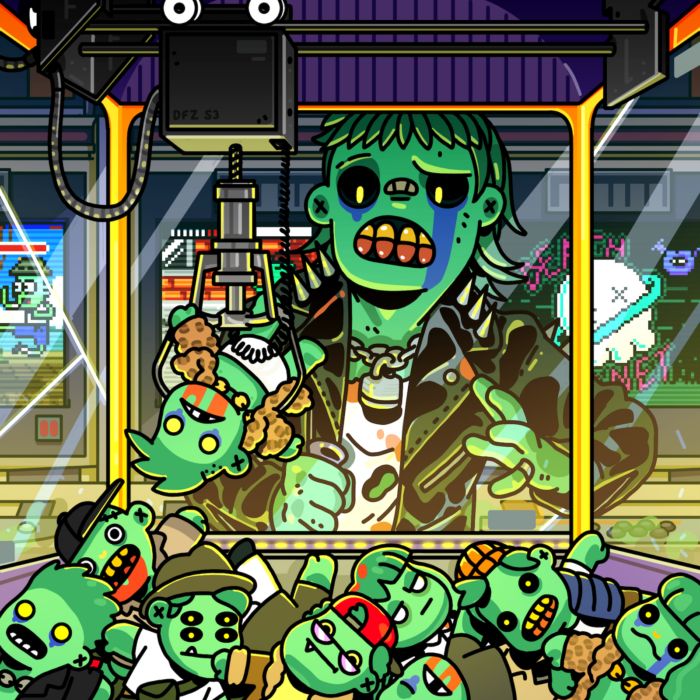 Who: Various artists in collaboration with DFZ Labs
What: A limited edition series of Deadfellaz featuring in celebration of Halloween
When: Oct. 31, 12:30 p.m. ET
Where: Foundation
Why: Back for season three of its limited edition series, Deadfellaz is once again launching "Infected" to showcase talented artists in the Web3 community. Each Halloween, Deadfellaz "infects" itself with the artistic creations of other talented individuals, resulting in a distinctive collaborative collection. This drop features artists like Joyce Liu, Hoshi Peach, and Rensi.
Creyniums
Who: RΞY (reylarsdam)
What: Generative crypto art collection with 6,900 tokens
When: Nov. 1
Where: TBA on Creyniums Twitter
Why: Deriving inspiration from ancient mythologies, the Mexican Day of the Dead (Dia de los Muertos 2023), and collage and animation techniques, Creyniums aspire to push generative art into artistically uncharted territory.
dgb & frens: Here For The Art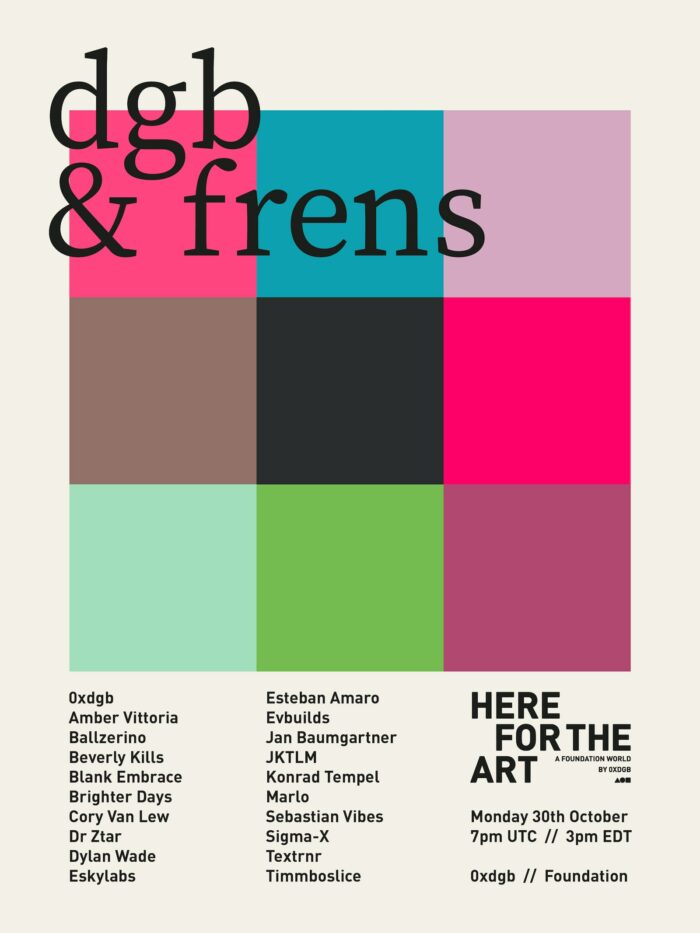 Who: 0xdgb
What: A collaboration with 19 other artists called "Here for the Art"
When: Oct. 30, 3 p.m. EDT
Where: Foundation
Why: A Foundation Worlds event to celebrate the anniversary of 0xdgb's first sale. Artists include, Amber Vittoria, Ballzerino, Beverly Kills, Blank Embrace, Brighter Days, Cory Van Lew, Dr Ztar, Dylan Wade, Eskylabs, Esteban Amaro, evbuilds, Jan Baumgartner, JKTLM, Konrad Tempel, Marlo, Sebastian Vibes, Sigma X, Textrnr, Timmboslice
ⱠØ₩₱ⱤØ₣łⱠɆ(S)
Who: Tustont
What: An experimental portrait series of 1/1s called "LowProfiles"
When: Nov. 2, 12 pm EST
Where: Foundation
Why: Although he is mainly known for his vector artwork, over the last two years, Tustont has been studying machine learning to experiment with new ways to create. Using over six different AI software and tools, building custom StyleGAN models, and heavy post-processing via Adobe Premiere- he has put together a series of animated portraits that portray the shadow of existence. Each distorted portrait provokes introspection and questions the intricate layers of identity in our digital age.