In a very short amount of time, CrypToadz has entered the upper echelon of NFT projects. Inspired by Larva Labs' iconic CryptoPunks, Toadz — a collection of 6,969 NFTs — was conceived by now prominent anonymous artist Gremplin during a time when PFP and Punk-derivative projects saturated the market.
Launched on Sept. 8 at 0.069 ETH each, the CrypToadz floor at press time has bounced between 5 and 15 ETH, with the collection as a whole achieving around 41,200 ETH (nearly $170 million) in sales volume. CrypToadz also currently sits in the top 15 most traded collections on OpenSea, even surpassing legacy NFT project Curio Cards on the world's largest NFT marketplace.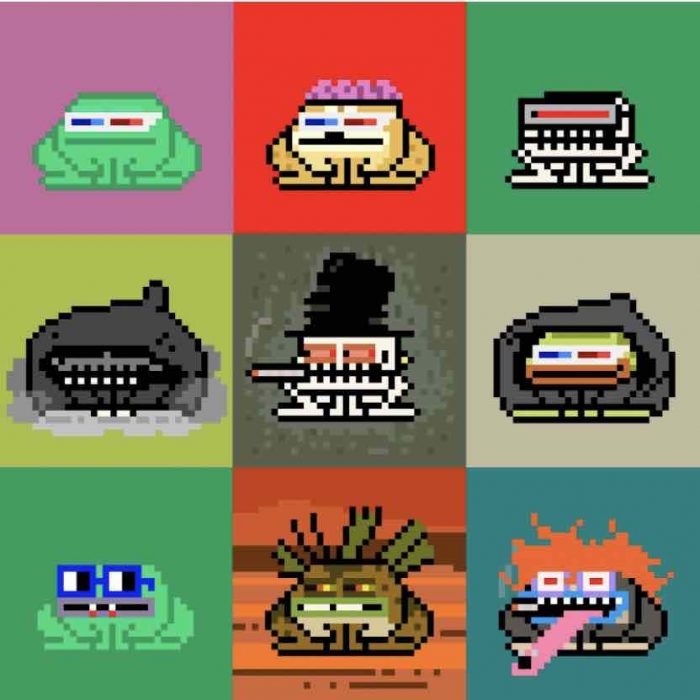 Gremplin's Rise From the Swamp
CrypToadz grew from the melding of social commentary and meme culture, and has accomplished importance beyond its collection of toad-themed JPEGs. Following in a long line of iconic memes such as Pepe the Frog and Dat Boi, Gremplin's amphibious collection has received praise from some of the most prominent NFT collectors and investors around.
Yet, CrypToadz — which sold out in about 15 minutes — undoubtedly benefited from the status Gremplin had previously achieved within the non-fungible ecosystem. Even prior to Toadz hopping up OpenSea's top NFTs chart, the enigmatic artist was on a long journey to solidify his reputation within the community.
Gremplin started his dive into crypto art around January 2021, and began building up his brand months prior to Toadz. Slowly churning out a wide variety of NFT pieces and projects, the anonymous artist developed his own signature style through trial and error.
"I had previously dabbled in flipping CryptoKitties in 2017 and am aware of the volatility in the space. So I spun up a quick online presence and started to mint things in a sort of scattershot method," Gremplin tells nft now. "I didn't get the immediate success I thought I would have, so I looked at what was selling, which were things spinning around in 3D."
With little experience in 3D art, Gremplin started making rudimentary pieces out of wool and cardboard. He spun these physical artworks around and minted the videos of his creations on Rarible, earning support from a small number of NFT collectors.
"That did OK," says Gremplin. "But then I wanted more of myself to show again, so I started modeling basic shapes in 3D [software] to draw over, and then I spun those around and drew over all of that. People liked that too, but that was a lot of work."
From there, Gremplin's ideas grew, and after a few months of gaining traction with his spinning 3D art, he realized that the NFT "trend" was lasting a lot longer than he initially anticipated. With longevity in sight, Gremplin decided to shift away from minting.
"By that time, I realized this super brief wave was more like an ocean," explains Gremplin. "So I stopped minting art and was doing more live commentary in the space with brief GIFs, fixating on the influencer Punk2476 [formerly Artchick] for a while."
The Road to Toadz
Over time, he became more comfortable with himself as Gremplin, and opportunities to build within the NFT space became abundant, leading to his involvement with Nouns, the fantastically successful NFT project with a current treasury of more than $50 million. Gremplin was already deep down the Nouns rabbit hole when a project called Weird Whales launched, providing the catalyst for CrypToadz.
Created by the London-based 12-year-old programmer Benyamin Ahmed, Weird Whales launched in July 2021, becoming next in a long list of CryptoPunk derivative projects. Taking direct inspiration from Punk traits, the whale-themed collection caught fire within the NFT community, selling out in less than 12 hours.
"As part of the Gremplin modus operandi, I was live commenting on [Weird Whales] by just quickly creating the first animal that came to mind and making a Punk version of it," Gremplin tells nft now. "That was, initially, Freaky Frogz."
As he drew more Freaky Frogz over the weeks after Weird Whales, Gremplin says it became more natural to just "portmantoad the name into CrypToadz" — a reference to the CryptoPunks from which both he and Ahmed derived inspiration.
After less than a month of his Toadz concept art floating around Discord and Twitter, Gremplin launched an official Twitter account in early August. As for the evolution of the project itself, the Toadz artist says it wasn't he who took the reins during CrypToadz's development, but a group of his friends.
"Some friends kidnapped me and made the Toadz project a reality, with expectations that it was mostly a proof of concept for them working together as a team," Gremplin tells nft now. "I think that proof of concept turned out fairly well!"
And beyond the project's development, Gremplin says his friends are still involved with CrypToadz in some effort or another. He highlighted team members Motivateme and Loaf for fostering a "really positive [Discord] community.

After the Toadz minting concluded, it wasn't only the whimsical character art that pushed the project forward, but hype from a slew of prominent influencers seeing the value in the collection. Most prominent were Punk4156, founder of the Nouns project, and Beanie, founder of PUNKS Comic, each giving Toadz a major cosign.
Over the months, Punk4156 and others have attributed the success of CrypToadz in part to its art being public domain. That is, the art depicted by each of the 6,969 NFTs in the collection is licensed under creative commons with "no rights reserved."
Specifically stated on the project's website, "Gremplin has waived all copyright and related or neighboring rights to CrypToadz." This means any CrypToadz can be used by anyone in the world as long as the art is used in a manner consistent with the CC0 license.
Yet, beyond finding a win in the CrypToadz community engaging with the collection's public domain IP, Gremplin says the success of his collection has been incredible yet difficult to process. What's more, he's not yet entirely sure what the project has meant for him as an independent artist.
"My brain is doing a great job of protecting me from thinking about this, and instead I focus on drawing random Toadz, working on Nouns, and trying to engage with the community when I can," Gremplin tells nft now. "This is all layered on top of my day job, so I'm personally stretched really thin, and incredibly thankful for our great [CrypToadz] team that has the energy to stay on top of everything."
As for what's next for the project, Gremplin says he and his team aren't putting too much pressure on grandiose plans. Instead, they're taking things as they come, and focusing on the community and developing in the present.
"We have a toadmap I could point to, but it's just vibes," Gremplin tells nft now. "The grand future is whatever our mass hallucination decides it is!"
Related Content:
Photos courtesy of Gremplin/CrypToadz.
Editor's note: At time of publication, members of the nft now staff are holders of CrypToadz NFTs.