On March 14, 2023, Instagram announced that it would be ending its work on digital collectibles (NFTs). In a Twitter thread, Stephane Kasriel, Commerce and FinTech Lead at Meta, announced that features supporting NFTs would be disabled across the platform.
"We're looking closely at what we prioritize to increase our focus. We're winding down digital collectibles (NFTs) for now to focus on other ways to support creators, people, and businesses," he wrote. Kasriel didn't offer any reasoning or justification for the decision, but said that creating financial opportunities for creators "remains a top priority."
Representatives from Meta told nft now that the company didn't have any more information to share about the reasoning beyond what Kasriel offered in his tweets. The company also didn't release any information about precisely when the features would be disabled, but representatives told nft now that dates should be decided in the coming weeks.
Ultimately, the news came as a shock to many creators on the platform, especially as the company only rolled out the features in recent months.
Instagram's NFT timeline
Instagram first started testing its NFT features with select creators in May of 2022. However, most users only got their first real taste of the platform's NFT integrations in August of the same year, when the company enabled the features for users in 100 countries all over the world.
However, at the time, the features only allowed users to display NFTs they created or collected. The platforms' core NFT functionalities had yet to be added — namely, the ability for users to mint, buy, and sell NFTs with one another.
It wasn't until November of 2022 that things changed. Just ahead of the new year, Instagram allowed a handful of creators to start selling NFTs on the platform. The artists who were selected were hopeful, believing that the move would lead to a new and more equitable creator economy.
"The NFT community would be wise to understand how intertwined we are with social media, […] I think with our powers combined, we can create a more sustainable system for creatives who work in interconnected online communities," Dave Krugman, one of the creators selected to test Instagram's NFT marketplace features, told nft now at the time.
That was only four months ago.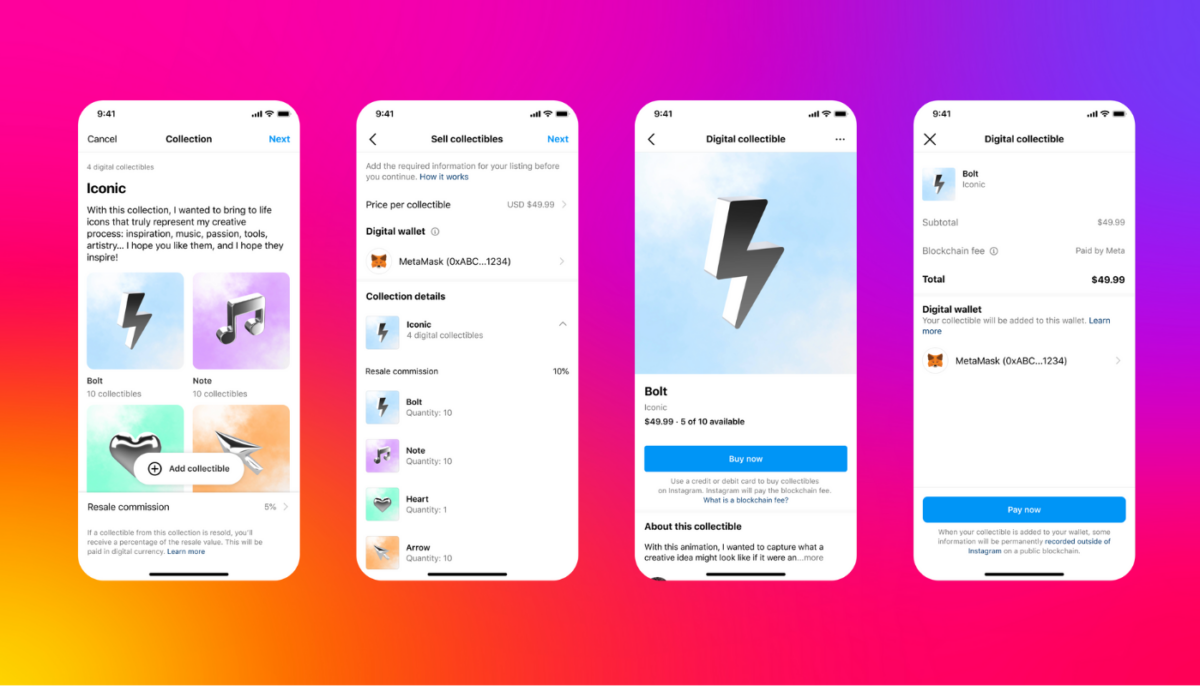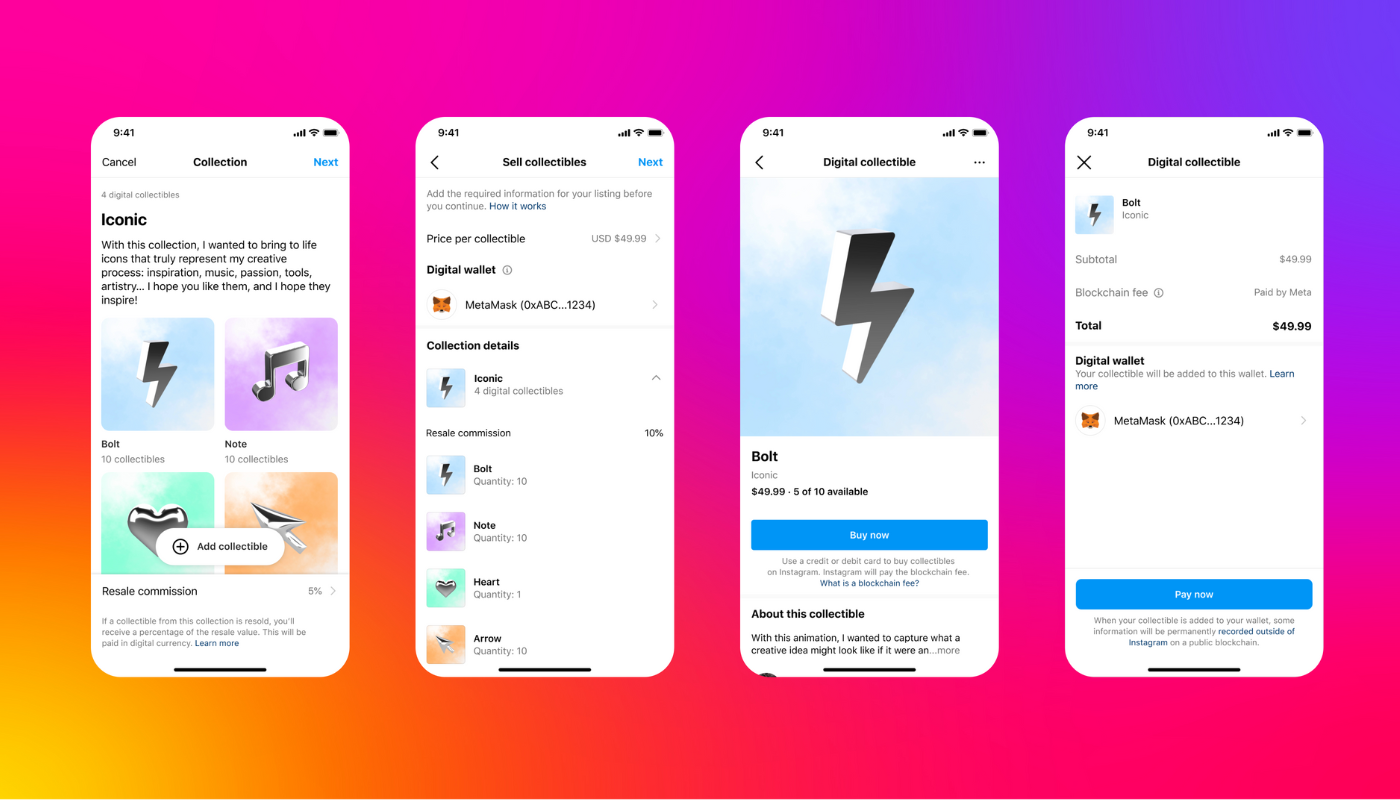 When nft now asked what comes after NFTs and how Instagram plans on supporting creators in the future, representatives said that they didn't have any product updates to share. Instead, they pointed to their existing monetization offerings as examples of where they are investing in creators, which includes enabling creators to earn from Meta directly, via direct support from fans, and with brand partnerships.
When pressed, the representative added that Instagram is looking to bring ads to reels on Instagram later this year and pointed to other ongoing projects. Specifically, they noted that eligible U.S. creators on Facebook and Instagram can receive gifts on Reels from fans who purchase them directly using Stars. They also noted that they scaled subscriptions on Instagram to all creators in the U.S.
Of course, these product offerings do little to assist creators who aren't based in the U.S. or who are in the U.S. but aren't eligible for the programs.
The Web3 community responds
When the news broke, Krugman was one of the first creators to respond. "Such a short-sighted move. [The] inclusion of digital collectibles has so much potential to help creators engage their communities and counterbalance the pitfalls of attention-based advertising economies. You guys quit before you even started. A real shame and undoing a lot of really smart work by great people there," he wrote.
Meanwhile, Connie Ansaldi, CEO and Founder of Carnaval Art, a blockchain-powered loyalty service for companies, claimed that the company was lacking foresight and allowing their fear to guide them. "You're not thinking in the long run. What if you would have said goodbye to the internet when the bubble exploded back in the 2000s? There would be no Google. Or Meta whatsoever," she said.
Other well-known artists, such as Nyan Cat creator Chris Torres, mocked the company for its ill-conceived and poorly thought-out plan.
But despite the surprise and anger from creators, sudden moves like this aren't entirely unprecedented at Meta — especially in recent months. Reality Labs, the division of Meta that works on AR and VR products, lost more than $13 billion in 2022 alone, and the company has been cutting costs in recent months. In November of 2022, the same month it rolled out its core NFT features, Meta laid off some 11,000 employees. The event was the largest cut in the company's history.
Instagram and Meta have yet to offer a detailed breakdown of their decision to discontinue their NFT features, and it is unclear whether or not their financial losses were a part of the consideration. That said, it seems like Meta's plans to take over the metaverse may not be off to a terribly great start.
This is a breaking story and was updated.