Since its November 2020 launch, Art Blocks has established itself as the preeminent platform for generative art within the NFT landscape. Artists worldwide, including Tyler Hobbs, Dmitri Cherniak, and Kjetil Golid have looked to the platform to host their collections. But what led to its rise?
10,000 colorful squiggles.

Art Blocks' CEO and founder Erick Calderon — better known by his handle Snowfro — created the Chromie Squiggle NFT collection in 2020 to help showcase the potential of Art Blocks as an art platform and creation tool. Since then, the collection has seen trading volumes in excess of 55 thousand ETH on OpenSea. Art Blocks has even adopted one piece from the collection as its official logo: Squiggle #7515, to be precise.
And on Thursday, October 27, Calderon announced his first Art Blocks project since these notorious Squiggles: Friendship Bracelets. The collection hopes to reconcile the value of these pieces with how children perceive the value of friendship bracelets, according to an embargoed press release shared with nft now.
Behind the bracelets
The Friendship Bracelets collection is a free generative art project that pairs creative coding with a spectrum of colors to create a "token of special friendship" that resembles the embroidery floss mementos from childhood. Calderon partnered with artist Alexis André, also known as MacTuitui online, to bring the idea to life.
Above all, the Friendship Bracelets collection is intended to celebrate the Art Blocks' community, not to mention the sheer power of friendship. "One of the things I admire about the Web3 space is the easy and intense relationships that can form over things like art, tech, and the future," Calderon said in an interview with nft now.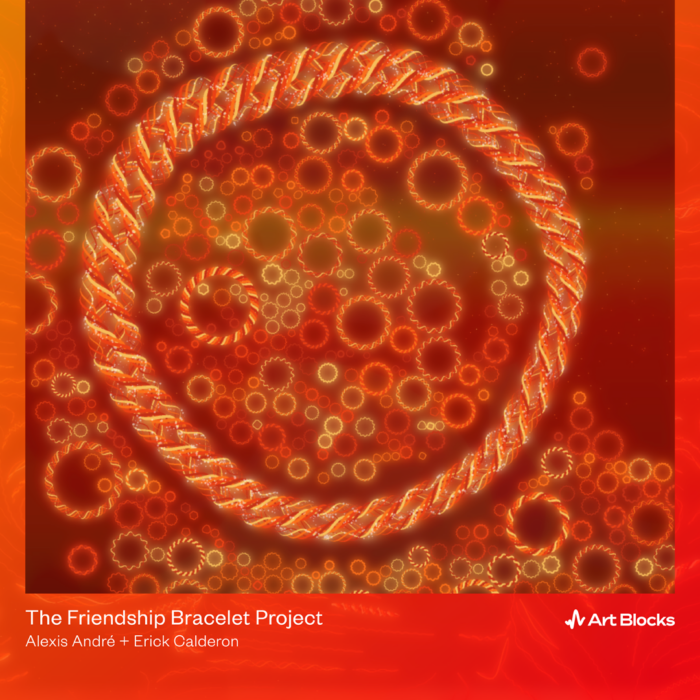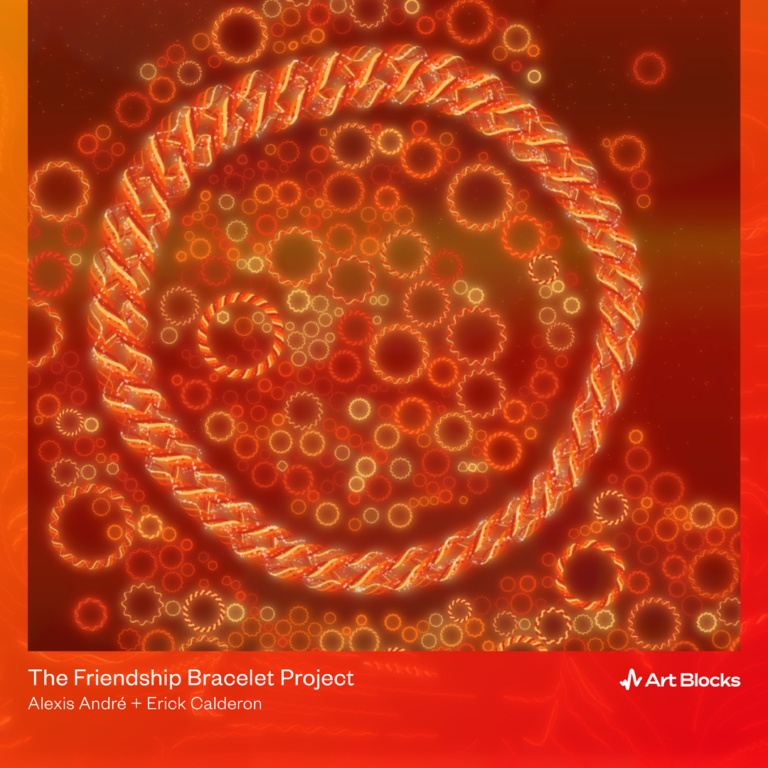 Anyone and everyone who's contributed to Art Blocks' current success via the purchase of a piece from the platform is eligible to mint two Friendship Bracelet NFTs for free, save for gas fees, of course. To be precise, eligibility is contingent on the owner's crypto wallet containing at least one Art Blocks piece at the time of mint.
Along with a Friendship Bracelet NFT, minters will receive illustrated instructions on how to make physical bracelets that match their digital ones. Minting will start on October 27, and remain open until January 10, 2023, at 1:00 p.m. ET. Once each Friendship Bracelet NFT is minted, holders can keep them and craft IRL bracelets, trade bracelets with other members of the Art Blocks community, or sell them on the secondary market.
"Participating in this project is a signal, both online and IRL, that you're a participant in this evolution of art + community. You are pushing the best ideas forward," Art Blocks said to its community in a statement to nft now. "You are the reason all of these imaginative projects come to life. Our community is what makes all of this possible. So, to say it plainly, we appreciate you, and we hope that you'll accept this bracelet as a token of our special friendship."