Digital artist Fvckrender has joined forces with Manifold, introducing an innovative mechanism that blurs the boundaries between the digital and physical art worlds. This initiative allows collectors to trade NFTs for tangible, real-world items through a concept called "Burn Redeem."
"At its core, this project is an exploration of the potential of smart contracts," Fvckrender said in an interview with nft now. "It's not just a digital art piece; it's a commentary on how NFTs are reshaping the landscape."
Burning Digital For Physical
As part of this collaboration, Fvckrender is offering collectors the opportunity to exchange two of his FVCK_AVATAR// NFTs for an exclusive 8" x 10" print. Notably, among the 500 signed editions available, only a select few will feature hand-drawn illustrations by the artist himself. Each of the 500 digital prints (pictured below) will be on Moab Entrada 8 x 10 in. paper, with a chrome emboss at the bottom.
"To participate in RESPONSIBILITY// you'll need to burn two FVCK_AVATAR// NFTs. This is a significant step to demonstrate your commitment and dynamically shift the value of digital assets," Fvckrender said. "Our use of avatars is deliberate. It's about addressing the surplus and methodically reducing it. In the process, we're pushing the blockchain to its limits and showcasing its flexibility."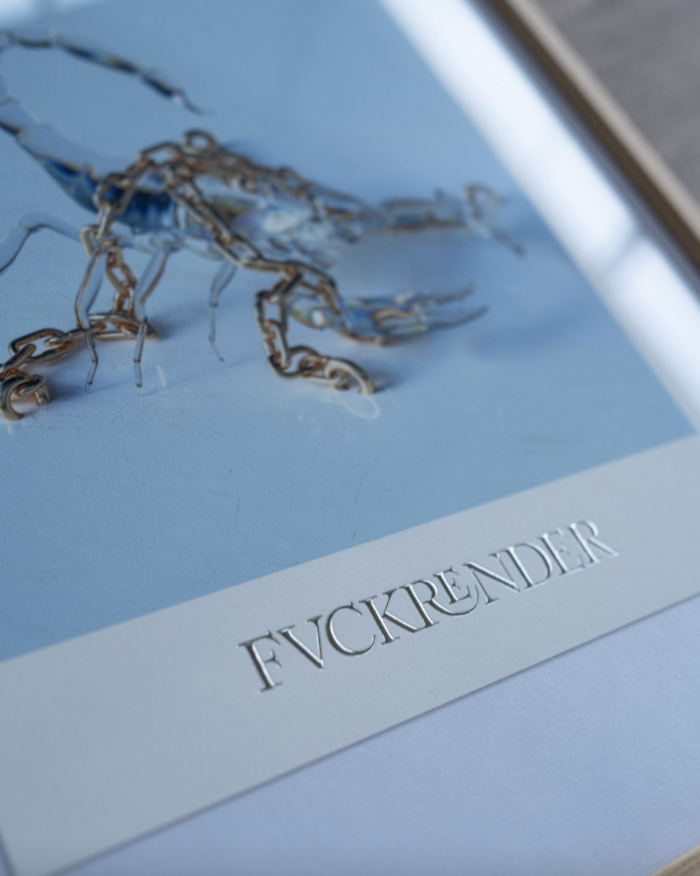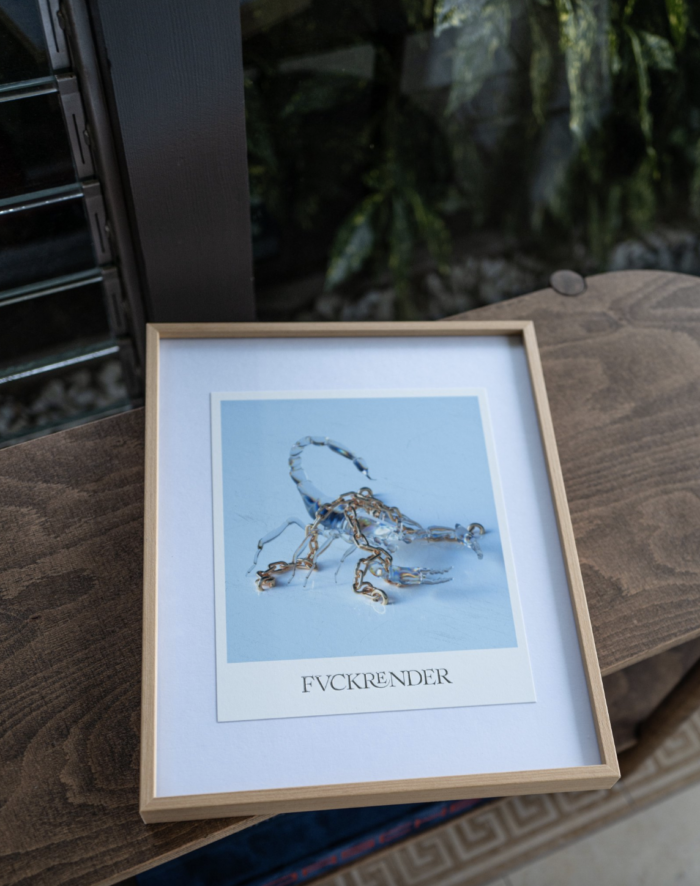 Scheduled to debut on November 10, the drop, powered by Manifold's new "GET-PHYSICAL" product, presents an intriguing fusion of the digital and physical art realms. It allows artists to leverage their existing artwork and collector base in a new way by burning their NFTs to reduce token supply in exchange for a real-life painting.
Collectors engaging in this venture will encounter a familiar web2-style checkout process, enabling them to submit their contact information directly to the creator for shipping. Moreover, the payment process seamlessly integrates on-chain transactions, including using ETH to cover product or shipping costs, ensuring a streamlined and efficient experience for all participants.
"We've learned the overhead of a full storefront doesn't always make sense for creators and projects looking to give token holders exclusive access to physical goods, especially for limited time drops and one-of-a-kind mechanics," the Manifold team told nft now. "Starting with burns made a lot of sense, "GET-PHYSICAL" is just another reminder that these pieces and their communities can still be valuable to those involved, especially supporters who were there early."
In line with Manifold's overarching mission of empowering creators to exercise creative sovereignty, this new tool promises to open up exciting avenues for artists to develop innovative NFT experiences that extend beyond the confines of the digital realm.
"We extend an invitation to the art and tech communities to join us in this pioneering endeavor," Fvckrender said. "RESPONSIBILITY// is more than just a project; it's a movement to redefine digital ownership."