New media artist Refik Anadol is opening a new solo exhibition/NFT collection Unsupervised: MoMA seen through the mind of a machine. Presented by Feral File, an online gallery and space for new media community building, Unsupervised will be three days of auctions featuring NFT artworks by Anadol, who has trained a unique AI model with the metadata of The Museum of Modern Art's collection.
Launching Thursday, Nov. 18, at 9 p.m. ET is Unsupervised — Machine Hallucinations. It consists of a 1/1 software artwork and two 1/1 video pieces. The next day, nine 100-edition pieces will be sold as part of Unsupervised — Dreams, with a 500-edition video piece available on Nov. 20 via Unsupervised — Data Universe.
As Anadol's unique Machine Hallucinations series has become widely sought after over the last year, the Turkish artist says that through this latest endeavor, he and his studio were able to take what started as a multiyear research project on data aesthetics (Machine Hallucinations) to a new level in the form the Unsupervised NFT collection.
Anadol tells nft now the project began with the question: "What would a machine mind dream of after 'seeing' the entire collection of MoMA?" And after discussions with MoMA curators and artist/Feral File head Casey Reas, Anadol says he set off on collecting the entire publicly available archive and the metadata of the digitized MoMA collection.
"It took us about 24 hours to collect 138,151 pieces of data in our studio in L.A.," Anadol reveals. "Using StyleGAN2 ADA to capture the machine's 'hallucinations' of MoMA's vast range of modern visual expression in a multidimensional space, we trained a unique AI model with subsets of the collection."
For years, Anadol has approached new media in a similar fashion, asking questions and pondering possibilities before using AI to bridge the gap between obscurity and reality. Having taken a similar approach to Unsupervised, the artist says the idea for creating Machine Hallucinations from MoMA metadata stems from a long-standing obsession with public archives of human experience.
"After accepting a residency at Google's Artists and Machine Intelligence Program in 2016, I began pushing the boundaries of the question of 'Can data become a pigment?'" Anadol tells nft now. "This was the very first question I asked when starting my journey to embed media arts into architecture, to collide virtual and physical worlds. After the training I received at Google, I began to imagine what I would call 'the poetics of data' in relation to collective human memories."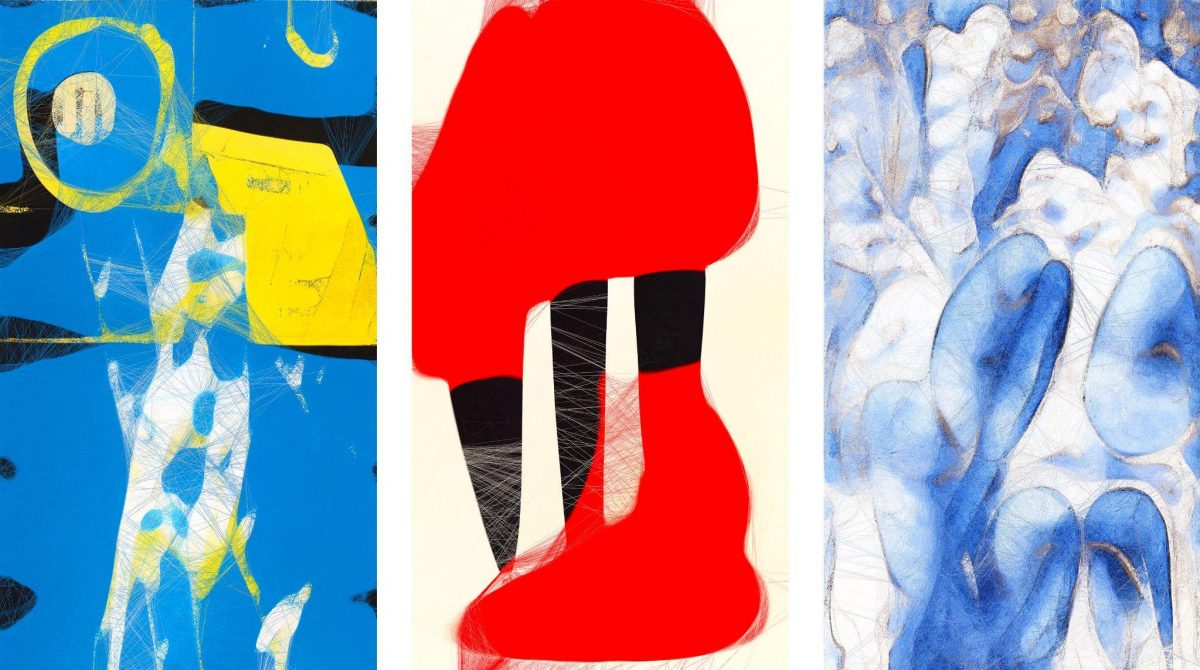 In creating many of his Machine Hallucinations pieces, Anadol synthesizes data into ethereal data pigments that are eventually synthesized into a representational form of fluid-inspired movements with the help of generative algorithms and custom software. As far as the Unsupervised process goes, Anadol says the level of algorithmic abstraction and data pigmentation that he experienced with the MoMA archives was unprecedented.
"We witnessed how an artificial mind might bestow new meanings on the genres, media, and the pigments that we have been seeing on the walls of MoMA for years," Anadol tells nft now. "But what is profoundly inspiring is that every single data point in the archive will have its own context and discourse. They are not similar, and they are uniquely valuable."
Photos courtesy of Refik Anadol and Feral File.