Let's face it: The NFT space moves really fast. Considering how quickly things can change in the metaverse, a week in NFTs might as well be a month IRL.
Don't get us wrong — the more people onboarded into the space, the merrier. But because of the constant influx of great art and ideas, it's becoming increasingly difficult to keep up with all the news, launches, and general happenings.
Well, you can put the days of endless Twitter and Discord scrolling behind you, as we put together a weekly list of upcoming NFT drops you definitely don't want to miss. Here's what to look out for this week.
Art Gobblers

Who: Justin Roiland and Paradigm
What: 2,000 Art Gobblers entering circulation
When: October 31, time TBA
Where: artgobblers.com
Why: Rick and Morty co-creator Justin Roiland is on fire. In addition to developing the show that brought Szechuan Sauce back to McDonald's, he founded a video game brand, and is now taking his talents to Web3. With the upcoming release of the Art Gobblers NFT collection, Roiland and Paradigm hope to give users across all of Web3 access to a self-sustaining creative ecosystem predicated on art creation.
Each of the 2,000 Art Gobblers set for mint won't just be NFT characters done in Roiland's signature style. Each Art Gobbler will also function as a self-sustaining, fully on-chain NFT art gallery. Via the production of $GOO tokens, holders can mint blank page NFTs, upon which they're free to etch whatever art they desire. These newly-created art NFTs can be 'gobbled' by each Art Gobbler, which will be available for viewing, along with all the other art NFTs consumed by the Gobbler in question.
Danger Zone
Who: Ibn Inglor
What: A music NFT
When: November 1 @ 2:00 p.m. ET
Where: sound.xyz
Why: Danger Zone, the opening track from Chicago-based artist Ibn Inglor's upcoming Danger Zone EP, won't just be another single — it will serve as the genesis NFT drop for the Danger Zone DAO. It will be the first of seven songs to be released under this format, which each track representing one of the seven deadly sins. In the case of Danger Zone, this song tackles the cardinal sin of greed.
As fans of Inglor follow this series of weekly drops, they'll be given an inside look at the artist's life and background. Despite how each song on the upcoming EP is themed after the seven deadly sins, the actual subject matter sees Inglor reflecting on the Altgeld Gardens Housing Project in Chicago, where he grew up.
Oaxacan Comparsa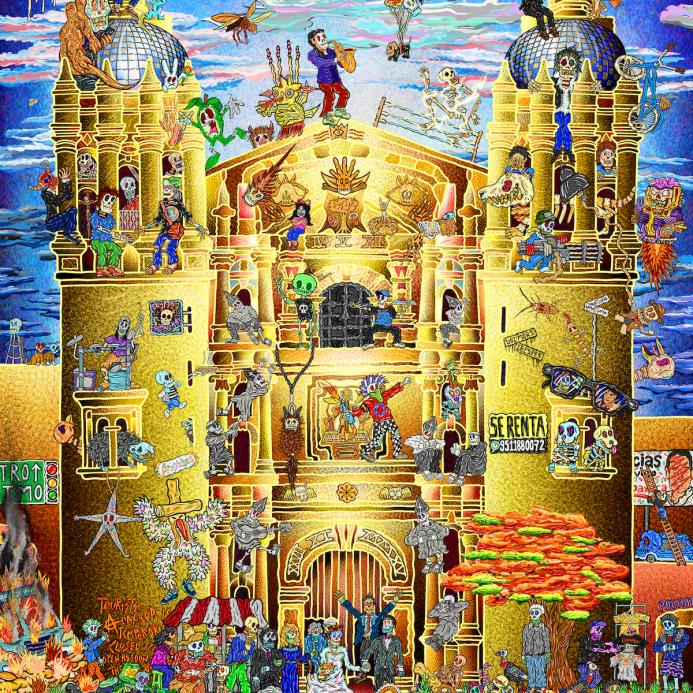 Who: RΞY
What: An NFT depicting an Oaxacan Comparsa
When: November 2 @ 6:30 p.m. ET
Where: MakersPlace
Why: Painter and animator RΞY is bringing spooky season to a close by celebrating one of the most iconic cultural traditions from his Mexican heritage: Día de Muertos, or the Day of the Dead. In line with the spirit of this age-old Mexican tradition, RΞY's piece aims to celebrate the lives and legacies of those who have come before with his Oaxacan Comparsa. This work depicts a comparsa — a traditional Mexican parade — taking place at the church of Santo Domingo de Guzmán in Oaxaca, where those joining in the festivities accompany the parade dressed as calaveras, or skulls.
Italian Treasures III
Who: Apeiron Technologies
What: Eight original art NFTs
When: November 3 @ 12:00 p.m. ET
Where: MakersPlace
Why: As the third entry in the Italian Treasured series, Italian art critic Vittorio Sgarbi has worked together with Apeiron Technologies yet again to bring forth a curated collection featuring works from some of the best contemporary Italian artists. At the center of this latest entry is Italian artist Rocco Normanno, who is renowned for his work that takes scenes from religion, mythology, and popular literature and frames it in a style reminiscent of 17th-century realism.
Two Worlds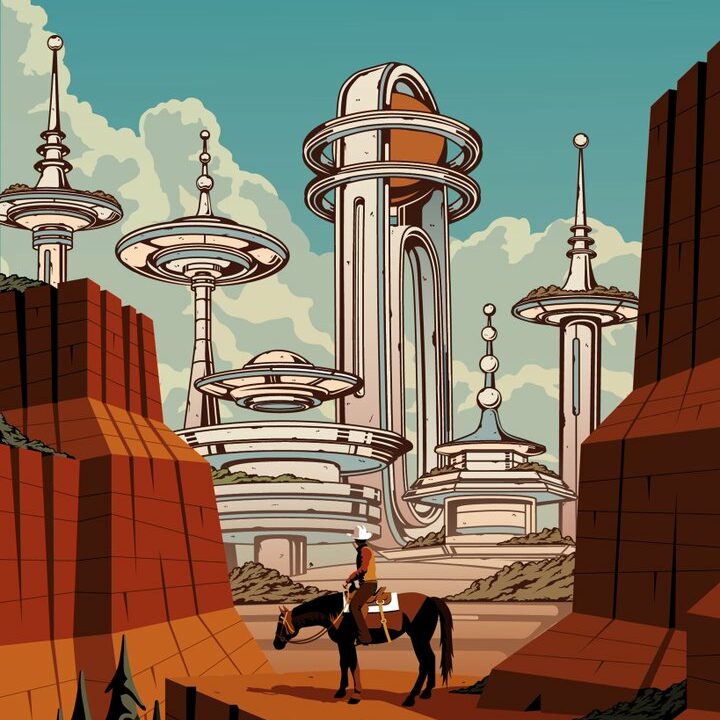 Who: Jeremy Booth and Orkhan Isayev
What: An open-edition NFT
When: November 3 @ 6:30 p.m. ET
Where: Nifty Gateway
Why: Vintage sci-fi artist Orkhan Isayev and Western-enthusiast vector artist Jeremy Booth have joined forces to drop both of their first pieces on Nifty Gateway later this week. The drop, an open-edition NFT titled Two Worlds, sees the two artists' styles married together seamlessly. Are we looking at a displaced cowboy or a futuristic alien civilization that propped up overnight? It's hard to say. But hey, it looks cool.
Enchanted Forest
Who: Amber Guzman
What: Two ten-edition NFTs, one five-edition NFT, and an open-edition NFT
When: November 3 @ 6:30 p.m. ET
Where: Nifty Gateway
Why: Artist, model, and cosplayer Amber Guzman is offering collectors the chance to peer into another heavily fantasy-inspired world of her creation yet again with the Enchanted Forest collection. This upcoming NFT collection will feature five original characters created by Guzman, with one of these characters available to collectors as a free gift upon purchasing a piece from the coming drop.