Following test runs earlier this year in select markets, Instagram is expanding its NFT support to 100 additional countries across "Africa, Asia-Pacific, the Middle East, and the Americas," according to a Thursday blog post.
Thanks to the image-sharing platform's status as a Meta-owned entity, this move could bolster the tech giant's hopes of broadening its authority in the NFT industry. This is Instagram's latest move toward serving users as an NFT marketplace, and it's only a matter of time before Facebook follows suit should Meta's NFT roadmap for its various properties come to fruition.
Sharing your Web3 life on Web2
No matter how hard we want it, the Web3 world has yet to unfold fully. So far, the features Instagram has rolled out to the public mostly involve the sharing of NFTs created or collected by its users. Still, the implications this could have on the many artists who call Instagram home are huge. Even with Instagram's relatively light NFT integrations, creators like aerial/street photographer Natalie Amrossi have spoken highly of this new rollout. Namely, these integrations allow her to "support other artists in the space," she said in an interview with nft now. "It's not just the pieces that you create, but it's also the ones that you collect."
Instagram highlighted the ease with which users can onboard themselves into the NFT ecosystem. To start posting NFTs on the platform, users need to connect their crypto wallet to their Instagram account.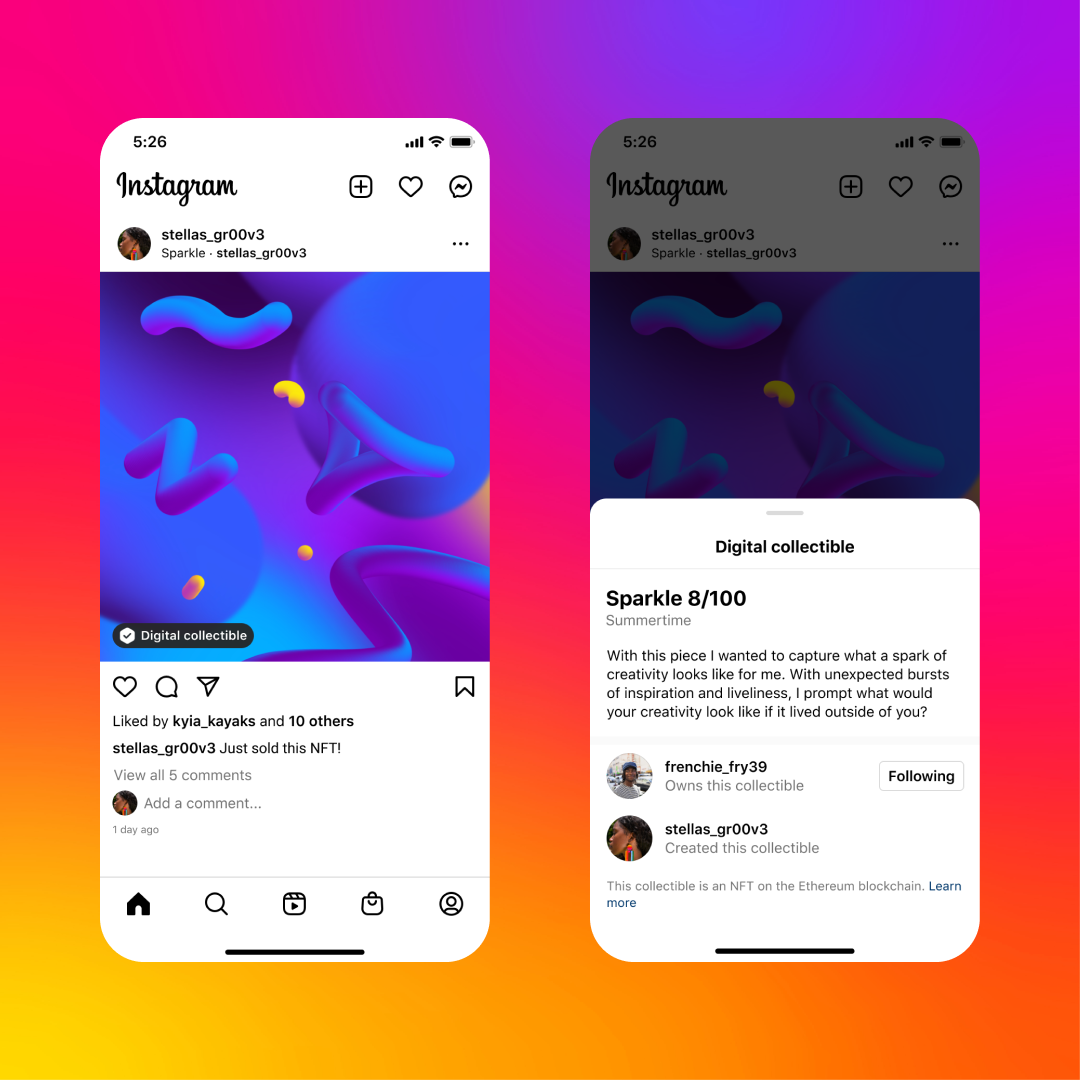 Once connected, users gain access to the the app's digital collectibles section, enabling them to share NFTs they've either bought or created as a post. These posts will feature metadata of both the creator and collector baked in, and will reportedly feature "a shimmer effect" in the feeds of that user's followers.
A slight concern
Somewhat worrisome, however, is how no mention was made of hardware wallet support in Instagram's initial announcement. Hacks abound the space as of late, with thousands of Solana users falling victim to a massive multi-million dollar hack earlier this week due to a shared vulnerability that hackers exploited among some of the most popular web-based or "hot" wallets in Solana's userbase.
MetaMask — the de facto crypto wallet in the NFT space — even released a tiny UI tweak to prevent phishing scams before the hack of Solana users' keys. But in the aftermath, debates within the space on just how secure hot wallets are have rekindled, since hardware or "cold" wallets were left unaffected.
Regardless, Instagram creators have much to anticipate following the platform's continued support of NFTs. While the industry is still caught in the throes of a bear market, shifting economic conditions could pave the way for the next brilliant NFT creator to make definitive waves. And now, it could come while they're scrolling away on Instagram.