The ability to recognize and interpret faces is one of the most fundamental and important functions of the human brain. The better part of our social lives depends on our ability to distinguish friend from potential foe, parse out the emotions the people around us are experiencing, and distinguish who and what we find beautiful.
This significance is very much reflected in the brain's physiology. The fusiform gyrus region, located in both of the brain's hemispheres, is one of the larger anatomical structures the organ contains. In addition to being crucial to the higher cognitive abilities of visual processing, scientists believe there's even a specific region of the gyrus specifically dedicated to processing visual input from faces.
It's perhaps little wonder, then, that the beauty of the NFT artwork of Norwegian visual artist, composer, and coder Espen Kluge is so joyfully disorienting to anyone who sees it.
Kluge's most recognizable work is undoubtedly his series of 100 Javascript-generated portraits entitled "alternatives" that were released in 2019 and can be found on OpenSea and SuperRare.
The portraits are both angular and soft, immediately familiar and remotely alien, a confluence of our innate ability to pick up on facial details and thousands of code-generated lines set at hard geometric angles.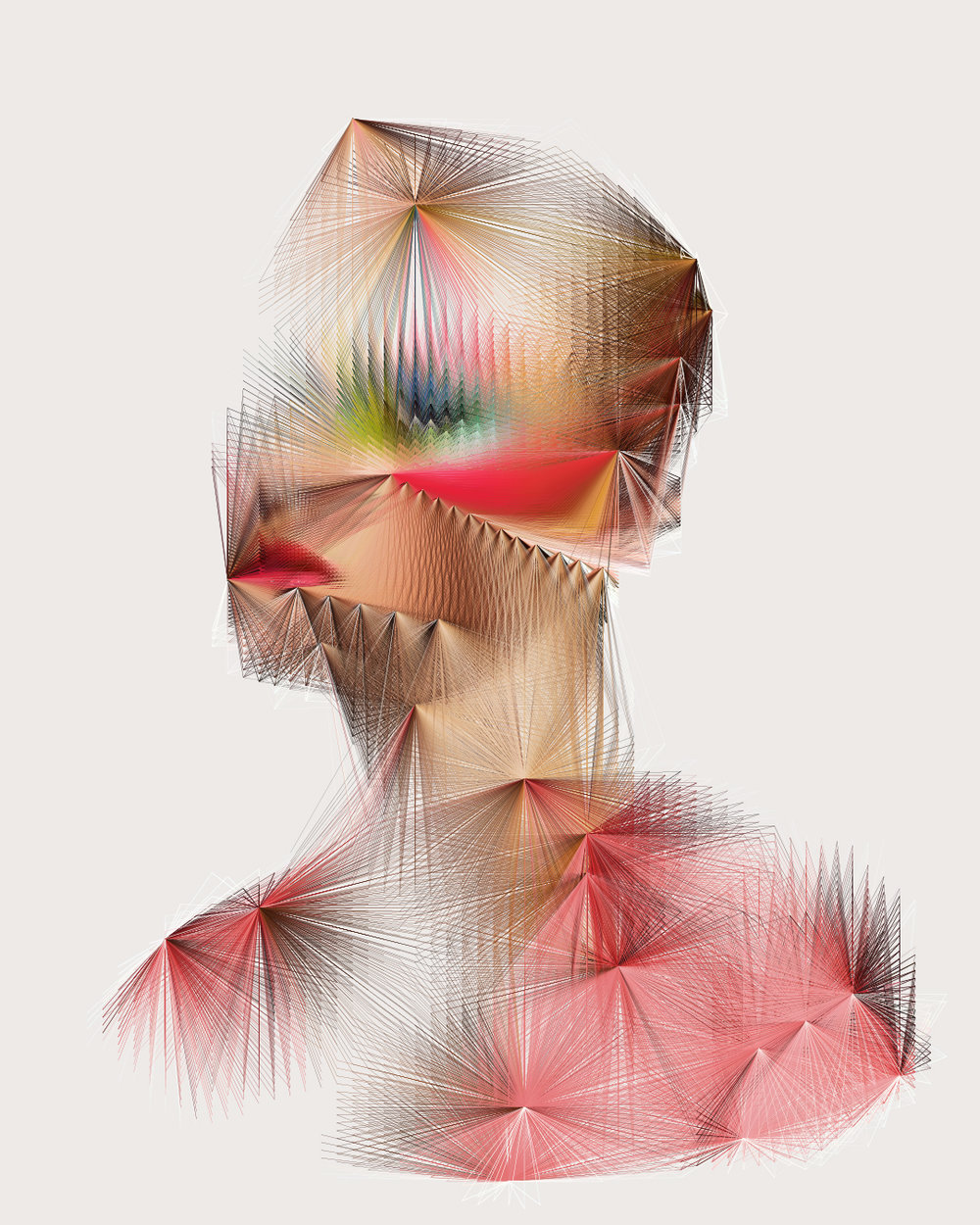 An unexpected path to the digital art world
Kluge is an artist of many hats who, apart from the 2D and 3D visuals he produces, also works as a composer, providing the scores for Norwegian series and documentaries like Who Killed Birgitte? and Mullaen & Meling.
"I'm a composer by trade and education, but I'm a visual artist by hobby-turned-profession," Kluge explained in an interview with nftnow.
The room he sits in is a music studio dotted with guitars, keyboards, microphones, and other equipment, though he affectionately labels it his "all-types-of-creation studio." While crafting music remains one of his passions, the way he goes about creating art in visual mediums is an entirely different process.
"The way I think when I create music is so different than when I create visuals. I think that's because of being taught certain things, how certain things are to be done, and a lack of interest in trying to break the rules when it comes to creating music. When it comes to visual art, it's a lot easier for me to venture into something I have no idea what [will turn out as] and then try to get some art out of it."
This desire to have some level of unpredictability and inspiration in his work would eventually lead him down a road to coding portraits into existence.
After developing an as-of-yet-unreleased app to aid in the creation of his musical compositions, Kluge fell into playing around with Javascript as a way to create a logo for his website. Exploring the world of coding, however, took some time.
"I thought it would be easy for me to learn how to program and it really wasn't," he says of the process. "I thought it would take me about a month to learn how to program and I'd spend another month creating this app. It took many years. And that whole project never came to fruition in terms of a startup."
Dissatisfied with his attempts to create an interactive logo for his website, Kluge walked away from the project and didn't return to it for nearly a decade. After somewhat randomly reopening the code for the logo project in Codepen.io, an online code editing software, Kluge decided on a whim to make the geometric logo massive.
"Instead of creating a 50 x 50-pixel image, I [decided] to just do something like 1000 x 1000 pixels, and that started looking like something. I instantly saw the potential of quirking it up," he explains. "I had a great time just molding the algorithm, taking the variables and making them act differently in a certain geometric area of the portrait. Suddenly, it started looking pretty cool."
Kluge's main curiosities with the image revolved around making it look both organic and strange, intuitions that followed through to his "alternatives" series, whose 100 portraits Kluge created over the course of 100 days. That combination of organic and odd can be found in the newer portraits he continues to make today.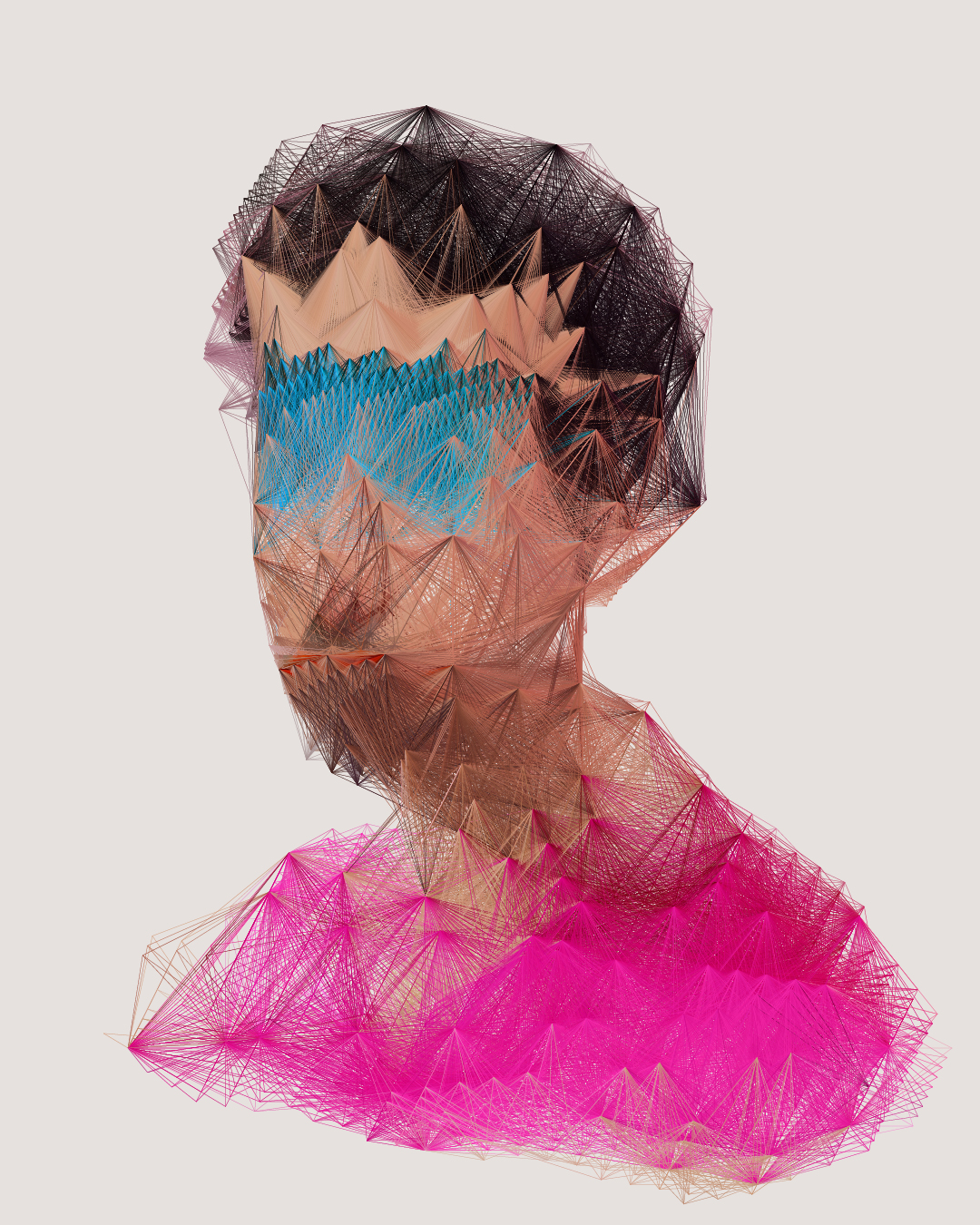 Using NFTs to create new freedom as an artist
Kluge still considers himself a kind of newcomer to the NFT space, his first being minted in 2019 by Jason Bailey from Artnome, the curator for his portrait series during its physical exhibition at the Kate Vass Gallery in Switzerland. Bailey had pitched the idea to Kluge during that solo show, and it was something he decided to go with.
Since adopting this new approach to creating and distributing his art, Espen feels it's a comfortable and exciting space to inhabit, one that really hones in on his love for the unexpectedly inspiring. Like many artists, Kluge has found that blockchain-based technology is opening up avenues of artistic creation and monetization that allow him to sustain his career in a more autonomous and authentic way.
"[NFTs have] been really good for me," he affirms. "It's refreshing. Especially where I come from in Norway, if you want to get grants, if you want to get ahead, there's a very specific list of things you have to have on your CV to get these kinds of opportunities. But […] my interests aren't necessarily going in the direction where the result of those activities would put the right things on my CV. So I'm sitting here trying to figure out if I should choose the road that satisfies the traditional [art] sphere or should I be trying to just do whatever I want. And that's what I'm doing, I'm doing exactly what I want and I'm getting a way better response."
While Espen says he doesn't lean into trends in the NFT space, he does understand that the success they have helped to bring him is worth exploring further.
"I never thought it was possible to reach some sort of success as an artist — NFTs have certainly given me the ability to work more freely."
Generative art for an upcoming drop
Kluge has been busy developing a new algorithm over the past few months in preparation for his latest NFT release, set to drop April 7th on Nifty Gateway. The project consists of 4K animations set (and responsive) to music created through generative coding.
"Both [the visuals and the music] are derived from the same data," he says. "The music and visuals are generative. There's one clump of data that sparks everything. Part of the rules for the music is that certain notes will trigger visual events. So, every time a selection of certain notes are triggered, a new portrait will be generated."
While Espen appreciates the conceptual framework of his upcoming NFT drop — and of his digital work in general — as an artist, he is more concerned with the aesthetics of the project.
"The other part of it is that it's just beautiful," he underlines. "I'm trying to make something beautiful."
It would be hard to make the case that he hasn't done just that.
Learn
Guides & Explainers