The Solana NFT ecosystem has been facing a few challenges as of late. With the larger-than-life DeGods and y00ts collections opting to migrate off of the blockchain and top Solana marketplace Magic Eden finding it hard to appease both collectors and creators simultaneously, many of the chain's devout supporters have been left wondering what's next.
Yet, sometimes, all it takes is a single NFT project to act as a catalyst for a major market shift. We've seen it happen on the positive end of the spectrum with Bored Apes, Azuki, Checks, and more. Now, it seems that a new innovative collection called Mad Lads is on track to do the same for Solana.
After accruing a substantial amount of organic hype, and subsequently setting a new standard for mitigating bots and bad actors during mint, Mad Lads has become the talk of the blockchain. But what makes this Solana profile picture (PFP) collection so special?
What is Mad Lads?
At face value, Mad Lads seems to be no different than the countless other PFP endeavors released over the past few years. It features 10,000 NFTs. Each NFT within the collection was minted for a price of 6.9 SOL starting on April 20, 2023.
As far as aesthetics go, the collection features a variety of illustrated human (or humanoid) PFPs. The PFPs come with unique clothing, weapons, accessories, and more — including rare biological attributes that depict celestial, robotic, and undead characters.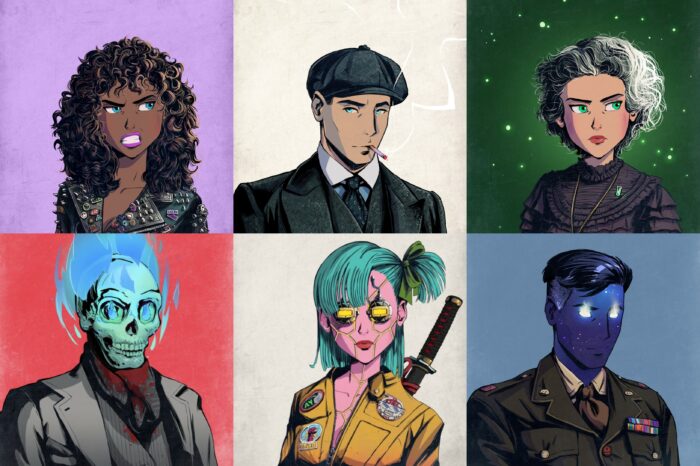 Aside from quickly stealing the show as a potential new blue-check collection, Mad Lads achieved notoriety for its unique drop and token mechanics (more on this later). And while the project is unequivocally a "hot new PFP NFT collection," its release also marked a historical event for the company that created it.
Who created Mad Lads?
The NFT project was created by the Solana framework development company Coral, which is led by Armani Ferrante and Tristan Yver. When Mad Lads dropped, it did so exclusively via Backpack, an all-in-one wallet app that was created by Coral. While wallet exclusivity may seem counterintuitive for a brand-new collection looking to make a mark, in hindsight, it seems to have been a creative way for Backpack to stake its claim on Solana.
This is because Backpack is built around "executable NFTs" (xNFTs). Sometimes referred to as the next generation of NFTs, xNFTs are essentially non-fungible tokens embedded with executable programming scripts. Put simply, this means that xNFTs themselves are platforms for operable Web3 applications.
"Backpack manages your private keys and connects to apps. But unlike anything else, it's asset and protocol agnostic. Everything in the wallet is an xNFT….Most wallets only show your tokens. Some don't even show your precious JPEGs. Backpack, however, is a home for everything. It's an open, programmable system built for Web3," the company explains on its website.
Instead of a collector needing to connect their wallet to a website to validate and utilize their NFTs, xNFTs holders can directly access token-gated content through the Backpack wallet without having to log into a website or otherwise depend on third-party software as an intermediary. This cuts a significant (and sometimes even unsecured) aspect of NFT usability out of the equation.
And this is just the beginning of the use cases — the Coral blog dives much deeper into the novel mechanics of xNFTs.
What makes Mad Lads unique?
Apart from the developing benefits that xNFTs might provide for those within the Solana NFT ecosystem, Mad Lads has already achieved near-iconic status for how the project devs handled the primary sale. Bots overwhelmed the initial April 20 drop, forcing a 24-hour delay. The team relaunched in expert fashion, overcoming reported extortion threats and DDOS attacks while sending bad actors reeling.
By making back-to-back updates to the minting app during the April 21 re-launch, Backpack's devs created two unique minting portals to separate human users from bots. General users operating through legitimate means were pointed to the actual minting page, while those attempting to reverse-engineer the code were sent to a "honeypot."
This honeypot was essentially an orchestrated distraction that acted to trick attackers into spending their mint price on a fake mint, receiving nothing in return. All in all, this fake contract accumulated around $250,000 worth of SOL, barring bad actors from the true public NFT in the process and generating fanfare once legitimate users were looped into the mechanics. After, the team returned all Honey Pot funds to those affected.
A major boost for Solana?
After the dupe orchestrated by Backpack, word spread quickly. This, in turn, led to an explosion in secondary sales. Floor prices skyrocketed, leading to a frenzy of engagement throughout the NFT community and a whopping $8+ million generated in under 24 hours. In addition, even the Solana blockchain's Co-Founders Anatoly Yakovenko and Raj Gokal joined as collectors, changing their Twitter pictures in support of the budding project.
From there, numerous high-value Mad Lads sales and a variety of fellow Solana-native projects sharing their support of the project across socials led to community sentiment reaching its peak. Soon after, fans and collectors alike took to Twitter to adopt the Mad Lads vernacular and record the influential happenings in real time. In just a few days after the collection hit the market, it had already become a major breadwinner for Backpack, xNFTs, and the Solana network it was built on.
Now, the collective NFT space seems to be looking toward the future in hopes of riding the recently established Mad Lads hype wave into the sunset. And with an enigmatic snapshot that took place on April 29, only time will tell what other innovative or groundbreaking mechanics Coral might have in store for its newfound fanbase.