If you're reading this article, you're likely aware of all the hype and speculation that NFTs drove in the music industry earlier this year. At Water & Music, we've tracked nearly $70 million worth of these music NFT drops over the last 12 months, and have published several longform reports on the trends we've spotted. We think the NFT music industry presents an illuminating litmus test for how crypto could facilitate innovative use cases around co-creation and co-ownership of intellectual property — and upend incumbent industry power dynamics in the process, especially when it comes to supporting independent creators.
For instance, according to our research, independent artists have commanded a 65% majority of all primary music NFT sales to date — a complete reversal of the major label-dominated market share in recorded music. The independent artist 3LAU broke industry records when he earned $11.8 million in his Ultraviolet NFT drop from just 33 fans, flipping the script on the high-reach but low-margin economics of music streaming. When it comes to interesting use cases, artists ranging from VÉRITÉ to A Tribe Called Quest have executed on some of the first use cases of NFTs as vehicles to facilitate fractional IP ownership and royalty splits.
We're also well aware that the music NFT market has crashed by 97% since its peak, from a high of $26.8 million in primary sales in March 2021 to under $1 million in July. Skeptics might point to this crash and say the market is done for, and that music NFTs are inherently worthless.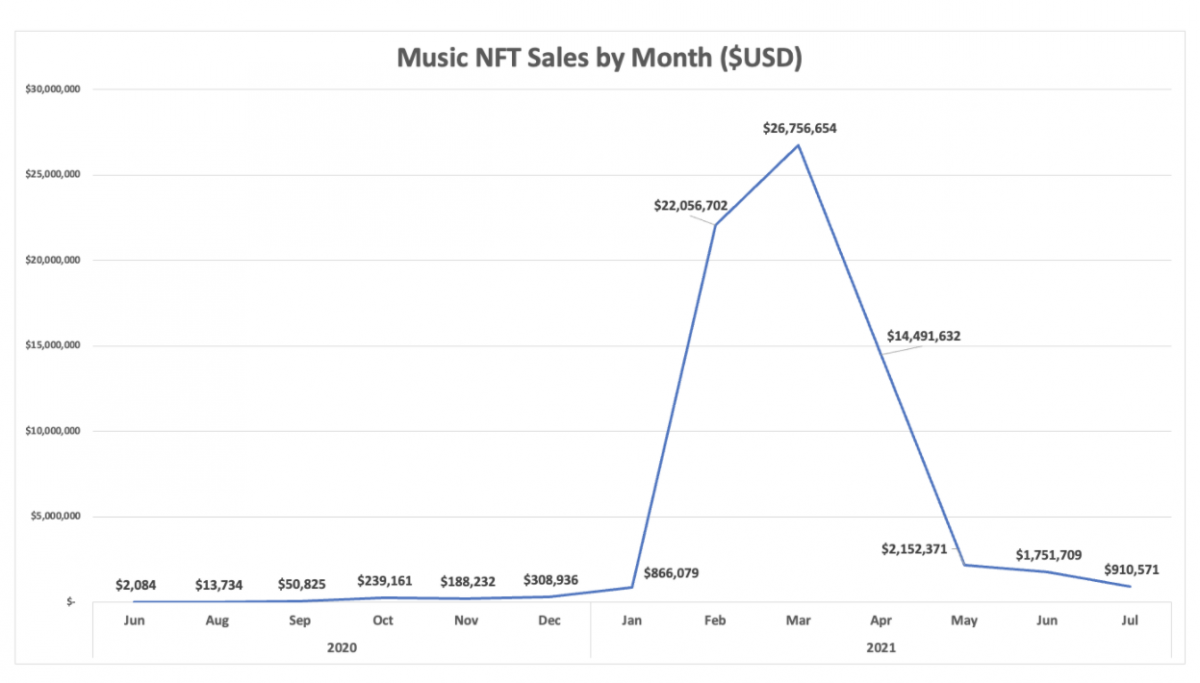 But the vast majority of music NFT sales to date (and their subsequent tank in value) have taken place within the specific, limited confines of the concept of NFTs as scarce "digital collectibles." The digital collectible framework for NFTs is probably the one with the most buzz, given the buzz around big-ticket, one-of-one token sales on Nifty Gateway, Sotheby's, Christie's and similar marketplaces. We wouldn't be the first to argue that this model — while generating an immense amount of value for the artist or seller — is inherently exclusionary from the buyer's perspective and caters to the already-wealthy, such that the vast majority of an artist's fans cannot participate in this specific expression of the NFT economy. The 97% dip in music NFT revenues likely reflects industry-wide fatigue with this model, and a hunger for more interesting use cases with more utility and inclusion in the long term.
In the context of musicians' careers, the biggest issue with the collectible model for NFTs is the lack of a tangible feedback loop to an artist's existing catalog, creative process and/or fan base. Instead, it ends up being just a top-down, dead-end process of the artist selling an NFT to a collector, who might then flip the token on the secondary market for a profit, with no additional opportunity or incentive for artist-collector engagement.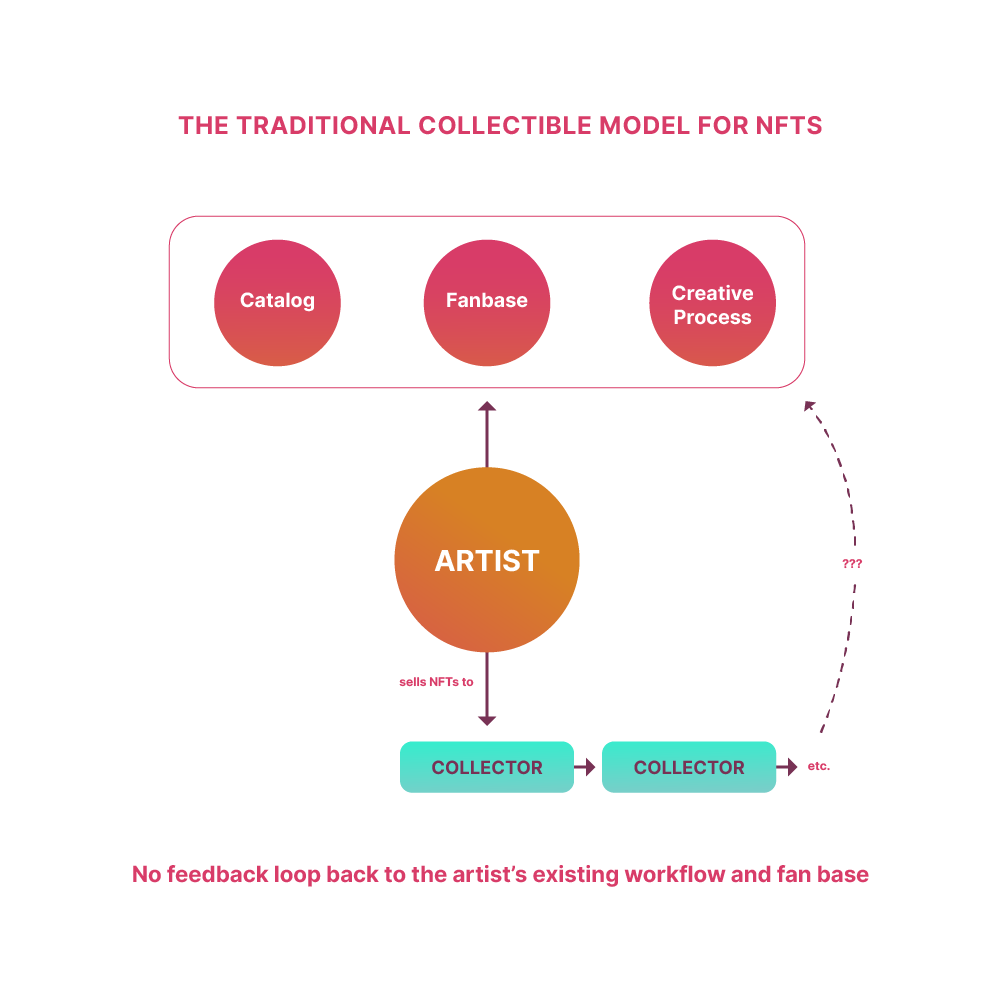 In contrast, we've seen recent growth in music-industry use cases that see NFTs not merely as one-off, short-term collectibles, but rather as entry points or tickets into wider fan and community experiences — often with shared wealth, curation and/or decision-making built-in through DAOs. Here, the feedback loop is much clearer for the artist: By selling an NFT, an artist invites the collector into a long-term, mutually beneficial relationship (creatively and/or financially) that spans both online and offline channels, in a way that the artist more directly controls and can better integrate into their existing workflows. Those benefits can take many forms, whether special admission to shows and other IRL events, unlockable digital content across social channels or equity in the growth of a new creative project.
Below are some emerging NFT use cases we're seeing in the music industry, as artists and music companies shift their crypto framework from collectibles to communities. Many of these use cases could have far-reaching implications for industries outside of music as well.
NFTs as identity
People tend to join communities because of common interests, histories or other personal attributes. Hence, many of the community-driven NFT use cases for music below stem from the fundamental concept of NFTs as identity.
All the core benefits of blockchain — consensus, verifiable uniqueness, provenance — can apply to establishing one's individual identity and reputation on-chain. This is especially applicable to decentralized social networks, with tools like InterRep emerging to help people mint NFTs that port their identity and reputation from Web2 social networks (like Twitter) to Web3.
In the context of the music industry, using NFTs to verify identity could pose major benefits for both fans and artists. Fans who care about social clout or belonging in an artist community can more easily port their engagement and purchasing histories around a particular artist from one platform to another without much friction. On the artist side, artists could then have much more transparency and ownership over their fan data — a luxury not currently offered by Web2 social platforms — and can make more intentional decisions about how they shape their communities, such as verifying a fan's identity or history with an artist's work before inviting them to a particular online experience.
Crypto-native album rollouts
What does a Web3-native marketing campaign look like? Some of the first use cases for these kinds of campaigns are emerging in the music industry, with independent artists setting the trend and using multiple different layers of crypto — across NFTs, DAOs and social tokens — to engage fans with their new album releases.
The feedback loop in this case focuses not just on financial return, but also on using Web3 as a vehicle for driving artist loyalty over time. Under this model, in buying an artist's NFT, a collector can be first to know about upcoming releases, tours and other career updates, and/or even collaborate with the artist themselves, in addition to showing off the token in their wallet within their social group. In turn, this deeper connection drives more loyalty to the artist and helps generate longer-term value around their catalog and brand. The NFT represents a decentralized, tradable license to information, to collaboration and to co-creation.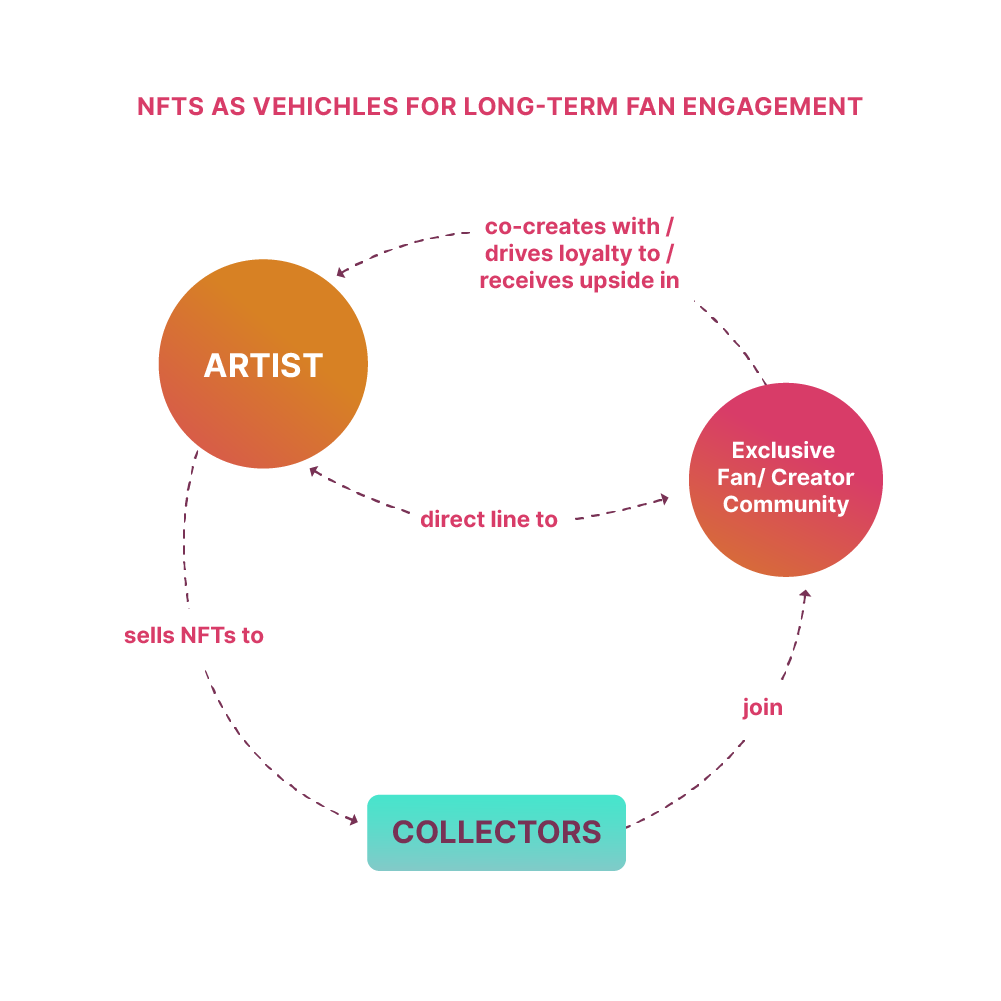 For instance, the electronic artist RODG is dropping each individual track to his new album Unlock Album as an individual NFT over the course of several months. Each owner of a particular song token will automatically get the following track in the album airdropped into their crypto wallets for free, and collectors of all ten songs on the album will receive additional exclusive perks such as backstage access to RODG's future live shows. The Unlock Album campaign was developed in partnership with Blockparty and Moonwalk, an app specializing in helping brands integrate crypto into their existing Web2 communities.
Several standalone NFT platforms are emerging that focus on allowing artists to build Web3-native marketing and fan-engagement campaigns around their music. For instance, Derive treats NFT ownership as a license to contribute to crowdsourced music and art compilations; Async works with artists to break down their songs into NFTs of its individual stems, and owners of those tokens are able to change the contents of those stems in the final master recording of the song in real time.
Importantly, artists can take advantage of NFT platforms without completely relinquishing their Web2 presence or fan base. For instance, for his album Textures of a Long Forgotten Assumption, the artist Matthew Chaim created three separate "form factors" of products that fans could buy: The Canon (1/1 NFTs minted on Catalog and auctioned on Mirror), The Collectibles (fixed-priced NFTs sold on Rarible) and The Copies (non-crypto album bundles on Ko-fi). Some of the NFTs granted owners voting/creative rights when it came to future song releases; all of these products granted owners access to Chaim's private Discord server.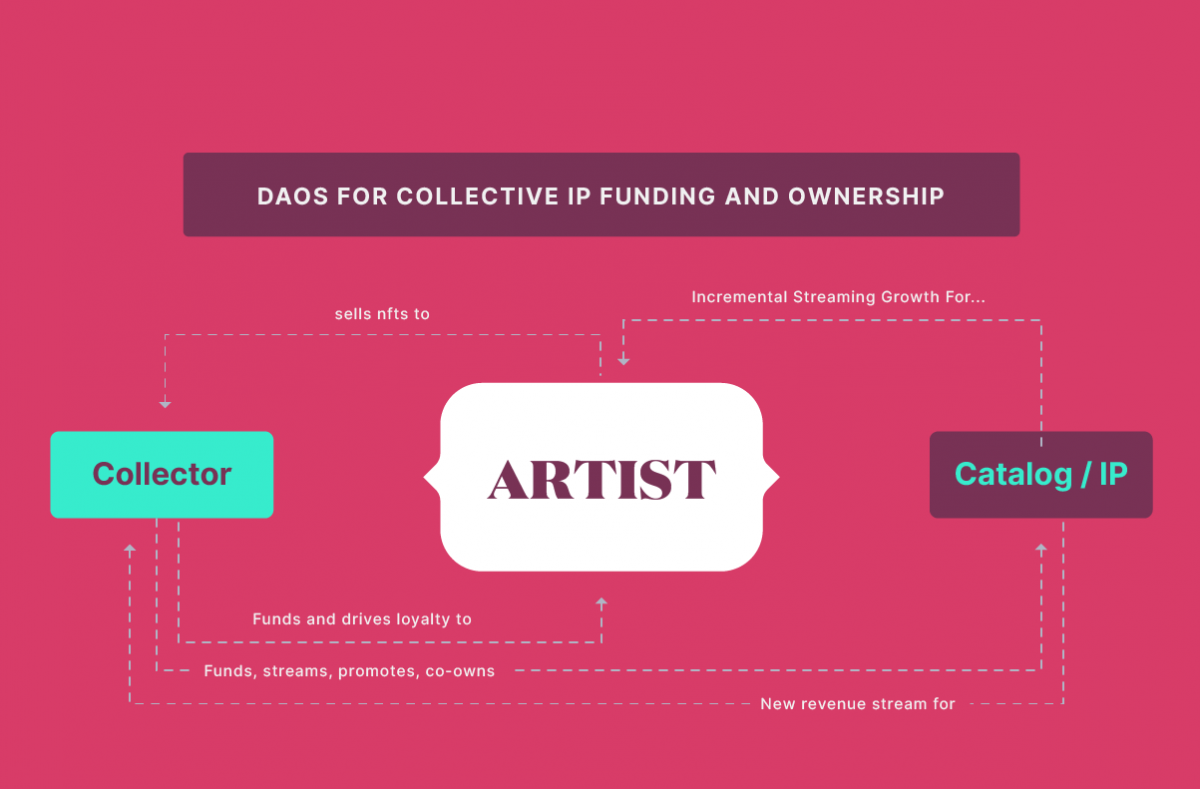 The NFT-to-DAO-to-NFT pipeline
Another emerging feedback loop with music NFTs can be described as the "NFT-to-DAO-to-NFT pipeline" — where NFT ownership can grant fans or contributors access to a closed community run by a DAO, which then has equity in and drives the value of all future creative projects and digital assets released under the DAO. Several examples of this mechanism already exist in the art world through what Cooper Turley recently called "collector DAOs" — or DAOs like PleasrDAO, JennyDAO and WHALE that focus on collecting and/or minting NFTs themselves, and splitting equity and earnings of those tokens among their members. Under this model, the NFT becomes a collectively shared digital asset, with the DAO acting as automated governance infrastructure.
A similar NFT-to-DAO pathway is emerging in music, with DAOs like The Song That Owns Itself (STOI) and Songcamp's Elektra project using NFTs as a vehicle to give industry partners, creative collaborators and fans more balanced equity in a given song or album based on their respective contributions. This model could be especially fruitful for independent labels that already have a collective- and community-driven mindset (like Leaving Records, which already has its own DAO), as well as for self-organizing fan groups in genres like K-pop where there is already a culture of mobilizing to contribute to an artist's commercial success.
Bridging concerts and virtual worlds
NFT Now's own co-founder/CEO Matt Medved once tweeted that "IRL products for digital communities will be a multi-billion dollar industry."
Funnily enough, the music industry is already there: "IRL products for digital music communities" are basically just live shows. Hence, it should be no surprise that promoters, venues and other live music companies are proactively investing in a crypto/NFT strategy as they gear up for a return to in-person concerts. In this context, there are two main value props that NFTs provide: 1) A potentially more reliable and verifiable form of identity to tie to tickets, to reduce scalping and bot activity, and 2) A direct channel to attendees for remarketing and/or ongoing community engagement after an event.
Startups like GUTS Tickets are working on building NFT technology to curb scalping by tying a ticket to an individual person's wallet or identity, as well as give artists a cut of secondary market revenue. NFT-based tickets for IRL shows could then serve as fans' verifiable entry points and bridges to online communities that remain active long after a given show concludes.
In this vein, we'll be closely following platforms that allow collectors to display and show off their NFTs visually in online virtual spaces, such as Rainbow, Showtime, NFT.Kred, Cryptovoxels and Decentraland. Artists like Mick Jenkins and Daichi Yamamoto have already held concerts and listening parties for their new singles in these crypto-driven metaverses (including, of course, displaying their own NFTs), and it's only a matter of time before artists bring those aesthetic and commercial dynamics offline.
In the reverse direction, the popular DAO Friends With Benefits ingeniously incorporated token gating into their community experience during the IRL Bitcoin conference in Miami — organizing a gated party (60 $FWB for admission), then auctioning off the official poster for the rave as an NFT on SuperRare. The DAO repeated and expanded on this concept using their own Web3 ticketing app, developed by the community, at the EthCC conference in July, giving members perks like proof of attendance and access to future token airdrops.
These last examples underscore how the most groundbreaking and sustainable Web3 strategies for music will arguably put community and long-term world-building first, and stem from existing community needs and behaviors. Just like any iconic song, music video or live performance, a music NFT can realize its lifelong potential for collectors not as a one-time transaction, but rather as an invitation to enter and engage with an artist's world for the long haul. Feedback loops like the ones outlined above clarify the incentives that artists and their communities can participate in and build worlds in the NFT economy, and continually grow and capture the value they contribute to culture.