Last week, the NFT community was shocked to find that both MetaMask and OpenSea had initiated large-scale bans and takedowns of accounts that were associated with Iran. In both cases, no prior warning was given before removals took place.
Since the onset of the event, it came to light that in both cases, it was US sanction law at the root of the issue. As Iran is a country with sanctions placed on it by the U.S., both MetaMask and OpenSea were forced to comply with Iranian transactions and sanctions regulations.
While MetaMask has addressed the situation — albeit with a two-sentence blog post — OpenSea has largely ignored the issue. Apart from responding to a single user's tweet, the company, which manages the world's largest NFT marketplace, has neglected to make any announcement of its own.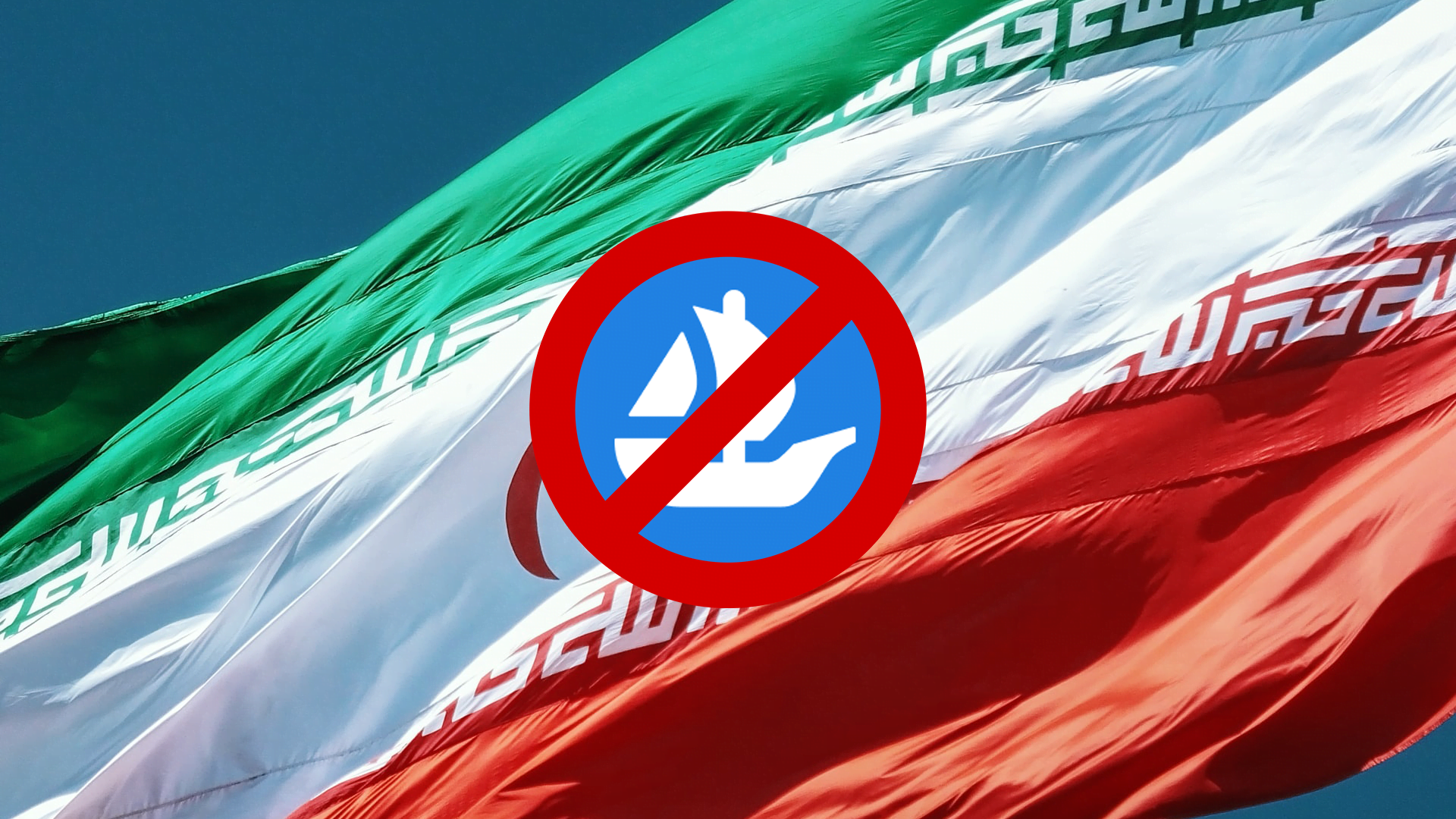 What happened
When accounts began vanishing from OpenSea with no warning on March 3, many within the NFT community concluded that the marketplace must be deplatforming artists with Iranian IP addresses – the ones that could get on in the first place, that is. OpenSea has, in some capacity, always been inaccessible to many Iranian users, with some having to employ a VPN to access the site. Still, a few hours after the news broke, it came to light that numerous Iranian NFT enthusiasts that weren't actually permanent residents of the country had been affected as well.
Parin Heidari, an artist and member of the NFT community took to Twitter to voice her frustration. Although Heidari has been living outside of Iran for the past 13 years, even getting accolades from OpenSea as an "amazing woman you should know about," her storefront was still removed from the platform. Although Parin received robust support from the community that ultimately helped elevate her case and have her account reinstated, countless Iranian artists and collectors have been left without recourse.
While OpenSea may have failed to communicate this situation appropriately, the underlying fact is that this isn't the company's choice – they must comply with U.S. sanctions or get hit with face massive fines and other repercussions. We reached out to OpenSea for comment but did not receive a reply. When asked by ArtNews for further comment, an OpenSea spokesperson shared the following statement:
"OpenSea blocks users and territories on the U.S. sanctions list from using our services—including buying, selling, or transferring NFTs on OpenSea—and our Terms of Service explicitly prohibit sanctioned users or users in sanctioned territories from using our services. We have a zero-tolerance policy for the use of our services by sanctioned individuals or entities and people located in sanctioned countries. If we find individuals to be in violation of our sanctions policy, we take swift action to ban the associated accounts."
Isn't the blockchain decentralized?
The blockchain, at its core, is decentralized. The communities that surround blockchain and web3 tech are even founded upon this idea of a decentralized internet in which there are no gatekeepers. But the wide majority of popular services that empower these communities to access the blockchain and assets on the blockchain (OpenSea, Coinbase, MetaMask) are highly centralized.
The issue at hand now, a week after these widespread bans began, is the need for better and more neutral decentralized services and platforms. When harsh regulations are put into place, it highlights just how easily businesses and governments can determine who can and cannot access blockchain-based services. Yes, OpenSea banning users based on their country of origin inherently feels wrong, but at the end of the day, U.S.-based companies must follow U.S.-based laws.
What now?
Those affected by the OpenSea bans have a slim chance of having their accounts and assets returned to them. Many have suggested LooksRare and other NFT marketplaces as an alternative, but the issue continues to proliferate, that most of the prominent NFT platforms are based in the U.S. or other countries that adhere to Iran sanctions. The few that seem to be working for Iranian NFT enthusiasts though, for the time being, are Rarible and Foundation.
Some have suggested that OpenSea might be empowered to reverse these bans, using the argument that art is classified as informational material, and thus exempted from Iran transaction and sanction regulations. This assumption is, however, incorrect. For art to be considered information or informational materials, works must be classified by the Harmonized Tariff Schedule of the U.S.
Within the Harmonized Tariff Schedule, art is generally defined as hand-crafted paintings, sculptures, lithographs, etc. but presents no reference to digital goods. Considering U.S. President Joe Biden recently confirmed NFTs to be digital assets in the eyes of the government (shortly after a variety of institutions like Wikipedia refused to classify NFTs as art) the art exemption argument likely wouldn't get very far.
Considering the U.S. has imposed sanctions on Iran since 1979, we shouldn't hold our breath waiting for the country (let alone its OpenSea users) to be granted access to U.S services anytime soon. Similarly, as NFTs and blockchain tech are both still widely misunderstood, we can't hope for policy and regulations to aid in the accessibility of blockchain tech in the immediate future.
Possibly the only innovation that could prevent a ban like this from happening to Iranian users, and users from other sanctioned countries, would be the launch of a truly autonomous marketplace or NFT trading Dapp (decentralized application). Until there is a borderless service or platform that has absolutely no national ties, accessing the blockchain can and will continue to be restrictive.