Marketing models have changed in recent years. In fact, thanks to the rise of Web3 and the increasing popularity of non-fungible tokens (NFTs), the whole creative economy has shifted. And it's about time. The music industry generates about $43 billion in revenue; however, only 12 percent of that goes to artists. We needed new models and options when it comes to Web3 music.
Although many people still use Spotify or Apple Music for many of their audio needs, a few incredibly powerful Web3 streaming platforms and NFT marketplaces have arisen in recent years and taken the world by storm. These platforms are especially useful for independent artists, as they offer powerful new ways to create community, share music, and even get paid in crypto on the blockchain.
The decentralized infrastructure of Web3 streaming services and NFTs, in particular, increases peer-to-peer (P2P) interactions. In so doing, these technologies help independent artists regain control of their art — and their compensation — by removing middlemen who currently have all the control, like Spotify and Apple Music. If you need proof that the music industry is in dire need of new models, see an overview of how Web 2.0 streaming services compensate artists in the image below.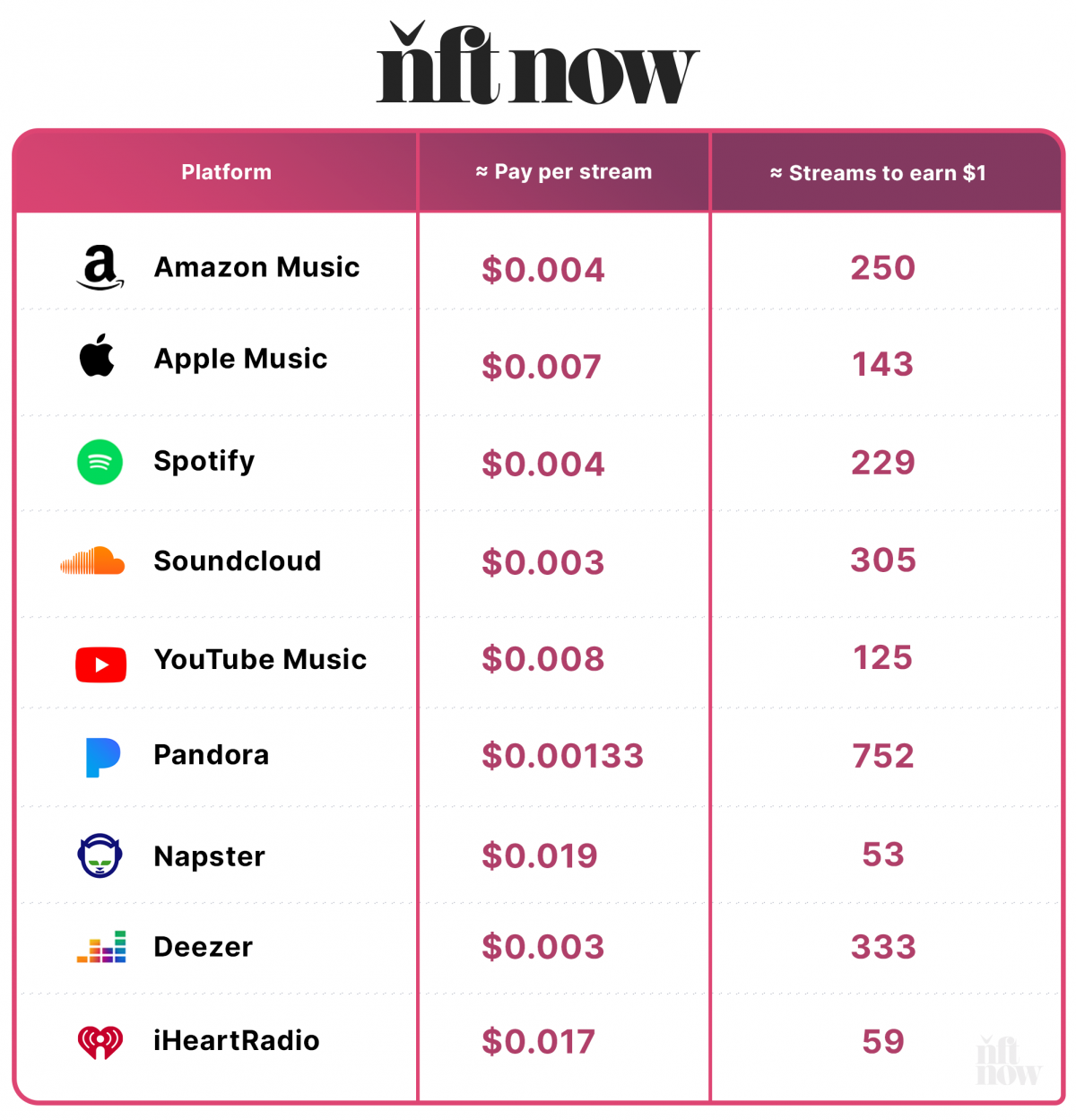 Web3 streaming services and music NFTs are increasing in popularity, and early adopters stand to have significant gains. As such, although it's still not certain that these Web3 streaming platforms and NFTs will surpass legacy services like Spotify or Apple Music, it makes sense for active producers, musicians, and vocalists to investigate these options now.
Here's a look at some of the Web3 streaming services and NFT music marketplaces to be aware of.
Web3 streaming services
Launched towards the end of 2019, Audius has one goal: To become the go-to Web3 streaming and sharing platform by putting power back into the hands of content creators. The platform consists of a fully decentralized music streaming protocol that was built with public blockchain infrastructure. This is intended to give artists better insights into who is steaming their music and better control over their tracks and how they are distributed.
Artists are able to distribute their music free of charge, and the team states that it will always be free for artists. What's more, unlike most other music streaming services, Audius doesn't take a cut of artists' revenue. In their whitepaper, the team outlined the mechanics of Audius. It consists of:
A token economy that's powered by the Audius platform token ($AUDIO), 3rd-party stablecoins, and artist tokens
A decentralized storage solution and ledger for sharing audio and metadata
A track encryption scheme that's paired with a programmable mechanism to unlock user-specific proxy re-encryption keys for content
A discovery protocol for users to efficiently query metadata
A decentralized governance protocol, whereby artists, node operators, and fans are individually and collectively enfranchised in decision making about protocol changes and upgrades
The platform has a rewards system that pays artists in $AUDIO for placing on the Audius charts. Musicians are able to receive 90 percent of the revenue in AUDIO, and the other ten percent goes to stakers that support the Audius network. It's free to create an account, and you can start uploading music immediately.
While this platform doesn't allow artists to mint music NFTs, Audius is one of the main places the Web3 and NFT communities listen to music. And as a plus, you can even display NFTs you own after collecting 100+ $AUDIO.
Similar to Audius, Emanate is a blockchain-powered music streaming platform. It's built on EOSIO and uses its $EMT token for payments. Both the EMT token and the internal stable token run on the EOS mainnet, and anyone can track payments via EOS mainnet block explorers, such as Bloks.io and EOSX.io.
One major difference between Emanate and Audius is that Emanate pays artists in its native token per stream, while Audius only currently employs the rewards system for artists to earn crypto. Emanate also has the Emanate Music Lovers group, which is $6 per month. From every $6 the company gets, $5 is passed on to the artists.
Musicians can either go the DIY route to upload and promote tracks themselves, or they can use Emanate Distro. With Emanate Distro, artists who upload music on Emanate have the option to push audio and data to services like Spotify and Soundcloud. All revenue flows back into the Emanate ecosystem, where all revenue and payments can be tracked. The team notes that it hopes to eventually depreciate Emanate Distro, in favor of artists having total control via the Emanate platform. However, they note that it's impossible to instantly cut out the existing middlemen, so the company provides this service as the transition to Web3 streaming services takes off.
Emanate also plans to provide a wide range of services. While any artist or music lover can currently sign up for an Emanate profile, the platform's website states that "soon any label will be able to create a profile and start managing their artists," citing Mau5trap, Black Book Records, World Famous HQ, and more as current partnerships.
OPUS is a decentralized music hosting, discovery, and listening platform. The platform uses the Ethereum blockchain, and tracks are stored on the Interplanetary File System (IPFS). Using the IPFS, the platform is able to deliver thousands of tracks per second in a way that's fully decentralized. Ultimately, users listen to music through smart contracts, which the company notes contain the decryption keys and file hashes. And the smart contracts also provide a way for users to compensate creators for their music.
According to the company, OPUS enables artists to receive 90% of the money they take in. "By basing the OPUS Player [on] the Ethereum blockchain and storing all the tracks on IPFS, there is no central server and so the storage costs are drastically reduced. This allows for more of the revenue to go directly to the artist, in a more secure, transparent way than ever before," they said.
Fans can also receive a financial benefit from the platform. How? Users receive a share of royalties in exchange for creating playlists that help spread music throughout the platform.
BPM is a music NFT Discord bot that was built by SongCamp. It is essentially a music streaming bot that can be installed into a Discord server to play music NFTs minted via Catalog, Zora, Sound, and other services.
Although BPM isn't a traditional streaming platform and requires that a track already be minted as an NFT to stream it, it can be a useful tool when it comes to getting your music heard by the right crowd. Try reaching out to the moderators of your favorite Discord server to inquire about onboarding BPM. Here's an overview of what will be needed to install it.
NFT Music marketplaces
NFT marketplaces allow artists to easily create NFTs that consist of songs or entire albums. These music NFTs can then be sold to fans, sans middlemen. New NFT marketplaces are cropping up nearly every month, so musicians have quite a few options when it comes to minting a piece of music.
General NFT marketplaces for music
One thing to consider when choosing a marketplace is whether or not you intend to mint one NFT and place it up for auction or mint a collection of NFTs that are each individually priced. For collections, you should consider OpenSea and Rarible. These are two of the largest NFT marketplaces in the world. OpenSea is relatively easy to use and doesn't charge any listing or minting fees. It operates on a standard marketplace model, taking a 2.5% cut of all transactions. Creators can tack on a kick-back royalty of up to 10% for all secondary marketplace sales. If you want to get your work in front of as many people as possible with no upfront cost, list your NFT on OpenSea. It's compatible with the Ethereum and Polygon blockchains.
Rarible is a multichain marketplace, with minting options on Ethereum, Flow, and Tezos blockchains. Rarible is the first community-based NFT marketplace. Similar to OpenSea, the platform allows for the minting of batch NFTs.
If you intend to mint one NFT, platforms like SuperRare, Foundation, and Zora are your best bet. Again, each marketplace we've listed thus far will more or less walk you through the minting process from start to finish. But they are not all created equal, especially in the case of Foundation and SuperRare as Foundation requires users to obtain an invitation to join the platform and SuperRare requires potential minters to go through an application process that has a waitlist usually a few months long.
And do be prepared, minting comes with an initial cost. Most of the time, you'll only need to pay a gas fee (transaction fee) to mint, but sometimes marketplaces will tack on extra costs. And if the costs aren't apparent initially, you may still be paying fees down the line.
O

penSea: No minting fee, just pay gas. Takes 2.5% of every final sale price.

Rarible: No minting fee, no gas fee. Takes 2.5% of every final sale price.
SuperRare: No minting fee, just pay gas. Takes 3% of every final sale price.
Foundation: No minting fee, just pay gas. Takes 15% of final sale prices
Zora: Zero fee platform, just pay gas. No commission on sales.
Music-specific NFT marketplaces
On Catalog you can add a record to Catalog's open music library (which is available to stream for free), set a "buy it now" price, list it in a reserve auction, or accept an offer made by a collector. Artists receive 100% of their initial sales and also earn a creator share every time their records are resold. What's more, artists set the resale price they receive themselves. However, the platform is currently invite-only. It will likely remain so for some time, as the platform is run by a very small team and onboarding takes time. Artists can still complete the Catalog submission form to get their name on the waitlist.
Sound.xyz is a service that combines streaming with minting and community listening. On Sound, artists can launch a listening party for new song releases with a series of limited edition NFTs. Listening parties happen daily, and nearly every collection has sold out since the platform initiated its first drop. And the best part? Artists get to keep 100% of the proceeds generated by the sale. The platform is currently still in beta. Similar to Catalog, it is currently invite-only. If you're really itching to get your music on the Sound marketplace, try reaching out to one of the established artists on the platform or joining the Sound Discord server.
Async Music is the music-focused arm of prominent NFT platform Async Art. On Async Music, each track that makes up a song (guitar, piano, vocals, percussion) is uploaded separately and with numerous different versions. This allows artists to mint music in a dynamic way — with layers that come together to form one master track. Because these tracks are randomly compiled in a master NFT, songs on the platform have the ability to change their composition, meaning it may sound different each time a user comes back to listen. However, the platform currently doesn't allow open minting. It's also complex and not the most accessible for beginners.
Royal is 3LAU's new music NFT marketplace that gives NFT owners the rights to songs sold on the platform. The platform is currently highly curated, with 3LAU and his team hand-picking each artist and song that is minted on the site. While Royal isn't open for minting, the mechanics of the platforms LDAs (Limited Digital Assets, a.k.a royalty-bearing NFTs), is definitely something to become familiar with.
Other NFT music marketplaces to check out
OneOf is hosted on the Tezos blockchain. The platform is currently highly curated and doesn't allow for independent minting, only collecting, but it is a good place to list your work. Objkt has become both the defacto marketplace to trade NFTs on the Tezos blockchain and a great place to mint music NFTs. Kalamint is another good marketplace that's worth a look.
Learn
Guides & Explainers