In the world of traditional media, IPs often have to wait to receive a big-budget adaptation before mainstream audiences embrace them. For instance, George R.R. Martin's A Game of Thrones took 15 years to receive an adaptation — and audiences across a wide gamut of demographics ate it up.
However, in the spirit of Web3 making new approaches possible, the Forgotten Runes Wizard's Cult hopes to flip that meta on its head. "We're speedrunning the next big fantasy franchise," said Forgotten Runes co-creator Dotta in an interview with nft now. How big? "Bigger than Middle Earth, Westeros, and Hogwarts combined," they boldly proclaim on their about page.
Instead of waiting for a big studio to bring the world they've built to a wider audience, the team took matters into their own hands. Following the initial launch of its NFTs in June 2021, Forgotten Runes has expanded at a tremendous pace — and it doesn't seem to be slowing down. Comic books, TV series, and even a full-fledged blockchain game billed as World of Warcraft meets Stardew Valley — all built on top of an NFT collection that started as pixelated Wizards.
Let's look at where the magic began, the ever-evolving lore, and what's next for the Runiverse.
The Wizards that started it all
The Forgotten Runes Wizard's Cult began as an NFT collection featuring over 9,000 pixelated Wizards in all manner of garb and appearance. But don't let their pixelated designs fool you — each Wizard is completely distinct from one another, thanks in large part to the hundreds of unique heads each Wizard can come with.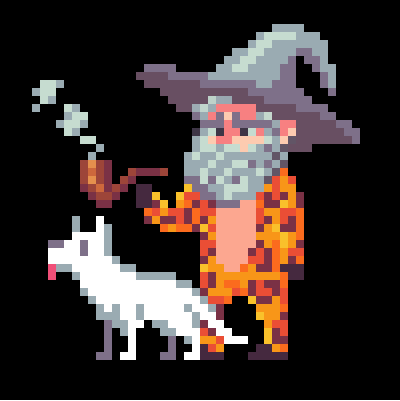 But these Wizards aren't intended to be used as simple PFP NFTs — each one grants its holder complete rights to flesh it out as they see fit. "What's different [about Forgotten Runes] is that it's our holders that help create the characters," Dotta said. "You build your character, you own that character, you have a commercial right to that character."
While that might not sound too out of the ordinary now, Forgotten Runes launched with the intent to shake things up in the nascent NFT space. "To me, it seemed like [other creators] were just doing another crypto token that just happened to have a picture on it," Forgotten Runes co-creator Elf explained. Thus, the team ventured to create an NFT collection that gave due respect to the characters depicted within. "All of our tokens have a unique name, every project out there has a serial number. Our Wizards have names. We were the first to do this because we want to emphasize the character," Dotta elaborated.
Playing with lore
Forgotten Runes' holders took that sentiment and ran with it as far as they possibly could. One of the greatest testaments of the creativity of the Forgotten Runes community is its Book of Lore, a codex for each Wizard from the initial collection that's fully editable by its respective holders.
Of course, while in theory, anything goes for holders in terms of lore, the Forgotten Runes team laid down some helpful groundwork; it all starts with how Forgotten Runes' Runiverse diverges from reality. For one, in this world, magic exists. As for technology? "This is not your standard medieval-like wizarding world. This is a world that's as technologically varied as our current world," Elf said.
Although decentralizing the worldbuilding of Forgotten Runes to this extent might sound like a continuity nightmare on the surface, Elf believes that the franchise can still tell a cohesive story at the end of the day, citing the continuity issues long-running franchises have historically overcome without a hitch. "If you look at other IPs out there throughout history like Batman, Ninja Turtles, or James Bond, even, […] all of them have almost no continuity," Elf said. Yet, they still have incredibly dedicated followings.
Furthering this point, Elf even pointed out that the stories holders have been telling with their Wizards do share a continuity, although not in the conventional sense. According to Elf, holders have all been modeling their respective lore around the monomyth — some without even realizing it. "You would be shocked at how often people will be writing about the same thing, like thousands of miles apart without communicating with each other," he said.
Multimedia pursuits
Elf also had nothing but good things to say about the sheer creativity put on display by the Forgotten Runes Wizard's Cult — although, in a sense, the founding team has led by example from the start. "In our cult, magic is the act of creation when you make art," Elf said. "When you make music, when you write a story, you're engaging in magic, you know? This can even be applied to coders. Dotta is a wizard. He literally writes spells in smart contracts. Even Bear Snake — our third partner — he's a wizard who opens doors. He can literally open any door in Hollywood," he said. This last bit is critical because it's what's enabled Forgotten Runes to gain some serious momentum in making its planned TV series possible.
One of those fateful doors that Bear Snake opened involved a call with Derek Kolstad — best known as the creator of the Keanu Reeves-led John Wick franchise. With Kolstad agreeing to helm the upcoming Runiverse-inspired series, the Forgotten Runes team has also enlisted animation studio Titmouse to bring the planned series to life.
This planned series — along with its currently running comic book — hopes to provide an even greater bedrock on which members of the Forgotten Runes Wizards Cult can base their storytelling. Doing so will unlock what looks to be one of Forgotten Runes' most tantalizing utilities for any die-hard fantasy and fiction fan — the opportunity to create functionally canon fanfiction.
Real-world engagement
"You need JK Rowling to write Harry Potter before you can have Harry Potter fanfiction," Dotta said. "And so, how do we get the stories of our world out in a way that is as fast as possible? We think one of the best ways to do that is to have a TV show, that's written by, you know, professional storytellers. [But] in the meantime, we're [also] trying to do more bite-sized storytelling from our own company [in the form of comic books]."
Despite Dotta describing the storytelling Forgotten Runes has been doing with its comic book as bite-sized, the intention behind its release is anything but. This, and all of Forgotten Runes' other media ventures, are also intended to drive more people into the core community.
"We printed nearly 200,000 copies. As far as NFT projects go, other products have done comics, but to my knowledge, nobody has actually printed a comic, let alone 200,000 copies, and it's so annoying. NFT people want to turn everything into an NFT," Dotta said. "Why would you create a whole comic book and then token-gate it just to your holders and make it some super rare collector's item? When you hold a physical copy of this comic book, and you flip through it, [you] can leave it in [your] office, and [your] kids can pick it up and read it," he said.
"My kids aren't gonna log into my MetaMask and read my Cool Cats token-gated comic. It's absolutely critical to speedrunning a franchise because the whole point is to go beyond a niche crypto community," he said. And so, how's progress been? Based on last June's Enter The Runiverse event held at NFT NYC 2022, pretty good. Held a year after the collection's initial launch, the Enter The Runiverse event launched in NYC to a (surprisingly) raucous crowd decked out in full costume.
"We're all just sort of like creating something new together. And we all love this idea that we're creating the next Lord of the Rings or Harry Potter, but instead of it all being owned by one person, it's this community. It's this giant piece of art that's created by all of us, and we're all drawn together right through that common mission," Elf said.
Here's to hoping this speedrun pays off. Move over Middle Earth — the Runiverse just might be coming for you.