Regardless of market action, innovation lies at the heart of the NFT ecosystem. Without creators pushing boundaries within the space, there would be no Bored Apes, Chrome Squiggles, Axie Infinity, etc.
As the non-fungible movement continues to expand, so do the opportunities to connect and build while establishing a community within the broader scope of NFTs. One of the most prosperous of these opportunities has come from an unlikely source: a text-based, adventure-themed project created by Dom Hofmann, co-founder of Vine, and other innovative NFT projects like Blitmap and Supdrive.
Launched without warning as a free-to-claim NFT on a first-come, first-serve basis, the Loot ecosystem has seen exponential growth on a mind-boggling scale – moving more than 65,300 ETH (over $183 million) in total sales volume. In this guide, we've helped make sense of all the craziness with a deep dive into Loot and beyond.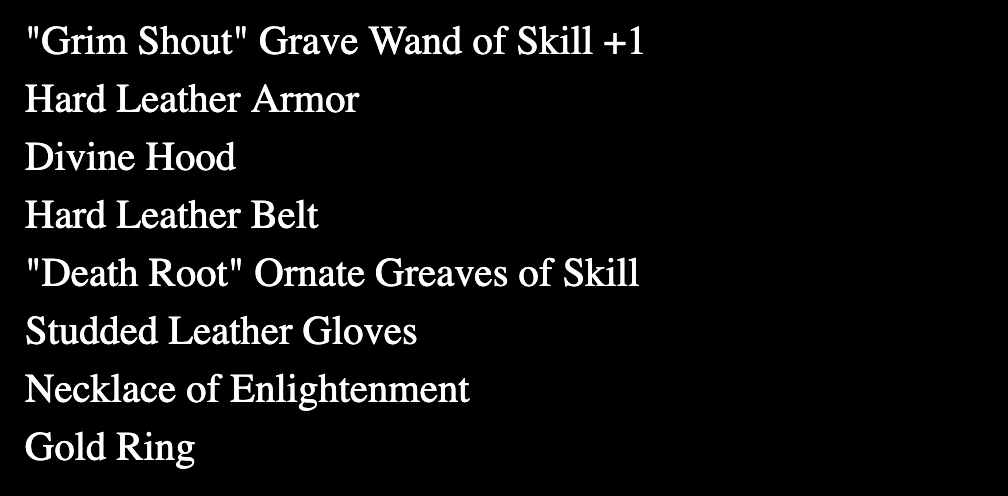 The Origin of Loot
Gamified NFT projects have been all the rage in 2021. As a way to foster engagement, reward participation, and create a narrative within a community, gamifying a project has been used as both a starting point and a major stop on the roadmaps of many community-centered endeavors.
When it comes to community gaming, Role Playing Games (RPGs) have often led the way. Whether it's the depth of the lore or the excitement that comes with character and world creation, RPGs capture the imagination like no other.
When Loot was unsheathed via a single tweet from Hofmann, adventurers everywhere were drawn to the idea of a project reminiscent of the sword and dragon RPGs of yore. Even with the minting process set up as an adventure in and of itself, it didn't take long for all 8,000 loot bags to be claimed.
By requiring collectors to mint directly from the smart contract and paying only the transaction fee, Hofmann gave anyone with a bit of spare time and ETH the opportunity to join the Loot adventurer ranks. As soon as all initial collectors had received their bags, the community began to explode – quickly assembling in a newly erected Discord specifically for Loot collectors and enthusiasts.
Loot's free-to-mint NFTs are displayed as a text list of adventure gear. The gear itself is reminiscent of what you might obtain in any RPG: swords, armor, clothing, wands, etc. Hofmann "intentionally omitted [images and stats] for others to interpret," leaving the project fully up to the community's collective imagination.
While the project and its launch were feats of their own, the value and the utility of Loot (beyond resale) was a bit obscure. With the Loot's future placed in the hands of the community, collectors quickly turned into builders, creating anything and everything they could using the project's foundation. Since then, the community has unveiled countless derivatives, incentives and expansions, constructing an entire ecosystem based on Dom's initial concept.
Loot's Expanded Universe
In the beginning, there was only Loot. That didn't last long.
At time of publication, there are at least 3 different Loot communities, 15 developer tools, more than 80 derivatives, 9 guilds, and much more. Some projects have pushed the boundaries of what Loot can be, while others have piggybacked off Loot's success, but each one has helped cement the project's place in NFT history.
Below you'll find some of the most unique additions to Loot's steadily growing expanded universe. This list is far from exhaustive and will continue to be updated as the ecosystem evolves.
Adventure Gold ($AGLD)
Adventure Gold is a token developed pro bono by Will Papper to "set a standard for projects building on Loot in the future." At the time of Adventure Gold's launch, anyone in the Loot community was able to claim 10,000 $AGLD per Loot bag. With the price of $AGLD rising to around $7 USD almost immediately after launch, the drop meant anyone holding a Loot NFT could receive a substantial chunk of change just for being involved. Even with leading cryptocurrencies taking holders on a rollercoaster ride, $AGLD remains tied solely to the value of the Loot community and ecosystem.
Role might be the most complicated, but also the most interesting project to spring up in conjunction with the Loot ecosystem. Role provides each Loot NFT an accompanying character that can utilize its adventure gear. Each Role can be created by a user and offers customizable combinations of attributes like gender, strength and dexterity, race, occupation and more. It allows players to create their own adventure stories using both Role and Loot in the lead-up to a full metaverse game.
What would an adventure project be without a Realm to adventure through? Similar to $AGLD, this project expands the Loot ecosystem by giving each holder the option to mint a free Realm NFT. Each NFT is a procedurally generated map that is completely unique, even down to the language used to distinguish each Realm's name. This project gives Loot that extra "quest and conquer" feel.
Similar to Role, Explorers takes the idea of character-building and utilizes Loot's NFTs to directly influence its collection. Still in its infancy, Loot: Explorers looks to marry generative PFP style projects with the original Loot's fantasy trappings in creating matching characters to accompany each individual Loot NFT.
Loot has often drawn comparisons to Bored Ape Yacht Club in terms of influence. Similarly to how BAYC created a new market dominated by PFP projects, Loot created one overrun with text-based NFTs. Loot: Explorers seems to be one of the first collections to unite the two.
Bibliotheca's developers realized early on that the Loot space would become oversaturated with derivatives. With more than 80 spinoff Loot projects already on the rise, Bibliotheca proposes a solution: to funnel "community projects into a single queryable graph."
Utilizing the Loot community as a voting body to determine which projects are graphed within their system, Bibliotheca aims to "[build] a framework to allow easy inclusion of community projects." Loot, $AGLD and Realms are currently graphed, with more on the horizon.
The n project took Loot's model of free-to-mint, text-based NFTs and ran with it. This collection's twist is that each token contains a list of randomly generated numbers stored on-chain, rather than adventure gear. Since its September 5 launch, its community members have created all sorts of generative art based on the random numbers presented throughout n project's NFTs.
Bloot was started by NFT collector Beanie in what seems to have mostly been a joke. Despite toting the tagline "it's basically worthless," the collection sold out quickly, with a Discord community materializing almost instantaneously. Bloot took a more memefied approach to its NFTs and included objects such as "Propeller Cap," "Noodle Hands" and "Twitter Fingers" in place of adventure gear. Since the initial launch, there have been numerous offshoot projects created by the Bloot community – even including a $BGLD (Based Gold) airdrop mimicking Loot's $AGLD.
The Future of Loot
It seems that Hofmann never anticipated that Loot would grow this quickly. His other projects, Blitmap and Supdrive have even experienced a few delays due to the success of Loot. However, with great power comes great responsibility, and he has risen to the challenge of being one of the premier innovators in the NFT community.
What happens next with Loot is anyone's guess. With the hype finally settling, we could see Loot have another rapid uptick or slowly, organically develop at a steady rate for months to come. Either way, there seems to be no shortage of involvement and enthusiasm within the ranks of Loot's adventurers.
While builders, collectors, and investors are always on the lookout for the next big thing, it's completely possible that Loot will be dwarfed by yet another new NFT market explosion. But as the Loot floor ballooned to a whopping 15 ETH before settling around 5 to 6 ETH within its first month, it's obvious that interest in the project is still growing. We'll continue to update this guide as the story unfolds.