It's no surprise that many of those in the NFT community came from the traditional collecting world. Having stockpiled figurines, trading cards, comics or even art over the years, the idea of digital collectibles is sure to have persuaded many traditionalists to join the wave of NFT enthusiasts sweeping the Ethereum blockchain.
Although digital art currently dominates most NFT marketplaces, figurines, trading cards and comics have seen a resurgence over the duration of the 2021 boom – with Punks Comic in particular defying all expectations.
Speculated to become "the Marvel of NFTs", the universe slowly being created by Pixel Vault has drawn attention and capital from far and wide. So to straighten out the craze around Punks Comic, we've created an ultimate guide to help explain the project's explosive trajectory.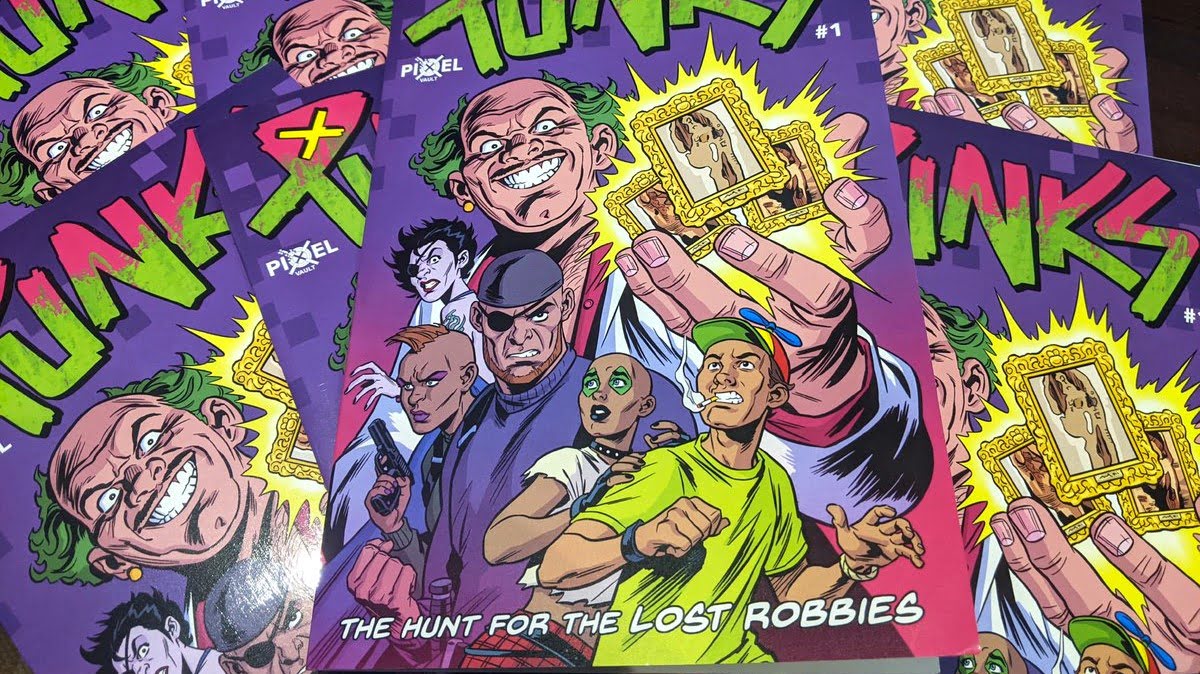 Origins of the Digital Page-Turner
Punks Comic is a project spearheaded by NFT collector and influencer Beanie, and Pixel Vault – a media company formed around the creation of the comic. It's worth a mention that although Beanie helped conceive both Pixel Vault and Punks Comic, he plays a minimal role in the company's current endeavors.
From the beginning, Punks Comic presented a unique opportunity as a first-of-a-kind NFT comic that provided utility to its collectors. Consisting of 10,000 NFTs at a cost of 0.2 ETH to mint, after minimal marketing from the developing, team Punks Comic went live in May 2021.
Upon purchasing, collectors not only received an NFT depicting the comic's cover, but a fully downloadable PDF version of an actual digital comic. Full of action and suspense, the substance of the comic comes from chief storyteller Josh Blaylock and fantastically talented artists Chris Wahl (of Marvel & DC Comics) and odious.
The comic's protagonist is Beanie, a take on CryptoPunk #8146 and its corresponding personality created by Beanie. Our protagonist becomes obsessed with finding the "Lost Robbies" – which are based off an actual set of AI-generated NFTs created by Robbie Barrat, that many presume to be lost (held by inactive or "dead" wallets).
Beanie and his team of characters, that are also based on CryptoPunks, catch wind of a lead concerning a Lost Robbie and set off on a mission to find it. The story pays homage to NFT influencer Beanie's obsession with Robbie Barrat's work, while bringing CryptoPunks to life in a whimsical and creative way.

Punks Comic launched with a comprehensive roadmap that included giving owners the option to either hold, burn or stake their NFT and receive various rewards. Yet, it seemed that many didn't grasp the full concept of the project at the start, causing it to stall for a short period of time after launch.
Even after all was said and done, it took a few months for trading to really pick up. But when Pixel Vault initiated the next phase of the Punks Comic adventure, things really started to take off.
Current Happenings
In the months following the Punks Comic launch, the tokenomics surrounding the project started to roll out. As previously mentioned, collectors had the option to hold, burn or stake their comic for rewards.
For holders, it was announced that Punks Comic wouldn't be limited to a single NFT. By holding this first edition "The Hunt for the Lost Robbies," anyone with a sub 5,000 numbered comic (#1 – 4,999) would receive the second, Bored Apes-themed edition for free upon its release. Additionally, a 14-day physical Punks Comic claim period was revealed, but the start date has yet to be set.
Burning
The Punks Comic burn mechanism opened to the public at the beginning of August, with its 14-day burn period lasting till midnight on August 13. This was the first of two occurrences that lead to a significant surge in trading.
By burning one Punks Comic, an owner would receive a Pixel Vault Founder's DAO token featuring art created by FVCKRENDER. Owing a Founder's DAO token means "having governance over the DAO and its contents (fractionalization, individual item sales, buyouts, etc) + access to a private Discord."
Currently, the Founder's DAO has accumulated 600+ ETH worth of assets, making DAO tokens a relatively hot commodity. As burning reduced the supply of comics, the floor of both the Founders DAO token and the comics themselves began to skyrocket, each setting around 3 ETH a few days after the burning began.
MintPass
The second event to impact trading, which happened around the same time as burning, was the rollout of a new project, MetaHeroes. Before staking talks had even begun, Pixel Vault announced that MetaHeroes would run concurrently with Punks Comic.
MintPasses, redeemable for one MetaHeroes come launch, were available at 0.08 ETH to all who owned a Punks Comic during a snapshot taken on July 15. MintPasses almost immediately exploded, hitting a 1 – 2 ETH floor within the first few days only to top out around 8 ETH a few weeks later.
Staking
Towards the end of 2021 (likely but still TBA), Punks Comic staking will open up and be available for a total of 24 months. Within these 24 months, comic owners have the ability to stake their comics for proportional ownership of half the supply of $PUNKS tokens – a token that "represents fractional ownership of the 16 CryptoPunks represented in the comic."
After burning ended, it was also announced that Founders DAO tokens would be stake-able, earning a different set of unique rewards. The date is yet to be determined for either staking period, but we know it will happen soon after the physical claim period ends.

Future Applications
Punks Comic started as a simple mint and hold NFT project, and has since become an entire universe of gamification and rewards. What was once available for a set price of 0.2 ETH, has turned into one of the most lucrative collections in the NFT ecosystem.
Those who bought a single comic back in May have been awarded:
A free MintPass, which at its first peak was worth 10+ ETH
Ability to redeem MintPass for a MetaHero, which has a current floor price 6 ETH
Option to burn or stake their comic, with each avenue yielding unique rewards
Incentive to hold comic for free physical version and airdrop of next edition
A 40x profit if Punks Comic was sold when it had it's first peak around 8 ETH
And more within the expansive MetaHero universe.
With the extent of these incentives having rolled out in only a few months, there's no telling what could happen during the staking period. Having received a decent amount of press both within and outside of the NFT community, Punks Comic has persevered throughout the duration of 2021, accomplishing a laundry list of firsts within the space.
To learn more about the Punks Comic, visit the project website here.