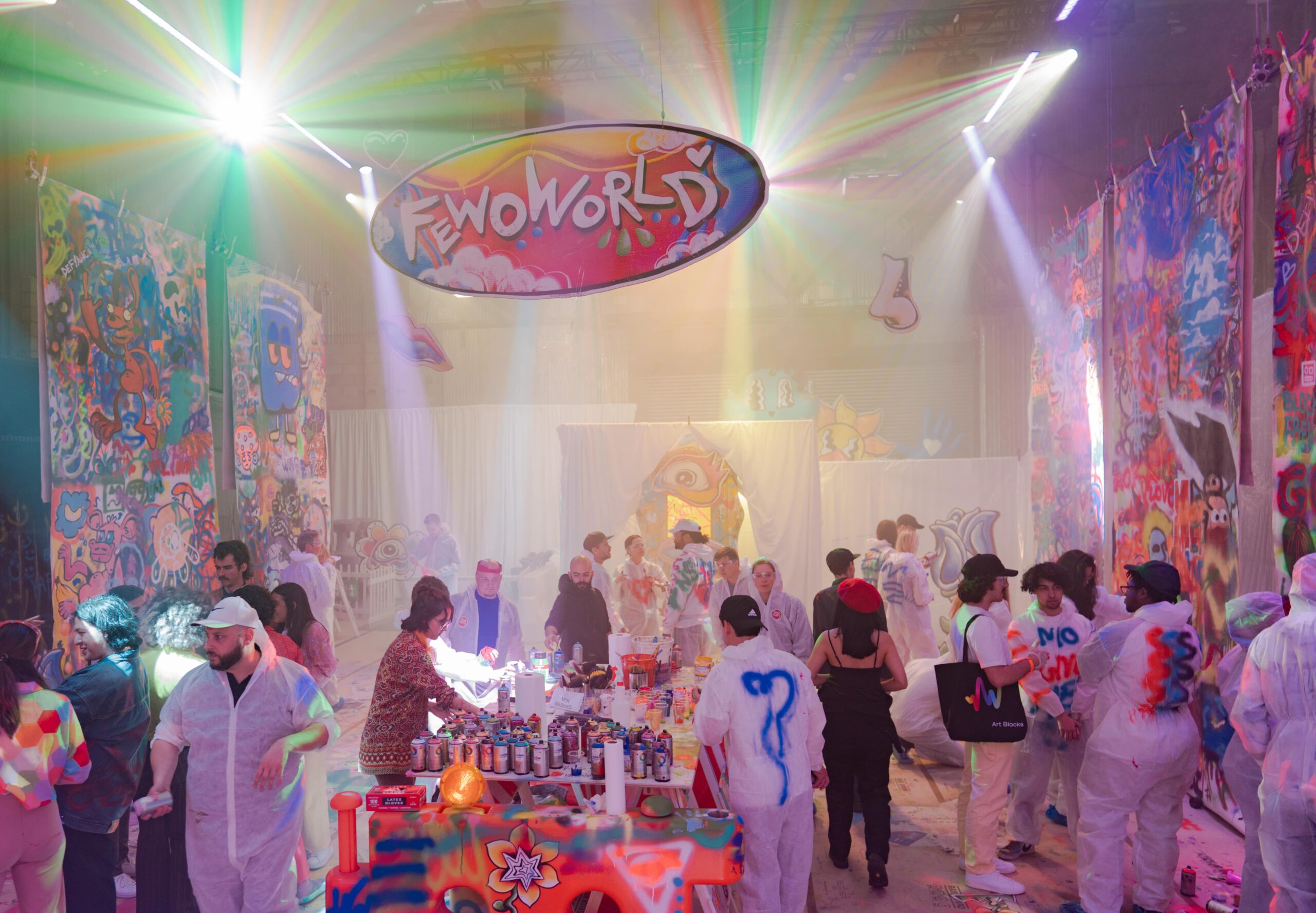 FEWOCiOUS, whose real name is Victor Langlois, is a crypto artist who has gained popularity for his imaginative and unique art. Better known as "Fewo" by his supporters, is one of the NFT space's first medium-native superstars.
As someone who embraces his transgender identity, Fewo's artistry has been a medium for self-expression and exploration. From 2021 to now, he's gained a substantial following and built a devoted community around his art. FewoWorld is a universe dreamt up and created by FEWOCiOUS and the Web3 community. It is also the name of his first generative art project.
What is FEWOWORLD?
FewoWorld began in April 2022 with the launch of Paint, dropped in partnership with Nifty Gateway. Paint Drops was the first piece of generative art from FEWOCiOUS's FewoWorld universe. 
Paint trailers showed the globular shimmering drops bursting into little Fewos as they explored the whimsical world. There are 7,305 Paint Drops (both from the original sale and distributed from the vault to attendees of Paint Parties). 
FEWOCiOUS shared with nft now that Paint drops had initially started off as an experiment.
"I went on Twitter spaces and was all over Twitter being like, 'Hey, I'm making this experiment. And I said, y'all, I want to make weird character things. I don't know what I'm doing, but it's gonna be really cool,'" he said. "I thought maybe a thousand, maybe two thousand people would buy it. But there was way more than that. And it's crazy. It's so weird. It's awesome though. I'm very thankful."
The next chapter of FewoWorld came in the form of canvases. Canvas NFTs are small squares of giant canvases made by everyone at Fewo's Paint Parties. For each party – the canvases are photographed and digitally broken up into enough squares to airdrop each attendee. The Canvas pieces from the Miami Art Basel 2022 Paint Party are the first to represent clothing items.
Fewo originally started paint parties to give NFT NYC and other NFT conference attendees an alternative activity to partying and drinking.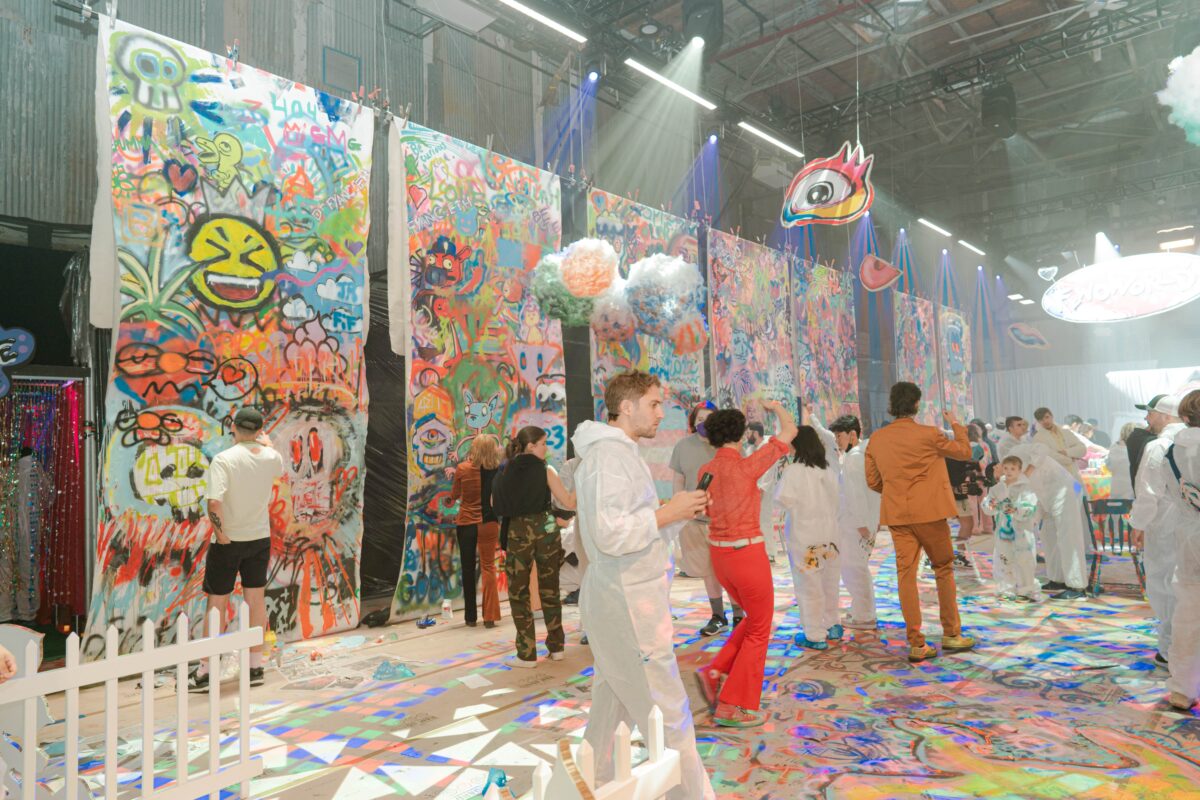 "Every other party during [NFT conferences] are like clubs where there's a DJ and everyone's dancing and drinking, and I can't hear what the other person's saying. And I was like, what could I do where I could talk to people? I could dance. I could also paint, and I could have snacks! And I figured, let's get a warehouse. Fill it with canvases, everyone put on protective gear, and we can run around, paint, talk, and do whatever, draw crazy pictures!"
FEWOS
Fewos has been a part of the FewoWorld story since its inception. The little creatures that roam FewoWorld embody emotion and creativity and look like they're taken directly from FEWOCiOUS's art. But Fewos have been creatively on a long road – going through several iterations to get them right. 
He shares that as a transgender boy, he started making art and painting because he had nowhere to express his identity verbally.
He observed that many in the space prioritized PFP drops, often at the expense of artistic quality. Believing that art was sometimes an afterthought to financial gains, he was compelled to bring something more meaningful to the table.
"And I thought, well, I'm in this space, what a unique, weird concept, a collection of all these character things, and everyone says that the PFPs are their identity. That's a big thing where people base their accounts off a Punk, the Ape, or whatever. And I've thought about identity a lot my whole life," FEWOCiOUS said. He expressed that being why he felt inspired to create one that represented himself yet could be embraced by others.
"So I wanted to do this just because it sounded cool, sounded weird, I know how to draw, and I think the Fewos have lots of emotion," he said. "Some Fewos look sad, some Fewos look angry, some have their face split open in half, and they're bleeding everywhere. Some have stars and little cloud mouths, lots of different things. But yeah, that's how that started."
The Story of Mr. MiSUNDERSTOOD
The community will witness a diverse array of Fewos showcased within the collection, including Mr. MiSUNDERSTOOD.
Mr. MiSUNDERSTOOD, known as the unofficial Fewo "mascot," has appeared in FEWOCiOUS art in different iterations through the years. He first appeared in FEWOCiOUS's Sotheby's auction at the end of 2021. He remains part of the collection – and the #1 rarest Fewo – and has spawned one of the three types of species, the Misunderstood.
"I made a big seven-foot-tall sculpture of him," FEWOCiOUS said, referring to the version of Mr. MiSUNDERSTOOD he made for Sotheby's. "And then there's a species called Misunderstoods that to me are just variants of him in a way."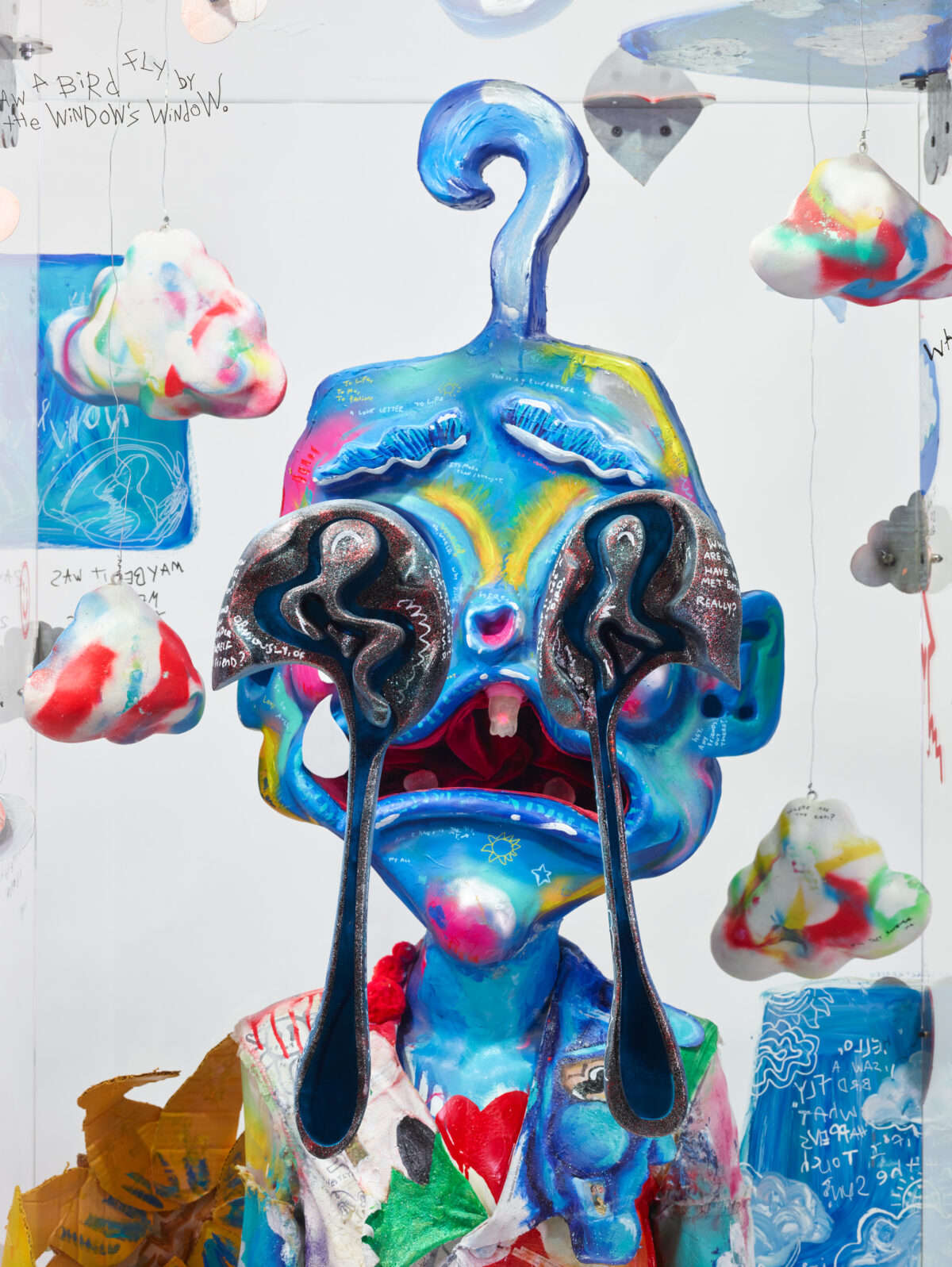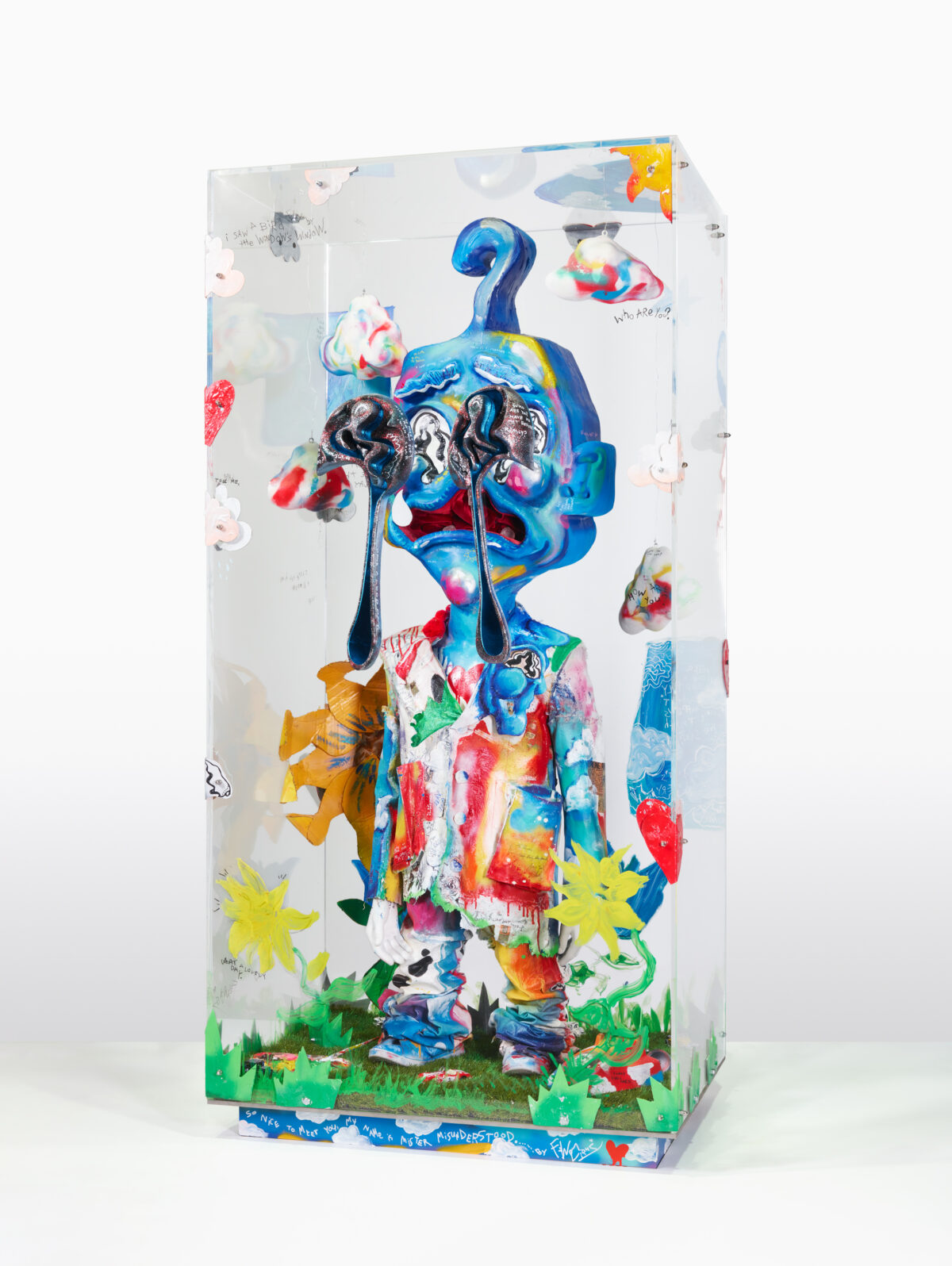 Mr. MisUNDERSTOOD's inception started when Fewo was 14 years old and found himself drawing a blue character.
"I would always draw this little blue goopy thing. First I would call him Little Boy Blue, but then Mr. MiSUNDERSTOOD looked cooler and it sounded cool," Fewo said. "So then I started calling him that. And then I made a big sculpture of him, and then now he's just in my heart forever."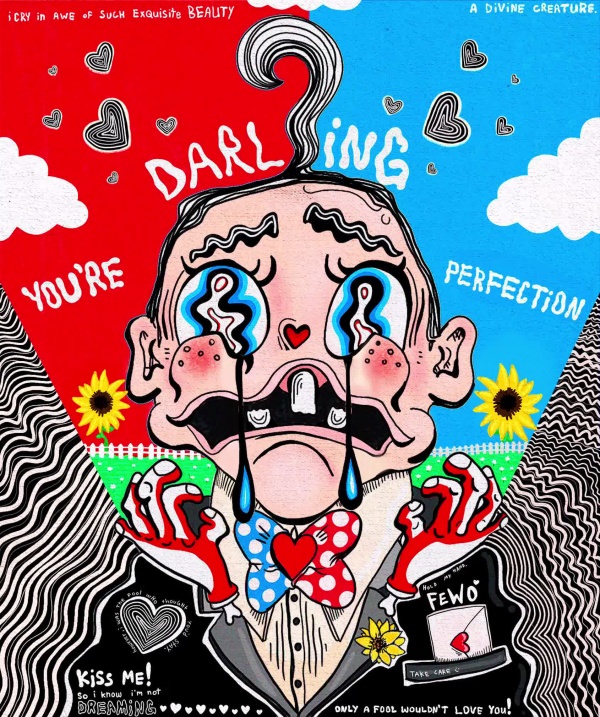 From 2D to 3D
The first iterations of Fewos conceptual art were simple and 2D – the easiest path to doing a large-scale generative collection – little room to run into overlap issues, shadow issues, you name it. But – as you can see – the first few iterations didn't capture the real essence and style of FEWOCiOUS art.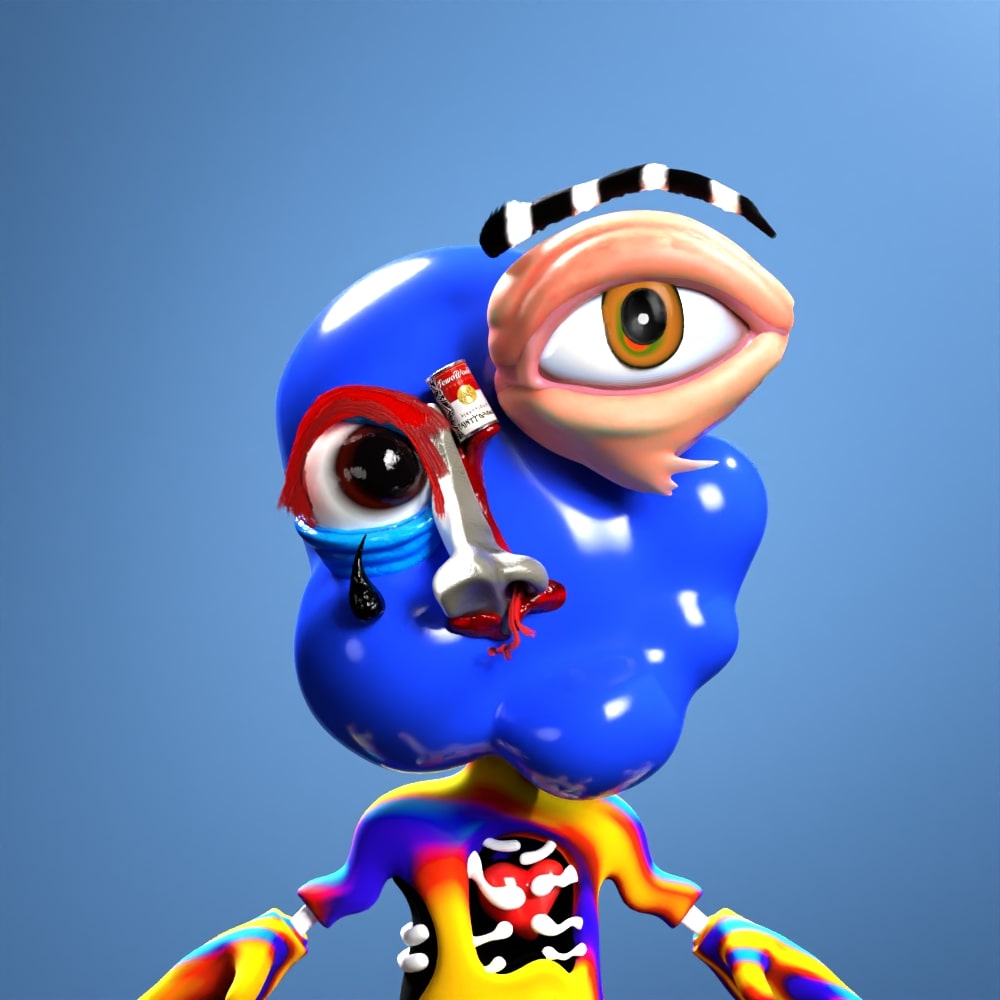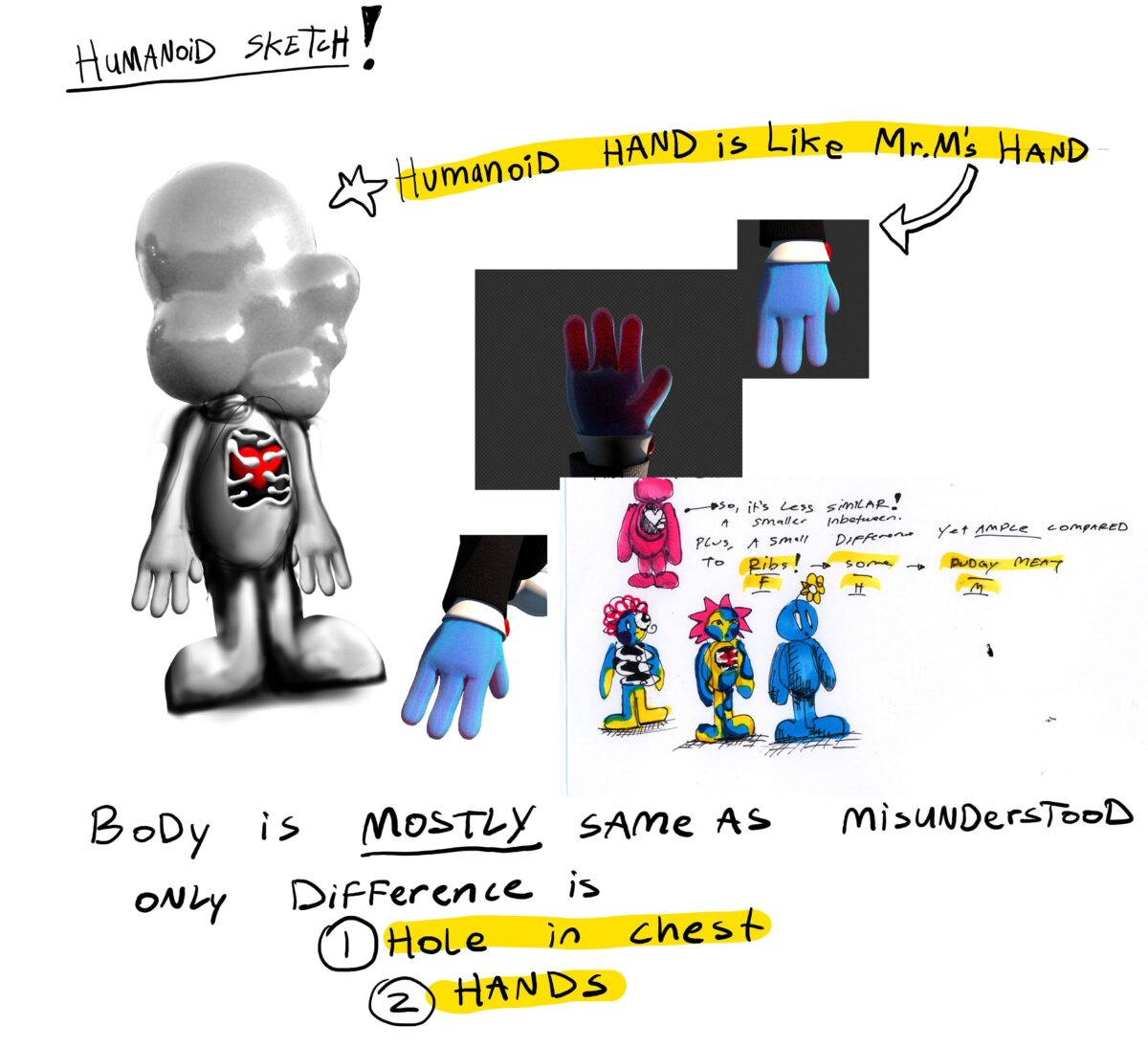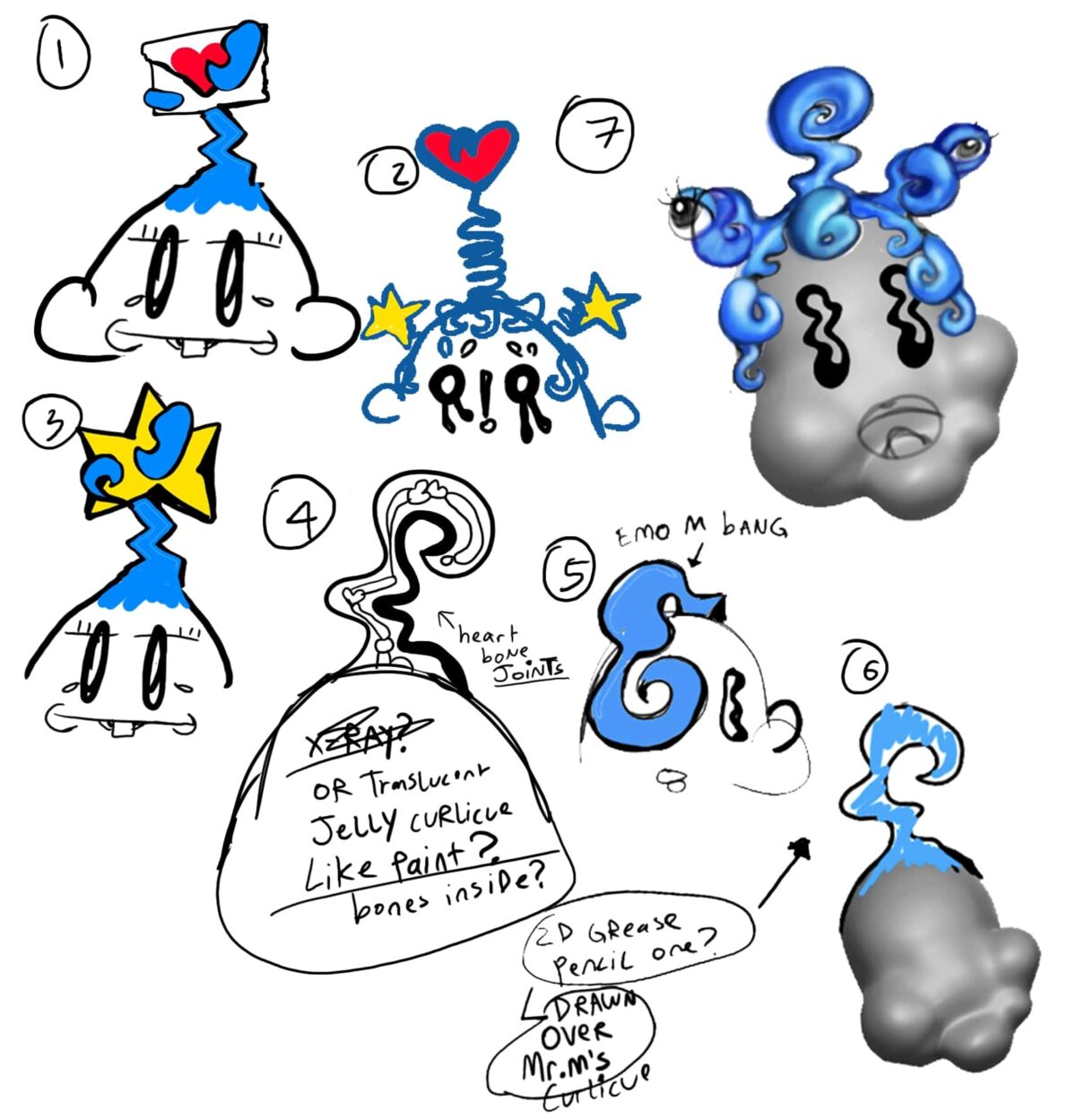 Eventually, FEWOCiOUS and his lead animator and 3D designer Logan – came up with a "Mr. Potatohead" type of system for 3D characters. This allowed them to plan for "sockets" for each trait to keep them from overlapping and having the normal design issues.
"The problem was because so many projects are 2D, you can just do layers. And if you could do layers, it doesn't matter if things collide," FEWOCiOUS explained.
"But in 3D, if this heart eye is really big, and if that collides with the cheek, it will look bad. Because it's three-dimensional, and it'll just glitch badly. Or this hair, or this head top, that can collide with this ear, and that'll look bad. It's a big problem, so we made this socket system where we just drew little circles arbitrarily on the face, and on the head of this is roughly where an eye should go, and it can't go further than this"
Fewo and Logan made invisible guidelines to make sure nothing ever collided.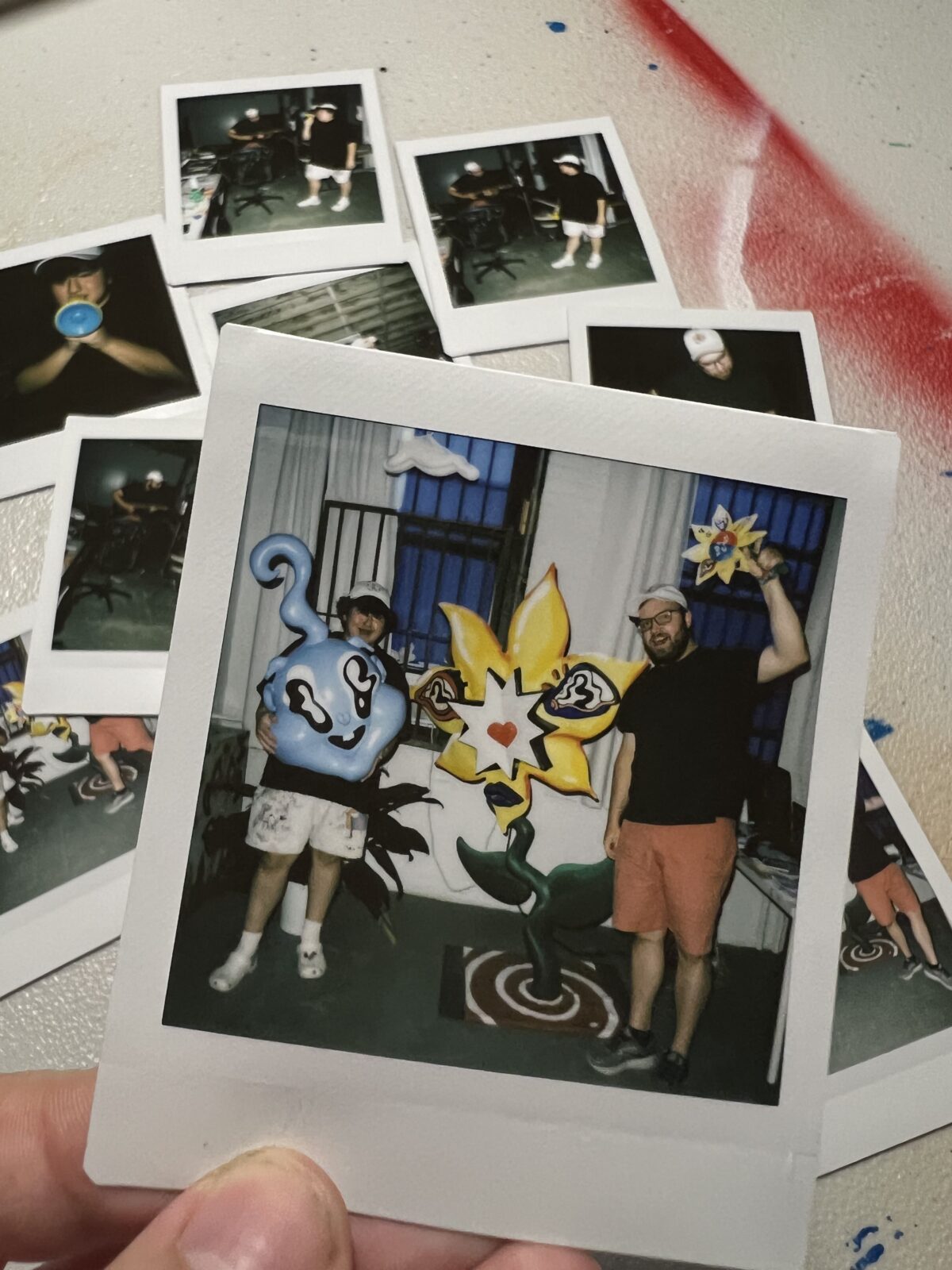 "It took us a long time, and it was really hard. Yeah, and it's hard too, because my art is so abstract that I draw things colliding all the time. I'll draw a nose halfway inside of an eye, but artfully, it stops colliding at some point," Fewo said.
Types of Species
After debating between several species ideas, Fewo settled on three primary types of Fewos:
Frankensteins
Humanoids
Misunderstoods
The other most important piece of this project – was allowing these characters to have some real life behind them. Movement, full bodies, personalities, style. Every Fewo is sculpted as a full-body creature and rigged in Blender to be easily animated. Fewos can also hold items and wear clothing via the Dressing Room equipping and unequipping function. Any changes made to a Fewo in the Dressing Room can visually alter the actual NFT.
How to mint a Fewo
Fewos will have a supply of up to 20,000 minted over the week between September 25th and 29th. Below is a more comprehensive breakdown and timeline for the Fewos minting process from start to finish.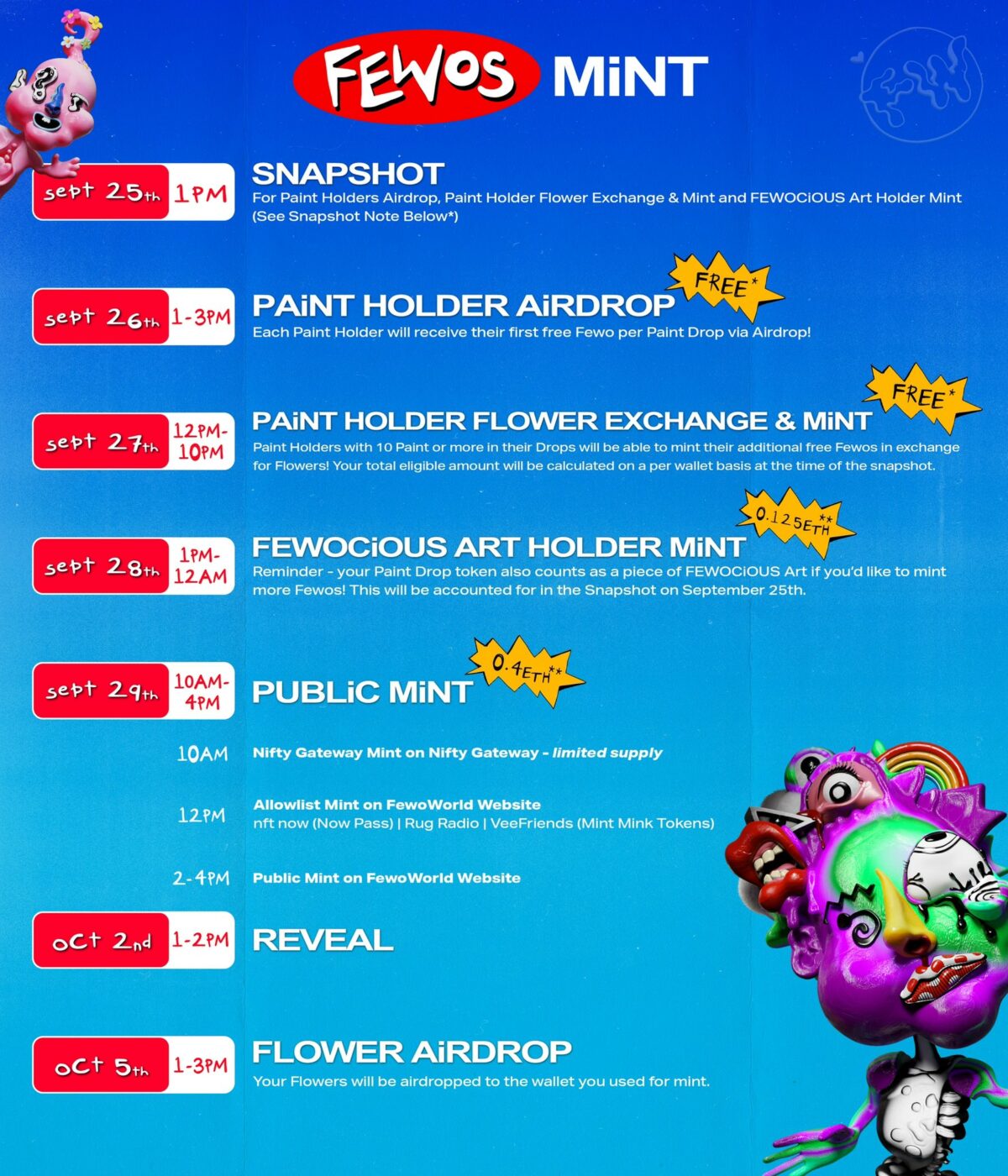 In a commendable move, Fewo wanted to ensure that his long-term supporters were rewarded. As such, he's made a significant gesture to make Fewos free for Paint holders. This move underscores FEWOCiOUS's commitment to his community and the value he places on loyalty.
"Of course, I'm thankful that they have my art, but this FewoWorld, extravaganza exploration is just, you know, I didn't know who would want to come along with me," he said. "I'm very grateful that a lot of people did want to go on this journey with me. And so we spent a year making these things, and I was just like, with Paint, you already believed in me, thank you so much. Here's a piece of what I've been working on for so long."
Fewos is also introducing a new feature: the Dressing Room. Here, owners can effortlessly equip or unequip items, offering a dynamic way to personalize their Fewo. While in the Dressing Room, a standing view of the Fewo is available, allowing for a comprehensive look at how the character is adorned.
In the vibrant world of FewoWorld, Flowers serve a dual purpose. Not only do they act as Mint Passes for upcoming digital wearables and holdable accessories, but unredeemed Flowers can also be equipped directly as holdable items. Furthermore, Paint Drops provide a unique twist; when equipped as holdable items, they have the power to transform a Fewo's DNA. This results in the alteration of the Fewo's organ or bone color to mirror that of the Paint Drop. On the other hand, Canvas NFTs offer aesthetic versatility and can be used as wearable chains.
The Dress Room debut and Flowers "Blooming" event are set to launch in November and December, with specific dates and times soon to be announced.
Pricing Mechanics
The FEWOCiOUS Art Holder Mint is capped at a price of 0.125 ETH, while the Public Mint has a ceiling of 0.4 ETH. The final pricing will be calculated based on the remaining Fewos after accounting for the Paint Holder Airdrop and the Paint Holder Flower Exchange & Mint. It's estimated that up to 14,000 Fewos, out of the total 20,000 supply, will be minted after the Paint Holder events. For every deficit of 500 Fewos from this 14,000 projection, the prices for the FEWOCiOUS Art Holder Mint and Public Mint will decrease by 5% for the remaining Fewos.
For example, after the Paint Holder events, if 13,500 Fewos are minted/airdropped, prices will drop by 5%. At 13,000 Fewos, it's a 10% reduction, and for 12,500, it's a 15% decrease, continuing in this pattern. The finalized prices and remaining supply will be announced soon after the Paint Holder Flower Exchange & Mint concludes.
What's next for FEWOWORLD?
"Oh wow! Ahh! I'm 20 right now, and I feel like making Fewos has taught me a lot about working in a team & making art with multiple people, and communicating my visions to someone outside of my Photoshop canvas at 4 a.m… That's the biggest skill I've learned this year, along with learning lots and lots of Blender 3D," FEWOCiOUS shared as he alluded to the future of his art and FEWOWORLD.
As FEWOCiOUS continues to pioneer the intersection of art, identity, and technology through FewoWorld, the crypto art community eagerly anticipates the next chapter of this vibrant universe. The dedication to rewarding long-standing supporters and the continuous introduction of features and interactive drops emphasize a focus on user experience and engagement. Whether it's new species, interactive experiences, or deeper layers of customization, one thing is clear: FewoWorld is just getting started.
"Next, I wanna make clothes, bags, everything! More sculptures and little figurines, more paintings, of course. Always! I don't know…. cups even! If you think about it, if I'm only 20 right now and I die at 100 or something, I still have 80% more of my life to live and make stuff. This is only the beginning, and I feel like each day I'm getting more and more brain knowledge to make more cool stuff with amazing people!"