Right now, it seems like everyone is talking about the metaverse. The term skyrocketed in popularity last fall when Facebook changed its name to Meta. Since then, many have taken an interest (and possibly found confusion) in what the "metaverse" actually entails.
The metaverse is best defined as a blending of physical and virtual worlds. Proponents of the metaverse argue that such a future is inevitable and that humans will one day spend the bulk of their waking hours in a world that is augmented in some way. In this respect, virtual real estate (aka virtual lands) may be the future of physical reality.
Such a technological leap doesn't seem improbable, especially if we consider the ways our lives have become more digital during the COVID-19 pandemic. Whether it be meeting with colleagues in VR Chat or building your own 3D space on one of the many blockchain gaming platforms, it's become the norm to interact with others through a screen.
In the future, if we are spending the majority of our time in the metaverse, it goes without saying that we'll require some form of dwelling. The first step is buying some property in the metaverse for your future digital home. Millionaires are already participating in the digital land grab, but there are more affordable options out there too.
Spending a few thousand dollars on a piece of metaverse property undoubtedly isn't for everyone. But as housing prices in the real world continue to spike in 2022, it could be a welcome alternative for those who still want to own, but can't afford real-life acreage. So why not get a head start on building that virtual house that you might someday pass down to your kids' 3D avatars?
Here's how to get started.
Before you buy virtual real estate
Nothing is truly free – in real life or on the blockchain. Therefore, land in the metaverse is going to cost you a bit of money.
Most of the popular metaverse games where users can buy property are built on the Ethereum blockchain. This means you can do most of your buying and selling using ETH, as the majority of goods to be purchased are sold as NFTs. Having multiple metaverse games on the same blockchain is nice as it allows for ease of access, but the popularity of the Ethereum blockchain/the NFT ecosystem has undoubtedly served to hike the price up significantly.
If you don't have a crypto wallet already, take a second to read our guide on how to set up a MetaMask. You can purchase ETH and fund your wallet via the MetaMask app, or if you have an account on a major exchange like Coinbase or Gemini, you can send ETH directly to your wallet.
Not all platforms require ETH, though. Many enable users to purchase tokens with a credit card, which can then be used to purchase digital land. For alternative games that allow for a wider variety of payment methods, try Upland or Second Life.
Where to buy land in the metaverse
There are quite a few metaverse games in which virtual real estate can be purchased. Most of them sold out of land quite some time ago, meaning you'll likely need to buy a parcel or dwelling via the secondary market. Before you go dashing for a deed though, here's an overview of some of the most popular places to secure real estate. While many of these platforms power users to purchase tokens that can be used for in-game purchases, we'll be outlining each floor price in ETH.

Cost: 1.44 ETH (~$4,200) via the Treeverse Plots collection
The Treeverse is a pixel-themed metaverse experience created by NFT collector/influencer Loopify. The project is an open-world, fantasy MMORPG where users can slay beasts, forge weapons, defeat dungeons, and more. Treeverse is split up into multiple NFT collections but purchasing a Founders Plot allows users to create public homes, rent out their land, and more.
Cost: 1.7 ETH (~$4,900) via the Cryptovoxels collection
Cryptovoxels is a virtual world that consists of "Origin City." Within the city are streets owned by "The Corporation" and parcels owned by individual users. Parcel owners can build on their parcel or add and remove blocks and features. Owners also have the option to make their parcel a "sandbox parcel," which makes it free for anyone to build on.

Cost: 2.44 ETH (~$7,100) via the Worldwide Webb Land collection
Worldwide Webb is an interoperable pixel art MMORPG metaverse game that gives utility to popular NFT projects. The game uses NFTs for in-game avatars, pets, virtual real estate, items, and quests. Virtual lands in Worldwide Webb are spaces owned and controlled by users and can be used to house social events, pets, avatars, and games. They can even empower users to incorporate custom smart contracts and sell their own art.
Cost: 3.2 ETH (~$9,300) via the Somnium Space collection
Somnium Space is an open virtual reality world with its own economy and currency. On Somnium Space, users can create fully customizable avatars, property, and experiences. The game has a full VR marketplace and can be played via PC or mobile device, but is best experienced with a VR headset.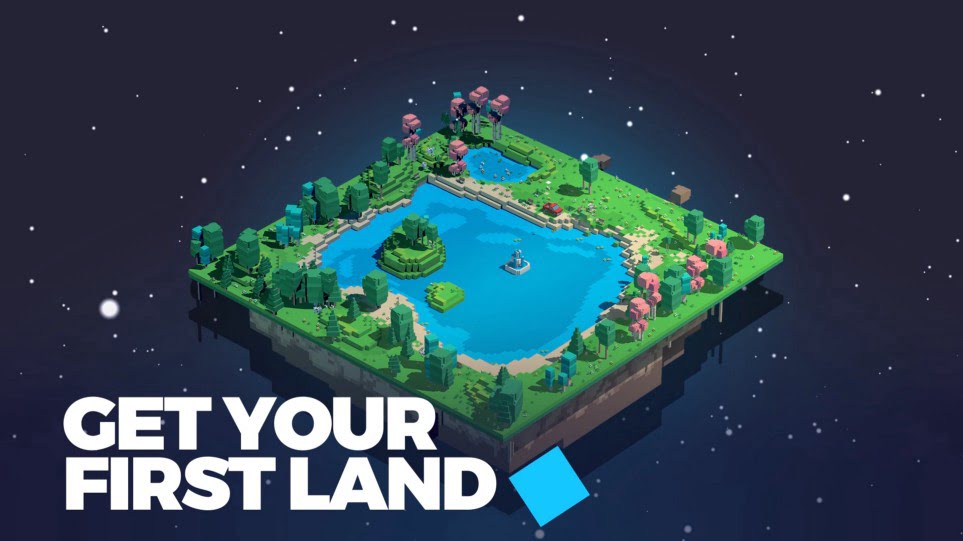 Cost: 3.24 ETH (~$9,500) via The Sandbox collection
The Sandbox is a virtual world where players can build, own, and monetize their gaming experiences. The Sandbox blockchain gaming platform consists of three integrated products: VoxEdit, where users can create and animate 3D objects, Marketplace, where users can upload, publish, and sell their NFT creations, and Game Maker which allows anyone to build amazing 3D games for free. Players can buy LAND and populate it with games, assets, and interactive experiences.
Cost: 4.6 ETH (~$13,500) via the Decentraland collection
Decentraland is a 3D virtual world where users can explore a vast digital space and buy virtual plots of land. The game can be accessed with or without a crypto wallet but one is required to purchase metaverse wearables. Once land is owned, users can develop the land using the Decentraland editor or importing 3D models from external software.
How to buy virtual land
Considering every metaverse game on the above list is built on the Ethereum blockchain, the simplest way to purchase a parcel of virtual real estate is to do so via OpenSea. Parcels exist as singular NFTs that, like any other NFT, can be traded and transferred. The process of purchasing an NFT plot of land is exactly the same as purchasing any other NFT. Simply connect your crypto wallet to OpenSea, navigate to the collection and NFT of your choosing, and click the big "Buy Now" button to initiate the process. If you want to bypass the NFT trading logistics and jump straight into the metaverse, land can also usually be purchased in-game.
If you've ever made an online purchase, this entire process will be incredibly familiar. We'll use Decentraland as an example. To peruse and purchase land in Decentraland, all you need to do is head over to the Decentraland Marketplace. Once there, navigate to the "Land" section and find a plot of land within your budget.
Once you identify a parcel and initiate the purchase, the in-game prompt will guide you through the rest of the transaction process. In Decentraland, you can only purchase an NFT with ETH or MANA (Decentraland's native currency). This is also true of The Sandbox with SAND. Don't let the new token scare you though because acquiring both MANA and SAND is about as easy as purchasing Fortnite V-Bucks.
Once the transaction is complete, that's it! All it takes is a quick check into your OpenSea account or in-game wallet to confirm that you are now the proud owner of some metaverse real estate.