ApeCoin DAO — the Web3 organizational entity built up around ApeCoin, a cryptocurrency token created in the spring of 2022 as a part of the Bored Ape Yacht Club ecosystem — has come under fire for paying out salaries and fees up to $75,000 per month to its leadership board and being out of touch with its own community.
On June 10, the ApeCoin DAO secretary, an individual who goes by the pseudonym Vulkan, posted an organizational chart on Twitter detailing the salaries of the DAO's governance board. Some positions, like the DAO's facilitators who moderate the group's community forum space, are being criticized as being particularly egregious in their role-to-remuneration ratio.
creating an org chart: $7k / month

managing a forum: $24k / month

supervising stuff: $27k / month

being "special": 104k / month

watching our bags go down 90%+: priceless

there's some things $APE can't buy. for everything else, there's ApeCoin DAO. pic.twitter.com/Qla0Gspe2d

— Michael🐐🦎 (@MiKeMeUpP) June 11, 2023
am i crazy or are these salaries insane

like i genuinely have no idea what the "special council" is even doing to deserve $20k/month

would love to be proven wrong here but it looks like apecoin dao is just burning cash on nothing

can anyone name one proposal passed this year? https://t.co/jomri88ZUa

— Daniel G 🍌 (@DanielitoG25) June 11, 2023
In response, a number of Web3 observers took to Twitter to express their frustration with the organization's administration. "How do I apply to work at ApeCoin? $8K a month to mods is insanely out of touch," said Satvik Sethi of the org chart, an artist and the former head of Mastercard's Web3 arm. "They are disconnected from reality," wrote another observer.
Navigating decentralization
ApeCoin was announced in March 2022 by ApeCoin DAO as a crypto token made to expand "culture, gaming, and commerce" in the BAYC universe. Despite their thematic similarities and close relationship in the Web3 ecosystem, both ApeCoin and ApeCoin DAO are technically independent of Yuga Labs, the company behind the BAYC. This thin but distinct legal separation is to avoid complications with the U.S. Securities and Exchange Commission, which has been known to go after companies it perceives as offering unregistered securities.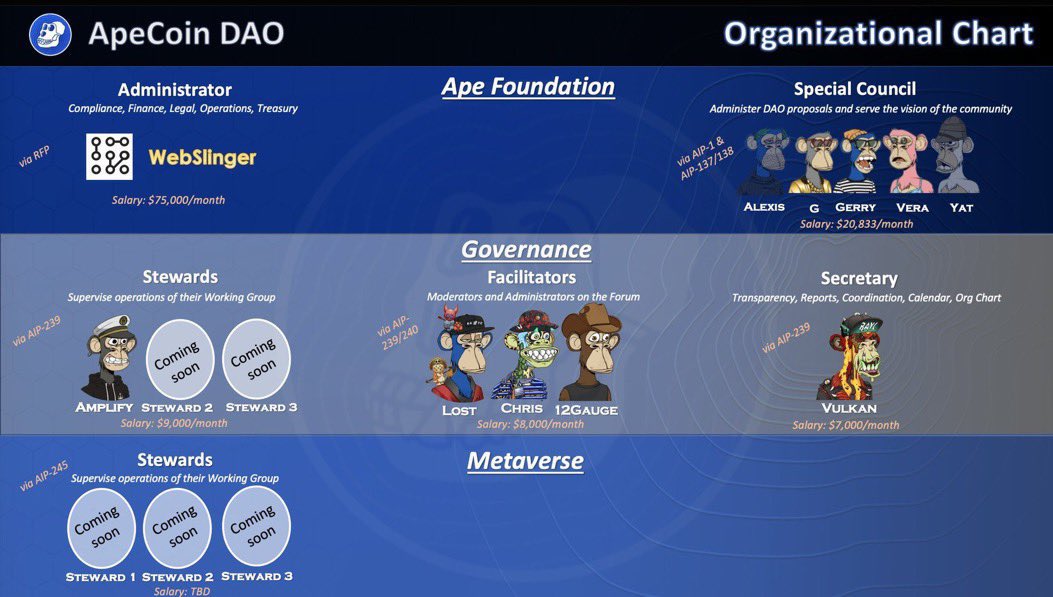 DAOs (decentralized autonomous organizations) are Web3 governing entities meant to democratize and disseminate leadership amongst their community base. Members of ApeCoin DAO (ApeCoin token holders) have the opportunity to vote on proposals that utilize the Ecosystem Fund, the community treasury. The DAO's "Discourse Facilitation Team," just one of the aspects of the org chart that is currently being criticized, was created after proposal AIP-240 passed a community vote in April of this year, for example.
Navigating DAO decentralization
Apart from the governance board, ApeCoin DAO receives support from the Ape Foundation, which consists of an administrator and a special council that have access to the treasury via a multi-sig wallet and that are meant to provide financial support for DAO projects and initiatives the community votes to pass.
When the DAO was created, its special council consisted of Alexis Ohanian (co-founder of Reddit, general partner and founder of Seven Seven Six), Amy Wu (former head of ventures and gaming at FTX), Maaria Bajwa (principal at Sound Ventures), Yat Siu (co-founder and executive chairman of Animoca Brands), and Dean Steinbeck (president and general counsel at Horizen Labs) and served a six-month term.
In November 2022, three of the council's members — Steinbeck, Bajwa, and Wu — stepped down from their roles in the DAO, triggering a process to find new candidates. On January 1, 2023, after a community vote to select new leadership, ApeCoin DAO members BoredApe G, Vera, and Gerry began their tenure on the council, each receiving a $20,833 monthly salary (in ApeCoin) per the terms of AIP-1.
Responding to the criticism directed at these payouts, Siu detailed the thought process behind the salaries on social media, claiming that the salaries align with what a mid-cap public company operating in the Web3 sphere should be paying its administration.
1/ @apecoin $ape compensation was designed to being commmensurate to the responsibility and liability of the role and the closest example we found at the time was that of public company directors. A thread on the approach of the initial remuneration structure 🧵👇 https://t.co/nFpCkBqwbH

— Yat Siu (@ysiu) June 11, 2023
"Comparing the salary of an average labourer to the role of serving a multibillion dollar #DAO like @apecoin$ape seems a little unfair imho," Siu continued. "As the famous idiom goes; you get what you pay for and there is a reason why companies and organizations often pay what they do."
Likewise, special council member Bored Ape G took to Twitter to provide context to the numbers being discussed online. Bored Ape G reminded the community that the DAOs administration was previously overseen by the Cartan Group, an organization that the DAO had contracted out for a fee of $150,000 a month.
Late last year, the Cartan Group submitted a proposal to renew its administrative leadership, something that would have increased its fees to $300,000 and month and further centralized control of the DAO. The community voted against the proposal, drafting a contingency plan in Cartan Group's absence, which eventually evolved into AIP-196. This proposal established a process for a new administration (adjacent to the special council that works under the latter's supervision) and "stewards" that would work alongside the DAO's governance board.
That process resulted in the election of Webslinger as the new administrator, with the group being paid a fee of $75,000 a month, a significant reduction in cost compared to the previous administrators.
The Request for Proposal (RFP) process led to the selection by the DAO of Webslinger as its new Administrator at 50% of the cost of the previous administrator

The purpose of this was in part, to further decentralize certain work to the ApeCoin Community!https://t.co/UeklAzUiSD

— Bored Ape G (🔮,🥃,🦉) (@BoredApeG) June 12, 2023
A healthy Web3 discussion
Another member of the special council expressed their views on the matter, with Vera posting on Twitter that a key area of focus should be whether or not individuals in the role are bringing substantial value to the DAO and its community. Other members of the Web3 community have noted that the controversy surrounding salaries and roles in the DAO is exactly what a healthy debate on decentralization should look like.
Great discussion. If @ysiu mentioned in his thread that this is truly decentralisation, then let the people decide if SC should be paid that much. Is a good benchmark to start with comparing with web2 public companies but their salary is determined by a small group of people

— soltsla.ethᴹᴷ (@SOLtsla) June 12, 2023
How the concept of decentralization manifests, in reality, has been the subject of enduring debate in Web3. Often a passionately held belief of Web3 diehards, a gold standard of operations regarding decentralization or DAOs themselves, has yet to emerge in the nascent industry.
Editor's note: A previous version of this article referred to WebSlinger as an individual, it has since been updated.