Beeple is returning to Christie's to make more history. The auction house announced on Thursday, Oct. 28, that this time, the artist is showcasing his first piece of physical artwork — and it's a blockchain-driven video sculpture accompanied by its own NFT.
Titled HUMAN ONE, the piece is a sculpture more than 7 feet high comprised of four connected video screens that form what Christie's says resembles "a magician's transparent cell." Computers built into its base power the sculpture, and display images of an astronaut-like being — Human One — walking endlessly around the screens as the dystopian landscape changes around the figure, depending on whether it is day or night for the viewer.
The images, according to Christie's, are randomly pulled from a collection of Beeple's art stored on the Ethereum blockchain. His intention is to keep seamlessly adding new imagery — inspired by current events — to this collection, resulting in a video NFT sculpture that will be contemporary no matter the time.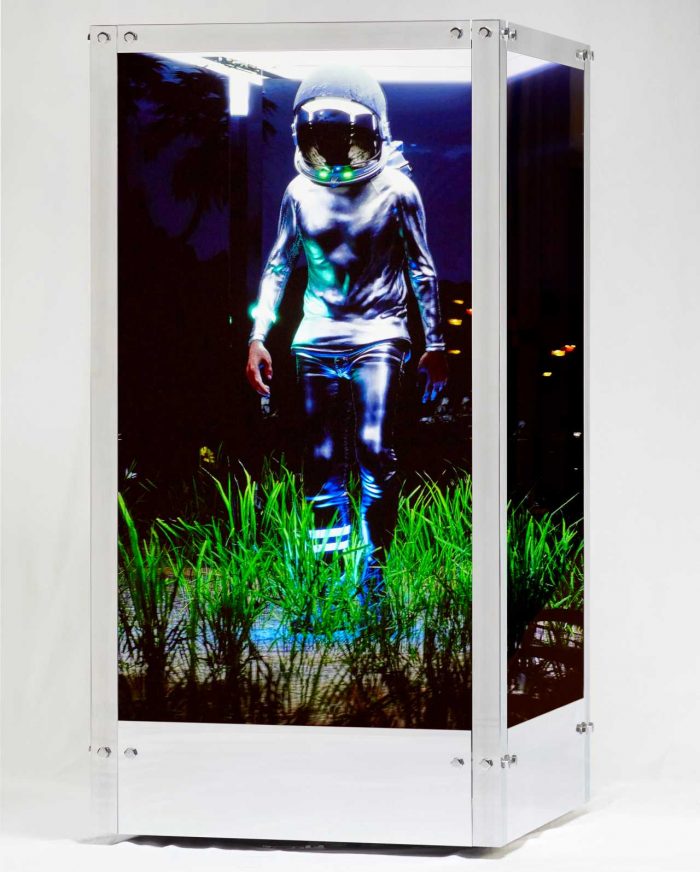 In a statement, Beeple explained the evolving nature of his latest piece. "The design of HUMAN ONE allows the video in both the physical object and its NFT to be remotely and seamlessly modified from the blockchain — enabling the message and meaning of this piece to continue to evolve over the course of my life," he shared. "While a traditional work of art is more akin to a finite statement, frozen in time at the moment it was completed, this artwork's unique ability to be updated makes it more akin to an ongoing conversation."
He also spoke to nft now about his goals and inspiration for the video sculpture. "I wanted to create a work that felt like it was [as] digital as it was physical, something that really walked the line and felt like you were viewing directly into the metaverse," the artist born Mike Winkelmann says. "I was inspired by many works in the past, but most notably, Dali's surrealism and Damien Hirst's The Physical Impossibility of Death in the Mind of Someone Living shark piece."
Though HUMAN ONE may seem like it would've taken a lot of time to create, the artist says that wasn't the case. "This actually came together very quickly with the concept just coming mid-summer, and the entire piece being designed and built by our in-house engineering team in about three months," Beeple explains to nft now.
If the video sculpture sounds impressive, Noah Davis, Christie's Head of Digital Art & Online Sales, Post-War and Contemporary Art, assures that it is, regardless of whether the piece is viewed on screen or in person. "I had the rare pleasure of two first reactions when I saw HUMAN ONE first over Zoom before flying to South Carolina for an IRL viewing," he tells nft now. "Even from the palm of my hand, it was staggering to behold. But in person, it's a totally different beast. The fidelity of the LED screens is amazing, and the way the work responds to your presence — how it changes depending your POV, the figure rotating through space — it's just shockingly good art."
So good, that Davis has high hopes for its potential impact on NFT art. "I'm hopeful that HUMAN ONE raises the bar for blockchain-enabled concepts in 1/1 NFT-based art," he shares. "The way Mike is playing with people's expectations as to what constitutes a 'finished' artwork here is really compelling, and I imagine there are countless untapped ways to use NFT and blockchain tech to convey complex new concepts. I can't wait to see what the next wave of innovation brings."
HUMAN ONE makes its debut the morning of Oct. 30 at Christie's Rockefeller Center galleries. It then heads to the auction house's 21st Century Art Evening Sale, which takes place Nov. 9 at 7 p.m. ET. The NFT video sculpture is estimated to sell for more than $15 million; Christie's will be accepting bids in Ethereum, Bitcoin and U.S. dollars.
Beeple previously made history with Christie's when his NFT Everydays: The First 5,000 Days sold in March for an eye-popping $69 million. The sale of the piece — a collage of 5,000 digital images created by Beeple — set a record, becoming the third most expensive work sold at auction by a living artist.
Related Content:
Photos courtesy of Christie's Images Ltd. 2021.