Earlier today, video game retailer GameStop launched the beta version of its very own Ethereum wallet. Users interested in participating in the beta can download the wallet from the Chrome Web Store, to be used as a Chrome or Brave browser extension.
Upon downloading, users will be able to securely store and use cryptocurrencies across a wide range of decentralized applications without having to leave their Chrome tab. According to its website, mobile versions of the GameStop wallet will be available in the future as well.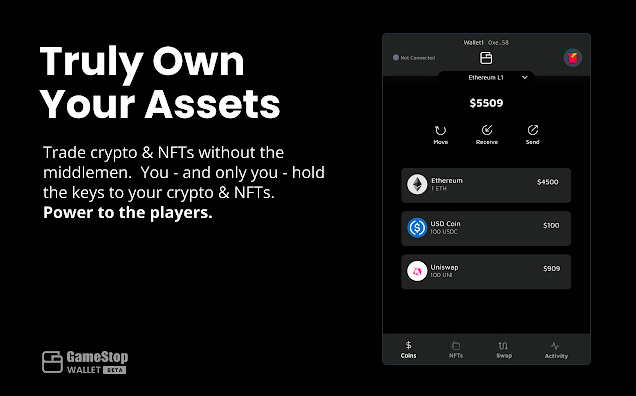 Another key feature of GameStop's wallet is that it is non-custodial, meaning users will have complete control of whatever digital goods they store on it. No third party will have access to any given user's wallet, just whoever is in possession of its private key. Users interested in making their wallets even more secure can do so by offloading their contents into a compatible third-party hardware wallet.
More importantly, the wallet will also allow users to store and consolidate their NFTs into one digital location. This lines up with an announcement the game retailer made earlier this year regarding its planned gaming-themed NFT marketplace slated for release near the end of Q1 or early Q2.
With this, there's a clear desire from GameStop to double down on placing its roots firmly within Web3 whilst the iron is hot — a strategy that the company's higher-ups hope could make up for its increasing losses over the years as more and more gamers have opted to purchase their games digitally. The announcement also shows that the retailer's relatively-new NFT division has made steady progress since it was first made public earlier this year.
GameStop's announcement falls into a larger overall trend of more traditional businesses staking their claims in the Web3 space. For instance, Web2 institutions like eBay and Instagram have bought into the NFT craze, either by integrating NFTs into their sites or releasing collections of their own.