The blockchain's immutable record provides unique opportunities to study the crypto and NFT ecosystem. Specifically, looking at money flow through the network can be a helpful lens on current dynamics in the NFT and crypto space.
And, NFT market participants spent roughly $2.7 billion (963,227 ETH) minting NFTs between January 1 and June 30 of this year, according to a recent report by the blockchain analytics platform Nansen.
During that time, 50.7 percent of the ETH raised from a project's primary sales stayed in the NFT communities. Another 45.7 went to non-entity wallets, which the Nansen team defines as addresses they couldn't establish as an owner or known entity. Only 0.2 percent were sent to exchanges, and 3.5 percent were listed as "other" wallets, including service providers, angel investors, or charities.
The top 20 wallet addresses that sent ETH out of their NFT project belong to collections like VeeFriends Series 2, Primitive, Meta Labs Field Agents, and more. Vee Friends Series 2 accounts for five out of the top 20 transfers to non-entity wallets.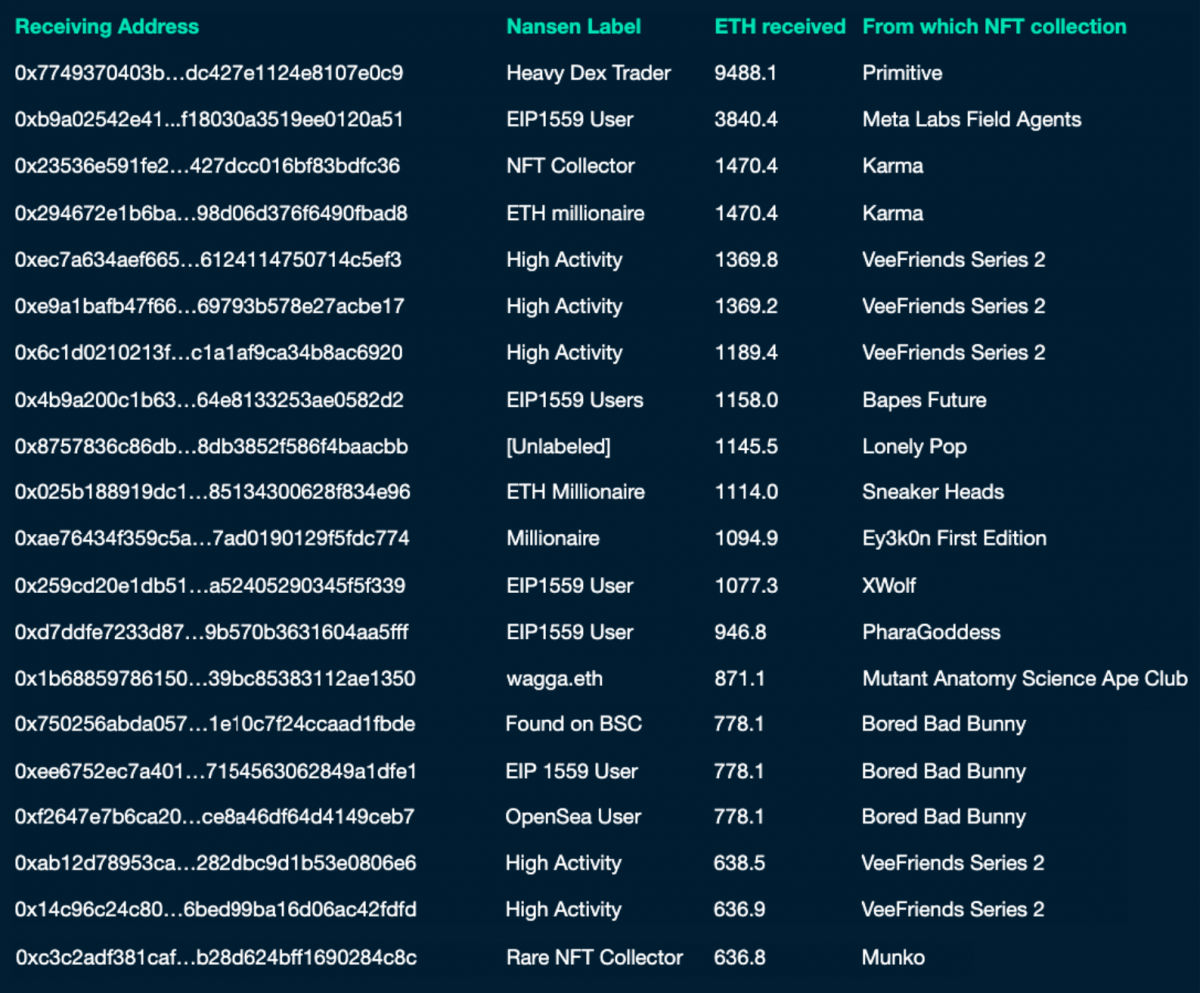 The crypto winter reshapes primary NFT sales
The numbers offer some perspective on the current crypto winter. That 45.7 percent of ETH flowing out of NFT projects is actually down significantly compared to 52.3 percent, the figure Nansen found a year ago.
The effects of the age of the free-to-mint project are also evident. A total of 1,088,888 wallets participated in NFT projects that included a minting fee, but this number increased to 1.5 million unique wallets for free mint activity.
Minting accounted for 13.7 percent of all NFT volume during these six months. Tellingly, when comparing Ethereum to the other chains that Nansen studied (Arbitrum, Avalanche, and Binance), the highest proportion of that mint-related volume belongs to the Binance-backed BNB Chain at a weekly average of 80.2 percent, or $107 million.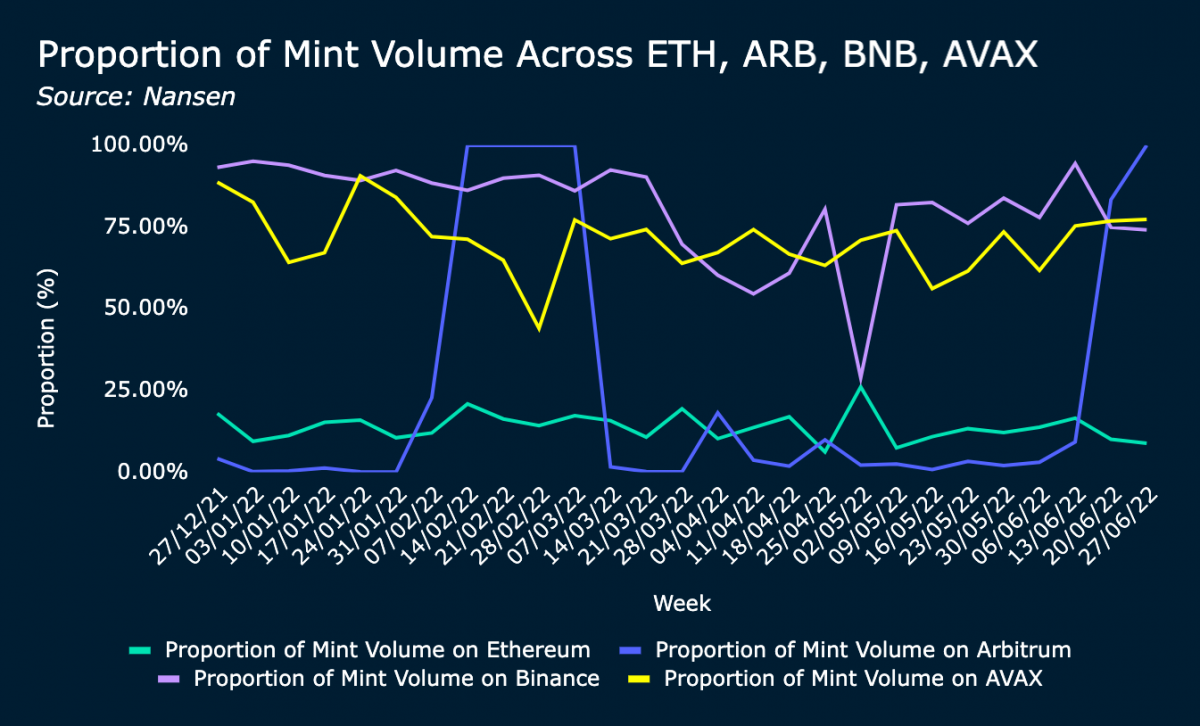 Not all NFT projects earn equally
There is also a stark divide between projects making ETH and those that aren't. Nearly two-thirds of the projects in the report raised below 5 ETH in the period Nansen analyzed. Just 140 NFT collections raised more than 1,000 ETH.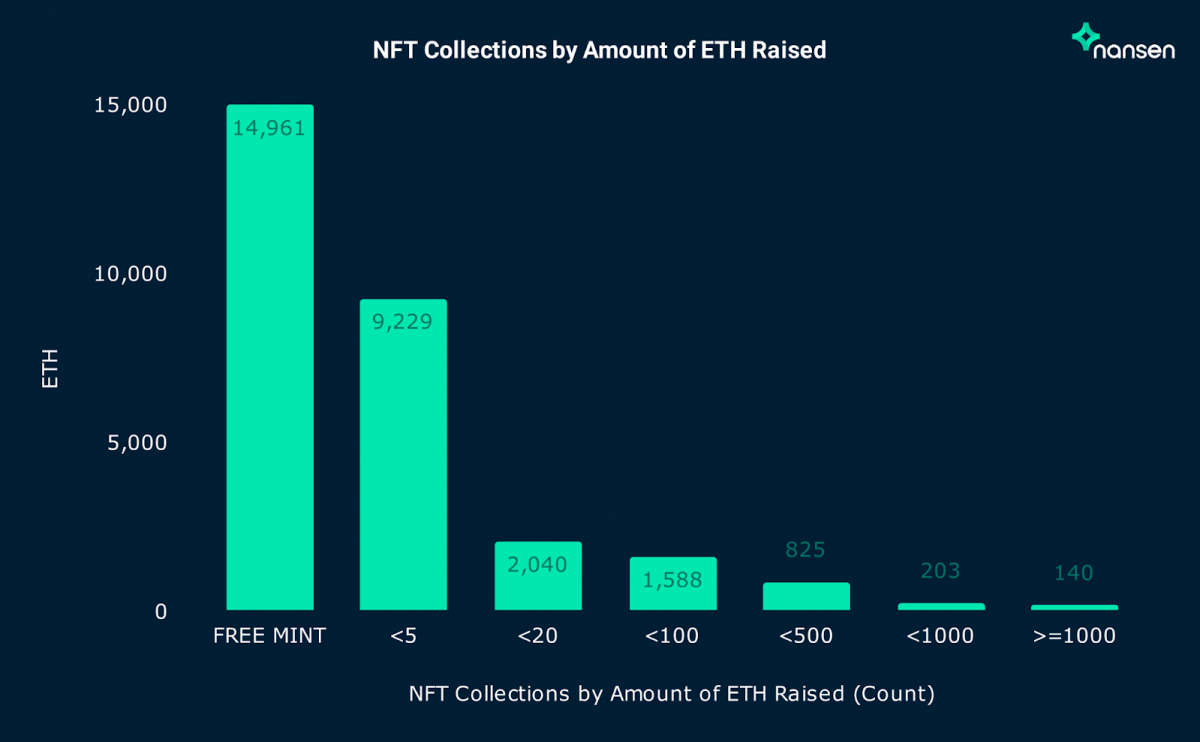 Some findings also to memorable project drops and events from the last six months in the NFT space. The troubled launch of the Pixelmon project made it the number one collection that raised ETH through primary sales. Rounding out the remaining top five in order of ETH made from minting, we have Moonbirds, VeeFriends Series 2, Genesis Box, and World of Women Galaxy.
Nansen noted that because the company continually updates its labels and metrics, an increase in wallet labels might have accounted for the study's results, as the team was simply able to include more entity wallets in it. But, given the study results, the company concludes that the NFT market's minting sector remains healthy. The fact that NFT projects are reinvesting the majority of primary sales revenue into their communities shows that, even now, the space is home to creators and builders.