The NFT ecosystem has seen a massive rise in trading in 2021. With NFT marketplaces continuing to break records from previous years, sales volumes reached $10.7 billion in Q3, according to DappRadar's industry report for the period of July through September, released Oct. 1.
According to DappRadar — a company focused on tracking decentralized apps (dapp) data — there was a 704% increase in sales volume from Q2. Popular NFT marketplace OpenSea alone achieved $3.4 billion in the month of August, per MarketWatch. DappRadar reports that with mainstream media, brands, celebrities and brands helping drive new users to the NFT space, the blockchain industry as a whole has seen an average of 1.54 million daily unique active wallets during Q3, representing a growth of 509% year over year.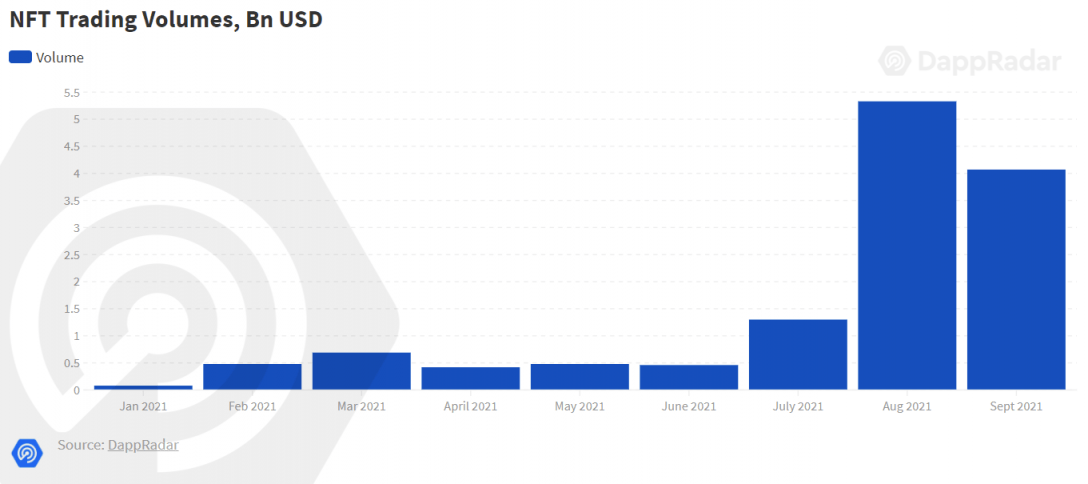 A deeper look at the incredible volume achieved in July through August shows that in addition to NFTs and DeFi, decentralized gaming has continued to drive blockchain usage within the industry. Axie Infinity, arguably the most popular NFT-based online video game, surpassed $2 billion in all-time trading volume in September, according to DappRadar's report.
Alongside the growth of decentralized gaming, a few single NFT sales have stood out among the overall volume. While there's yet to be a single sale as large as Beeple's $69 million Christie's auction from March, some of the rarest CryptoPunks have continued to sell for millions, including CryptoPunk #8857 for $6.65 million and CryptoPunk #6275 for $5.12 million in September alone.
Learn more about the growth of the NFT marketplace via DappRadar's full Q3 report here.
Photo courtesy of M. B. M./Unsplash.