Embarking on a digital artistry voyage in early 2020, a budding artist found themselves intertwined with the burgeoning NFT community.

Their unique narrative unfolds on digital canvases, where a blend of primitive and modern aesthetics dance to the rhythm of life and death.

Drawing inspirations from various realms, including dance, theater, and philosophical ideologies, each piece emerges as a poetic echo resonating with the human consciousness.

This narrative not only encapsulates a personal artistic journey but reflects the broader tapestry of contemporary digital artistry in the avant-garde domain of NFTs and Web3 art.

Join us as we explore the works and artistry of P1A, this week's Next Up artist, selected from our curated list of ascendant talents.
P1A
Born from the intertwining roots of the Greek Islands and Turkish coastlines, artist P1A aka Pia embodies the spirit of a global citizen with a core rooted in the Aegean coast.

Her early life adventures took her to Vienna, where she delved into post-conceptual art at the prestigious Academy of Fine Arts. Further nurturing her artistic identity, Pia honed her skills in Stage, Set, Costume Design, and Puppetry in Istanbul.

Pia's heart beats with an unquenchable curiosity that drove her from the rigidness of traditional schooling into the freeing realms of fine arts at the age of 15. This insatiable curiosity has led her down a path of ceaseless exploration, exemplified by her venture into puppet mastery at the Prague Quadrinale and experimenting with a wide array of mediums from metal to woodcraft.

Her profound experiences as a stage and set designer for theatrical productions, both grand and intimate, have significantly shaped her unique artistic narrative.
Fresh off the 1.692 ETH sale of "Choices & Consequences" through Art of This Millenium (AOTM), we spoke directly with P1A to further understand her artistry and the process that goes into it.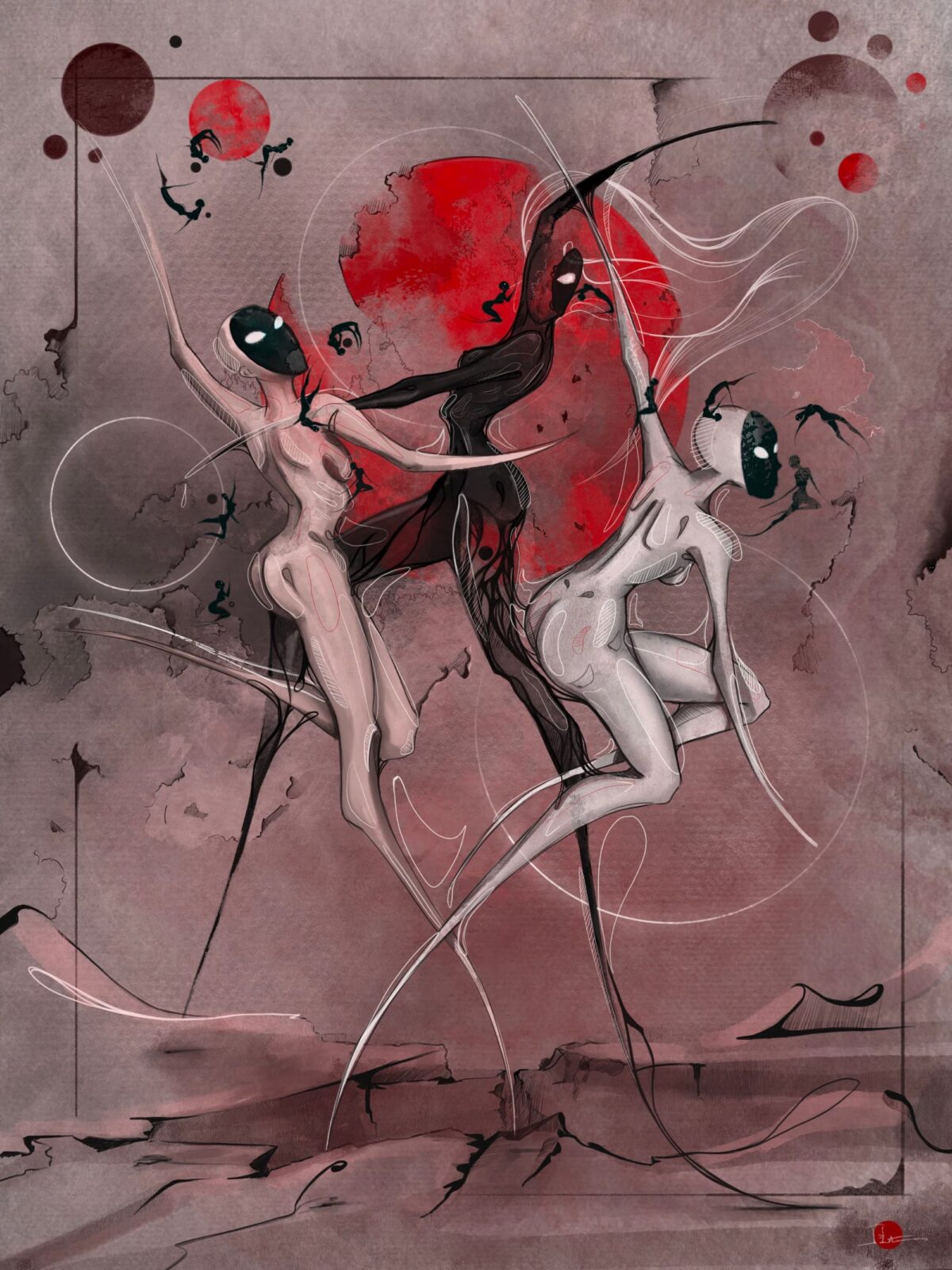 nft now: How did you first become interested/involved in NFTs?
P1A: It was January 2020 when I first heard about NFTs after a friend suggested minting my artwork as one, didn't pay a lot of notice once first introduced so I started researching without knowing that I would be minting my first 1/1's in the coming months…

The more I read about crypto and how NFTs work I find myself fully committed to the community after years of being actively involved. Still cherish that choice I made to become a full-time artist almost a year ago, grateful for every experience with ups and downs!
nft now: How would you describe your art?
P1A: I would describe it as blending aesthetics of primitive and modern concepts that help me to reflect my art.

In words, I would probably use such like: stories and poems, letters and sounds, dance and harmony with the rhymes. It's a dance under the water in the womb of mother nature – the letters representing my figures, almost in a composition of rhyme they sing the song of life and death, the constant cycle of the start and the end.
The birth itself. Red, black, and white are mostly the colors taking over the canvas, with time they became my signature in the sense of how I symbolize the levels of human consciousness, the colors help me to push my conceptual aim towards the surface so the viewers have a better grip and channeled feelings towards the symbolism I use.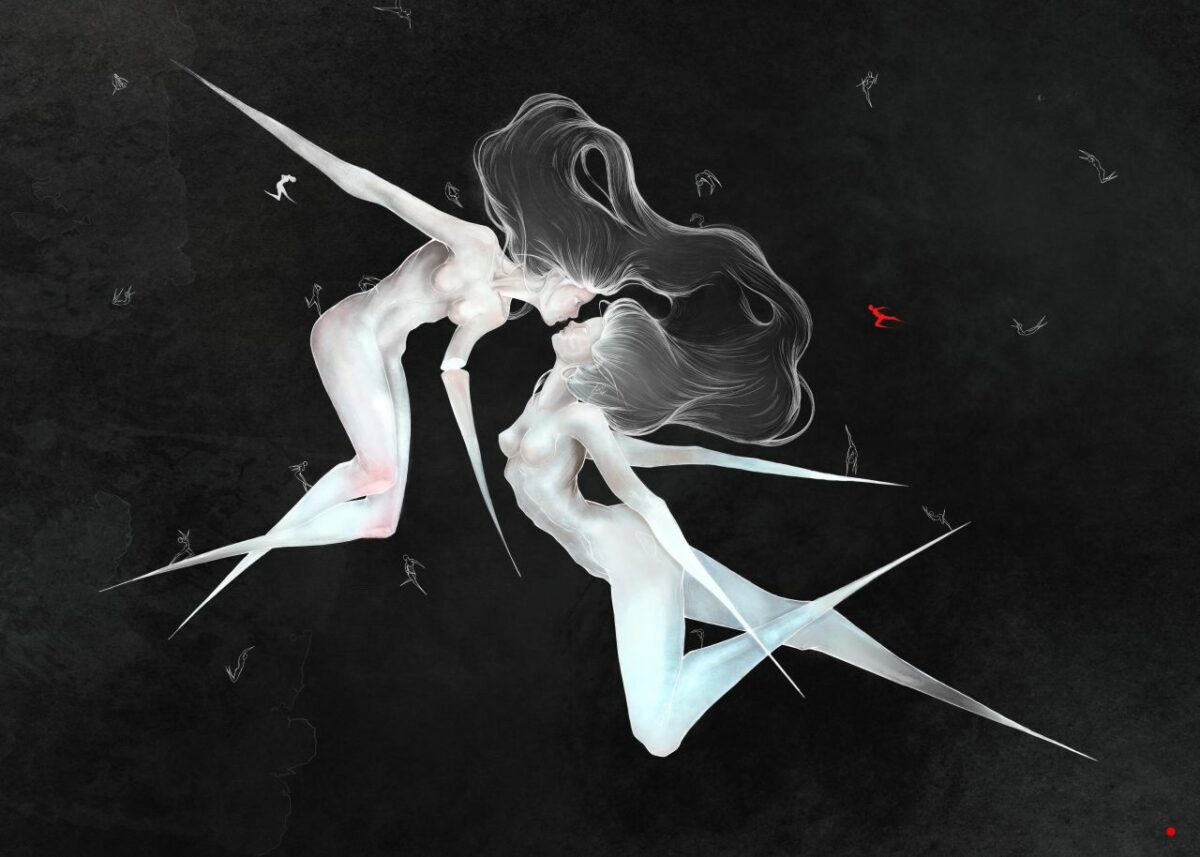 nft now: What's your process like? And where do you usually find inspiration?
P1A: My process can be very difficult and chaotic to reflect as words but I can definitely say that I am a person who thrives with feelings, my process when I start each artwork is basically no sketch no tough process of how to fill the canvas but let my hand and soul to collaborate and let the mind rest in the back for a while.
Before each artwork, I do a lot of research for the right images and choreography for the poses of my figures. I know myself spending days finding and collecting all the visual data for the artwork; the color, the composition, the figures, the environment, the texture, and many many more subjects.

Every word starts with the conceptual process of building up, every element I reflect on my canvas is put there to help me with my storytelling so it's incredibly important to me to reflect and filter only the right and essential elements.
When it comes to real inspiration bombs I can definitely name a few subjects and names such as; Ed Freeman and his photography will always be my biggest muse and inspiration! I'm inspired a lot by Pina Bausch, the founder of the dance theatre Wuppetral from her life and cartography and art of mixing dance and theatre on the stage as one-brilliant.

Other inspirations include Tao and writings such as Tao Te Ching from Laozi as Eastern Philosophy, Freud's definition of ID – EGO – SUPEREGO theorem, puppetry as a puppeteer, and the curiosity I have towards many other subjects that are constantly feeding me.