Welcome back to Now Runway, where we report to you from the frontlines of the digital fashion revolution. In this special edition, we're giving you an insider's look into Metaverse Fashion Week (MVFW), which runs March 28-31.
Now in its second edition, Metaverse Fashion Week (originally pioneered by UNXD and Decentraland) is demonstrating interoperability through collaboration with metaverses Spatial — the largest 3D social network — and Over the Reality, a blockchain-based AR platform.
Last year's MVFW was marked with glitches, significant delays, and corrupt displays due to the lack of sophistication in the 3D design capabilities of Decentraland. Despite those technical issues, Decentraland clocked 108,00 unique attendees over five days, with more than 7,000 wearables purchased, totaling around $77,000.
What to expect this year
Early Tuesday morning Hong Kong time, we hopped on a video call with Dr. Giovanna Graziosi Casimiro, Head of Metaverse Fashion Week, while she was still living the last few hours of Monday in São Paulo. Gigi, as she prefers to be called, kicked off the conversation by saying, "anyone on the planet can come and watch runway shows for free, thereby making Metaverse Fashion Week a space to reunite people, generations, and more."
This year, Gigi explained, there will be less of a focus on purchases. Instead, there will be a strong trend towards creator competitions from brands and communities, where a prize is awarded versus just showing a collection. This MVFW is also marked by an increase in co-creation between cross generations of designers, where traditional brands collaborate with new studios and new designers. Additionally, Gigi taught us about emotes, which are 3D animations of body movements for your avatars that help give you a little more personality than the stiff moving avatars of the past.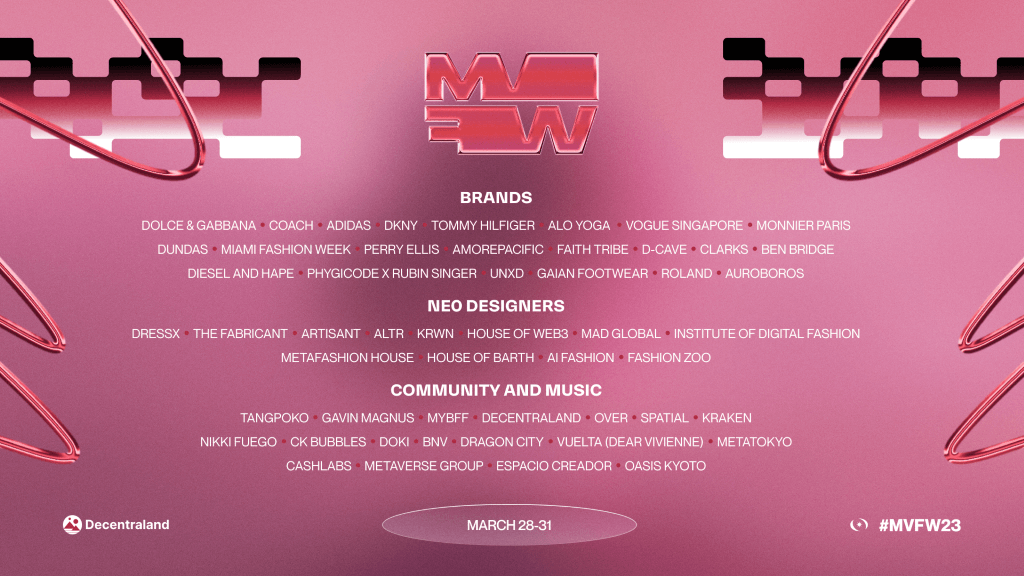 Two major additions this year are the presence of linked wearables, and a designated welcome area and maps are available for first-time attendees looking for different brand activations.
"We are really trying to do an experiment of an event not just in one place but also working with different metaverses and trying physical events," Gigi told nft now. "We are exploring how to create those communities globally inside our computers and then bring them back to the physical."
Adidas Virtual Gear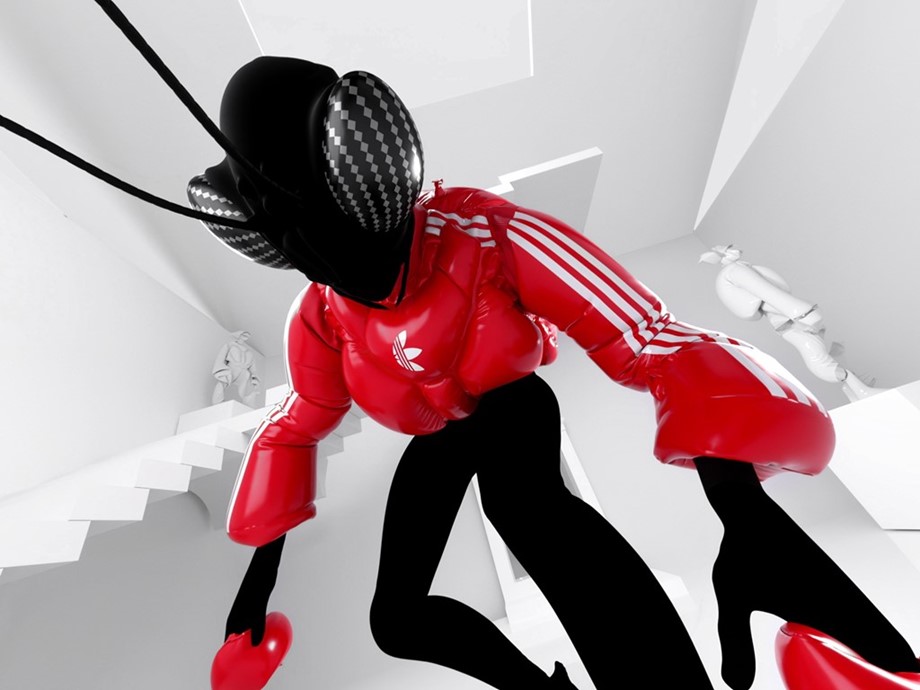 One of the most highly anticipated events this year at MVFW is Adidas' debut of a community-focused immersive experience where users can try on the Virtual Gear, the brand's first-ever collection of digital apparel. Prior to this activation, users could only enjoy their Virtual Gear as a profile picture with the Adidas atelier, a branded profile picture styling tool. Now, Virtual Gear NFT holders can link to a digital 3D twin of their Virtual Gear that their Decentraland avatar can wear inside the virtual world.
DKNY.3 virtual experience
DKNY continues its participation in Metaverse Fashion Week with DKNY.3, a virtual experience inspired by its Spring 2023 campaign, If You Know You Know. This year's theme honors New York's hidden gems and iconic institutions, which make the city so special.
DKNY.3 offers a unique and immersive experience, bringing the dynamic energy of the city to the virtual world. The four-floor building consists of a DKNY boutique, a New York-style pizzeria, an art gallery, and a rooftop lounge that provides stunning views of the city skyline. The official MVFW closing night party will take place at DKNY.3, hosted by MVFW supermodel Tangpoko, the DCL Babydolls, and live DJ Sarah Main.
MAD Global, a production agency bridging blockchain and immersive technologies, partners with Luis Fern — a hybrid creative who specializes in creating meaningful experiences through design — and MetaMundo, a curated marketplace for 3D scenes and assets to curate a showcase of digital fashion, design, and art. Attendees can expect 3D sculptures, 3D digital garments, artworks and NFTs, videos, and virtual try-on experiences. The showcase includes the following artists, designers, and brands: The showcase includes the following artists, designers, and brands: Artisant, Code Couture, CuteCircuit, Stephy Fung, Eyes of Fashion, KRWN, Ilona Song, IoDF, Mutani, Nova Lorraine, Rick Dick, Style 3D, and Sam J.
DRESSX and DUNDAS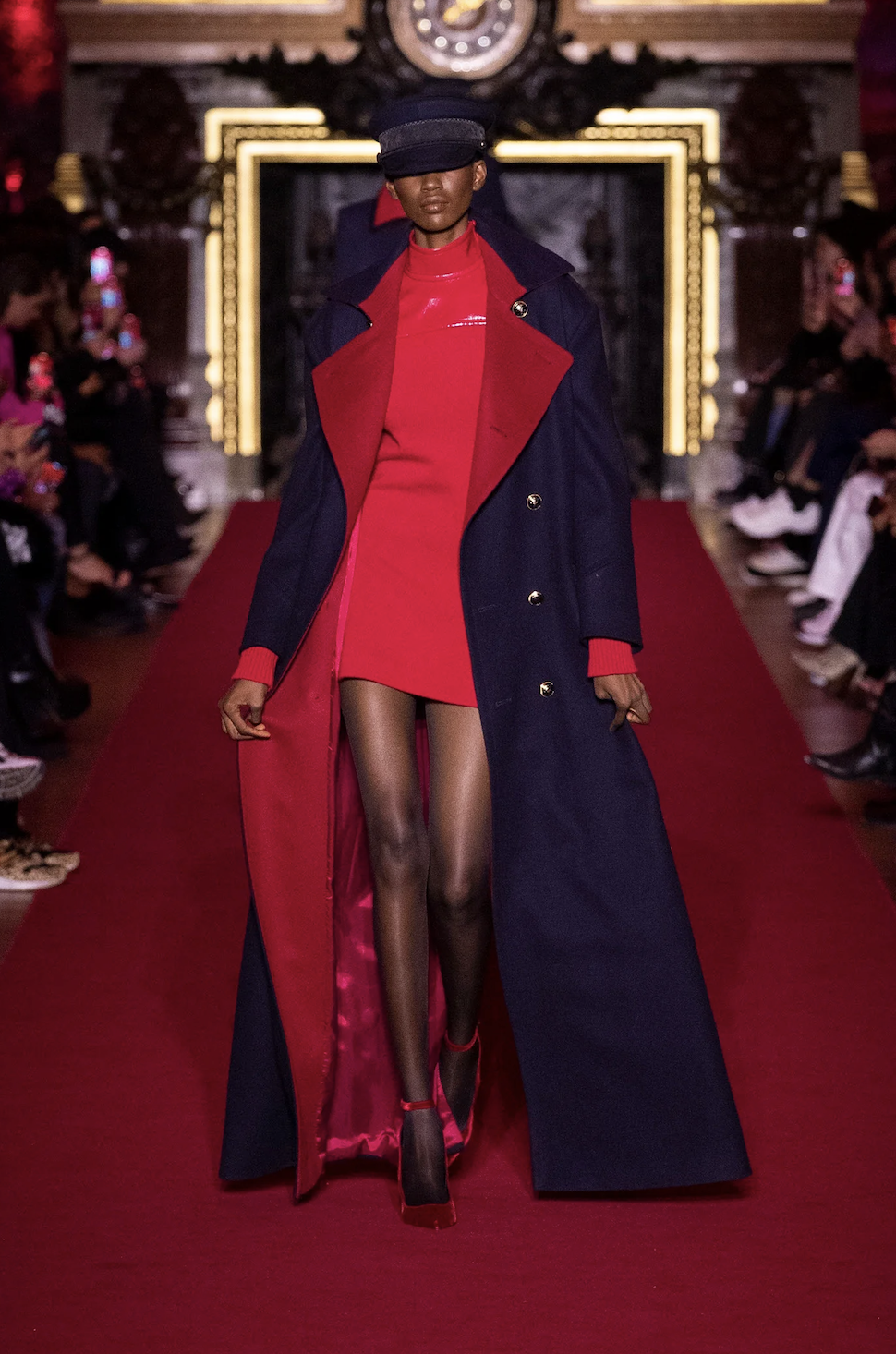 DRESSX kicks off the Metaverse Fashion Week with a digital fashion show featuring ten looks from the DUNDAS D24 Paris Fashion Week collection in collaboration with 3D studio UME. The concept of "see now, wear now" will continue as DUNDAS and DRESSX make fashion looks instantly wearable on photos and avatars straight off the runway, with digital twins available during the show for the audience. The backdrop for the digital artworks will be the Opéra in Paris, where the DUNDAS D24 Paris Fashion show took place.
The runway looks are available for purchase as wearable NFTs on nft.dressx and on the DCL marketplace. Buyers of DUNDAS NFTs in advance will be able to wear their looks on Decentraland avatars during the digital fashion show.
Tommy Hilfiger's cross-metaverse debut
Tommy Hilfiger returns to MVFW with a four-day program that integrates fashion, art, and innovation. In partnership with DRESSX and artist Vinnie Hager, Tommy Hilfiger aims to promote self-expression in the digital world, offering immersive experiences, digital wearables, and limited-edition NFTs for purchase.
DRESSX will showcase Tommy Hilfiger's wearables collection on the metaverse, allowing visitors to create their personalized Tommy-inspired look with AI. Winning designs will be produced and made available as digital wearables.
Coach and Zero10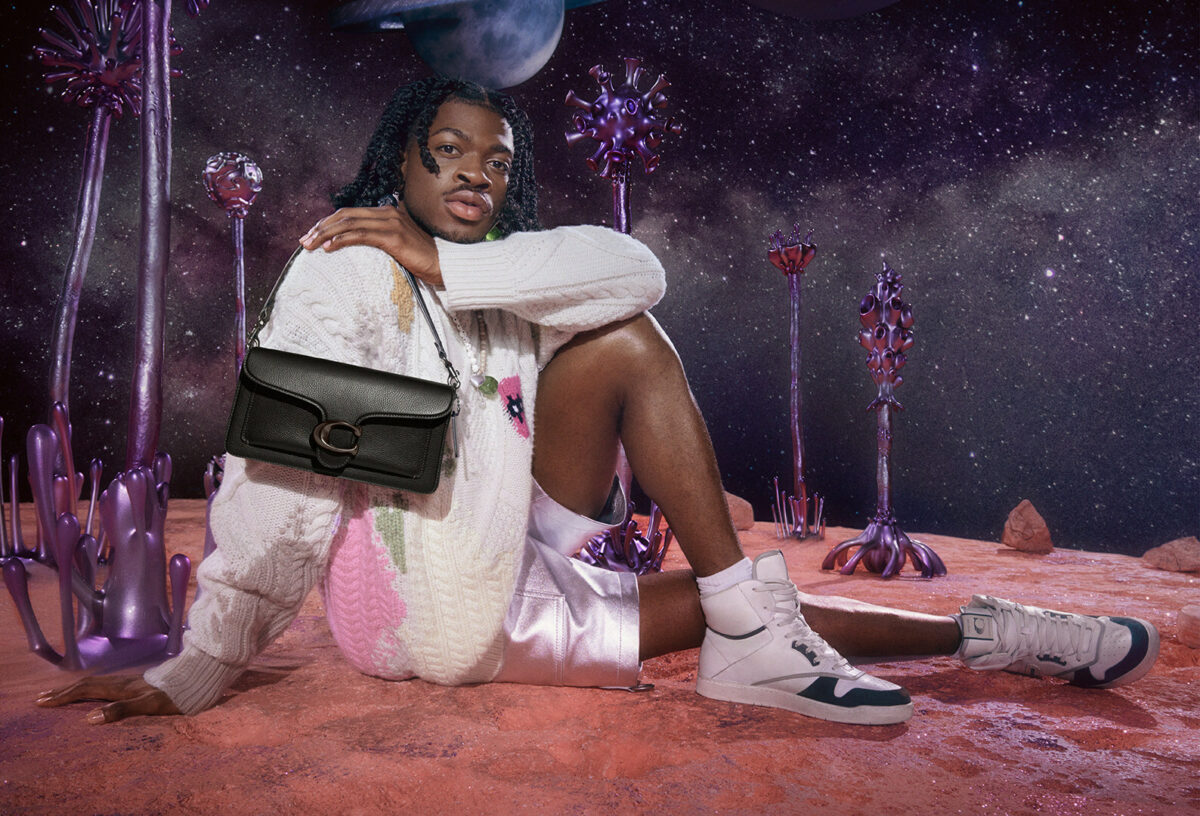 Coach has expanded its collaboration with Zero10, an augmented-reality fashion platform, by introducing a new retail space. The space will allow customers to experiment with the brand's renowned Tabby bag, as well as acquire styles that have been made in tandem with Zero10. This move is part of Coach's latest campaign, In My Tabby, which features Lil Nas X, Camila Mendes, and Mitsuki Kimura (aka Kōki).
Auroboros' Mesmer Collection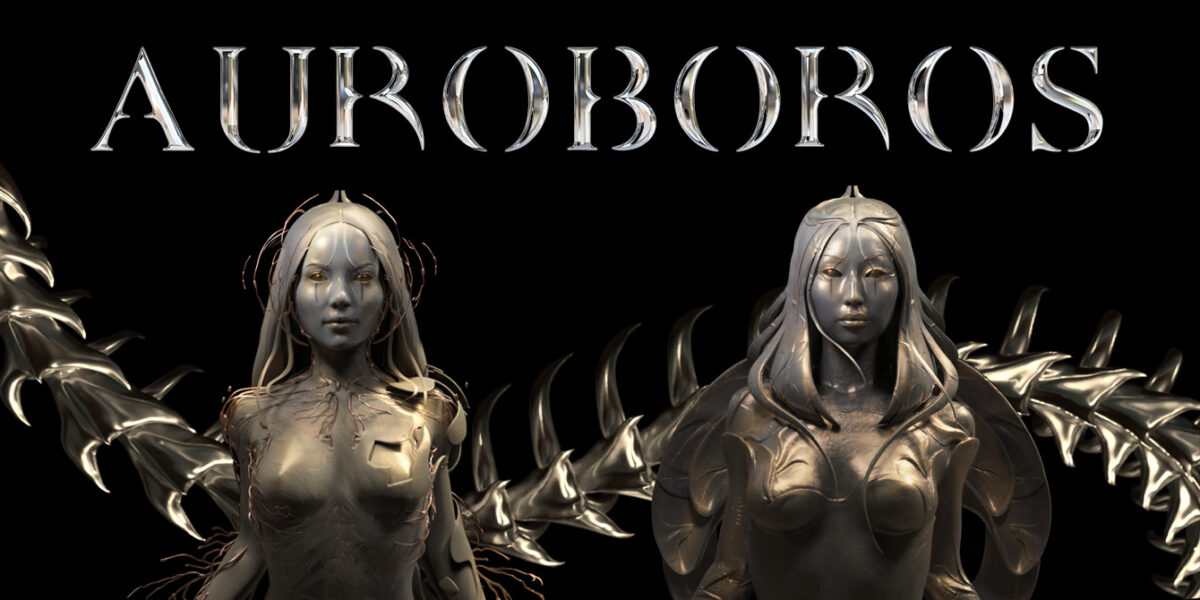 Auroboros, the science/tech luxury fashion house, will showcase a glimpse of their upcoming collection, Mesmer, in an immersive virtual showroom based in Decentraland's Luxury District. The presentation will run alongside a digital quest giveaway for their legendary Serpent Armour wearable, available from Decentraland's marketplace.
We are looking forward to seeing these activations as much as all the looks you're serving this week.