In the past few weeks, Digital Animals has begun catching the collective attention of the NFT community. As a unique entry into the current PFP-dominated market, this new endeavor from seasoned artists Igor and Icki looks to marry innovation, gamification and utility all in one.
A collection of 8,888 unique animal NFTs, Digital Animals offers something that seemingly no project before it has: a qualitative analysis of user data that directly affects the outcome of minting. Set to launch Dec. 13 at 1 p.m. ET, the primary sale (0.1 ETH per mint) will be only the first step in an expansive metaverse journey the Digital Animals team is setting out to create.
Considering the NFT market's continuous and exponential growth, it's becoming increasingly difficult for artists and creators to set themselves apart. As the tried and true methods of large-scale avatar projects provide an easy fallback for those hoping to bootstrap a community and make a quick buck, project devs seem to be having a harder time than ever in cutting through the noise with a unique project.
Yet, Digital Animals may be poised to become one of the most unique collectibles available. Even before would-be collectors can mint their NFTs, the project devs have brought user experience to the forefront of the process.
"To deliver a spectacular project that could really incentivize people to stay with us throughout the journey required a spectacular and diverse team," Icki, Digital Animals' Creative Architect tells nft now. "All of us [on the 14+ person team] have been passionate advocates of the space and the idea of the technology providing new opportunities for personal artistic expression."
By way of a complex algorithm that examines sentimental data of a user's Twitter account and Ethereum Wallet, Digital Animals offers a minting process that first creates a Digital Soul that is 100% unique to each collector. During the same process, this 1/1 soul is then in-laid into a 3D piece of art that is a Digital Animal.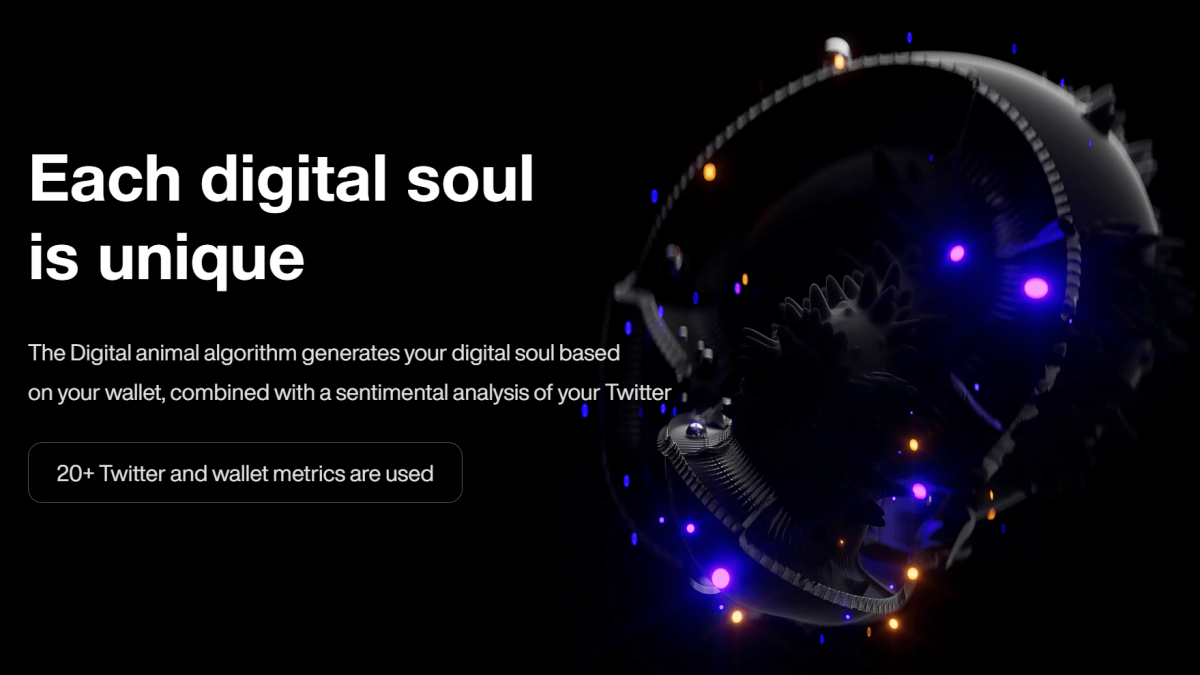 Once minting has completed, Digital Animals will kick off a complex roadmap that includes the evolution of Digital Souls, collaborations, future drops and most notably, an immersive mobile game. Within this forthcoming game, a Digital Animals NFT will act as a collector's access to an open world where players can collect and burn crystals to mint a legendary animal.
Icki says that testing the boundaries of innovation and game theory was one of the most exciting aspects of creating the Digital Animas project. "The game is not some distant roadmap aspiration. We have demos of the game engine and assets available today," Icki tells nft now. "As a conceptual artist myself, having the opportunity to take this project anywhere our minds can fathom is a thrill unlike any other."
To learn more about Digital Animals, visit the project website here.
Related Content:
Photos courtesy of Digital Animals.