Although the NFT community has primarily built its reputation on projects featuring visual art, it welcomes creatives of other disciplines freely with open arms. For instance, musicians also have ample opportunities within the space through NFT music marketplaces such as Sound.xyz.
But what of creatives in literary disciplines? They too have reaped the benefits of NFTs, as seen in cases such as crypto-journalist Laura Shin's NFT book club. Some entities such as Untitled Frontier have even sold generative art as companion pieces to short stories.
Surprisingly though, one field of literature that remains relatively unexplored in the NFT space is poetry. That is, until the launch of the Visceral NFT collection. With the help of partners Rarible and photography-centric NFT marketplace Pinhole, Canadian-born photographer Sacha Dean Bïyan was able to successfully release the collection's first volume earlier this month.
Lights and shadows
This collection marks Bïyan's debut into the NFT space, following a long career traveling across the world capturing images that put the human spirit at center stage. Named after the photographer's "visceral connection" with Japanese culture, the collection's first drop contains five black-and-white photographs of night-time scenes throughout Kyoto, Japan. However, these vignettes carried none of the dynamism and energy typically associated with urban Japanese nightlife due to the ongoing pandemic.
In this photo series, Bïyan showed a clear and intentional attempt to capture the uncharacteristic stillness found in Kyoto after dark when COVID lockdowns were in full effect. In the collection's press release, Bïyan said that this unique situation allowed him to see "the ghosts of Japan's past" rendered in stunning Kurosawa-esque chiaroscuro. Further explaining his reasoning for draping his subjects in darkness for the collection, Bïyan shared that "Japanese culture dwells in the shadows. […] there's always a conscious appreciation of subtlety."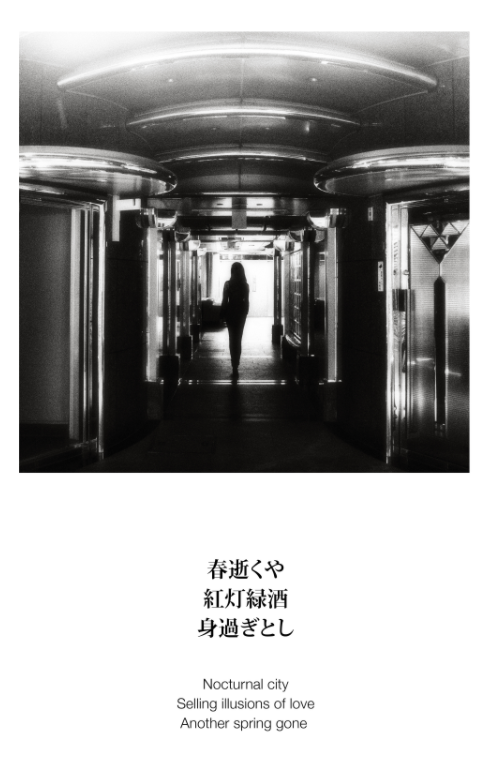 Postcards of melancholy
So how does literature – poetry, to be exact – play into this new launch? Despite largely promoting and handling the project on his own, with Pinhole and Rarible to aid in distribution, Bïyan opted to enlist some very special help when fleshing out the project as an artistic statement.
As such, each piece from the collection's first volume also featured accompanying haikus by Japanese poet Dr. Shunkuichi Baba. Together, the pair worked to capture the distinctly Japanese concept of yūgen in the collection – a concept that can roughly be translated as an "ephemeral beauty […] that evokes an emotion too profound and mysterious for words." With these elements combined, the two were able to create what are essentially postcards selling viewers on the ever-present melancholy found in Japanese art.
Taken as a whole, Bïyan believes that the brevity and focus of the haiku form make it a uniquely complementary piece to a photograph, since "both attempt to capture the essence of a moment, a feeling." He doubled down on this stating that "to me, a photograph is a haiku."
Oftentimes, the best lyrics and poetry are able to bring us back to specific points in time in our lives. Great photographs can take us to far-off places. This collection shows what the two mediums can do together.