There are many ways to interpret the decline of democratic institutions and the subsequent rise of authoritarian leaders around the globe in the last 30 years.
But any explanation, according to Ben Rhodes, the former Deputy National Security Advisor for Strategic Communications and Speechwriting under President Barack Obama, must include the following:
"The first was the excess of globalization, the excess of capitalism, and the creation of exploding inequality happening at the same time that globalization is […] encroaching on people's national identity or tribal identity. […] Coming on the heels of people already thinking, 'Is this working for us? Or is it just working for some rich people? Because I feel like I'm losing ground underneath my feet.' [These leaders] tapped in[to] that yearning for belonging and that anger at elites in systems that seem rigged."
Rhodes, who offered this perspective while speaking on Stanford University's "World Class" podcast with former U.S. ambassador to Russia Michael McFaul, explained eloquently what to many feels like a perplexing worldwide trend.
How did we get from the so-called "end of history" in the post-Cold War era to a historical period populated with personality cults that celebrate and entrench the governments of figures like Vladimir Putin, Viktor Orbán, Alexander Lukashenko, Recep Tayyip Erdoğan, Donald Trump, and more? Less than one-fifth of the world's population now lives in entirely free countries, according to a 2021 Freedom House report. How do we pull ourselves back from the autocratic brink?
"There's greater fragility inside of these systems […] than is appreciated," Rhodes concluded, offering a sense of optimism to listeners. The brittle nature of the systems these tyrants and would-be dictators put in place often mirrors the very frailty of these leaders' personalities.
Walid Raad's Festival of Gratitude
It's precisely this fragility that fuels the core concept of Walid Raad's first NFT project, a high-concept satire on toxic leadership presented in the form of NFT birthday cakes.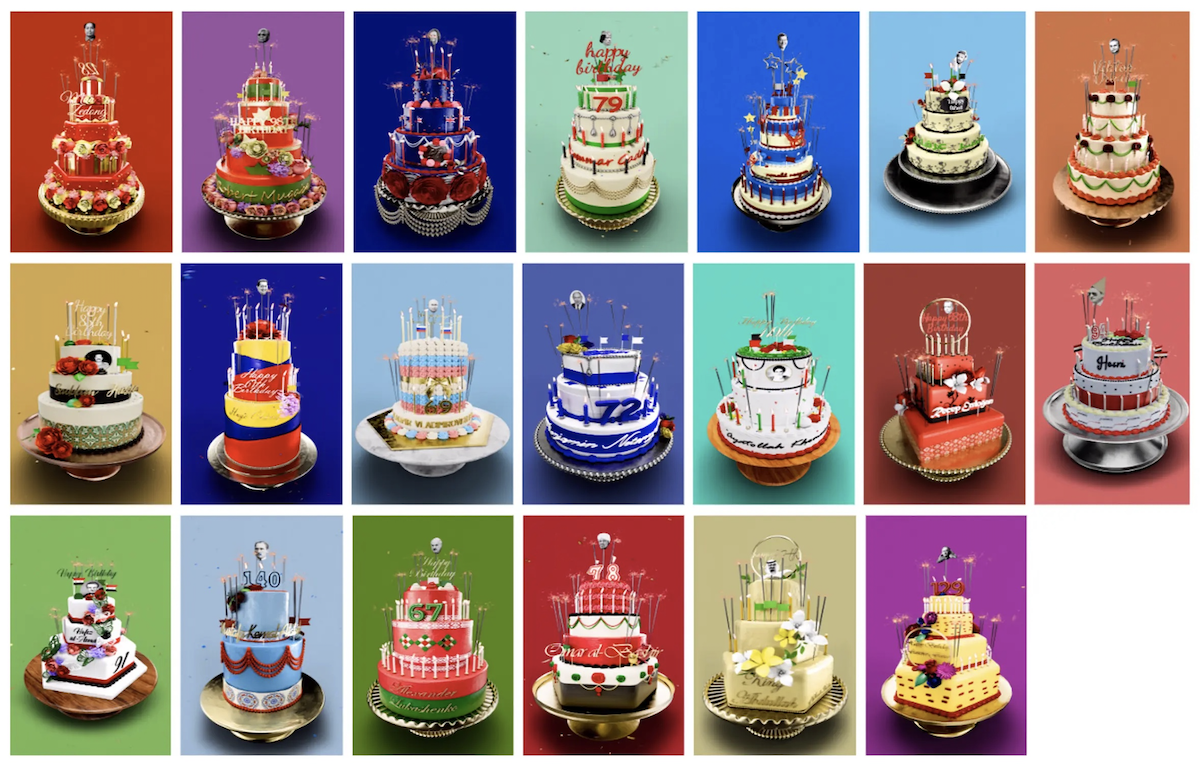 The inaugural artistic collaboration from NFT arthouse Artwrld, Festival of Gratitude, dropped on July 28, 2022 — Hugo Chávez's birthday — and will auction three 1-of-1 digital cakes: one in "celebration" of Chávez, one for King Abdullah of Saudi Arabia, and one for Russian President Vladimir Putin.
Each cake will also contain several NFT slices whose amount matches the age of each ruler in 2022. The person who wins the auction for their desired cake will receive ten random slices from it, while Artwrld will make the rest available via a public sale later on. More cakes celebrating other leaders will become available in the coming weeks and months: Benjamin Netanyahu, Robert Mugabe, Saddam Hussein, and more will all get their own special cake drops.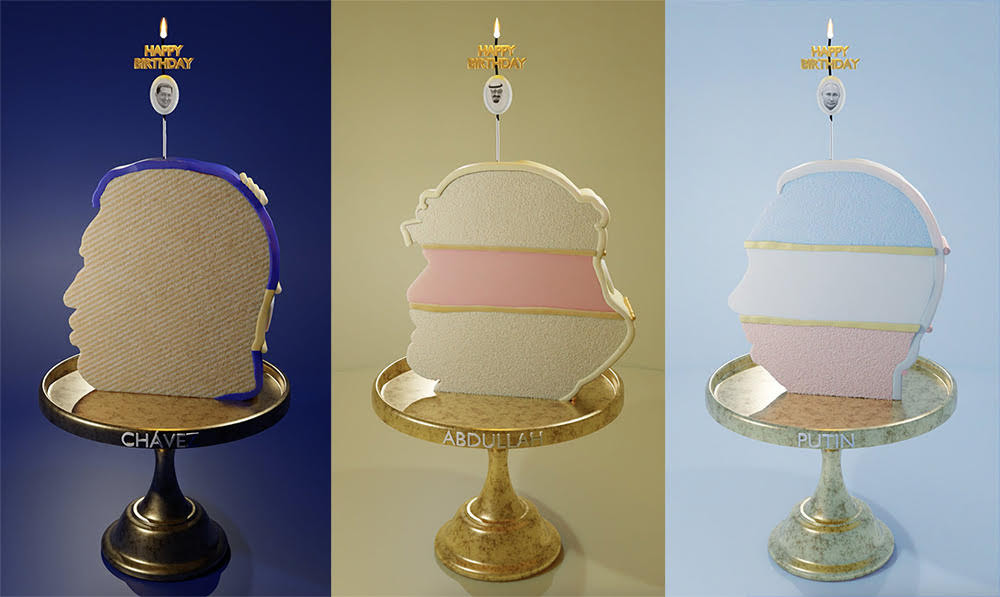 All cake slices look nearly the same except for the name of the "special ingredient" written on the edge of the cake stand. Raad has laced half of each cake's slices with poisons (like anthrax) and infused the other half with elixirs (like ambrosia), making each one unique.
All proceeds from the sale of the Putin cake will go to Endaoment's Support Ukrainian Sovereignty fund, and a portion of the proceeds from all the cakes will go to nonprofit organizations chosen by Raad. The cake auction began at 10 ETH, with digital slices at 0.15 ETH. Raad and his selected nonprofits, which include Arte East, will each receive five percent of all secondary sales on platforms that support creator royalties.
The subversive celebration of autocratic leaders
Raad, best known for his 14-year project on the contemporary history of Lebanon, The Atlas Group, drew inspiration for the project from his experiences growing up in Beirut, according to a press release shared with nft now.
While working as a photographer for a local bakery in exchange for their pastries, he came across a cake that said "Happy Birthday, Amine." It struck him that the cake could be for Amine Gemayel, who served as Lebanon's President from 1982 to 1988.
Raad fantasized about poisoning the cake but couldn't go through with it. The memory stuck with him, leading him to think about all the celebrated and despised leaders in the world celebrating their birthdays with such cakes, humanizing them.
Raad is also a co-founder of Artwrld, along with Nato Thompson and Josh Goldblum. The three established the platform last year and took it public in March 2022 to give artists a space to exercise more control over their careers in the era of Web3.
"Artwrld was born not just out of an instinct to try to produce interesting NFT projects, but also to use the capital flows to build a different kind of structure," explained Thompson in an interview with nft now. "Josh has a large background in design and technology and working with institutions. I work as a curator of public art projects, and Walid is kind of a barometer for the interests of artists, so we felt like those three interests would produce a really interesting platform."
"I love traditional art institutions, but I also understand their limitations," added Josh Goldblum in an interview with nft now. "I understand the difficulty of curating through these organizations and the limitations of curating in Web2. And when I looked at [NFTs], I looked at this opportunity to connect artists in a really meaningful way directly with their audience — that's been what I've been doing for the last 20 years. That's all I want, is to create better connections between artists and the public and make a meaningful connection."
Building a Web3 platform for bold artists
Thompson and Goldblum explain that the platform wants to commission artists who build layered projects with actual meaning, a description that absolutely fits Raad's work. The two note that the NFT community throws a word like utility around perhaps too lightly — Artwrld aims to find ways that projects can take advantage of utility in a compelling way that doesn't simply feel like a frequent flyer program.
Festival of Gratitude ticks all of these boxes. What better utility could an NFT have that both satisfies the desire for the subversive and funds projects that a ruler like Putin would despise?
"In some ways, it's very artistic to give a double meaning," said Thompson. "It's worth noting that we can't even promote the project because Facebook thinks it's political advertising for Putin. And this double meaning really identifies the terrible [world] situation we're in. And rather than demeaning it, the project embraces it in this ironic way that's almost more painful. These are leaders — men, typically — who embrace their power, shirk the idea of democratic processes, and have become synonymous with the early 21st century. This is not the exception to the rule, this is the rule of contemporary political world mob bosses as rulers."
"It points you to a very interesting rabbit hole," Goldblum continued. "If you start googling some of these leaders and birthday cakes, the imagery that you come up with is amazing. [It makes] you think about the psychology of a person that needs to be celebrated the same way a five-year-old child does. It's a really interesting lens to think about these people as people. There's something very subversive and comical in that, but also very human."
Acknowledging that the project will rub the followers of these rulers the wrong way and even upset those who mistakenly think the project supports these dictators, Thompson and Goldblum say this brash playfulness is exactly what drew them to the project in the first place.
"Real artists have stakes, they have courage. Real institutions have stakes, and they have courage," Thompson declared. Reinforcing the sentiment and giving a full endorsement to Raad, Goldblum emphasized that, "[w]hen you talk about provoking structures of power, that is what he has done his whole career. He's a very brave artist."