It's nearly impossible to discuss the 2021 NFT boom without devoting a large part of the conversation to NBA Top Shot. The joint venture between the National Basketball Association (NBA) and OG non-fungible powerhouse Dapper Labs has ebbed, flowed and ballooned exponentially since its 2020 launch.
With a current valuation of over $7.5 billion and robust support from NFT collectors, investors and trading card enthusiasts alike, the significance of Top Shot in driving mainstream blockchain awareness and use cannot be understated. So whether you're an NFT noob or a hard-core collector, here's everything you need to know about NBA Top Shot.
What is NBA Top Shot?
Top Shot was in development for about a year before launching its closed beta. The project's first round of beta testing allowed purchases to be made by a select few early supporters starting in June 2020, before then opening up to the general public in October.
During the first few months of the partnership, Dapper set the stage by launching their own blockchain, called Flow, which is toted on its official site as a "developer-friendly blockchain built to support the next generation of games, apps, and digital assets."
Top Shot is an officially licensed product of the National Basketball Players Association (and Retired Players Association), so nearly every player is eligible to have their own Moment minted and included in a Top Shot pack.
Top Shot is effectively creating a space where individuals interested in NFTs, collectibles and most importantly basketball can converge and get excited about owning a piece of sports history.
The Fundamentals
Top Shot is essentially an NFT marketplace that allows users to buy, sell and collect influential NBA scoring Moments. Moments are minted in Packs much like you'd expect from physical trading cards: you buy a pack, open it up and see what you get. Each Moment is an individual NFT minted on the Flow blockchain and displays a single highlight from a major play in NBA history.
Packs are minted in Sets as part of a Series, with the timeline of each series running concurrently with the NBA season – i.e. Series 1 ran throughout the 2020 season and Series 2, which we're currently on, will most likely wrap up after the NBA Finals. While pack drops are driven by the current season's events, legacy fans needn't worry as there is ample opportunity to collect retroactive Moments, for example Michael Carter-Williams' 2013 dunk.
Sets, Packs & Moments
Moments are individual NFTs that make up the Top Shot ecosystem; but there's a lot more that goes into collecting than buying and selling one-off moments. Each Moment comes from a pack, each pack is part of a set, and the rarity of a Moment can vary vastly depending on the type of set or pack it came from.
Rarities are separated into three categories: Common, Rare and Legendary. There is also an Ultimate rarity but this class of highly coveted Moments will only be attainable via auction with an edition size of 1 or 3.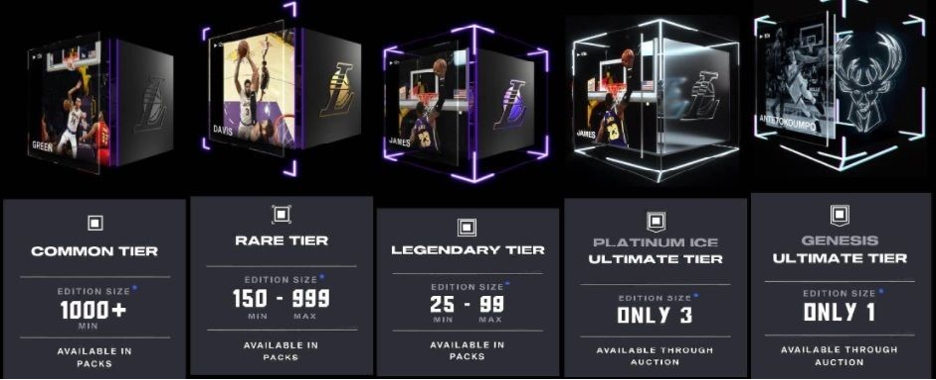 Sets come in two overarching categories: Base and Non-Base.
Base Set packs are exactly what they sound like: high edition sizes, released regularly and at an affordable price (usually $9 each). Base set packs are dropped in order of series and release – i.e. Series 1 had 12 releases and Series 2 is currently at release 41. These packs always fall in the Common rarity category and contain three pretty basic Moments that are great for those just starting out or those who are looking to round out a collection.
Non-Base sets, on the other hand, come in all sorts of different variations. Packs that are part of Non-Base sets will always contain a Common Moment, but also something Rare and/or Legendary. Some sets have been recurring and some have been one and done, so it can be a bit difficult to keep track. This is most likely due to Top Shot still being in Beta, as their drop mechanics continue to be an evolving process.
Non-Base set packs like "Playoffs", "Premium Pack" and "Run It Back" can all be differentiated by their much flashier packaging.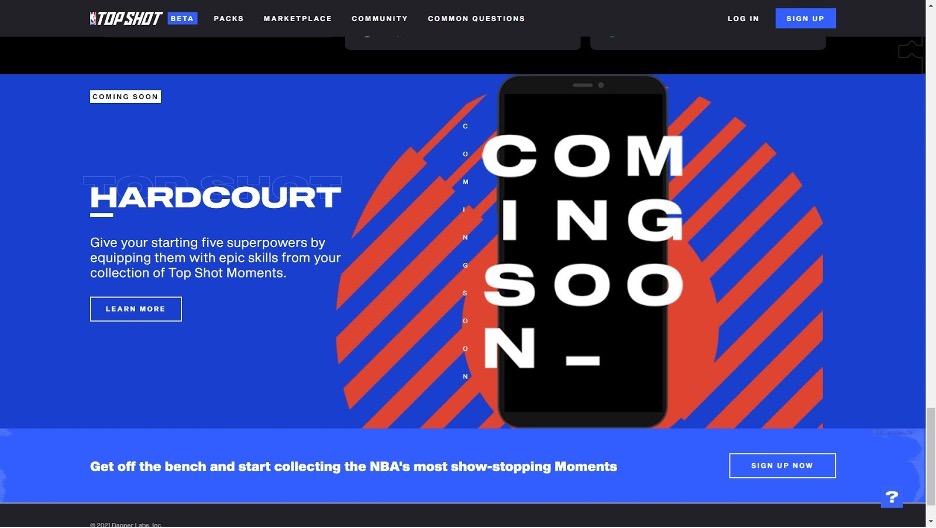 How To Collect A Moment
Typically, low (1 – 99), and perfect (100/100) mint numbers always fetch a higher price. This was true for trading card valuation and is definitely still true in NFTs. Vanity numbers like 69, 420, 888, etc. are also very highly coveted, but it's an especially big W when you get a mint number that matches the jersey number of a player. Meaning if LeBron is wearing #23 in the Moment, mint #23 will likely have just as much value as the #1 mint from the pack.
In NFTs, scarcity will obviously always be a major factor in value. Top Shot makes it easy at a glance to discern what Moments are more scarce than others.
In Top Shots marketplace you'll see either a CC or LE underneath the name of the Moment. CC stands for "Circulating Count" and is the number of editions of that Moment currently in circulation. These Moments can be considered an open edition and have no cap on the amount they can be minted and will continue to be sold till they expire.
LE stands for Limited Edition, meaning these moments are finite and usually in lower quantities (50, 100, 750, etc. edition sizes). The largest sales on the site usually come from these LE's.
When you own multiple moments, you can then do things like sell, gift and showcase (create a collection/album) them. Burn mechanisms have yet to be implemented, but are expected in the very near future.
Other Ways To Collect
If pack opening isn't exciting enough for you, Challenges and Quests are another large part of collecting in the Top Shot ecosystem.
Separate from pack drops and marketplace sales, challenges dole out rewards to participants willing to complete tasks within a timeframe. Generally Top Shot will issue a challenge with instructions to collect x amount of moments in x amount of days/hours. When the challenge ends, every user who completed it will receive a freshly minted Moment.
Quests are similar to challenges, but instead of instructions to collect specific Moments, Top Shot gives users a bit of a scavenger hunt to find and create a showcase for Moments that embody certain characteristics. Whether it be compiling a roster of players with a specific number of assists or collecting all 2021 points-per-game season leaders, quests are a bit more "do your own research" but have similar rewards to challenges for those who complete it.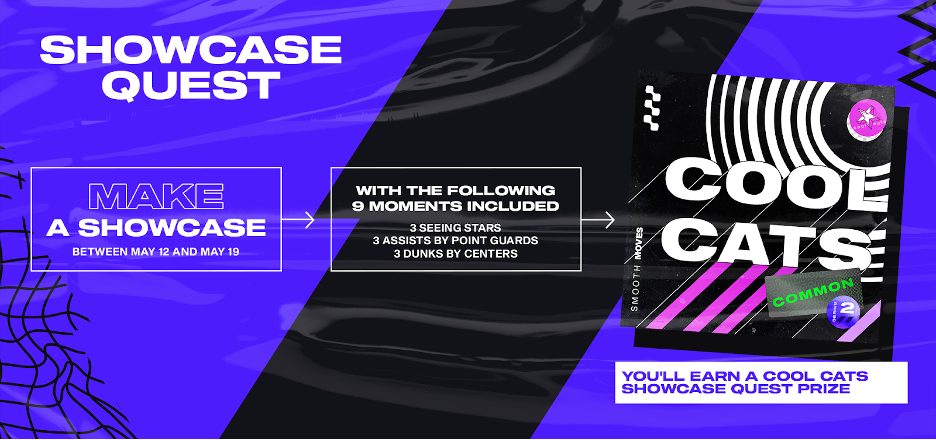 Trading Moments
It's no secret that users have been making some serious money flipping Top Shot Moments. With the platform having secured the #1 spot on the all-time sales volume chart amongst all NFT projects, whether you're a Basketball fan or not, the hype is hard to ignore.
Although there has been a bit of controversy in the past about users not being able to withdraw trading revenue from the site, the recent updates to the Dapper Balance system are looking promising. Plus with sales and circulation having slowed significantly over the past few months, while upper-tier collectors are a little aggravated, it's the perfect time for those new to Top Shot to start accumulating Moments!
The following is not financial advice, but a list of points to consider for new users to take into account when entering into the Top Shot ecosystem:
Set a budget you're comfortable with. Never invest more than you're willing to lose.
Always have a plan. If you're buying a Moment to flip quickly, then stick to flipping it quickly. Don't buy anything you wouldn't be happy holding onto if your plan doesn't pan out.
Check Moment circulation. This goes back to CC vs. LE. Moments with high edition sizes are distributed slowly over time. The more scarce, the better.
Consider historical significance. Superstar players run the sales charts, but the first basket/assist of a player's career will always be a significant Moment for fans of that player.
Look for misprints. Dapper Labs has a great team of developers, but that doesn't mean everything always comes out perfect. Whether it's Marcus Smart being listed as jersey #7 when he's actually #36 or Jameer Nelson's assist being misattributed as a dunk, mistakes and misprints are always out there.
The Future of NBA Top Shot
Beyond the high-profile sales, FUD and talk of the Top Shot "bubble" bursting, the future is still looking bright for the platform. Having secured a sizable bag in their last funding round, Dapper is poised to have an off-season full of community building and giving back to users.
With the NFT market as a whole having experienced a slowdown these past few months, providing utility to NFT holders is at the forefront of every developer's game plan – and Top Shot is no exception.
Trade Tickets is one exciting feature on the horizon for Top Shot users. Tickets will be a way for Top Shot to bring unsold Moments from Series 1 back to the marketplace. Down the line, trade tickets will be redeemable for one unsold Moment from the early days of Top Shot. And trading goes both ways, which might incentivise users to trade-in their existing Common Moments for a ticket that gives them a shot at collecting some of Top Shots most historic NFTs.
Hardcourt will be NBA Top Shot's mobile game that can be played using Moments. So far we know it will be a user vs. user arcade style game where players have customizable attributes derived from the Moments a user holds in their account.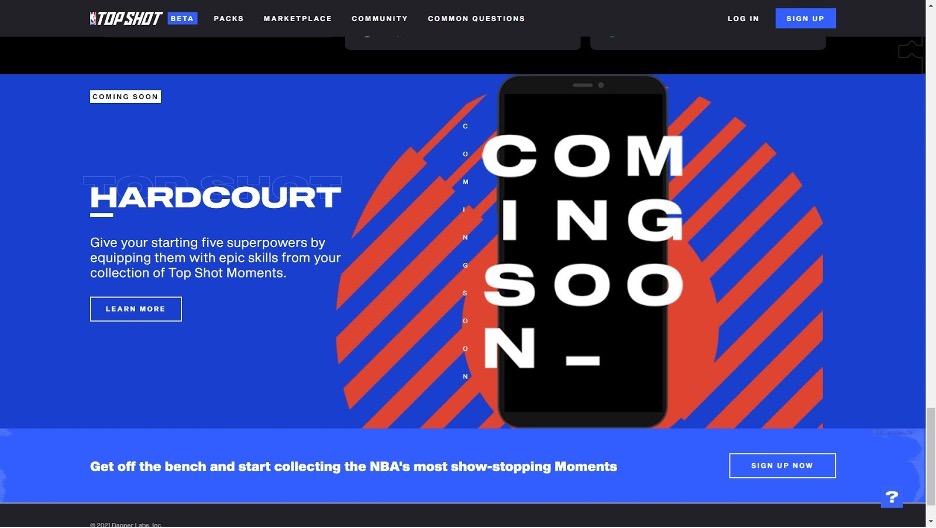 IRL utility is another huge development Top Shot has in the works. We've seen Roham tweet about all sorts of possibilities for Moment owners including signed merch, VIP tickets, voting on new Moments and more. Time will tell what actually gets implemented, but it seems there's no idea shortage within Dappers developer team.
The NBA has yet to announce plans to onboard former players that aren't a part of the Retired Players Association, most notably, Michael Jordan. But considering MJ himself joined up alongside Kevin Durant, Will Smith, Klay Thompson, 2 Chainz and others during Top Shot's March funding round, the general consensus is that these one-off deals are still to come.
With top figures like Mark Cuban and Dapper's CEO Roham Gharegozlou voicing their support for Top Shot (Gharegozlou is even in the top 5 collectors on the site), it'll be exciting to see what other notable names are added to the ecosystem during the next NFT market influx.
Other Resources For Collectors
Moment Ranks can be incredibly helpful in determining the value of your Moment,
Top Shot Snipers has a great, continuously developing buyers guide.
OTM NFT compiles the most comprehensive and up-to-date info on challenges.
LiveToken is a service that creates a spreadsheet of your collection. Great for filtering and organizing your Moments.Evaluate.Market is great for tracking portfolio and Moment value over time.