For years, releasing an artist's work posthumously was a point of contention among fans, critics, and collectors. Both critical acclaim and enthusiastic embrace of loyal communities have met classic creatives like Hemingway and Van Gogh and modern-day musicians like Mac Miller and Pop Smoke. Not so for posthumous releases from Harper Lee and John Lennon — which were met with derision and criticism.
Now, as new technologies and art forms emerge, many estates are exploring NFTs and the blockchain to pay tribute to the life and legacy of deceased legends.
According to OneOf CEO Lin Dai, posthumous NFT collections unlock new opportunities for fans to connect with their favorite artists after death and find a community of like-minded people who share the same love and appreciation for the late artists. "While posthumous album release was the way in the 90s and 2000s to share the artist's art with the community, NFT is the perfect technology in 2022 to forever cement the artist's legacy on the blockchain," he says.
However, others see it in a completely different light, accusing estates and partners of sacrificing an icon's legacy to capitalize on a fad to make a quick buck. Over the last year, we have seen a handful of posthumous NFT collections, with each drop eliciting equal amounts of appreciation and horror from their fans.
And this raises a big question: What separates a well-received posthumous NFT collection from a controversial one? To learn more about the community's stance on posthumous NFT collections, we spoke with fans, haters, and the people behind the project.
Bringing NFTs with value to the fans
Ultimately, the goal of any celebrity NFT project is one of two things: to bring value to their fans or to profit off them. Both are easily sniffed out by today's generation of digitally native consumers, and as you can expect, the latter is generally met with intense criticism.
According to Jason Levin, Staff Writer of The Defiant, posthumous NFT collections need to be used to provide tangible value that enhances the artist's legacy. Plus, fans need to want whatever is being promised in the first place.
"A great way to do this is by providing tokenholders with unreleased content," he said in an interview with nft now. "If the NFT offering is only 'collectibles,' cute cartoon pictures, or 'a community,' that's a sign for me that it's a clear cash grab from the estate. Not classy. But if Mac Miller or Pop Smoke's estates released NFTs that gave you access to a token-gated vault of unreleased music, that would be fresh. I'd 100% buy that."
NFT investor and writer Tom White echoed this sentiment, emphasizing the importance of integrity and authenticity from both the estate and any partners involved with the project.
"On the internet (let alone within the wild west of NFTs), authenticity rules and phoniness drools. True collectors, diehard fans, and long-term investors alike—though they love when 'prices go up' — can suss out whether a project is a mere cash grab or an authentic extension of an artist's corpus," he says. "Though not posthumous, an example of the former is Chris Brown's recent drop. And although not a conventional commercial success, I think the David Gahr Archive's recent DECADES Retrospective (n.b., I am holding one) was done both tastefully and truthfully."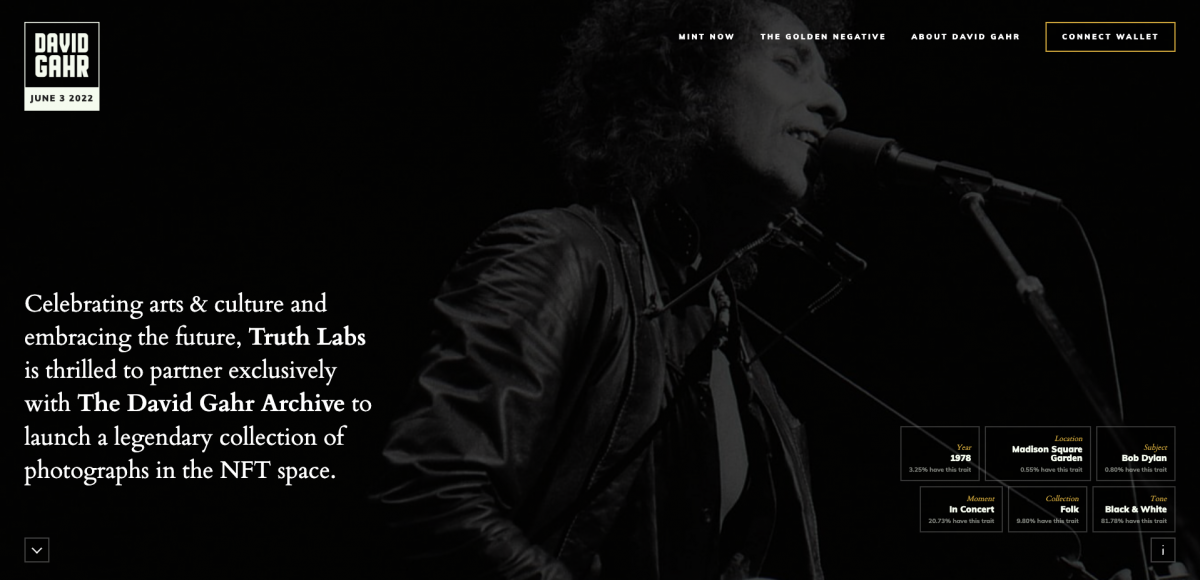 Acknowledging this stark difference, green NFT platform OneOf develops each of its posthumous NFT music, art, and sports releases with the same approach: Depict an authentic reflection and a celebration of the artist's life and work, while also delivering engaging one-of-a-kind experiences to fans from all walks of life. 
With the release of their most recent Notorious B.I.G. NFT collection, all holders receive the right to license the audio of Biggie's Fulton Street Freestyle for use in their own music. Never previously cleared for sampling or adaptation, token holders can now license and include the audio from Smalls' classic freestyle in their own recordings, and even feature a "Notorious B.I.G" credit in the title.
Since the company's launch in 2021, OneOf has partnered with the estates of global icons like Muhammad Ali and Whitney Houston to honor their legacies in new and exciting ways. To be authentic to the late artist, it's essential that the estate is involved in every step of the planning and creative direction, said Dai.
"The Notorious B.I.G. 'Sky's The Limit' collection is a 3D generative NFT, taking cues from Biggie's life and lyrics, conceptualized and painstakingly developed over almost a year, where no detail is too small, from every outfit and jewelry to his facial expressions."
Leveraging social accounts for the NFT launch
OneOf's approach and unique, unparalleled utility are in stark contrast to the widely-bashed Stan Lee drop, which was largely written off as a disingenuous cash-grab. Produced by Orange Comet, a company that creates NFTs for brands and sports teams, Lee's posthumous Chakraverse drop celebrated the release of one of Lee's new superheroes, "Chakra the Invincible." The Chakraverse collection consisted of animated videos, PFPs, 1/1 artworks, and mystery boxes which granted bidders access to a collection of surprise NFTs.
A big reason for the backlash was due to the promotion of the collection directly on Stan Lee's official Twitter account. The post was heavily ratioed between likes and comments, usually a tell-tale sign of controversy.
Popular YouTuber Dolan Dark replied: "Can't believe Stan Lee came back from the dead just to promote an NFT." This garnered more than 84,000 likes, eclipsing the likes of the initial post by more than six times. Another Twitter user replied: "Using Stan Lee's Twitter account to promote an NFT gets you sent straight to hell."
Even Dictionary.com got in on the action, accusing the team behind the project of defiling Stan's legacy.
While the backlash is understandable given the overly promotional nature of the Tweet, some collectors like White don't have a problem with using original social accounts, but rather see their use as a way to avoid scams and ensure legitimacy. Additionally, White recognized social media to be an integral part of any launch in today's age.
"As our analog and digital worlds increasingly overlap, intersect, and indeed converge, it is vital for artists and their respective estates to meet individuals where they are," said White. "This is both literal and aesthetical; per Marshall McLuhan, 'The medium is the message.' As such, I believe posthumous collections that honor the intent and vision of an artist while employing novel mediums that accentuate the work are a good thing."
Lisa Teh, co-founder of the Web3 marketing agency Mooning, also agreed, citing social channels "as another way for fans to stay connected with their idols, so it makes sense that they would promote this new way of community engagement and reward."
Focus on accessibility and purpose
In addition to integrity and authenticity, one of the most important aspects of a posthumous drop is ensuring the project gets into the hands of fans who truly appreciate it. And with NFT prices often excluding the majority of collectors from participating, accessibility and affordability should be at the forefront of all founders' minds. Not only does this apply to pricing, but also to education and onboarding, said Dai.
"To achieve a sense of community, NFTs have to be made accessible and affordable, so that any fan can have an opportunity to participate. We've made the conscious decision to price each generative mint at $100 with $0 gas fee charged to the fan, as well as built an interface to allow the everyday fans who may not be a crypto expert to sign up with an email and purchase with a credit card, in addition to more sophisticated Web3 tools to purchase with crypto."
But beyond elevating the fan experience, OneOf also sees the value of conveying the best wishes of the icons themselves. To further illustrate this commitment, OneOf always donates a portion of the proceeds from every drop to the artist's preferred charity. Community members have widely appreciated this charitable component, with give-back missions becoming a core value prop of many successful collections, both posthumous and otherwise.
As Web3 and NFTs continue to inherit the cultural zeitgeist, there's no question that we'll continue to see estates experiment with these new technologies. And controversy will undoubtedly remain. But, ultimately, the reception to NFT collections, like most art forms, is primarily subjective, and can evoke different emotions from fans with varying preferences. But after the release, another perhaps more poignant question emerges: Will these collections hold their value? Ultimately, collector Michael Keenan believes collections that authentically tell a story will hold their value over time. "Posthumous NFT collectibles, or 1:1 pieces that tell a story interest me more. You can tell who puts heart and thought into any NFT collection, be it posthumous or not. Those are the pieces worth investing in and holding onto."