Unless you've been living under a rock, you're sure to have learned about (or at the very least heard of) NFTs at some point during 2021. A cultural phenomenon to some, a paradigm shift to others, one thing has become clear — that the world of NFTs is only growing.
From achieving multi-million dollar sales to inciting major change within the music industry, the creators of culture have begun leveraging blockchain and web3 technology to achieve artistic empowerment through digital ownership. So now we reflect on this massive year with the top moments that NFTs made their way into the mainstream and were recognized as part of pop culture.
NBA Top Shot Sales Volume Explodes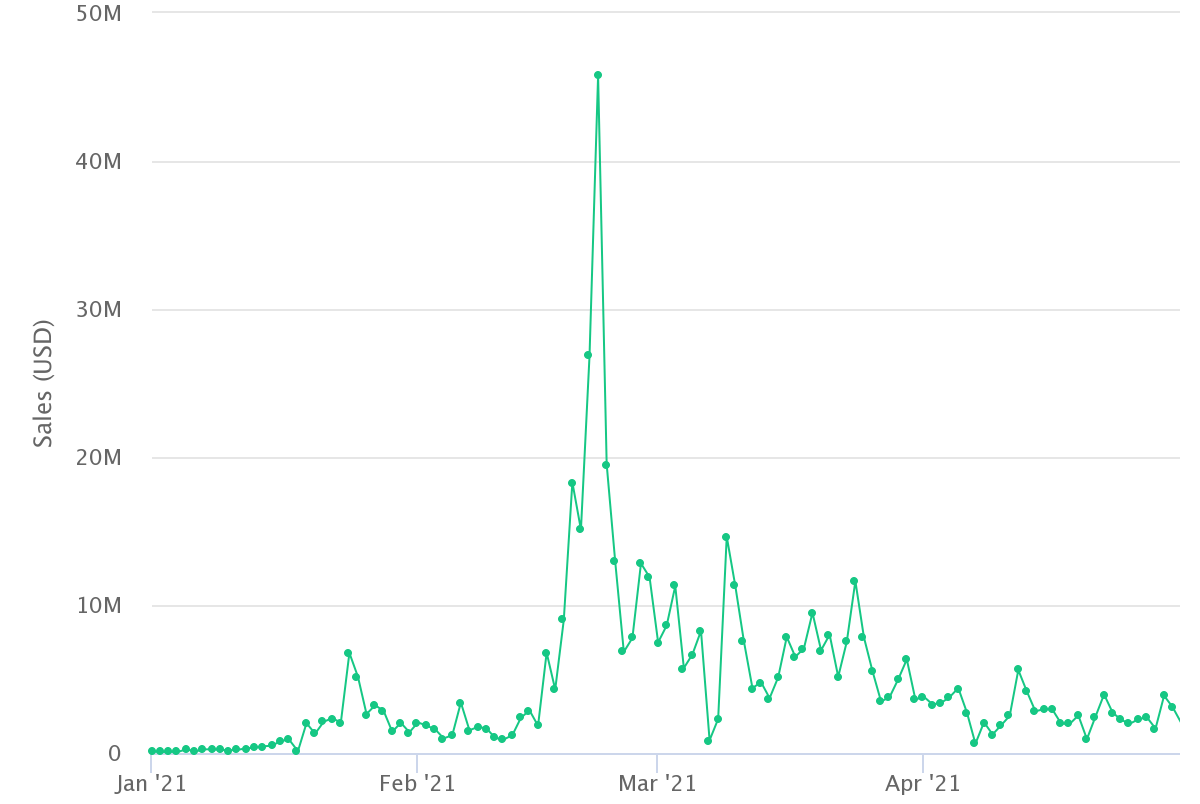 It's nearly impossible to discuss the 2021 NFT boom without devoting a large part of the conversation to NBA Top Shot. Even before mainstream news outlets caught the NFT bug from Beeple's $69 million sale, Top Shot sales volume had surged to an all-time high.
Launched to the general public in October of 2020, NBA Top Shot saw a slow start before seeing exponential growth in a jump from $869,161 to $40,547,118 between December 2020 and January 2021. At the beginning of this year, sales volume spiked again and hit an all-time high of $224,070,124 in February, undoubtedly due in part to a historic LeBron James moment sale.
3LAU's $11.7M Ultraviolet Auction
3LAU is regarded as one of the earliest adopters of music NFTs. Having sold his first NFTs back in the fall of 2020, the prominent producer/DJ had already been experimenting with blockchain tech years prior to the 2021 market boom.
Back in late February, the star's album Ultraviolet went up for auction as a collection of 33 unique NFTs that netted him a reported $11.7 million. After the sale, 3LAU cemented his status as an NFT superstar, while simultaneously sending a wake-up call to the music industry.
Iconic Memes Sold as NFTs
Over the last decade, memes have spread to every corner of pop culture, ultimately becoming a major facet of 21st-century humor. While memes have continued to be created and adapted for use throughout different subsets of internet culture, some, like "Charlie Bit My Finger" have achieved legendary status.
Considering a non-fungible token can be nearly anything — a piece of digital art, a song, a poem, a baseball card, etc. — memes have inevitably found their way onto the blockchain as NFTs. Through verifiable digital ownership, creators of iconic memes like Doge, Nyan Cat, Bad Luck Brian and more opted to mint and sell their original IP as NFTs in 2021 — with some even raking in over six figures!
Beeple's $69M Christie's Auction
Beeple's Everydays: The First 5000 Days was undoubtedly the most important NFT sale of 2021. Not only did the Christie's auction enthrall the NFT community and break down barriers to the traditional art world, but the landmark sale created a snowball effect throughout mainstream media, bringing the term "NFT" into households around the world.
The collage of 5,000 pieces of digital art compiles the daily renders Beeple posted between May 1, 2007 and January 5, 2021. And with a price tag that big, it was reported that the buyer — Metakovan, the founder of Singapore-based crypto investment firm Metapurse — had to wait more than 24 hours for his transaction to be processed off-chain. Christie's would later embrace on-chain auctions in partnership with nft now and OpenSea.
SNL's NFT Music Video
Saturday Night Live has always been quick on the draw when it comes to social commentary. Having hit a good many bumps in the road during the early days of COVID, the legacy program got off to a strong start in 2021, memorably poking fun at NFTs in late March.
In true SNL fashion, Jack Harlow, Pete Davidson, Chris Redd and more took the stage not only to perform a skit, but an entire music video explaining and humorizing the NFT boom. One of the most comical aspects of the entire video was undoubtedly its animations and accompanying visual effects, which were created by none other than prominent crypto artist and former SNL visual effects artist Bryan Brinkman.
Mila Kunis & Ashton Kutcher Launch Stoner Cats
Back in July, Ashton Kutcher and Mila Kunis made headlines with the announcement that they would be launching their very own NFT project, Stoner Cats. Slated to be a community-funded and built animated series, during the rollout of the project, Kutcher and Kunis dropped a wild surprise on the NFT community by posting the above "Kutcher Kitchen Talks" video which featured the creator of the Ethereum blockchain, Vitalik Buterin.
Although the collection sold out in just over half an hour, it was immediately subject to scrutiny for clogging up the Ethereum network with thousands of pending transactions. Ultimately, the public mint ended up costing potential collectors 344.4 ETH ($790,000) in failed transactions. It even spawned a parody project called Blazed Cats that donated 100% of proceeds to charity.
Celebrities Ape into NFTs
As the NFT ecosystem continued to expand throughout 2021, we saw celebrities and influencers of all creeds begin to take notice. While some, like Ellen DeGeneres, dismissed NFTs as a fad only worthy of mockery, others embraced the new phenomenon and became active parts of the NFT community.
Throughout the year, we witnessed everyone from Post Malone to Mike Tyson to Melania Trump take an interest in NFTs. And while Bored Apes can undoubtedly be attributed to onboarding numerous celebs into the weird, wide world of non-fungibles — a select few decided on their own to take the plunge, even rolling out their own NFT projects with varying degrees of success.
Facebook Changes Name to Meta
The company behind the world's largest social media platforms took on a new name this year. At Facebook's annual company-wide Connect conference on Oct. 28, CEO Mark Zuckerberg announced the parent company would be rebranded as Meta.
Although he didn't directly reference the recent NFT boom as inspiration for the rebrand, Zuckerberg hopes for Facebook to be known as a metaverse company. "Today, we are seen as a social media company, but in our DNA, we are a company that builds technology to connect people, and the metaverse is the next frontier just like social networking was when we got started," Zuckerberg said during the conference, according to CNBC.
PleasrDAO Buys One-of-a-Kind Wu-Tang Album $4M
The legendary one-of-a-kind Wu-Tang Clan album Once Upon a Time in Shaolin found a new home this year. PleasrDAO, one of many decentralized autonomous organizations (DAOs) formed during the 2021 NFT bull run, announced Oct. 20 that it struck a deal with the U.S. government on July 15, 2021, and obtained the album for $4 million.
Once the property of convicted pharmaceutical entrepreneur Martin Shkreli, Once Upon a Time in Shaolin is arguably the most prestigious and infamous piece of art created by Wu-Tang. Recorded between 2008 and 2013, and sold at auction in 2015, the government seized the album as part of a $7.4 million asset forfeiture following Shkreli's criminal conviction.
Nike Acquires RTFKT Studios
Only two weeks after RTFKT sold out its long-awaited Clone X drop, the company was acquired by none other than Nike. Launched in January 2020, RTFKT Studios has continued to turn heads throughout 2021, becoming one of the leading brands in metaverse fashion.
Many in the NFT community hailed RTFKT's acquisition as a validation of metaverse fashion and the space at large. "This acquisition is another step that accelerates Nike's digital transformation and allows us to serve athletes and creators at the intersection of sport, creativity, gaming and culture," John Donahoe, president and CEO of NIKE, Inc., said in a statement.
South Park Mocks NFTs
South Park has never been one to pull punches in its elaborate mockery of all things pop culture. Such was the case with the Paramount+ special "South Park: Post Covid: The Return of Covid" that aired on Dec. 16.
During the hour-long feature, notable characters became obsessed with NFTs to the point of hysterics. As a firefighter dropped a barrage of NFT buzzwords describing the catastrophic events that ensued, it was hard not to chuckle at the sensationalism that has surrounded the NFT ecosystem throughout the year.