In just over a year, the Bored Ape Yacht Club (BAYC) became one of, if not the biggest brand in all of NFTs. Seen as one of the largest money makers in the NFT ecosystem, throughout most of 2022 it was nearly impossible to purchase an original BAYC NFT for less than six figures.
Yet, it may (or may not) come as a surprise to some that buying BAYC NFTs low and selling high isn't necessarily the only way to profit from the ecosystem. We're not talking about companion collections or social tokens though, but rather profiting from the use of BAYC's intellectual property (IP).
Subject to rampant imitation and even duplication, creators of all types seem to be seeking out ways to make money off of BAYC without actually being involved in (or approved by) the BAYC community — let alone Yuga Labs, the company that founded the project.
But those that are involved in the BAYC ecosystem, specifically those who own Bored Apes, are finding interesting and unique ways to monetize the IP of the NFTs they own. How is this possible? Well, BAYC gives holders of its original 10,000 NFTs full commercial rights over their tokens, and with no monetary cap. This means that, in stark contrast to other NFT licenses which often limit revenue to $100,000 per year, BAYC members can take full advantage of the lucrative IP they own.
Let's take a look at some of the ways creators are doing this.
Bored Apes in food and beverages

When it comes to the BAYC presence in the culinary world, it doesn't get much bigger than what the Food Fighters Universe is creating. A multi-faceted NFT project at its core, Food Fighters first staked its claim in the industry with Bored & Hungry — a fast food restaurant that employs four BAYC NFTs as facets of its branding.
Since the launch of Bored & Hungry, Food Fighters has also branched out to a variety of different BAYC-inspired food endeavors. Two of the latest and now most prominent BAYC-focussed food offerings are Dr. Bombay's Sweet Exploration, a dessert shop collaboration with Snoop Dogg, and Bored Taco, a joint venture with Web3 architect and crypto-fund founder Champ Medici.
Bored Wine Co. is a company that allows BAYC NFT owners to have their unique Apes printed on the bottles of six different types of wine. Featuring a token-gated portal, the Bored Wine service offers BAYC holders the option to either store their unique bottles for free in the company's secure UK cellar or to have the personalized bottles delivered directly to them. A digital version of each bottle is also minted as an NFT and delivered to the address of the purchaser.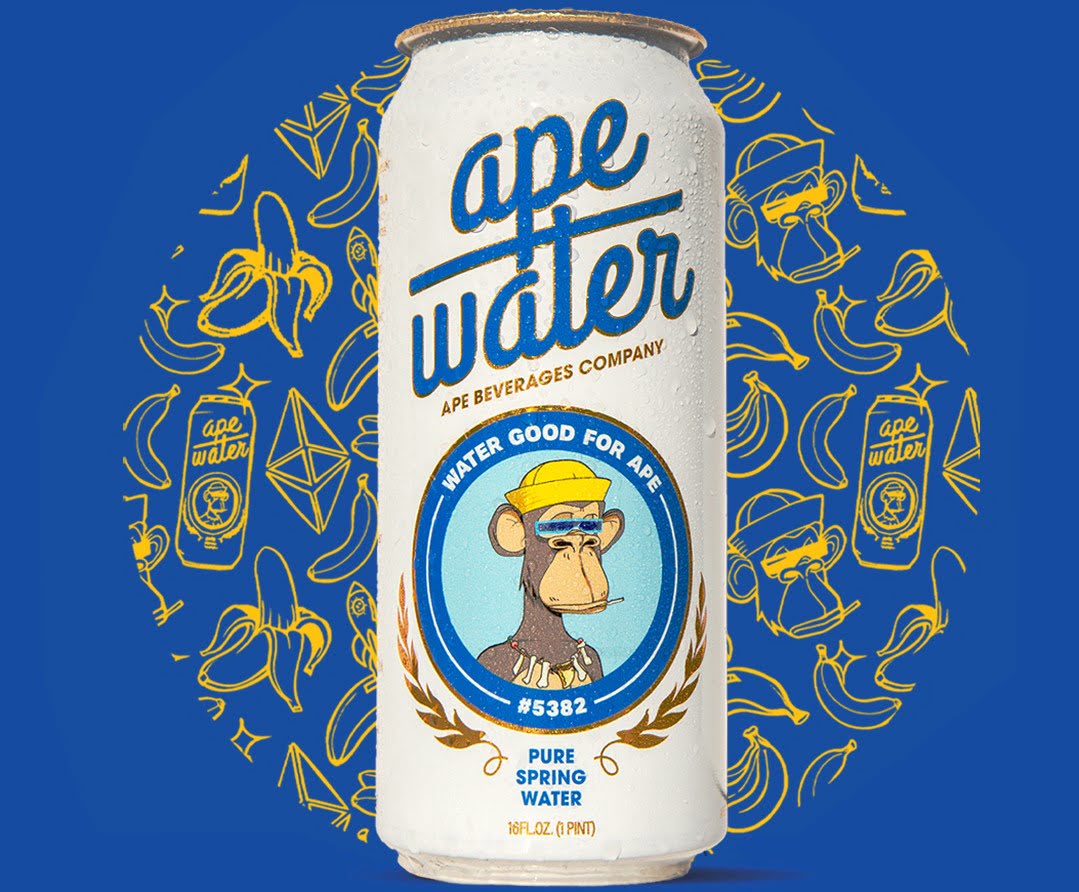 It might not be completely ludicrous to assume that, in time, BAYC could permeate nearly every sector of the consumer brands market. Take Ape Water as a sign of this. A beverage company endorsed by BAYC holders, Ape Water has yet to launch its forward-facing brand but has already begun to make a statement by hosting events alongside conferences like NFT.NYC.
AriZona Iced Tea
Even popular beverage company AriZona Iced Tea has joined the BAYC community with the purchase of a single BAYC NFT in the fall of 2021. Although the company has yet to launch any initiatives utilizing the Ape as branding on its products, AriZona did give a nod to a project called The Bored Ape Comic which seems to have some sort of affiliation with the brand.
Bored Ape clothing and accessories

Bored Ape Wear is a line of officially-licensed BAYC merch created by members of the BAYC community. Said to be inspired by the entrepreneurial spirit of the Bored Ape Yacht Club, Bored Ape Wear's purpose is "to put a spotlight on the commercial rights that come with Bored Ape Yacht Club membership." The brand's storefront features a wide variety of BAYC-featuring clothing and accessories.
Toward the start of 2022, influential clothing brand Diamond Supply Co. released its Diamond Ape Collection which included numerous items featuring both Bored Apes and Mutant Apes. From t-shirts and hoodies to skateboard decks, and more — many items from the ape-inspired collection are still available at American specialty clothing store and skate shop Zumiez.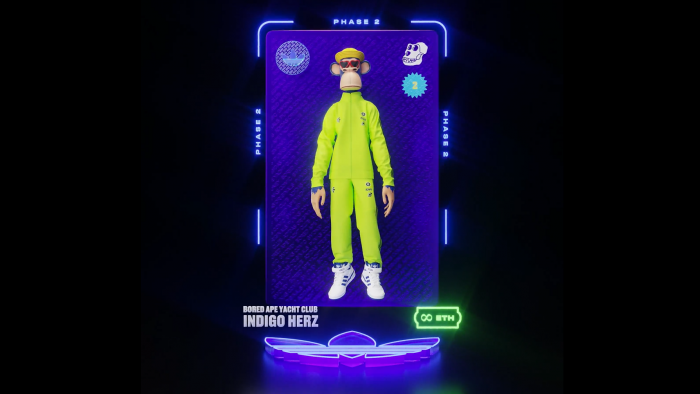 For some time, Adidas Originals has remained a facet of the NFT ecosystem. Yet, even the company's most prominent drop is centered around BAYC IP. With Into The Metaverse, Adidas Originals not only partnered with prominent NFT collector and ambassador GMoney and the popular Punks Comic NFT project, but utilized its owned BAYC NFT — which was given the name Indigo Herz — as the spokesperson for an ongoing metaverse x IRL wearables initiative.
Skate Bored is a small-scale BAYC IP initiative launched by an anonymous developer known as WoundedPixel — or just Pixel — in 2021. As the owner of BAYC #7676, Pixel has grown a brand of customized skateboard decks by engaging with the greater BAYC community.
Bored Apes making music
Dutch electronic producer duo Bassjackers have been a prominent part of the NFT community as collectors for quite some time. Citing their affinity for the Bored Ape Yacht Club specifically though, the duo created a song and music video titled "Bored Ape Rave Club" which pays homage to the influential PFP project. They were one of the first names in music to take on a project involving BAYC NFTs.
Towards the end of 2021, Universal Music Group announced that four characters from the influential BAYC project were to be united as a band called Kingship. The group consists of a Mutant Ape and three Bored Apes as well as a fourth that acts as the manager of the group, and is part of UMG's Web3 music label 10:22PM. As Kingship, the band of BAYC characters is set to release music, NFTs, community-based products, activations, and experiences.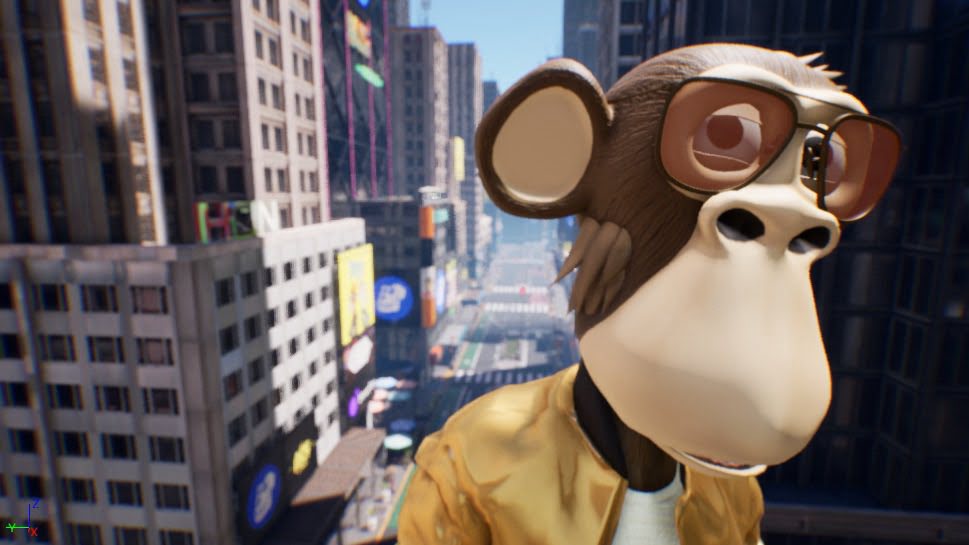 Many artists have enlisted their Bored Ape NFTs to act as the face of their projects or even personal brands. Timbaland just joined their ranks in 2022 with the announcement that his BAYC alter-ego Congo will act as the face of new music and accompanying videos to come from Timbaland and his protégé, Zayd Portillo. This move from Timbaland mirrors similar endeavors from influential artists like Snoop Dogg, who has enlisted his Bored Ape named Dr. Bombay on a range of projects.
American holding company WME announced its desire to further expand its reach into the NFT space with the signing of Escapeplan, a producer/DJ duo featuring two BAYC NFTs. Created by Big Night Talent, Escapeplan is comprised of two characters — ETHan and zeETH — brothers whose "origins lie in the snow-covered mountains of Sethan Village, India." The duo's first-ever release featured Rich the Kid, foreshadowing other possible big-name collaborations to come.