The recent resurgence of memecoins has seemingly inspired a significant shift within the NFT ecosystem. Why? Because the potential to profit from trading popular tokens such as $PEPE, $TURBO, and the like is just too good to pass up, even for the most staunch NFT traders.
While open editions and burn mechanics led the pack for the first half of 2023, memecoins undoubtedly stole the show in April, inspiring both praise and controversy. Yet, even when trading began to slow and prices waned in the wake of a Coinbase fiasco, one NFT influencer emerged as potentially the biggest breadwinner of the entire memecoin ecosystem thus far.
By launching two of his own memecoins, a pseudonymous collector known as Ben.eth managed to generate nearly $7 million in ETH, garnering both fanfare and widespread opposition in the process. Here's how it all went down.
First, there was $BEN
Although Ben.eth was already a somewhat well-known collector in the space prior to memecoin season, his engagement seemingly started to pick up when he began tweeting in support of the growing $PEPE community. After a spell of commenting on price action and the meteoric rise of the popular token, Ben.eth decided to try his hand at launching a similar offering.
Enter $BEN, a memecoin carrying the personal branding of its creator. With $BEN, Ben.eth launched 420.69 trillion tokens into the wild, spurred on by a presale that started on May 4. While a few of the tweets referencing the presale have since been deleted, by some accounts, the presale raised around 60 ETH from a few hundred wallets and closed only a day later on May 5.
Next came the public sale, which saw holder numbers rise into the thousands. Yet, shortly thereafter, prices began to trend downward, and it seemed that the coin would fizzle out before it even had a chance to begin. That is until crypto content creator BitBoy got involved with the project.
Known for his controversial past and heavy-handed takes on crypto and NFTs, BitBoy, whose real name is Ben Armstrong, found an affinity with $BEN. After first taking to Twitter to speak about the coin on May 8, Armstrong openly announced his involvement in the project only a day later.
After only a few days of Ben.eth and Armstrong being on the same team, the $BEN community was hit with a bit of a curveball. On May 11, it was announced that Armstrong would be "taking it over 100%" and Ben.eth would become an advisor.
One day later, Ben.eth unveiled his next memecoin.
$PSYOP memecoin warfare
On May 12, Ben.eth announced that his new coin, $PSYOP, would be launching via presale. The coin took its name from a popular meme format that references, and at times makes light of, the US' history of psychological warfare.
The $PSYOP announcement was seemingly where the controversy surrounding Ben.eth's memecoin offerings truly came to a head. Because while the $BEN situation has inspired opposition largely due to its Bitboy affiliation, $PSYOP was flagged by members of the community for its flimsy launch mechanics — or lack thereof.
In a since-deleted tweet, Ben.eth announced that to secure presale $PSYOP tokens, users must send ETH directly to him at his ENS address. This meant that potential investors would need to take Ben.eth for his word if they were to become a part of the $PSYOP community, as no contract had been deployed at the time of the presale.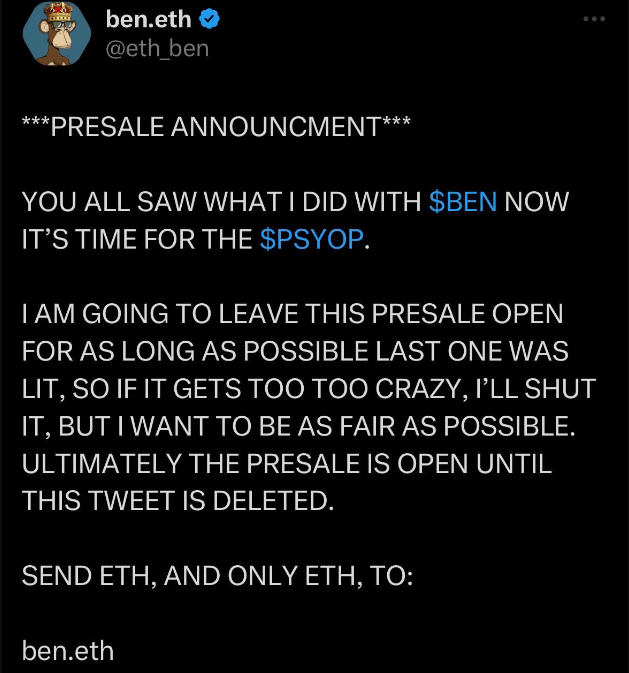 Shortly after his announcement, ETH began flooding into the Ben.eth wallet, and the influencer would ultimately secure around 3,800 ETH, just short of $7 million in only a few days. The magnitude of the sale prompted many influential names in the NFT space to comment, with sentiment split between those praising the move and others going so far as to suggest it was illegal.
Yet, as days continued to pass after the $PSYOP presale without a contract finished or released, unease among both investors and skeptics started to rise. Even so, Ben.eth continued to promote his memecoin unfazed, sharing "evidence" from the alleged coin's developer to add clout to the project and poking fun at those who called for him to serve jail time in the process.
On May 18, the $PSYOP contract went live, and Ben.eth joined a Twitter Space hosted by prominent NFT commentator ThreadGuy to clear the air. Around 17,000 listeners joined in to hear what the memecoin millionaire had to say. But many left dissatisfied, taking to Twitter to call our Ben.eth for contradicting himself during the space and failing to provide clear answers to questions he was asked.
The launch was a mess.

Many people lost thousands of dollars already.

Do not buy this garbage. You'll get rekt just like these people. pic.twitter.com/FH14gh2tyT

— Aaron (@AaronSage) May 19, 2023
And as the $PSYOP hype was seemingly coming to a head after the contract went live, those who bought into the memcoin early on started to notice discrepancies between the allocations they had initially purchased and what was airdropped to their wallets.
Responding to this new influx of criticism, Ben.eth seemed to double down on his nonchalant mentality while boasting about the launch as a success. Meanwhile, users in Web3 renewed conversations surrounding the legality of his actions, prompting attorney Mike Kanovitz to consider the idea of filing a class action lawsuit against the now-infamous collector.
Although Ben.eth threatened to file a counter-suit against Kanovitz and his firm, it remains to be seen if any legal action will ensue in the wake of $PSYOP. While some might've once thought (or perhaps even still believe) that $BEN and $PSYOP could prove to be a champion of memecoins, it seems more likely that the actions of Ben.eth (although undeniably historic) will go on to weave a cautionary tale.