If you had gotten into crypto earlier, you'd probably be a millionaire by now. At least, that's the common sentiment shared by those who missed the boat on the 2013 and/or 2017 Bitcoin booms. Hindsight is almost always 20/20, but we cannot change what has happened in the past. Rather, we can only use our experience to prepare for and build for our own future.
This is precisely the attitude of Daniel Maegaard, better known in the NFT space as the influential collector and investor Seedphrase. Having made a small fortune by investing in Bitcoin and altcoins nearly a decade ago, he no longer has to speculate whether or not his investing goals are attainable. His story has been told, and he's become somewhat of a model of prosperity in Web3.
Yet, while the high life undoubtedly suits him, Maegaard has found himself identifying with the conventional rags-to-riches narrative less and less. So instead of stepping to his cue as a poster child for crypto-trading success, he's now moving in a direction that seems somewhat left-field for someone of his unique stature. In 2023, he says he will be actively trying to reshape his longstanding identity.
Creating a dual existence IRL and in the metaverse
Seven Trait, Smart Money Danny, Seedphrase, whatever you may call him, Maegaard's identity as a crypto savant is undeniable. Known throughout the NFT space as the owner of CryptoPunk #8348, a.k.a (arguably) the rarest of all CryptoPunks, his accolades as a collector, builder, and overall proponent of blockchain tech are known to all who traverse the tokenized side of Web3. But over the past year, a new facet of Maegaard's identity has been introduced to the public.
Seedphrase the DJ, which the NFT community (and, to a lesser extent, the electronic music community) is sure to have witnessed behind the decks at more than a few shows and festivals, has slowly become synonymous with Web3 party culture. A character that coincides with Maegaard's influential Party Degenerates NFT project ecosystem, Seedphrase — a DJ who presents himself clad in a helmet that is visually identical to Punk #8348 — has started to take on a life of his own.
"When it all started, it was only meant to be this one-off thing. Seedphrase was just going to show up to a party and start DJing," Maegaard said in an interview with nft now. "But after that first night, and seeing the reaction from people and receiving just such an incredibly positive response, I realized that I might have something here. That was kind of the birth of Seedphrase, when I actually realized, 'Okay, I can take this somewhere.'"
Having been featured in the New York Times shortly after that first party in November 2021, Maegaard leaned into the idea of turning Seedphrase into something palpable. But while the first few appearances of the CryptoPunk DJ at international shows and festivals might've felt random, Seedphrase's latest surge in popularity is anything but. Now that Maegaard has entered talks with some major brands and metaverse players, he's taken time to push past being labeled a "Web3 version of Marshmello," and conceive a multifaceted existence for his burgeoning alter-ego.
NFT collector, CryptoPunk DJ, or something more?
Over the next year, Web3 will likely see a lot of Seedphrase. Collaborations with legacy fashion houses, a slew of live shows, and ventures in art, gaming, and more are but a few of the pit stops on the proverbial roadmap for the rising DJ. For Maegaard, though, the expansion of the Seedphrase brand is the culmination of his work behind the scenes compartmentalizing his identities and solidifying what his new platform will stand for.
"People either know me as Daniel Maegaard or Seedphrase. I kind of want to use this moment to illustrate the difference between the two. They coexist, but there's obviously a man behind the mask as well," said Maegaard. And although he went on to note that separating the character from the man is easier said than done, somehow, Maegaard still seems to be thriving within this division.
Recently, Seedphrase was reintroduced to the art world as part of WME's pop-up at nft now x Mana Common's The Gateway in downtown Miami. There, he graced the DJ booth, curated the vibe, and appeared alongside a variety of influential Web3 creators. But while partygoers may have witnessed the DJ break character, revealing a sharp-dressed Maegaard underneath, the two were still perceived as entirely different people.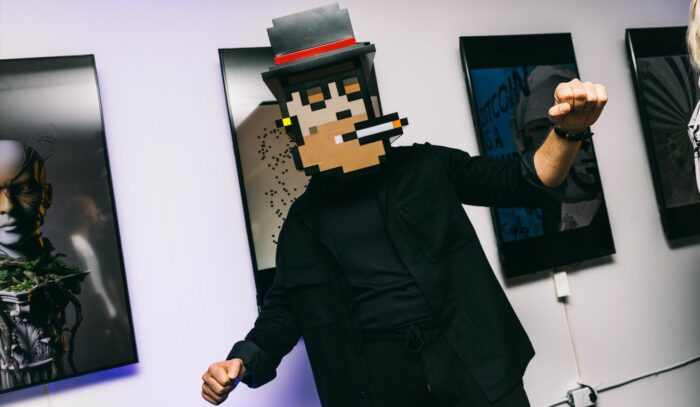 On the one hand, Seedphrase, who was introduced as a "manifestation of today's fringe culture," was on the job. He posed for photos, hit a few dance moves, and voicelessly floated around the venue as the face of the night. But on the other, a joyful Maegaard, the early-stage crypto investor and prominent NFT collector, hugged his longtime friends, exchanged pleasantries with the who's who of NFTs, and carelessly sipped on craft cocktails.
Oddly enough, while Maegaard may have set out to create a meaningful brand, he's also now perfectly illustrating the malleable nature of digital identity, something that others like multidisciplinary artist Snuffy have also taken great interest in. While identity is a truly difficult concept to grasp — especially true in a realm like Web3 and the NFT space where anonymous and pseudonymous individuals often reign — Maegaard success in maintaining his sense of self while giving life to his online persona may provide an archetype for others endeavoring to do the same.
It's important to note, though, that Maegaard's desire to capitalize on his Seedphrase identity didn't come frivolously. According to the influential collector, while that aforementioned initial party helped kick off the DJ's identity, his longstanding ethos and high hopes for the future of Web3 were the true catalysts behind the Seedphrase brand.
"At the end of the day, Seedphrase is meant to embody this sacred mentality of what each of us holds dear in this emerging tech space. And to serve this sort of cutting-edge voice that feeds the community with knowledge, experience, and wisdom," said Maegaard. "Your seed phrase, like your actual wallet seed phrase, is a gateway, a key to what you hold dear. That's what I'm trying to create now with the Seedphrase brand itself. A person that you can look to as a guiding light in the community."