For more than half a century, graffiti has spread across urban areas' walls, streets, and billboards. Proliferated throughout the world first as a method of storytelling and turf claiming, what once began as a criminalized pastime has grown into a global phenomenon of cultural expression.
Anecdotally, street art exists solely as public art. That is to say that street art and graffiti live in the physical realm and, similar to paintings and sculptures, are unmoving and unchanging. But now, as with other forms of "permanent" works, street art is making its way onto the blockchain.
NFTs primarily exist as digital experiences, which is why tokenized street art has the potential to provide a robust use case for transferring not only art but culture itself onto the blockchain. From individual success stories to niche platforms, entire ecosystems are being created around NFT street art.
Bringing street art on chain
Street art is an inherently physical discipline. It's in the name, after all. To reiterate the most basic principles of both street art and graffiti: each of these art forms leverage public spaces to create art for public viewing. So how then can the product of such a medium-specific discipline be transferred onto the blockchain as NFTs?
It's easier than you might think.
Several street/graffiti artists have already found success by digitizing their works in various ways. While some artists tackle the physical first — scanning, photographing, or videoing their creations after they've been completed — others are already well versed with digital art tools, often utilizing them in the planning stages of their physical pieces.
From Greg Mike to Matt Gondek, a variety of artists have staked their claims in NFTs. But two artists, lushsux and Tristan Eaton, might perfectly exemplify the diversity of methods when it comes to bringing street art on the chain.
On the one hand, lushsux works very much outside of the box. Meaning that his creations live primarily in the physical realm, despite them ultimately being most successful on the internet. He repurposes memes, skews pop culture icons, and defaces NFT images in the form of murals — which he then photographs, animates (or augments in some way), and mints as NFTs.
On the flip side, Tristan Eaton often does the opposite. Although he obviously does work in the physical realm with his larger-than-life murals, when it comes to NFT projects, Eaton has been known to design everything digitally, making it significantly easier to transfer his works onto the blockchain. We saw this process play out with his G.E.M.M.A (Generative Electronic Museum of Metaverse Art) collection.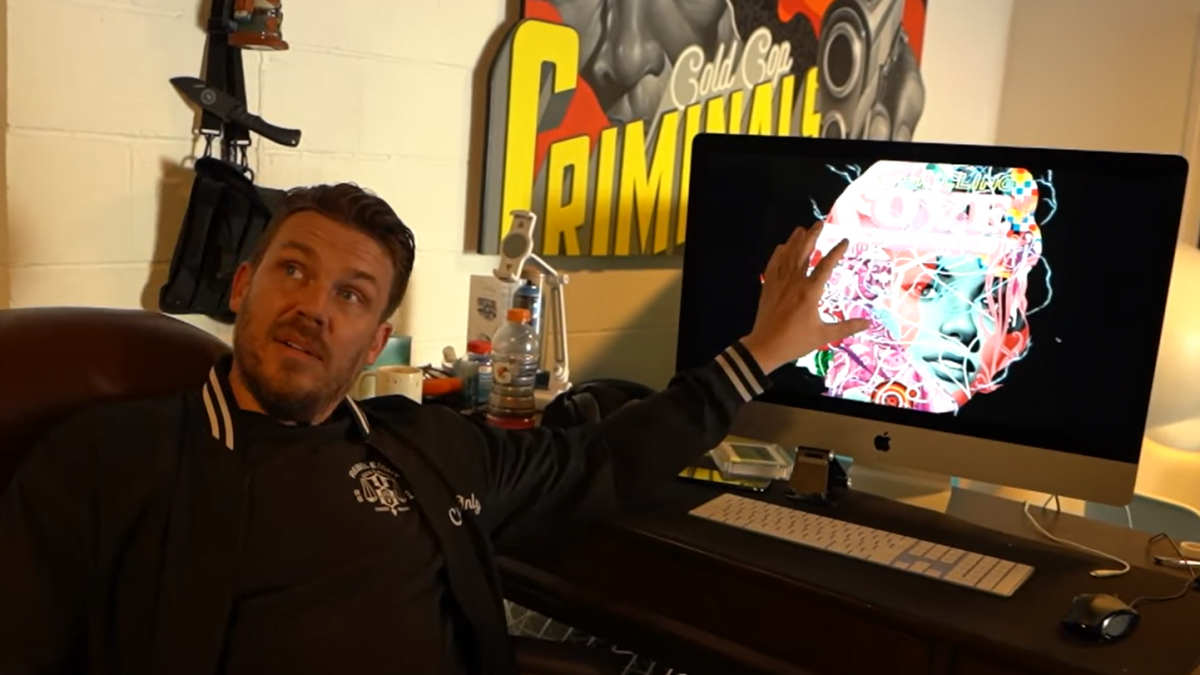 So, the technical challenges of bringing street art, and the concepts and spirit of street art onto the blockchain aren't really that complex. Yet, when all is said and done, someone still has to hit the "mint" button. But more often than not, it isn't actually the artists who have to deal with the technical parts of creating NFTs.
Where do street art NFTs live?
Regardless of an artist's success in the traditional art world, it remains true that minting an NFT or an NFT collection can be a daunting task for newcomers. Although the tools and incentives are abundant for physical artists looking to become a part of the NFT market, many start off clueless about how to begin the process of tokenizing their work.
Of course, there's always the option of going it alone and utilizing online resources (like nft now's guide to all things non-fungible). But as Terry Guy, founder of live arts entertainment brand Secret Walls puts it, finding someone to help onboard you into the NFT space can help mitigate the learning curve.
"The hustle of finding good people in the [NFT] space is always a challenge. But it's a good journey; you've just got to ask around and find those recommendations," Guy said in an interview with nft now. And he's definitely speaking from personal experience, since his company set out on yet another Support Your Local Artist (SYLA) tour, this time with a blockchain-powered twist.
Aside from advocating that artists partner with NFT platforms, as he did, to aid them along their journey, Guy says he also happily shares his pools of resources with artists looking to become involved in the NFT space. With decades of experience in both fostering community around street art and providing a stage for lesser-known artists to flourish, he remains an authority in the street art sector and now works toward the goal of using street art to create a link between physical and digital NFT experiences.
Although Secret Walls is undoubtedly a legacy street art brand, in Web3, Guy is aiming to empower artists through physical means (via SYLA battles) in hopes of onboarding them and their communities onto the blockchain. And his efforts to lower the barrier of entry for graffiti and street artists have been echoed by other digitally-native organizations.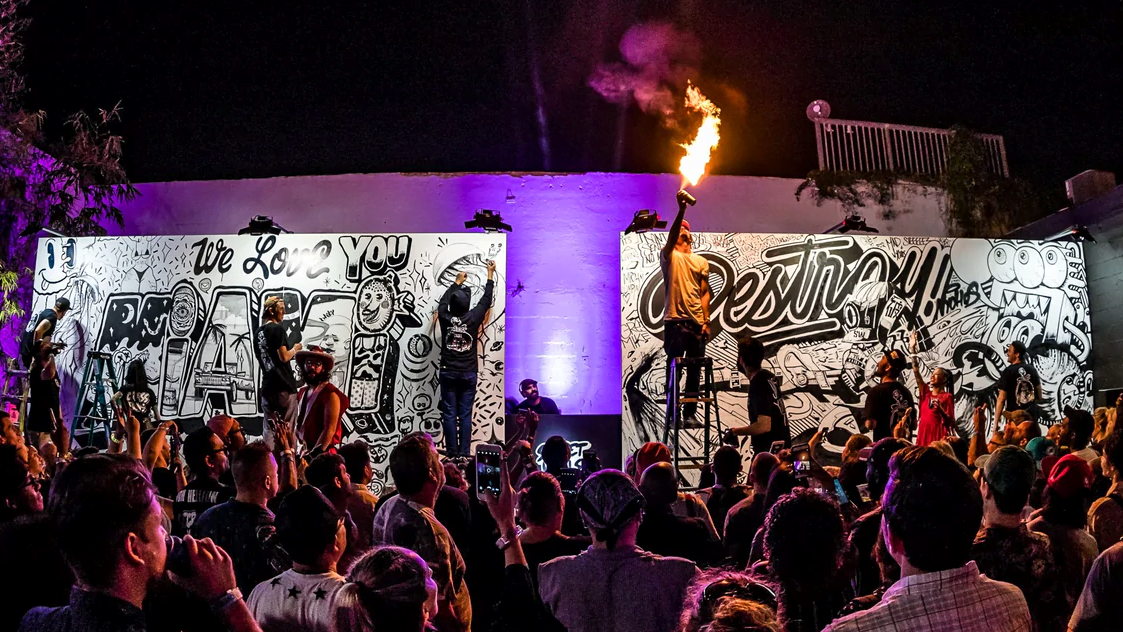 With the decentralized NFT platform Streetlab, entrepreneur Sébastien Rouby and his team are approaching artist empowerment from a top-down approach. Instead of building from the ground level toward the blockchain, Streetlab has already launched a platform that features a personalized approach to everything a street artist might need to succeed in the world of NFTs.
"We create a tailor-made approach for each artist we are talking with. Some of them are really interested, but they need more help and more guidance," Rouby tells nft now. "We always say that we don't want to demand anything or to tell them what to do. We just want to create this fertile ground [of creativity]."
Through Streetlab, street artists are able to learn about NFTs, receive coaching on how to bring their specific art styles onto the blockchain, and have their collections minted on one of the only marketplaces geared directly towards graffiti and street art NFTs. The platform is truly a burgeoning mecca for this niche and developing sector of the NFT ecosystem.
How can NFTs benefit street artists?
In just the past decade, the perception of graffiti and street art has undergone a profound evolution. Initially a niche subculture, graffiti has since become gentrified in its cities of origin. Now, street and graffiti artists have more opportunities to grow and achieve commercial success. But, as with music, photography, or any other creative discipline, not everyone gets the chance to make a living off of their art.
This is one of the main reasons why the NFT ecosystem has become a hotbed for creators. Many can sustain themselves by selling NFTs, causing artists of all backgrounds to join the NFT community in hopes of gaining a foothold in the market. In other words, street artists are just the latest stars to hit the party.
On the importance of onboarding street artists onto the blockchain, Rouby says that it's necessary to recognize that street art is underrepresented in the NFT space. "We truly think that street art has a lot in common with blockchain philosophy," said Rouby. "And we think that there is like this kind of militant aspects in the blockchain fight for decentralization, and with street art and the fight for the ability to make art, sometimes illegally, and to showcase militant messages on walls."
However, Guy thinks onboarding street artists into the NFT space comes down to providing them with the means to profit from their work. "The artists that we try to work with, the kind of up-and-comers, are always trying to hustle to make a living. And I feel like NFTs have offered like a solid platform or opportunity for them to use their imagination and add that extra income to whatever else they do," said Guy.
Perhaps each of these perspectives provides a bit of insight into how and why street artists stand to benefit in the NFT space. The monetary aspect is obviously appealing, especially to artists that've found it difficult or even impossible to profit from their work. But the idea that graffiti and blockchain culture share the same ideologies might be the true incentive for street artists to join the ecosystem.
Holistically, the decentralized, renegade mentalities of the blockchain community also feel like the spirit of street art. The desire to do things differently and chart new pathways through the creative industry is front and center in both cultures. While street art may be fostering a sense of radicalized community in real life, the same has been happening online in the Web3 space.
Although the intersection of street art and NFTs is still relatively fresh, similarities between the creators of culture on both sides may very well create a shared and collaborative metaverse where the physical and digital meet. If other forms of art can be proliferated at such a grand scale on the blockchain, why should street art be any different?