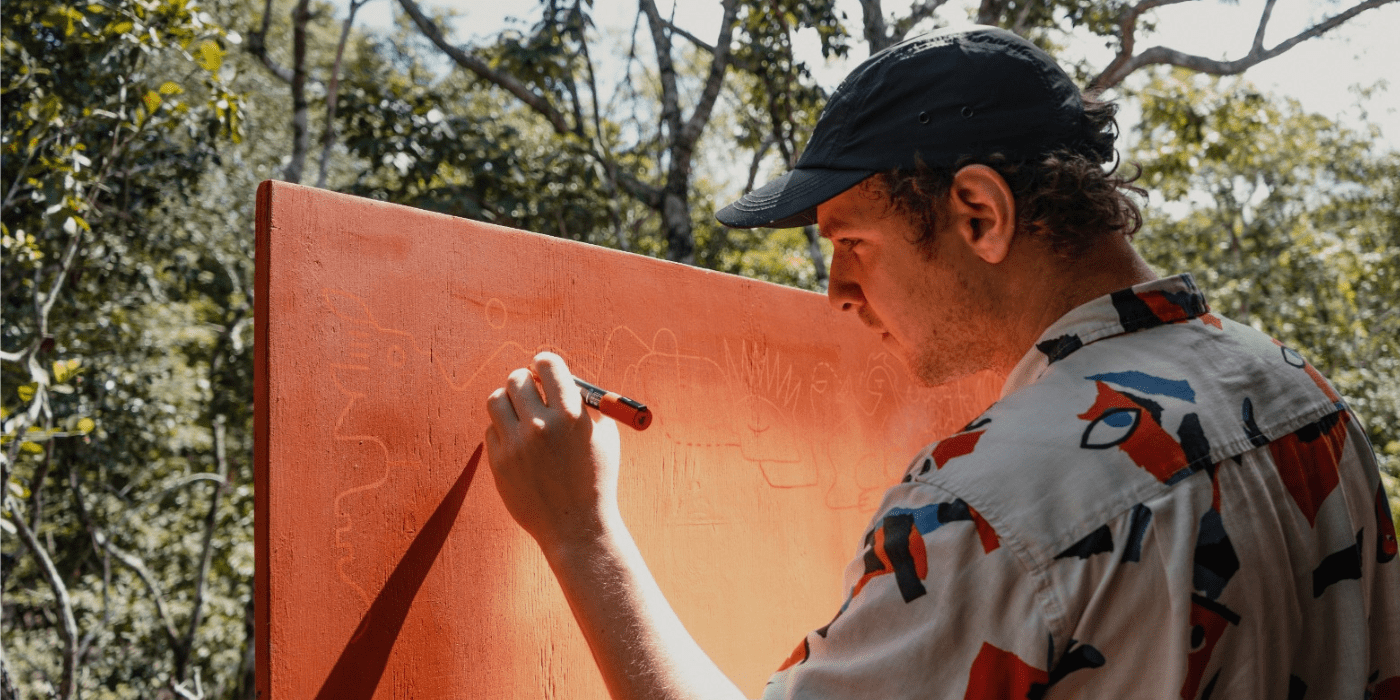 On July 20, muralist, designer, and illustrator Eric Friedensohn — known by his artist name Efdot — is releasing his latest NFT collection: Elements. Comprised of five editions of works themed around the Classical elements — earth, air, fire, and water, and a unique fifth component — Elements aims to draw viewers' attention to the underlying and eternal beauty of the natural world, all while telling an important story along the way.
His first collaboration with Web3 platform Transient Labs, Elements is the product of the artist's time at the Kaaba Luum Artist Residency in Tulum, Mexico. He spent a week there in 2022 crafting large-scale physical paintings on wood panels that were later digitally animated.
Efdot consciously crafted the details of the release alongside Transient Labs to ensure the drop was done right at a time when the NFT market has seen better days. We sat down with the artist ahead of the drop to learn more about the philosophy and mindset behind the collection as well as the creative drop mechanics involved in its release.
The fifth element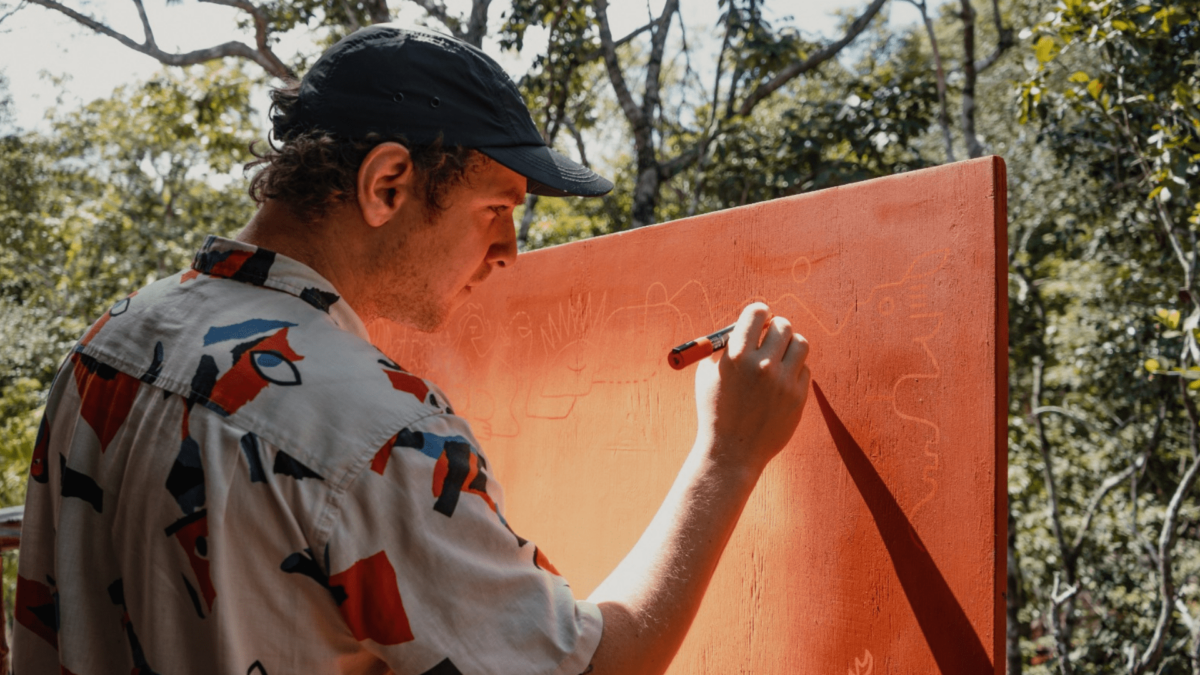 Efdot's abstract and figurative style is unmistakably present in Elements, lending itself to vivid compositions that are deeply rooted in emotion and open to interpretation.
"The abstraction that I put in my work is, on one hand, just lines, symbols, and shapes that can be interpreted in a lot of different ways," Efdot said of his work while speaking to nft now. "But if you zoom out and look at the whole piece, each Element is supposed to have a feeling of flow or the balance of positive and negative space that creates an energy and its own personality."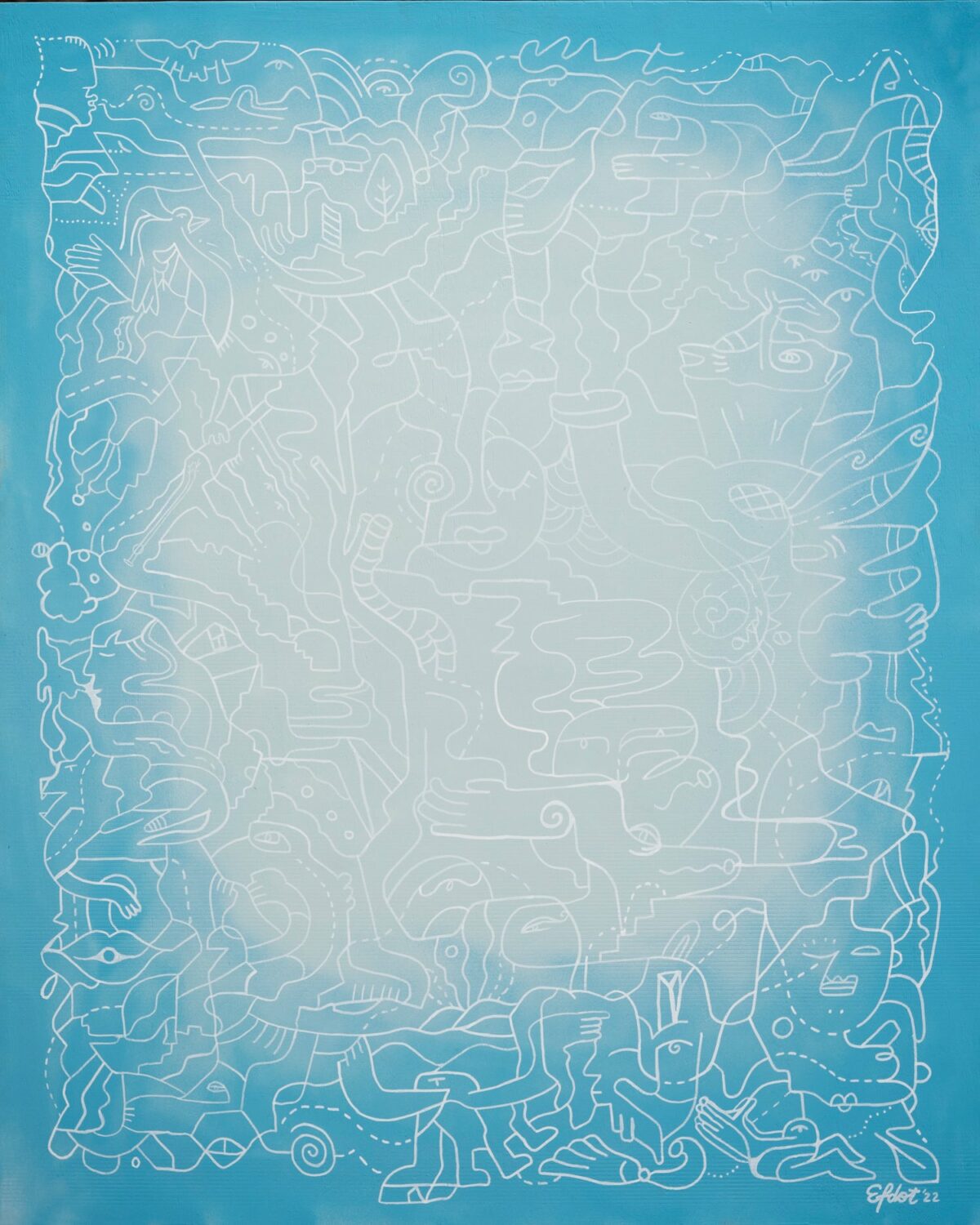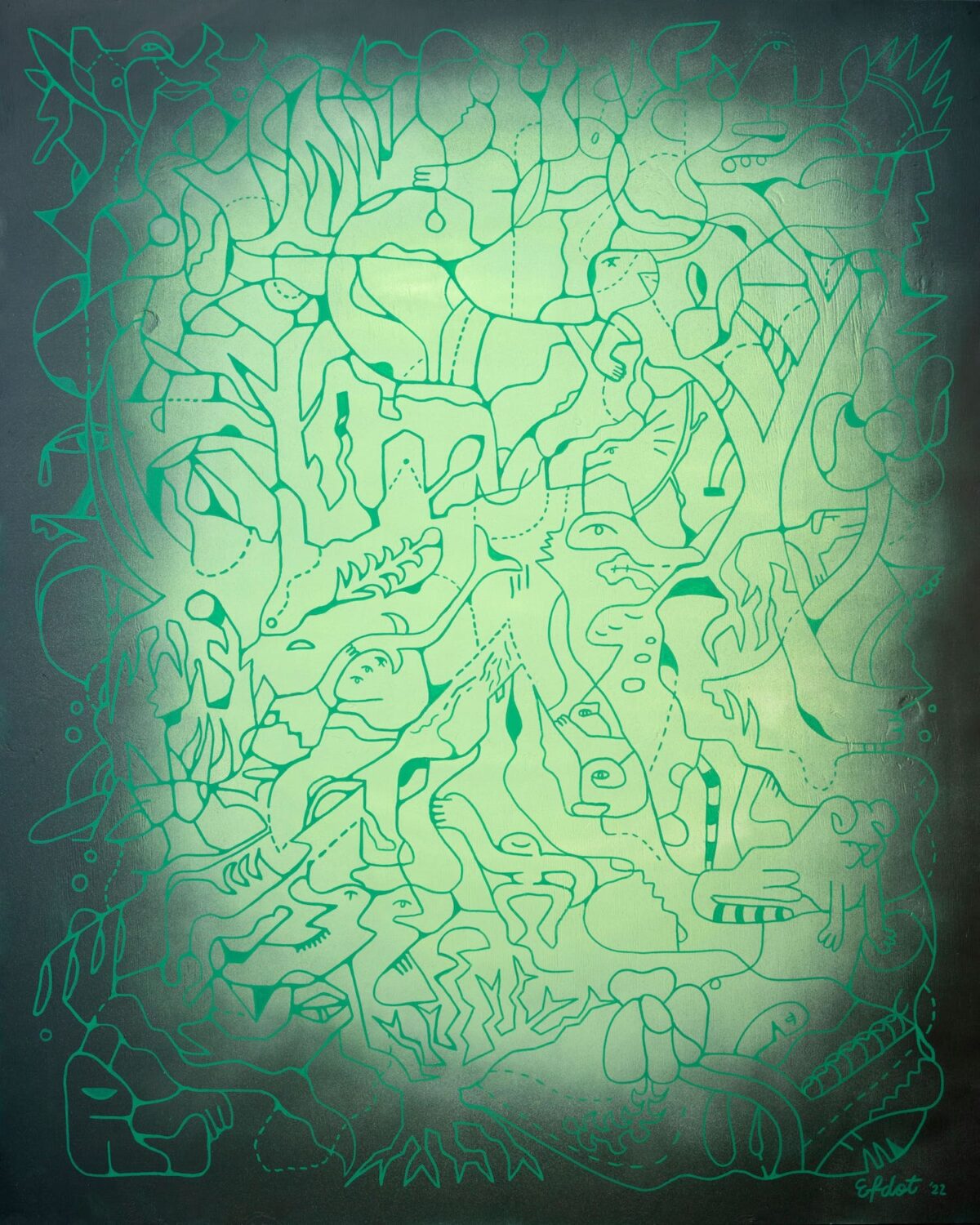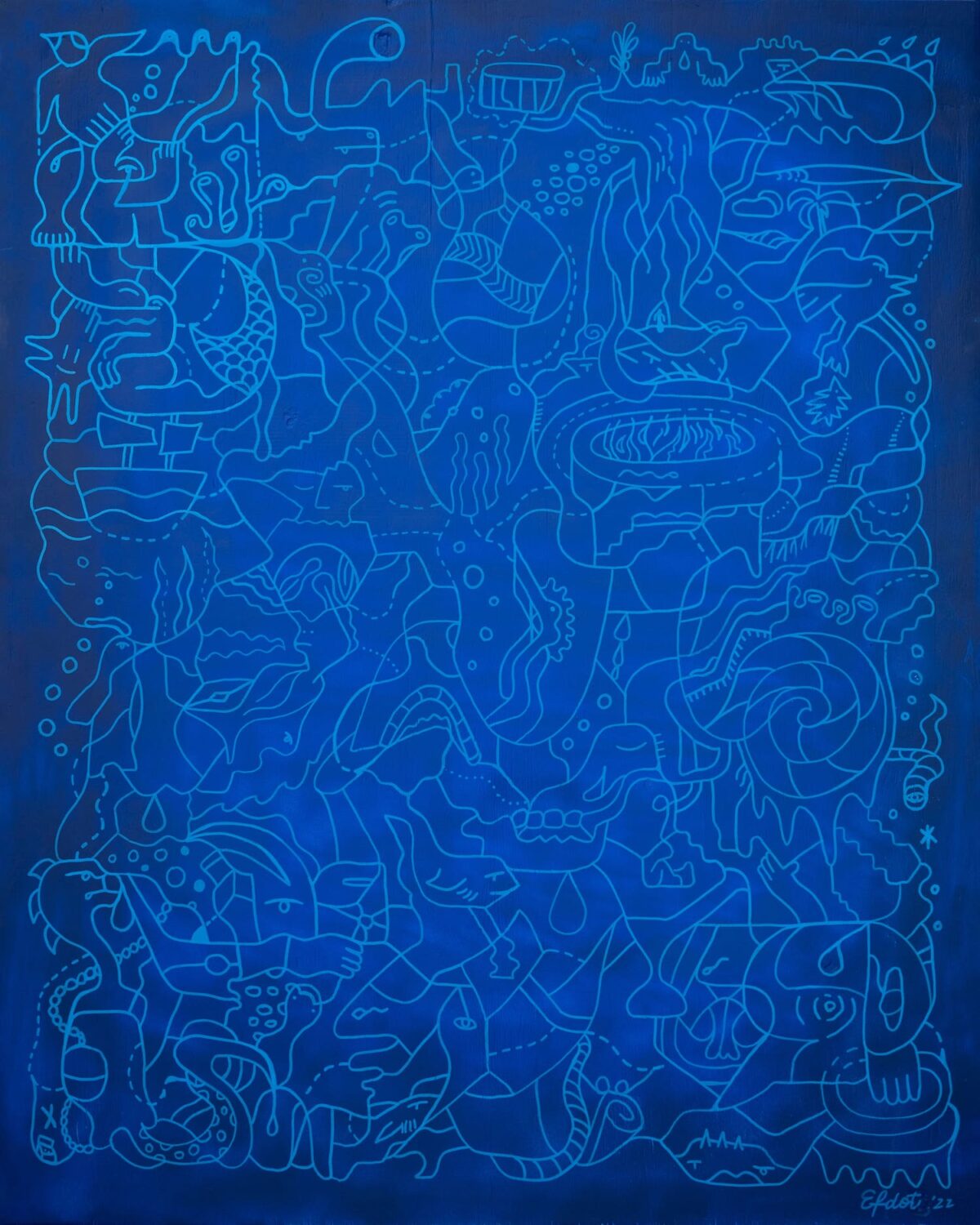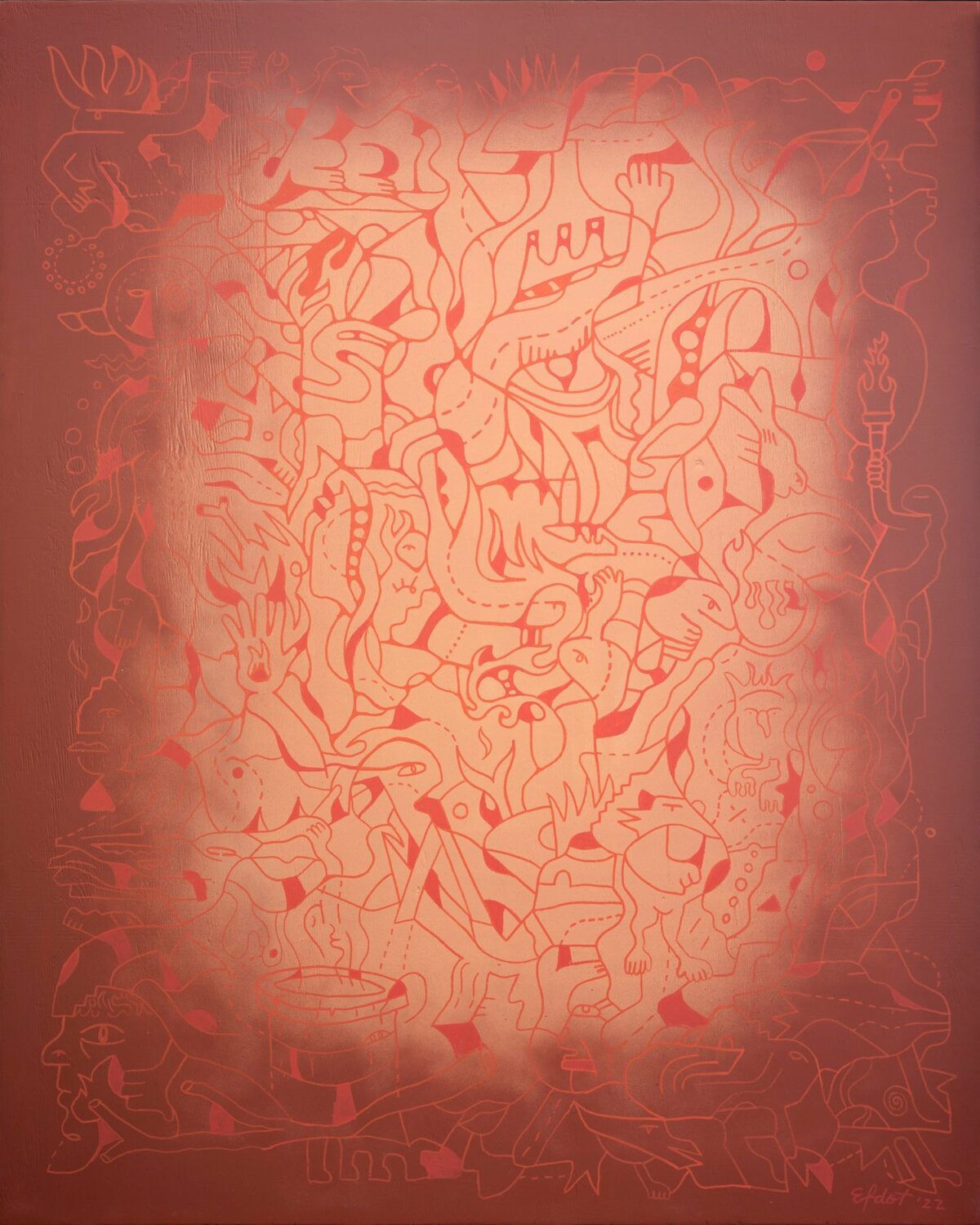 After completing the four pieces and returning home, Efdot crafted a fifth piece, a physical drawing that he later decided would be a good thematic link back to the original pieces in the collection. Called Elemental Glow, the piece is the result of Efdot's research into a fifth element that was a common part of several ancient cultures' belief systems. The piece will be a free claim for those who collect each of the four main artworks and comes with a corresponding original drawing on paper that will be raffled amongst holders.
"It's the mother of all the other elements," Efdot elaborated. "It's their version of the Big Bang, basically; how all the other four elements came from this one moment. I got that feeling after I made the piece — sometimes I'm not sure what I'm making until after it's done, and then it kind of takes on its meaning. It just felt like a great way to tie up the series."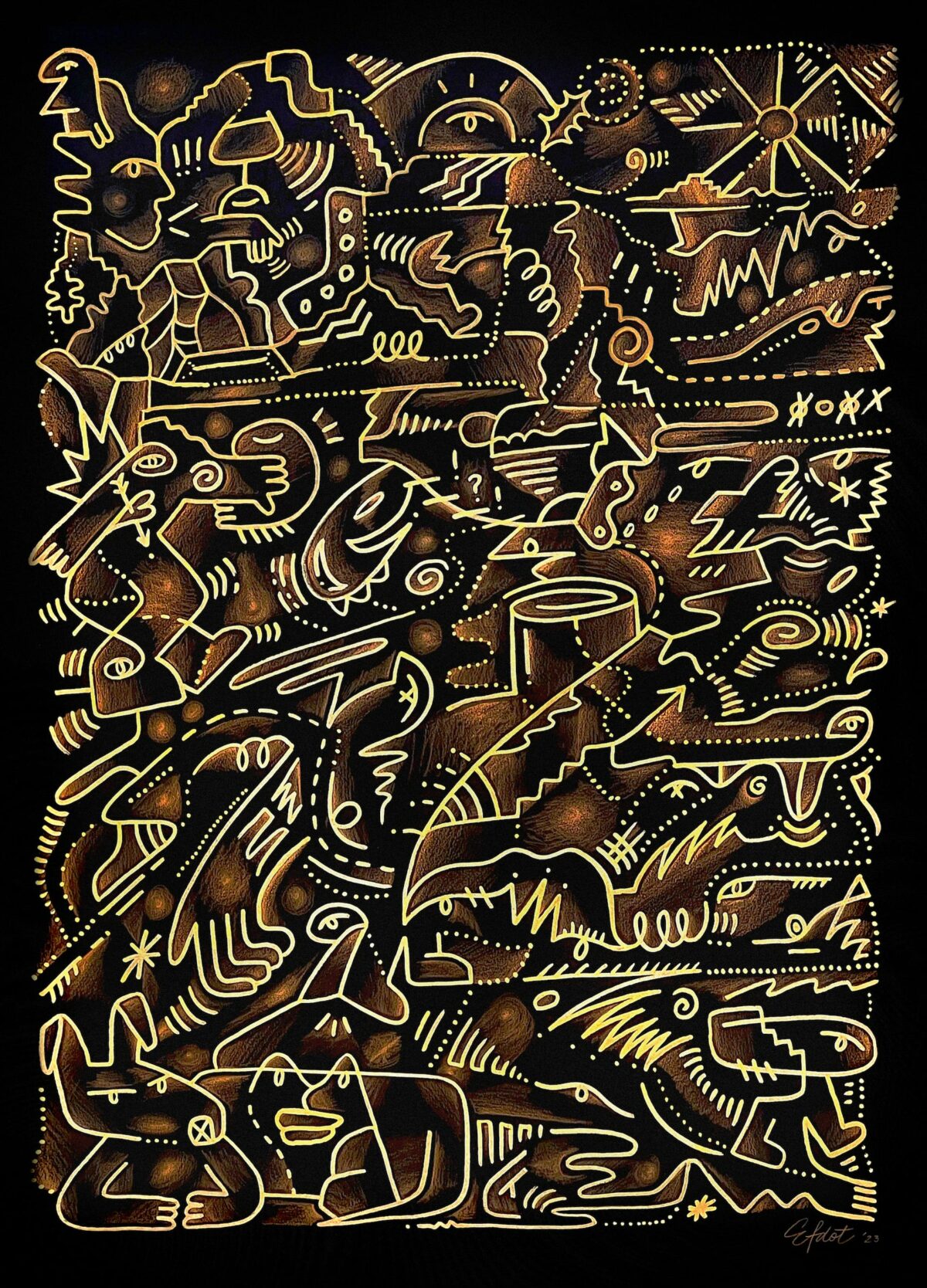 "Nature has this ever-evolving DNA, like one giant generative artwork, and photographers can capture that instantly and preserve it as it is. But with my abstract work, I'm trying to tap into something that's not visible and make it visible."
Elements' drop mechanics
Efdot hooked up with Transient Labs by first meeting Ben Strauss, the company's founder, at Art Basel in Miami. Having admired the platform for what it did with artist drops like Dave Krugman's Drip Drop, the two began chatting, and a collaboration seemed like "a natural fit."
"I really liked all the dynamic artwork and custom smart contracts they were building, and that it was for the art and for the sake of innovation, not to drive more sales or to grow as quickly as possible," Efdot said. "It's a little more nuanced what they're doing."
One of the nuances that Efdot and Transient Labs are bringing to Elements lies in its unique minting process. Wanting to give collectors the option to have a say in how big the collection size would be, Efdot is utilizing Transient's Velocity minting mechanism. Whenever someone mints a piece from the collection, the mint window reduces by five minutes.
The original mint windows for each element are as follows: six hours for Earth, 12 hours for Air, 18 hours for Fire, and 24 hours for Water. The Velocity mechanic also means that rarity isn't a foregone conclusion, and those looking to nab rarer pieces will have to closely monitor the minting situation.
Minters will also be able to click on the animated NFT to reveal a static image of the original drawing. Click again, and they'll see a video clip of the artistic process.
To make this possible, @benstraussphoto coded an interactive function within each piece.

This will enable viewers to *click to reveal* the original static piece, and click again to see a video clip from the process! 🎥https://t.co/r7SXDMIdtx

— Efdot 👁 (@EfdotStudio) July 13, 2023
Giving back to the community
Efdot will be donating 20 percent of the mint proceeds to Los Amigos de la Esquina, a non-profit dedicated to empowering Mayan and Mexican children in Tulum. He will return to the country and help the organization set up a crypto wallet before personally handing over the funds.
"The charity component is really special to me," Efdot said. "If it works, and this does mint a lot of additions, then we'll really be able to make a difference. It could be a model for other artists to turn some of their physical series into not just a picture of the painting but a whole new digital artwork that ties back to a physical experience. People like to separate digital art and physical art. I'm trying to further the conversation that there's value in both."