What is it about game shows that makes them so hard to turn away from? Is it the prospect of winning big prizes that gets home viewers' blood pumping? Or maybe it's the frustration experienced from watching contestants fail challenges that seem like a walk in the park?
Of course, we know exactly why game shows are so popular, because through watching others' successes or failures, we envision ourselves being able to succeed if given the chance. Yet, because of their popularity, it's notoriously difficult to get your name on the short list for a playing role on a game show. And needless to say, appearing in front of a live audience and millions of home viewers isn't everyone's cup of tea.
But what if there was a Web3 solution to gameshows? One that allowed participants to sign up and compete from the comfort of their homes? That's what creators Jordan Lejuwaan and Krish Jagirdar aim to offer, in what they've dubbed the "Squid Game of NFTs."
And it's called Internet Game.
What is Internet Game?
Put simply, Internet Game is a Web3 mini-game battle royale that nearly anyone can join. Built around the power of blockchain technology, the game allows NFT enthusiasts to compete in several online games for a chance to win prizes worth hundreds of thousands of dollars.
Internet Game tournaments are broken up into seasons, where each set of mini-games can only be played in certain timeframe. So far, there have been two seasons; one in March 2022, and one in September 2022. Users can only gain access to these tournament seasons by purchasing a Game Token, which is essentially a ticket for the festivities, or a Metaverse Access Card (MAC), which gives holders access to every forthcoming season.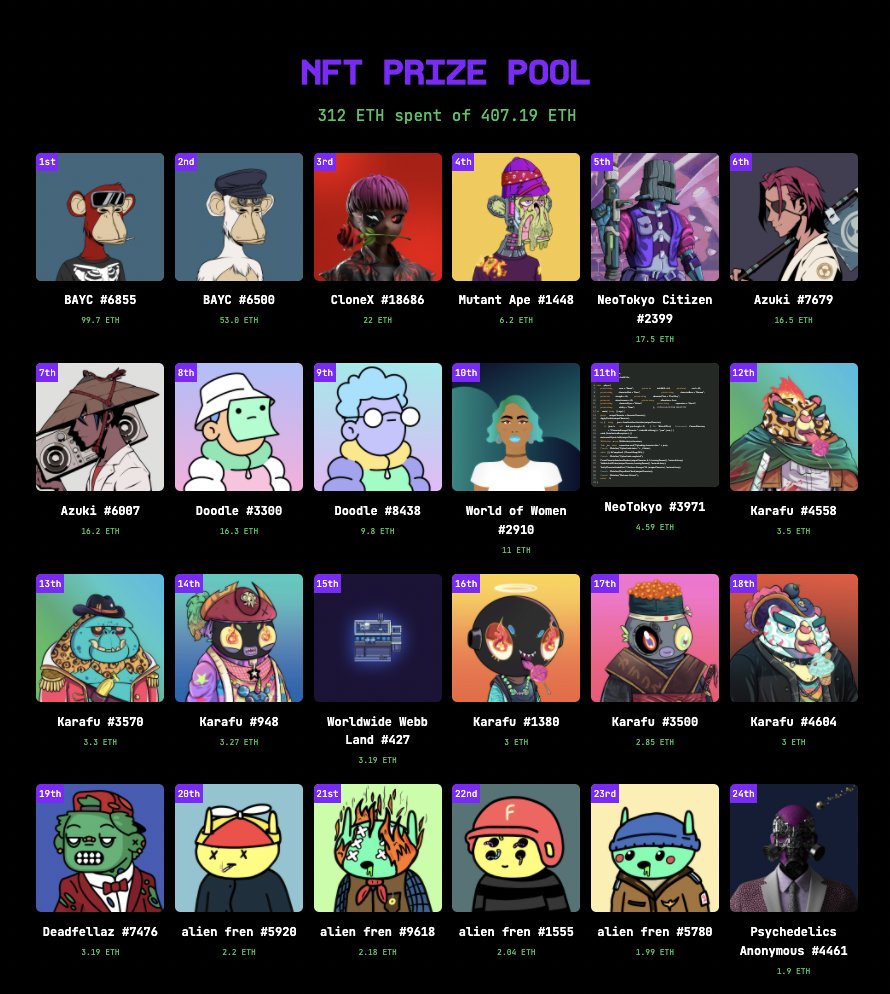 Although the concept of Internet Game is quite simple, for many, it originally sounded too good to be true. Considering the multitude of scams and rug pulls we've seen in the NFT space, it came as no surprise to Lejuwaan that potential participants were at first skeptical of the project. "It was actually way more difficult than I expected to get people to buy in," Lejuwaan said in an interview with nft now.
Due to the popularity of PFPs and free-mint NFT trends, Lejuwaan says that at first, it was difficult to communicate that Internet Game, despite being an outlier of the NFT market, was not a scam. "Because it was hard to understand and because it was different, we actually had to spend a lot of time educating people on what we were doing and why it was gonna be great," said Lejuwaan.
Luckily, the blockchain is immutable, and verifying that Lejuwaan and Jagirdar did in fact have ownership of the prizes they were giving away was simple. After the first season came and went, it became clear that Internet Game was a first-of-its-kind endeavor in the Web3 space.
How did Internet Game come about?
Aside from the obvious perk of Internet Game presenting users with a chance to win valuable NFTs, the true utility of the project can be traced back to its origins. While Internet Game's founders have been adamant that the ethos of the project will always be about fun, according to Lejuwaan, his and Jagirdar's brainchild was born out of a social experiment.
"Our thesis, that we were talking about for like a full year, was how do we make social media and social networks more interactive," said Lejuwaan. "We decided to do a couple of experiments in space to really figure out what worked before we decided to build something. And the first idea that we had was Internet Game."
In considering the popularity of Netflix's Squid Game, Lejuwaan said he and Jagirdar decided to combine the concept of the show with their idea of building social networks, especially those pertaining to Web3, with a more interactive flair. Having raised roughly $750,000 in seed funding from family, friends, and a few angel investors, they bought a Bored Ape and started marketing.
After the success of Internet Game's first season, Lejuwaan decided to double down on the concept because people loved it so much, putting ideas for other experiments in storage. It seems this was a smart move, because shortly after, Internet Game secured $7 million in another funding round, adding to the reported $2 million or more in revenue pulled in from season one.
With season two, Internet Game leaned into the ongoing bear market, bringing aboard gmoney to host the tournament in conjunction with actress and comedian Leah Lamarr. And after another successful round of games and prizes, things began to change for the project and its founders.
"We started getting a lot of people reaching out to us asking if they could run an Internet Game game for their community," said Lejuwaan. "That happened enough times that we realized that we should really just platformize (sic) this thing and allow people to use our library of games and the interesting tournament infrastructure that we built to be able to run games for themselves."
Internet Game: more than a game
With two seasons of Internet Game down, the team behind the project has grown, with Lejuwaan and Jagirdar now planning the future of the project. And it seems that this future will be twofold, since Internet Game seeks out new ways to collaborate with established IP, while expanding their own ecosystem to be more accessible.
Internally, Lejuwaan says Internet Game is set to develop into a live platform, interoperable for enthusiasts and brands. "What we're working towards now is launching its platform," said Lejuwaan. "It'll be a 24/7, always live platform where you can come play games with your friends. You can build your own tournaments or play one that was developed by like VaynerSports Pass or Yuga Labs or whoever."
Where collaborated efforts are concerned, fans need look no further than Internet Game's forthcoming collaboration with Tom Brady Web3 brand, Autograph, and global content leader Lionsgate. And, just in time for Halloween 2022, Internet Game is unveiling a special third season of the game tied to Twisted Pictures' iconic horror film franchise SAW.
With this new experience, players will have the opportunity to participate in three SAW-themed games across three days, with a chance to win top prizes, including an on-set tour of the next SAW film, a Mutant Ape, a Doodles NFT, and more. With Game Tokens only purchasable via GameStop NFT, Magic Eden, and Internet Game, this partnership is a first step toward the collaboration and interactivity features that Lejuwaan and Jagirdar want to offer.
Additionally, the Internet Game team hopes to blur the lines between the Web2 and Web3 fandom aspects of their project, in their venture toward the future of gaming and social. While bringing influential IP into Web3 is a crucial goal of Internet Game, Lejuwaan says that he thinks the best way to onboard a broader base into NFTs is covertly.
"I think the best way to onboard them is actually a Trojan horse. Where a website doesn't mention Web3, crypto or NFTs; none of those terms whatsoever," said Lejuwaan. "[General consumers] will use credit cards and other things they're used to for buying 'tickets to play' instead of NFT passes. You know, they'll have an NFT, but they don't even know they have it. I think that's the move."
Editor's note: Two members of the nft now editorial team previously worked with Internet Game co-founder Jordan Lejuwaan at Futurism, but were not involved in the publication of this piece.