Hailing from Louisville, Kentucky, is the multidisciplinary artist Jeremy Booth, who those in the Web3 space have come to know and love for his romantic takes on the Wild West.

Booth didn't start at the top; however, in fact, his career is one of trial and tribulation that exemplifies passion, resilience, and innovation. To learn more about his story, the highs, the lows, and everything in between, we spoke directly with Booth.

Join us as we explore his early exploration of art and Web3, learn more about him and Niko Kampouris's Western Art Dept, and take a closer look at his expansion into physical art.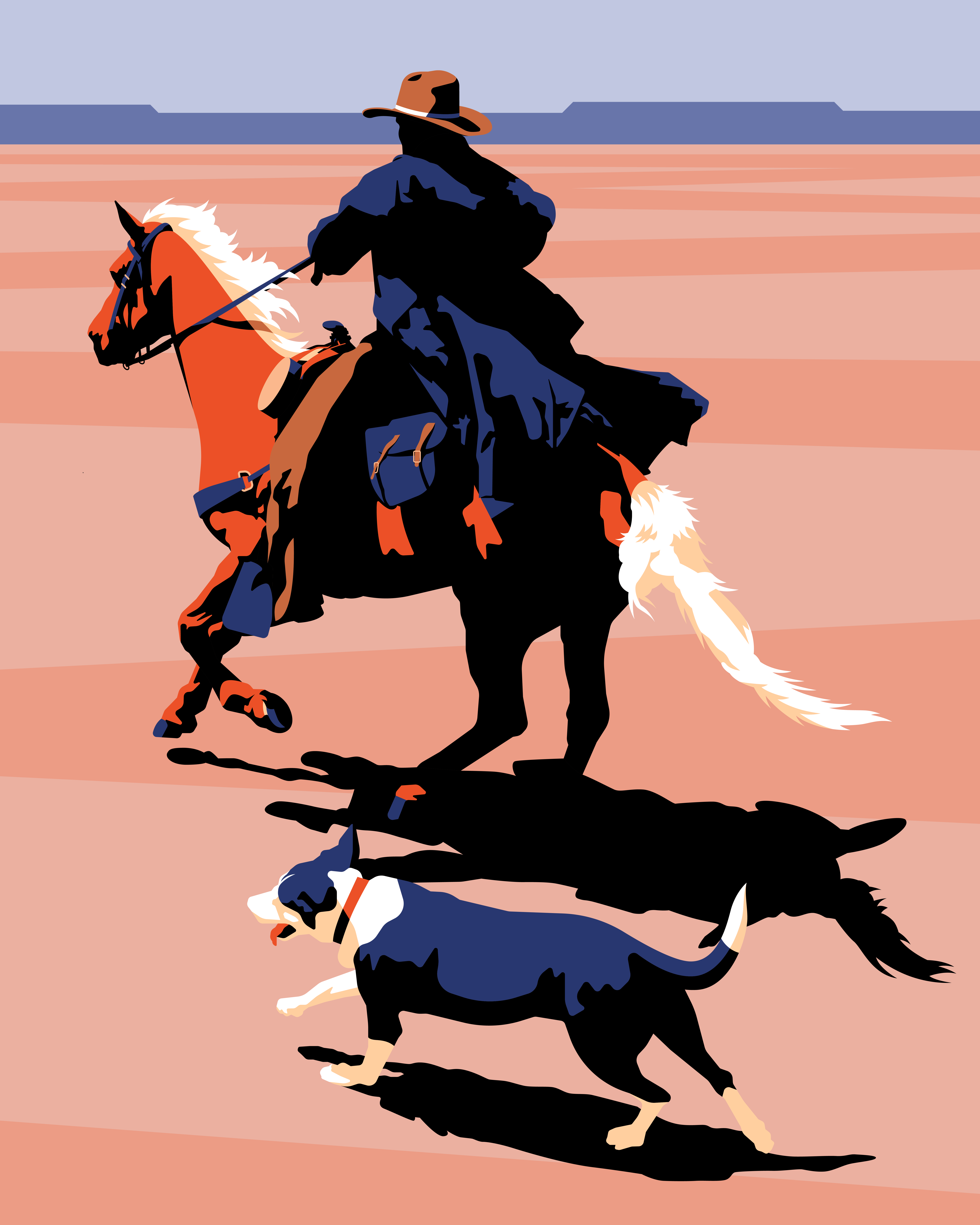 Early Beginnings
Taking things back to when Booth was a budding graphic designer, his journey would begin with a "bootlegged" version of Photoshop, which eventually led him to the shores of Adobe Illustrator, a tool that he shared more resonated with his creative instincts.

"I began as a graphic designer in high school and transitioned to professional illustrator back in 2010," Booth shared, adding, "At that point, I was a generalist, my style wasn't consistent, and I did whatever the client needed. In 2011, my priorities shifted, and I wanted to be signed by illustration agents, I soon realized in order to do that, I had to develop a certain style for myself."
However, just as he started to find that style, fate threw a curveball at Booth, who experienced a life-altering seizure at a local cafe. The diagnosis revealed a brain mass, pressing pause on his burgeoning career. But there was a silver lining, as Booth explained: "During the time of the first seizure and brain surgery — which lasted six months — I was able to escape my reality by finding my artistic voice."

He added, "That distraction gave me the strength to get through that season. After the successful surgery, I had created enough work to populate my new portfolio website; about a month later, I signed with an illustration agent in France, and a few months after that North America and the UK."

At this point, his professional career began to blossom, with his vector artwork being used in campaigns of renowned names like Apple, Warby Parker, MLB, and more.
Venturing Into Web3
Growing a bit tired of freelance work in late 2020, Booth took up an opportunity at Coinbase, landing a three-month contract that would eventually lead to a full-time job.

He explained, "In 2021, I left that game behind and worked for Coinbase for 1.5 years as a product illustrator on the design team. While there my NFT and Web3 journey began."

Begin it did, Booth would go on to mint his first two works that same year, both of which sold for 1 ETH each — inspiring him to explore the space further.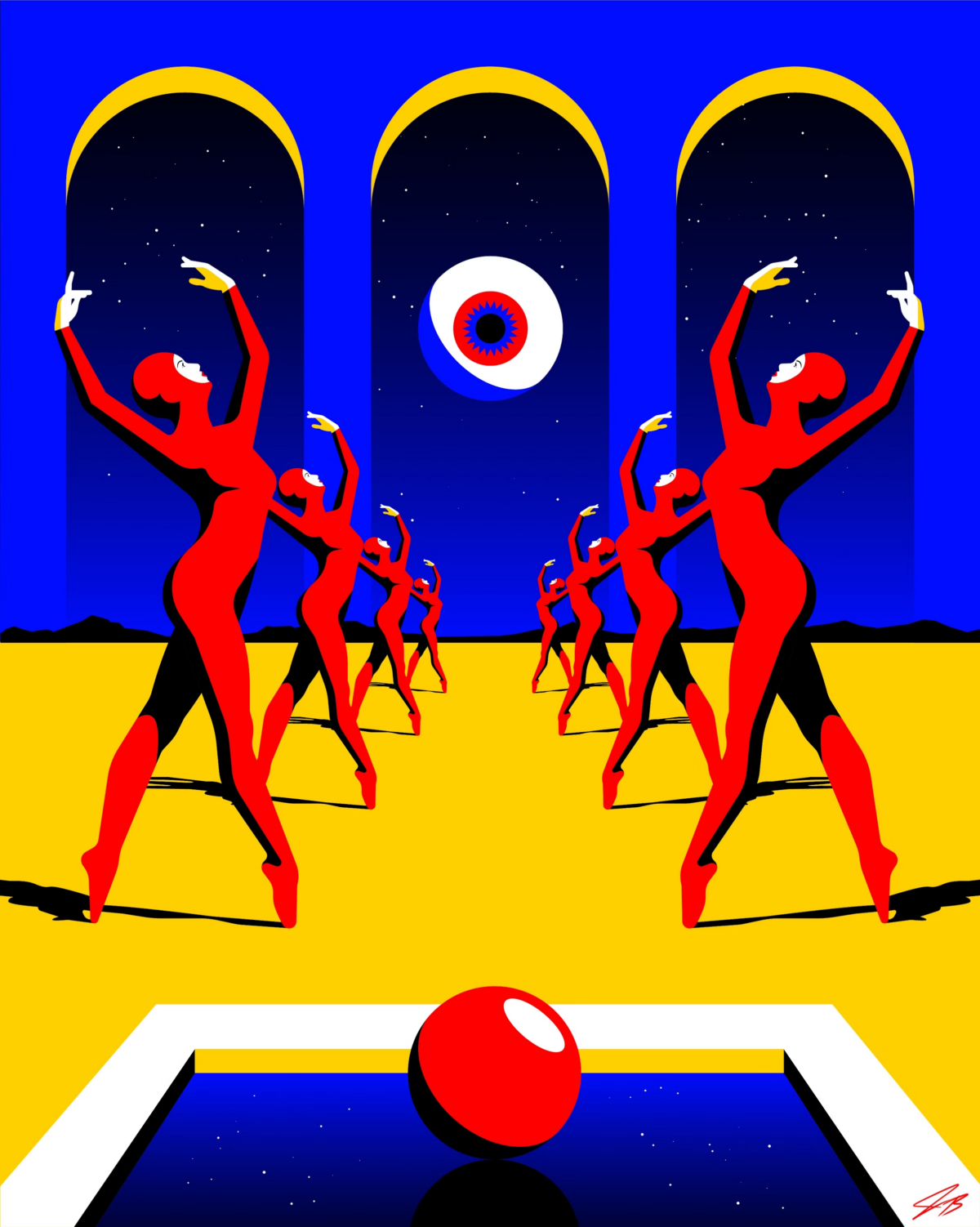 However, life hurled another setback with the loss of a close friend. After a reflective hiatus, Booth returned with the launch of the PFP project Bushidos, which was eventually taken over by a Web3 entertainment studio and given new life as a comic series.
His heart still resonated with the Wild West, though, leading to a collection that explored the rustic allure of cowboys and desert landscapes. His venture filled a void in the Web3 domain, blending nostalgia with strategic novelty.

Speaking to his focus on the Western art form, Booth shared, "After about 1.5 years into the space, when I came back to just focusing on art, I really wanted to press into subject matter."

He added, "For over a decade, my style has been the same, but I never had a subject matter. I began testing different ideas and landed on doing a Western series titled 'Dirt' to see how it would go. Originally, I thought it'd be just a series and I'd move on, but I fell in love with the tradition, the subject, and the culture of Western art. I then decided this would be my focus moving forward."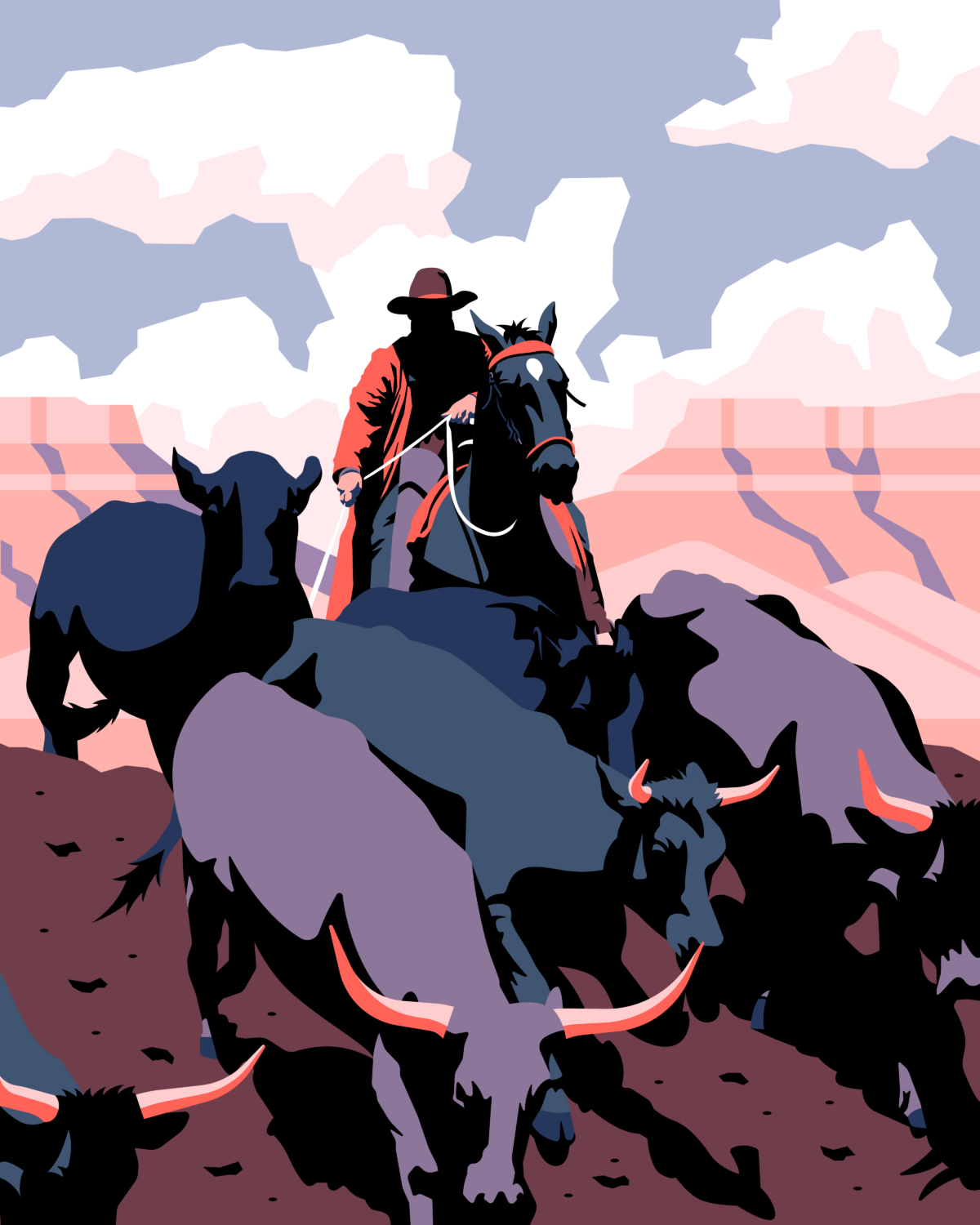 With this newfound focus, Booth would release notable works and collections like his memetic Lone Ranger-styled Pepe to his record-breaking edition release during the "open edition" craze titled "Boots." A timed edition that was priced at $23 USD for 23 hours to celebrate the New Year — this token has since been utilized for art redemptions and other access benefits.

Other notable works and partnerships included a bespoke jean jacket, with an integrated NFT COA powered by LTD INC and an NFC chip that allowed guests who encountered Booth at NFT NYC to claim a free POAP.
Fast forward to current times, and Booth is still charging full force in the direction of Western art, as is apparent by the launch of his latest project, the Western Art Dept or WAD.
Western Art Dept
Formed in collaboration with his close friend and business partner Niko Kampouris, WAD, which lives as a Foundation World, now represents a call to action for artists to explore the Western art form and as a place of accessibility for a wide audience of collectors.

Booth shared, "I originally came up with the idea through the Wrangler jacket. I wanted it to say 'Western Art Dept' on the back to create this feeling of community and tradition but in the Web3 space."

Adding "From there it transformed to the thought of curation and bringing more Western art into the space beyond myself. Niko and I then decided to start the Western Art Dept."
Speaking to the future of WAD, Booth shared, "We really take it day by day. The industry moves so quickly and we like to stay agile. We move forward with the focus of bringing more Western art into Web3 and helping onboard Western artists."

This mission has been exemplified by the onboarding of a Western art legend in the TradArt scene, painter Robert Hagen.

Booth explained, "Robert came around just as we started WAD. We discovered him on X and I reached out with the intent of helping in any way I could with the hope he'd join us in season 1 of WAD."

He further shared that "During all of this, we ended up having many meetings where we discussed Web3 but also the traditional Western art world. I began to learn so much from Robert, and he's become a mentor of mine. We actually went and photographed cowboys in Kansas this past June for reference material."
"One is traditional artists accepting it and participating. We see this with Robert, a 76-year-old man who's been a traditional Western artist all his life and who decided at 75 to try something new, leveraging new technology."
Exploring the Physical
Having experimented with physical art in the past, even painting large-scale commercial murals, Booth, inspired by his newfound mentor Hagen, has decided to dive deeper into the medium to see what it holds for him.

He shared that "I've had some experience painting abstract geometric shapes in the past but nothing to the detail of my Western art but had the itch to try, and Robert really encouraged me to do it."

"So I tried and really fell in love with the craft and developed a deeper relationship with my work, far beyond what I've experienced to date," he explained, adding, "I've had to grow in patience because of the time it takes to produce work, train my breathing for line work, learn how to mix color IRL, and much more — for context, I could produce a digital piece in two to three days but a painting takes about three weeks when it's all said and done."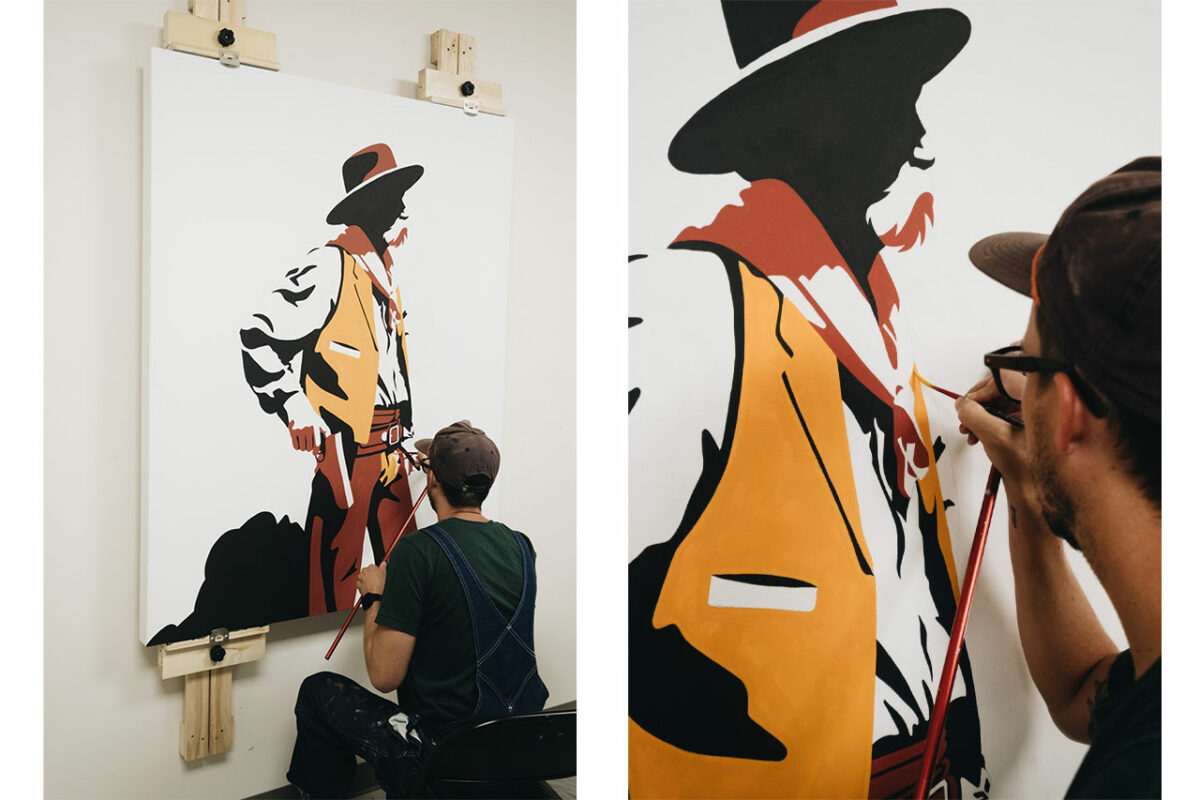 Sharing more to this end, Booth expressed, "I feel for me to really succeed, I need to participate in both the trad art world and the digital — even in some cases bridging both."

He added, "My aim is to gain the respect of both parties with the mission of building a legacy. I realize this is a slower game, but I believe it will be more sustainable long-term."

In regard to combining these two worlds, Booth has also explored the concept of hybrid works, explaining that "Some are hybrid. It really depends on the buyer and their preference. In my mind, only staying digital cuts off a huge market that wants to collect traditional, and that doesn't feel inclusive to me. I like letting the collector choose, they can collect, and it supports me."
Booth shared that he believes this exploration of the physical and hybrid works will bring him "a deeper connection" with his work, increased craftsmanship, a broader audience, and all-around joy.
Observing the shift taking place in the broader Web3 art space, Booth shared, "I believe we will see this technology combined with the physical become more prevalent and as that happens I'll be ready. We are seeing this already with prints."

While this highlights a case of Web3 native artists adopting more TradArt practices, Booth shared that he also hopes the TradArt space will come to honor royalties on works sold after the primary sale — however, he admits that this is hard to see as the Web3 space itself shifts so quickly, acknowledging the issues at hand with royalties within the space.
Despite this, Booth shared that he would love to see the space grow with more artists and have it "grow into a healthier place where folks can collect and enjoy art and spend less time gambling."
In closing, Booth shared a word of advice to any artists who might be reading this story, stating, "Being an artist is the most fulfilling thing one can do, but also it's the most challenging. Keep going and stay consistent; that will get you through the difficult times."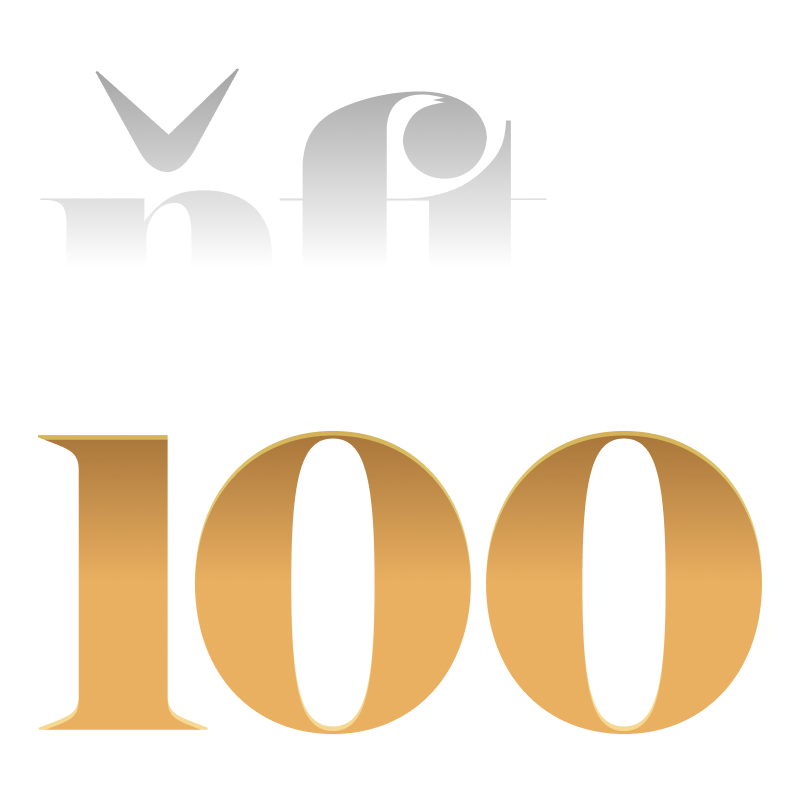 Want more NFT100 honoree interviews?
Get the full list of everyone we spoke with below