We've come a long way since the world's first NFT was minted in 2014. Since then, projects like CryptoKitties, Rare Pepes, and CryptoPunks have revolutionized the industry — both creatively and financially. NFT sales have skyrocketed in response, and many of the most famous and well-known NFTs have brought in millions of dollars.
To record the most notable milestones, we've compiled a list of the most expensive NFT art pieces ever sold.
But before we begin, it's important to know that we're only highlighting the biggest single NFT sales in this article. The list doesn't include open editions, which are NFT drops with no set supply limit, allowing collectors to mint as many tokens as they want within a certain period.
Finally, be sure to bookmark this page and check in often for the latest information. Things are changing rapidly in Web3, and we'll continue to update this article with new entries as even bigger NFT sales go down.
20. Edward Snowden, Stay Free: $5.4 million (2224 ETH)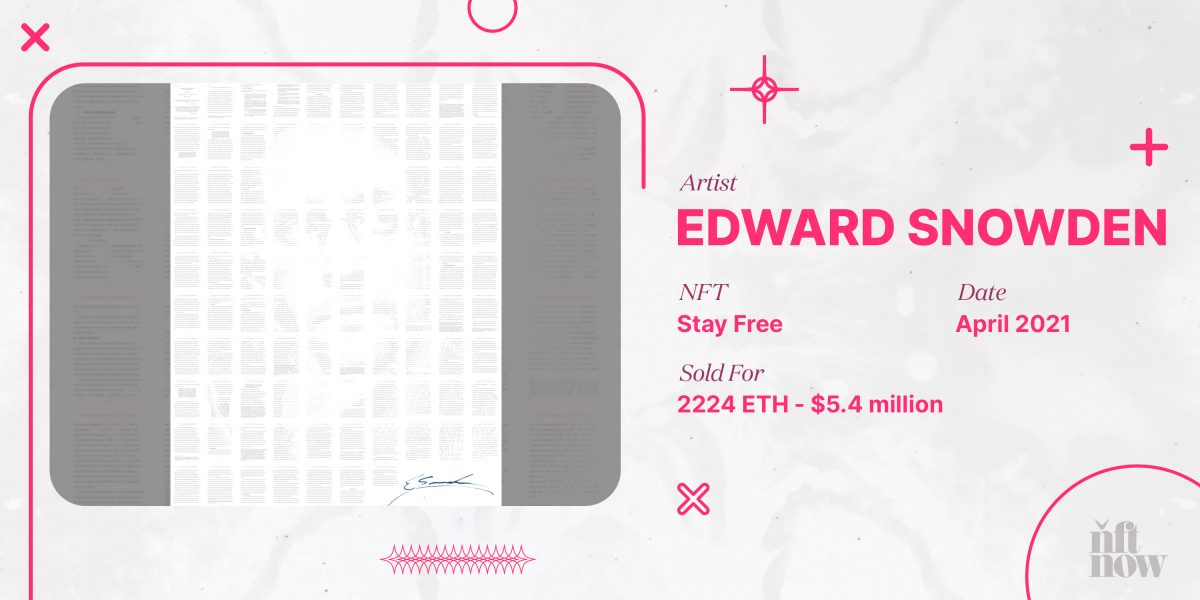 Sale details: Stay Free, created by National Security Agency whistleblower Edward Snowden, sold to PleasrDAO for $5.4 million in April 2021. Proceeds from the sale went to the Freedom of the Press Foundation.
Why it's valuable: An endeavor launched toward the beginning of the 2021 NFT boom, the NFT predates similar efforts to aid influential prisoners (like Ross Ulbricht and Julian Assange, who are also featured on this list) in their fights for freedom.
The token itself is represented visually by Snowden's iconic Platon portrait comprised of the court documents associated with the landmark decision ruling the National Security Agency's mass surveillance violated the law.
19. Beeple, Ocean Front: $6 million (3529 ETH)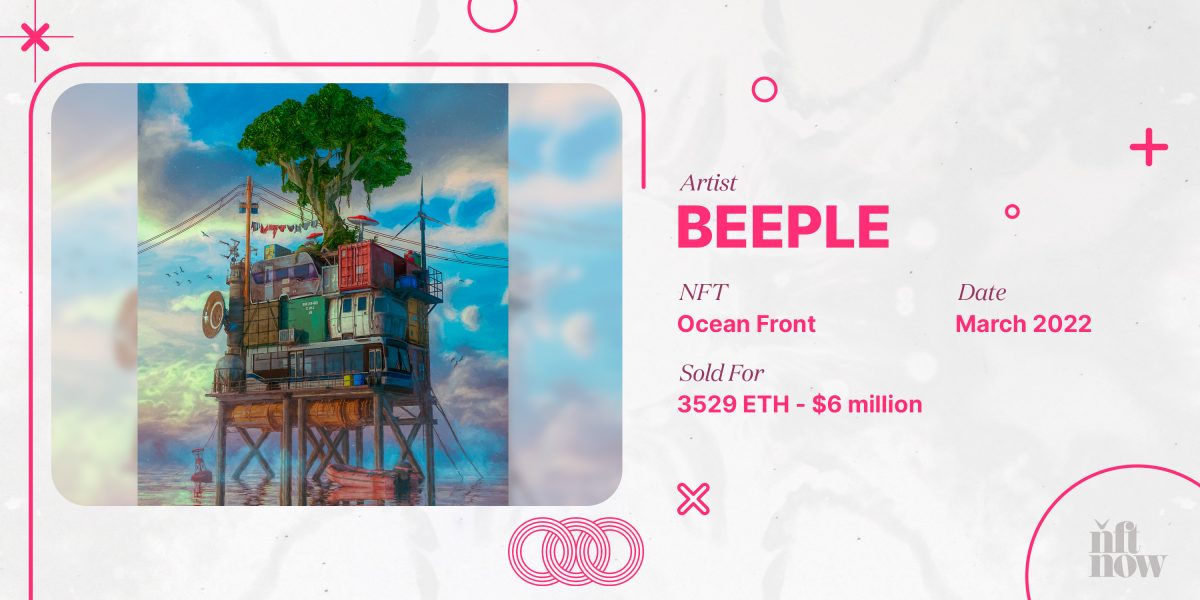 Sale details: Beeple's Ocean Front NFT sold for $6 million in March 2021 to Chinese cryptocurrency entrepreneur and founder of the TRON blockchain, Justin Sun. Proceeds from the sale were donated to the Open Earth Foundation.

Why it's valuable: The piece, which is part of Beeple's valuable Everydays series, featured the caption "together we can solve this," in reference to the climate crisis. The NFT came as part of The Carbon Drop collection launched by Nifty Gateway in collaboration with the Open Earth Foundation. Inspired by the conversation surrounding NFT's impact on the environment, the collection included eight unique "carbon negative" NFTs in an effort to compensate for the underlying emissions from minting.
18. XCOPY, A Coin for the Ferryman: $6.02 million (1330 ETH)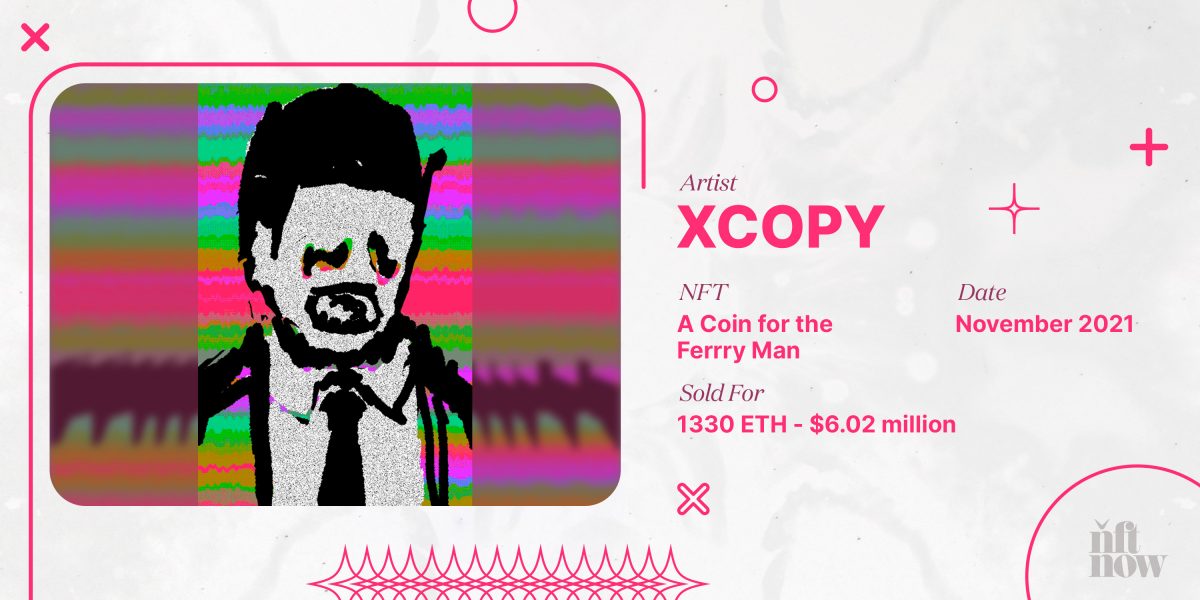 Sale details: XCOPY's A Coin for the Ferryman sold for $6.02 million on November 4, 2021. It was purchased by SuperRare user jpeggy, who also owns XCOPY's EVADER.

Why it's valuable: Similar to his other high-value pieces, A Coin for the Ferryman can be traced back to the beginning of the enigmatic creator's career as a crypto-artist. Originally sold for $139 in 2018, the piece wouldn't change wallets again till November 2021, only days before the price of Ether reached an all-time high. As crypto prices continued to rise, the high-profile sale of A Coin for the Ferryman created speculation and renewed belief in the long-term value of 1/1 NFTs.
17. Ross Ulbricht, FreeRoss: $6.12 million (1489 ETH)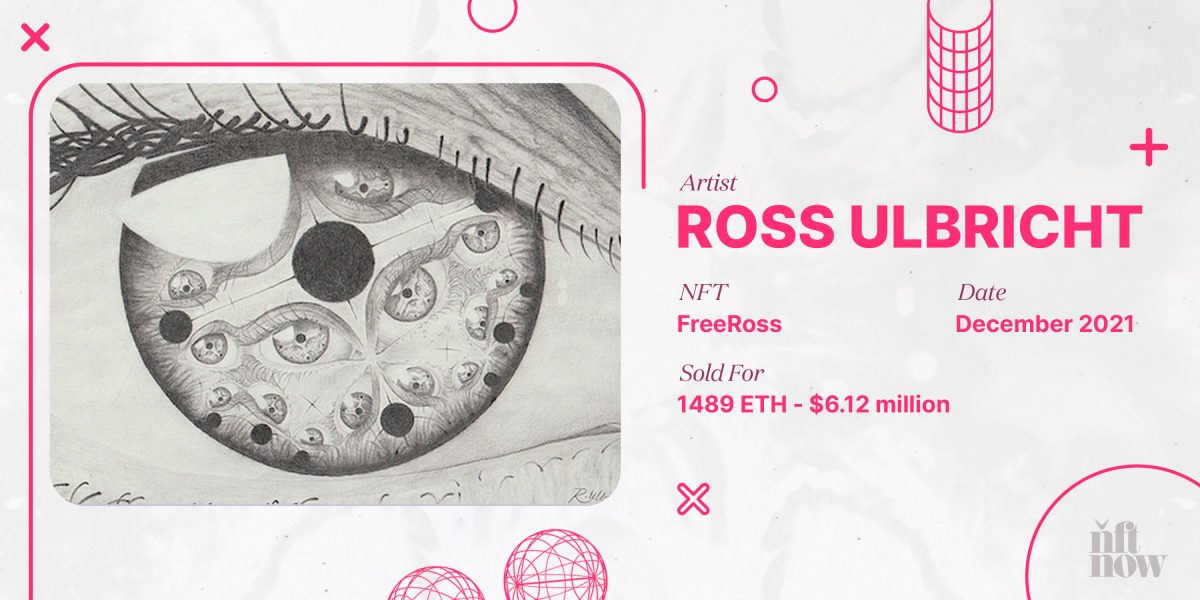 Sale details: Ross Ulbricht's first ever NFT, FreeRoss, fetched a whopping $6.12 million after being on auction for six days at the beginning of December 2021. Released as part of the Ross Ulbricht Genesis NFT Collection, proceeds from the sale went not only to efforts to free Ulbricht from prison, but also toward creating a donor-advised fund called Art4Giving. The fund is dedicated to relieving the suffering of the incarcerated and their families.
Why it's valuable: Creator of online black market Silk Road, Ulbricht is unequivocally tied to the history of blockchain tech. With his genesis collection presented via the FreeRossDAO (who were also the NFT's buyers), Ulbricht was able to solidify his name on the blockchain in a new and innovative way, effectively adding a positive spin to his legacy as he continues to serve life in prison.
16. Dmitri Cherniak, Ringers #879: $6.2 million (3693 ETH)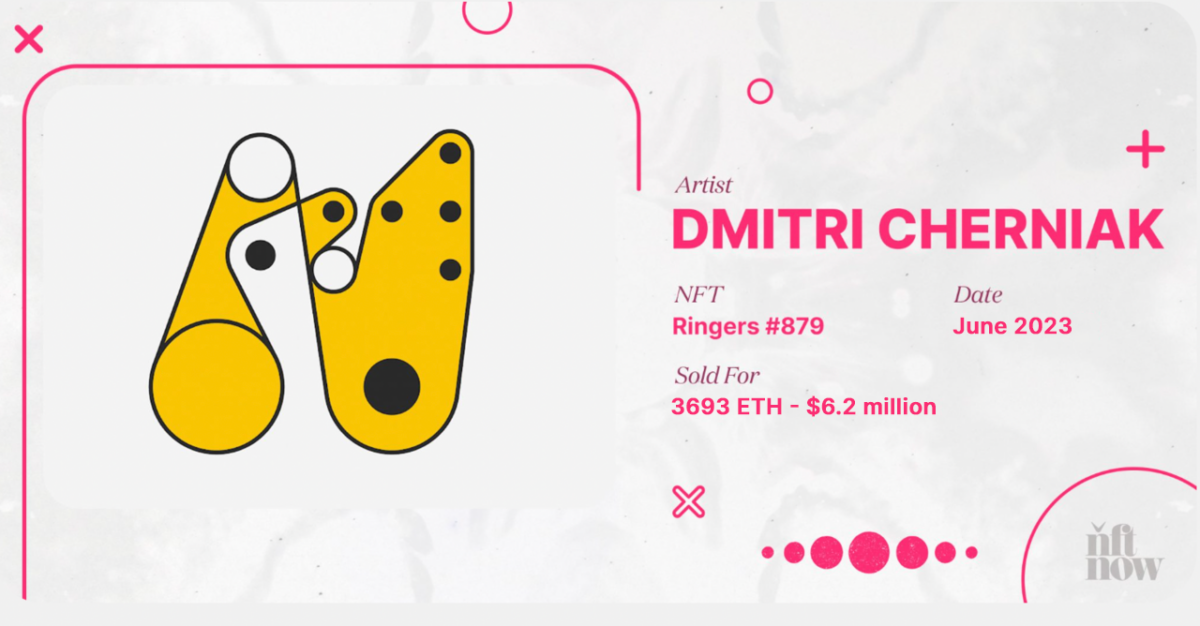 Sale details: Ringers #879, known affectionately as "The Goose" is a single NFT from Dmitri Cherniak's groundbreaking generative project. It first broke records when it sold for just short of $6 million in August 2021. The buyer was Three Arrows Capital, the now-defunct Singapore-based crypto hedge fund.

On June 15, it once again changed hands. Punk6529 purchased it via Sotheby's Grails: Part II auction. The winning bid was $5.4 million, but with the buyer's premium, the total is actually over $6.2 million.

Why it's valuable: As one of the first projects to launch in 2021, Cherniak's Ringers collection of 1,000 NFTs has retained its historical value through critical acclaim and landmark sales. Known throughout the NFT ecosystem as one of the most beloved collections to come from the prestigious generative art platform Art Blocks Curated, owning a single Ringers NFT is commonly considered to be both a status symbol and a bet on the future of generative NFT art. Further, the improbability of an animal shape emerging from the generative randomness adds to The Goose's allure, visual identity, and rarity.
15. XCOPY, All Time High in the City: $6.2 million (1630 ETH)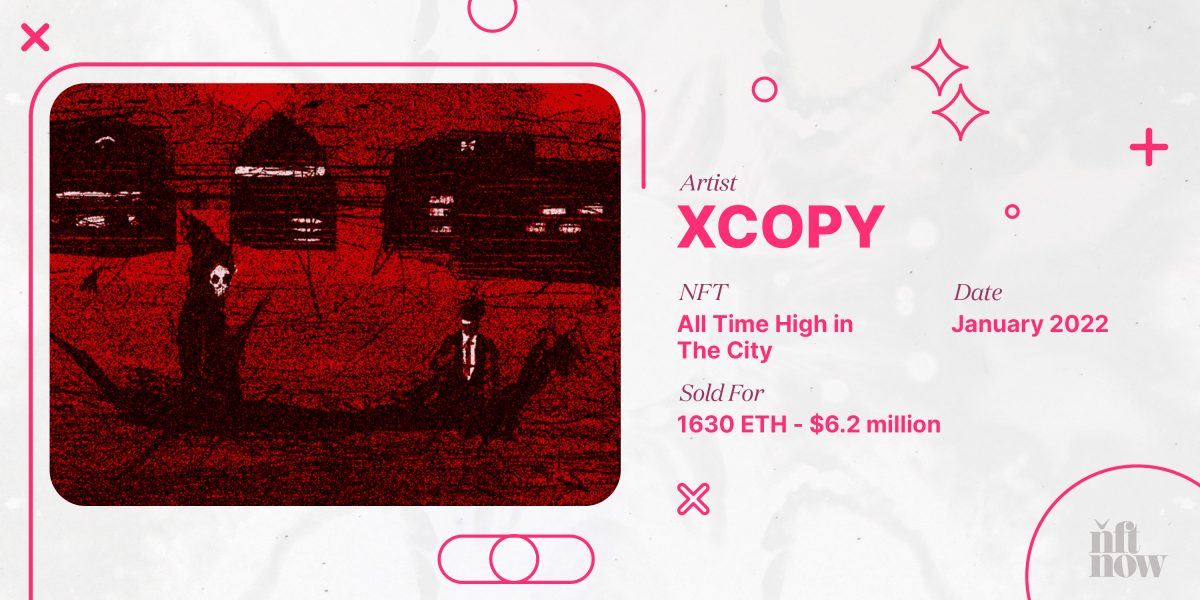 Sale details: XCOPY's All Time High in the City sold for 1,630 ETH in January 2022 to rarecollector3000 just a few months after initially selling for 1,000 ETH. The animated artwork, which was minted in 2018, depicts the ferryman of the underworld transporting a man across the river Styx.
Why it's valuable: Known for dark, abstract, and dystopian illustrations, the London-based XCOPY often uses motion, flickering, or glitching effects in his pieces. His style has become a staple of the NFT ecosystem, with countless artists and projects imitating his animated pieces in creations of their own.
14. Beeple, Crossroad: $6.6 million (4400 ETH)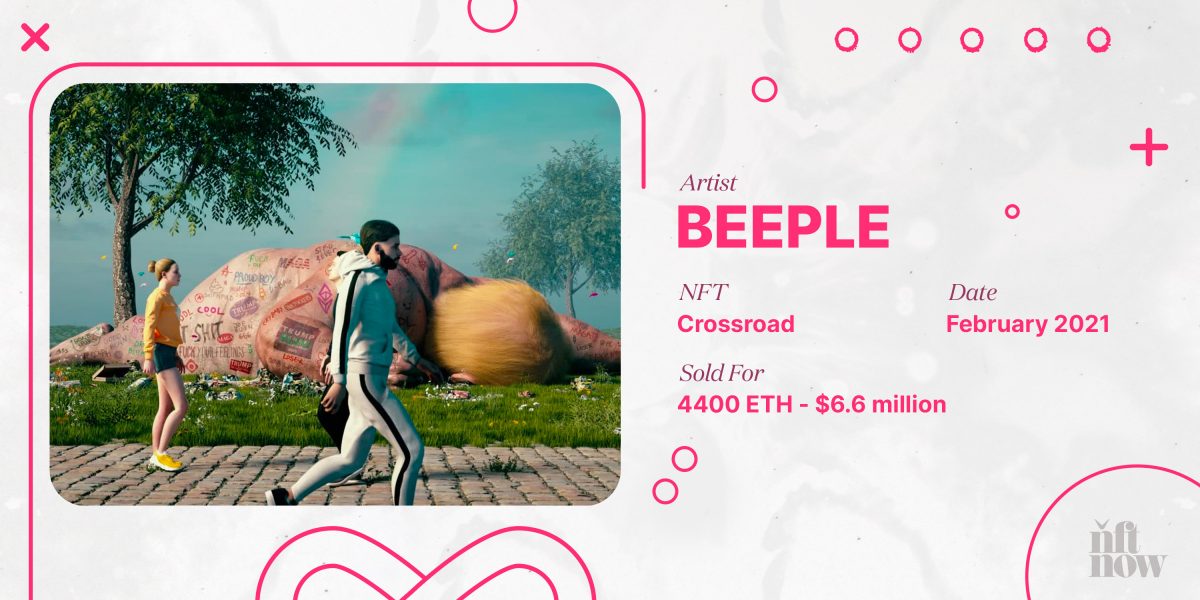 Sale details: Originally minted on October 30, 2020, Beeple's Crossroad sold for $66,666 to influential collector Pablo Fraile. Only four months later, it found a new home with faceless collector anonymous10.

Why it's valuable: Before NFTs had received any truly significant mainstream news coverage, Crossroad became a meme surrounding the 2020 presidential race. It was created as a reflection of the political tension in the United States, and Beeple says he had multiple versions of the piece ready, depending on who won the presidency.
13. CryptoPunk #8857: $6.63 million (2000 ETH)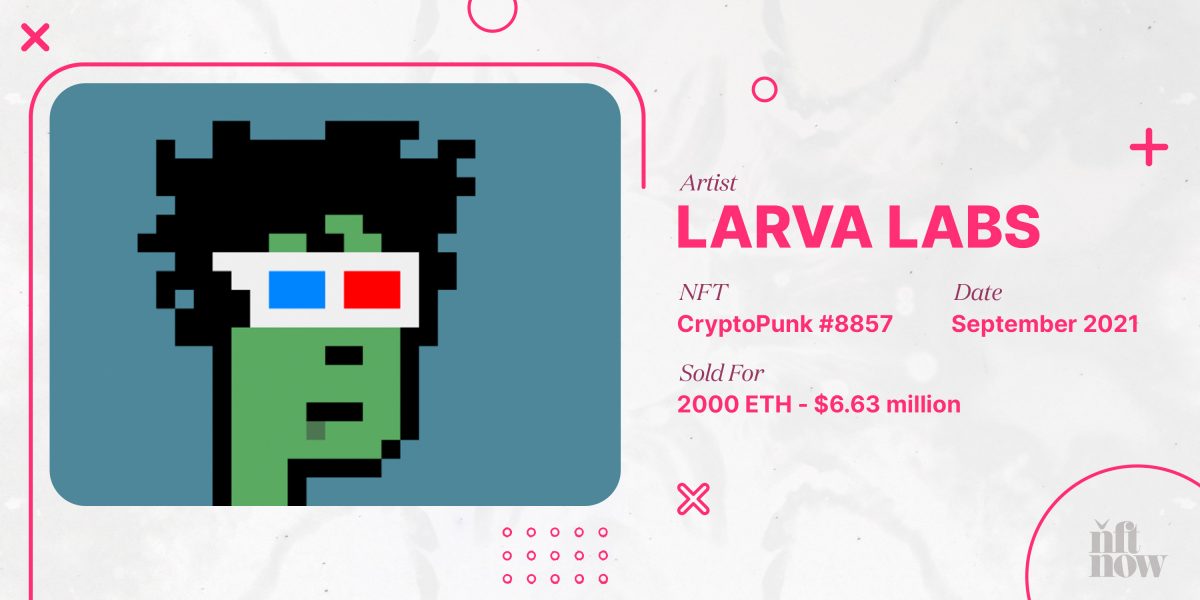 Sale details: CryptoPunk #8857 sold for $6.63 million on September 11, 2021. The sale came as part of a string of buys that happened throughout the summer and fall of 2021.
Why it's valuable: Zombie CryptoPunks are some of the most famous NFTs. Why? For starters, they come from one of the earliest NFT collections, CryptoPunks. Additionally, there are only 88 zombie CryptoPunks in existence.
The enormous price tag was also triggered by a legendary single-day sale in which prominent NFT collector Keyboard Monkey bought a zombie Punk and sold it less than 24 hours later for a profit of nearly one million dollars. It was what many would call the height of zombie NFT trading. Around this time in the zombie Punk market, we even saw the birth of prominent investor Cozomo de' Medici with the purchase of CryptoPunk #3831.
12. XCOPY, Right-click and Save As Guy: $7 million (1600 ETH)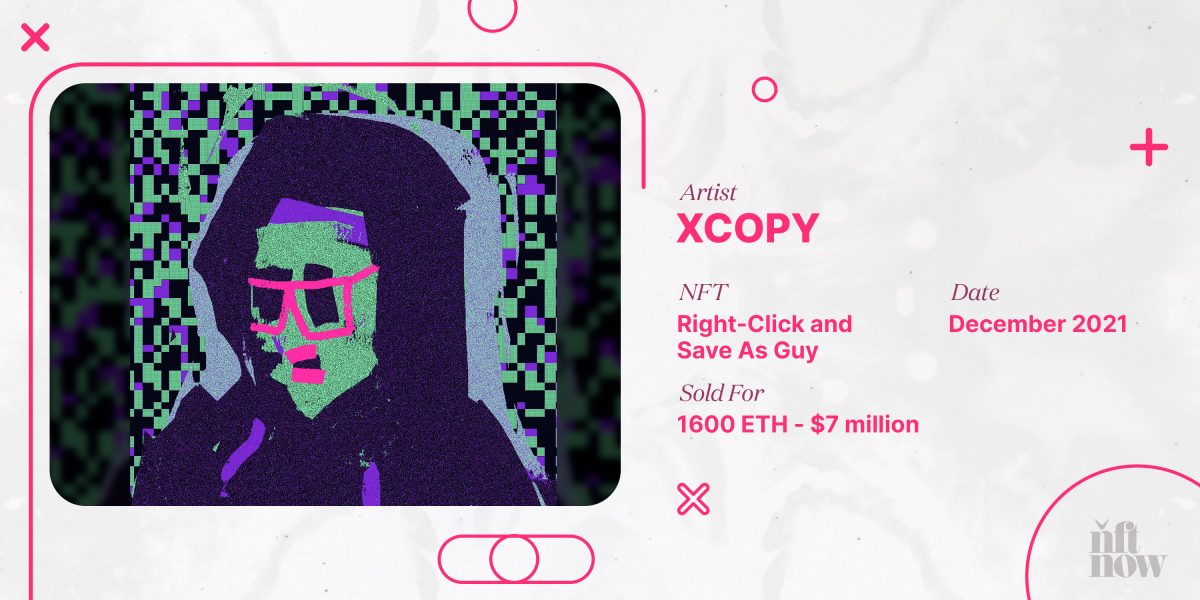 Sale details: XCOPY's Right-click and Save As Guy sold to Cozomo de' Medici for $7 million on December 9, 2021.
Why it's valuable: The legend of XCOPY's Right-click and Save As Guy goes back far beyond the days of our current NFT ecosystem. It was minted years ago, on December 6, 2018. The iconic piece helped signal a shift in public perception about NFTs when it was featured on BBC World News shortly after Beeple's landmark Everydays auction. As this famous NFT art had only changed hands twice before this latest sale — first for $90 (1 ETH) and then for $174,195 (99 ETH) — de' Medici's buy marked more than a 3,500 percent increase in the value of the artwork.
11. Dmitri Cherniak, Ringers #109: $7.1 million (2100 ETH)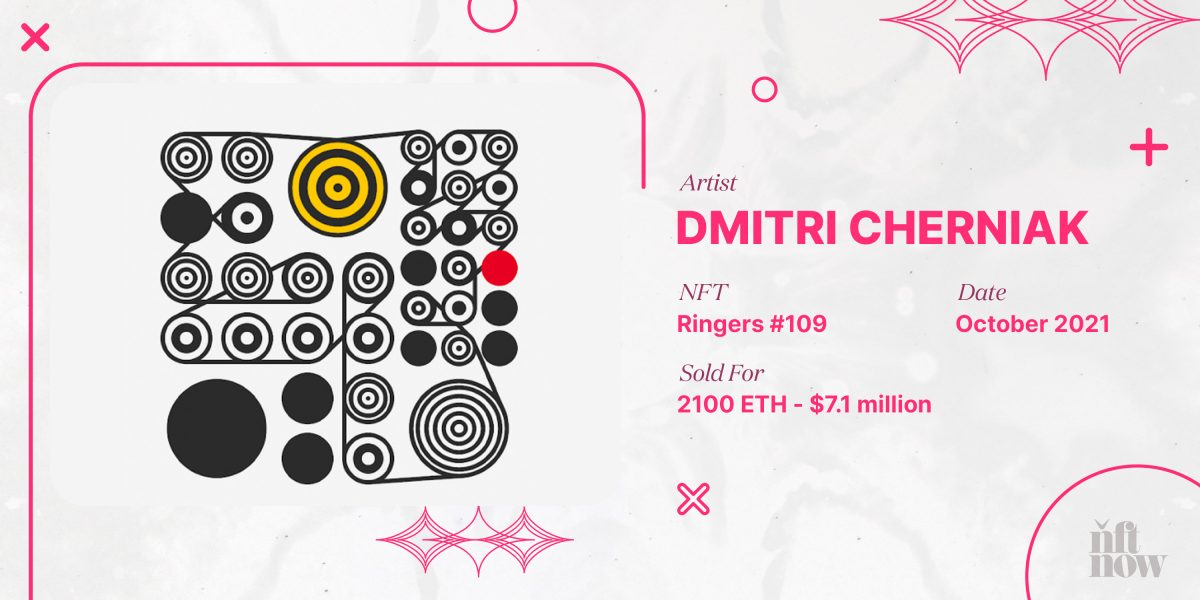 Sale details: Among the highest sales to come from Dmitri Cherniak's Ringers project lives Ringers #109. Hailed for its complexities as a piece of generative art, #109 sold for more than $7 million in October 2021, further solidifying the importance of the Art Blocks project.

Why it's valuable: Ringers was one of the first projects to launch in 2021. In addition to its historic significance in the NFT space, it's also one of the most popular Art Blocks Curated collections.
10. CryptoPunk #7804: $7.56 million (4200 ETH)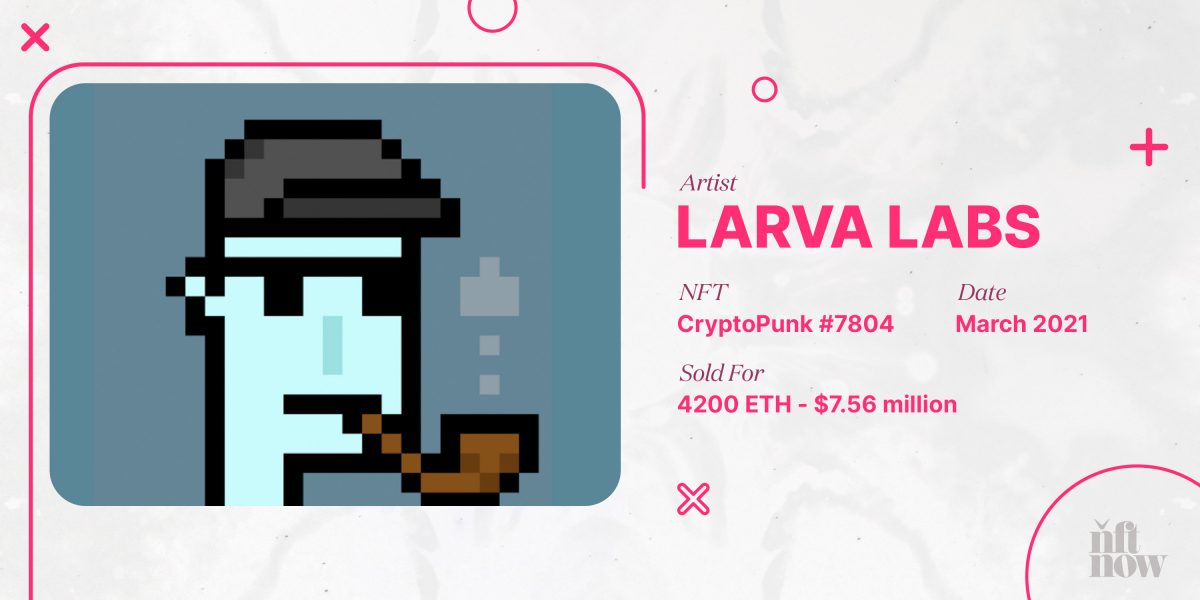 Sale details: CryptoPunk #7804 was one of two major alien Punk sales to happen on March 11, 2021. Purchased for the equivalent of $7.5 million at the time, the 4,200 ETH price tag would amount to nearly $17 million at 2021 year-end.
Why it's valuable: Punk #7804 has some rare traits, including being one of only nine aliens in existence. But the significance of this purchase goes far beyond the price. Almost immediately after the Punk changed hands, we witnessed the birth of NFT collector and social media influencer Peruggia (who has been heavily speculated to be the alternate account of prominent investor Robert Leshner).
9. CryptoPunk #3100: $7.57 million (4200 ETH)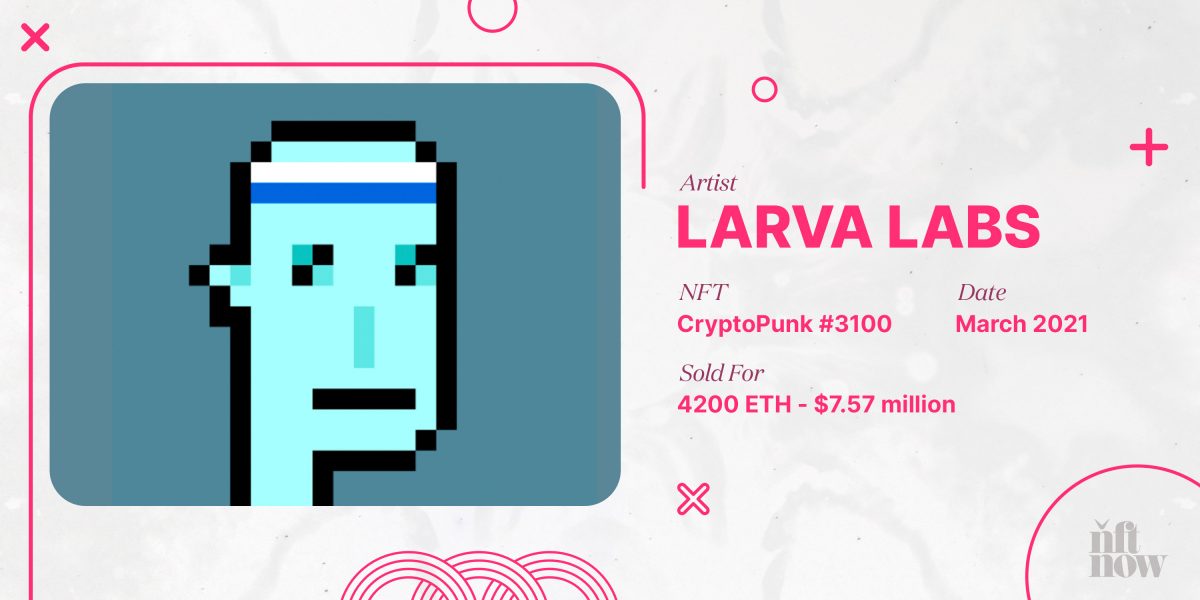 Sale details: The second major Punk sale to happen on March 11, 2021, was CryptoPunk #3100. This also happened to be the last on-chain alien Punk sale of 2021. We wouldn't see another change hands till the Sotheby's auction of CryptoPunk #7523 (also on this list).
Why it's valuable: CryptoPunk #3100 is one of nine aliens in existence, making it an influential and rare Punk. Similar to #8857, though, no one came forward to give this high-profile NFT a personality via social media.
8. CryptoPunk #5577: $7.7 million (2501 ETH)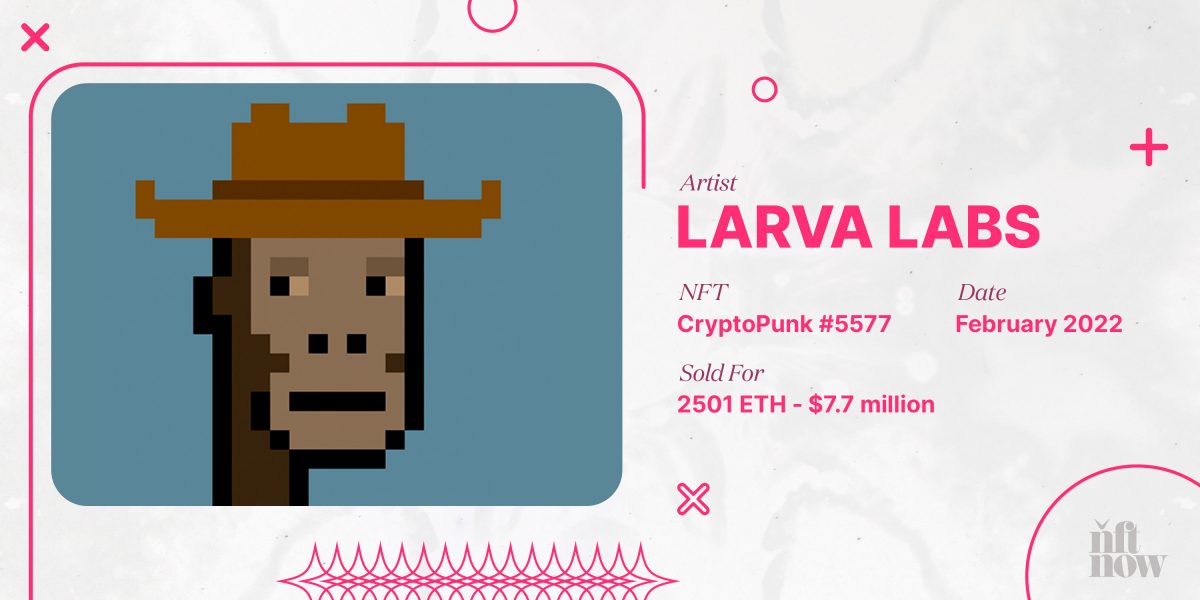 Sale details: This cowboy-hat-wearing punk sold in February 2022 for 2,500 ETH. It is believed to have been purchased by Robert Leshner, CEO of Compound Finance, who Tweeted an enthusiastic "Yeehaw" after the sale.

Why it's valuable: It's one of 24 Ape punks and one of 142 with cowboy hats. As Ape Punks have continued to rise in popularity among the Bored Ape-dominated NFT market, it's unlikely we'll see many high-profile trades like #5577 for some time.
7. CryptoPunk #4156: $10.2 million (2500 ETH)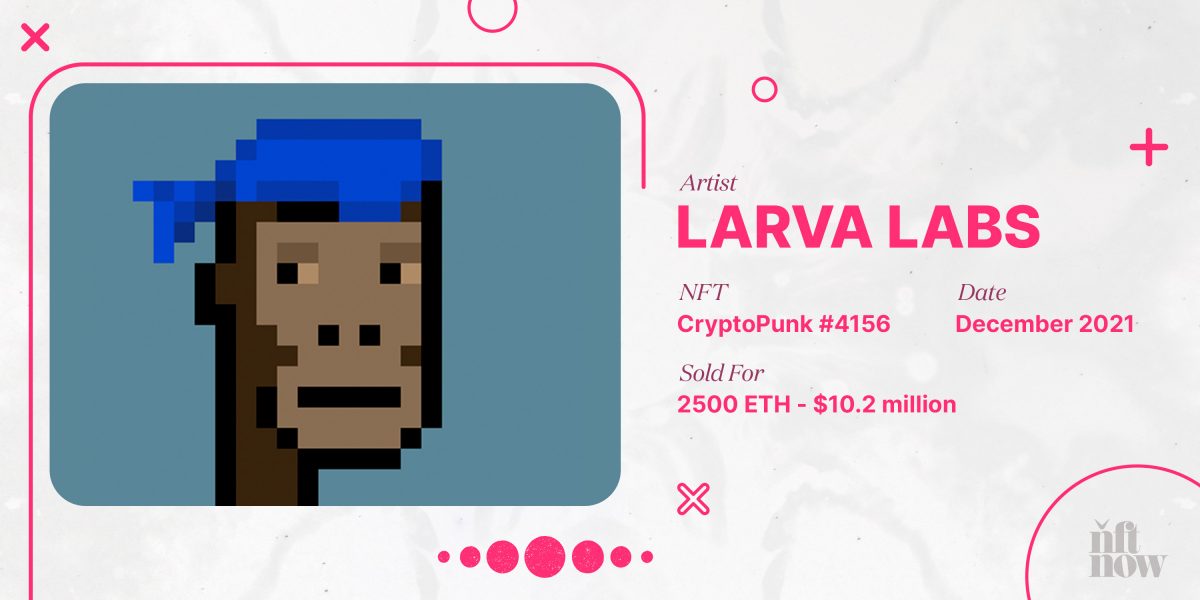 Sale details: On December 9, 2021, CryptoPunk #4156 sold for $10.2 million.

Why it's valuable: Although CryptoPunk #4156 wasn't the highest-selling NFT from the CryptoPunk family, it was undoubtedly the most famous NFT trade for a Punk in 2021. That's because bandana ape #4156 had become synonymous with the personality of prominent NFT influencer and builder Punk4156. As a result, when the sales happened, it felt like the end of an era.
The sale also marked a significant turning point in the CryptoPunk ecosystem. As the legendary Larva Labs project had long been regarded as one of the most important NFT collections in existence, issues surrounding Larva Labs' copyright policies — which Punk4156 has taken big issue with — were the reason behind both this significant trade and declining Punk prices towards the end of the year.
6. Tpunk #3442: $10.5 million (120 million TRX)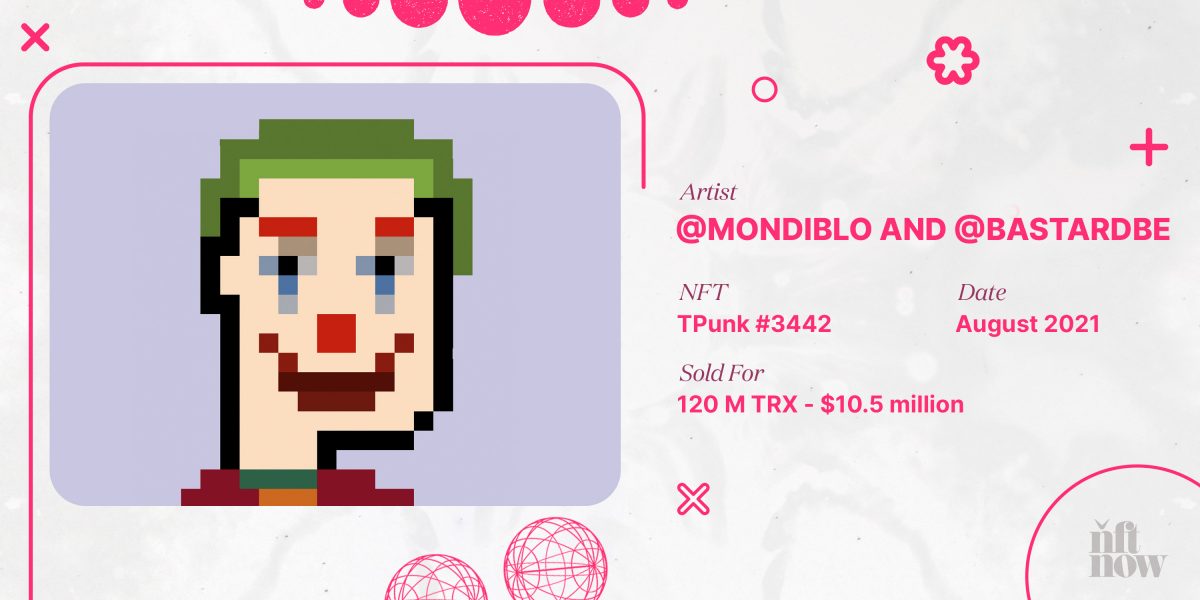 Sale details: This rare "Joker" Tpunk was purchased by TRON founder Justin Sun in August 2021. In 2023, Sun made headlines when the SEC charged him and his companies for fraud and additional securities law violations.
Why it's valuable: In the NFT space, it often seems that imitation is the most sincere form of flattery. To this end, it's no surprise that the Tpunks NFT collection was inspired by — you guessed it — the famous NFT collection known as CryptoPunks. Consisting of 10,000 avatars on the Tron blockchain, as far as derivatives go, Tpunks is definitely in the top tier.
5. CryptoPunk #7523: $11.7 million (4700 ETH)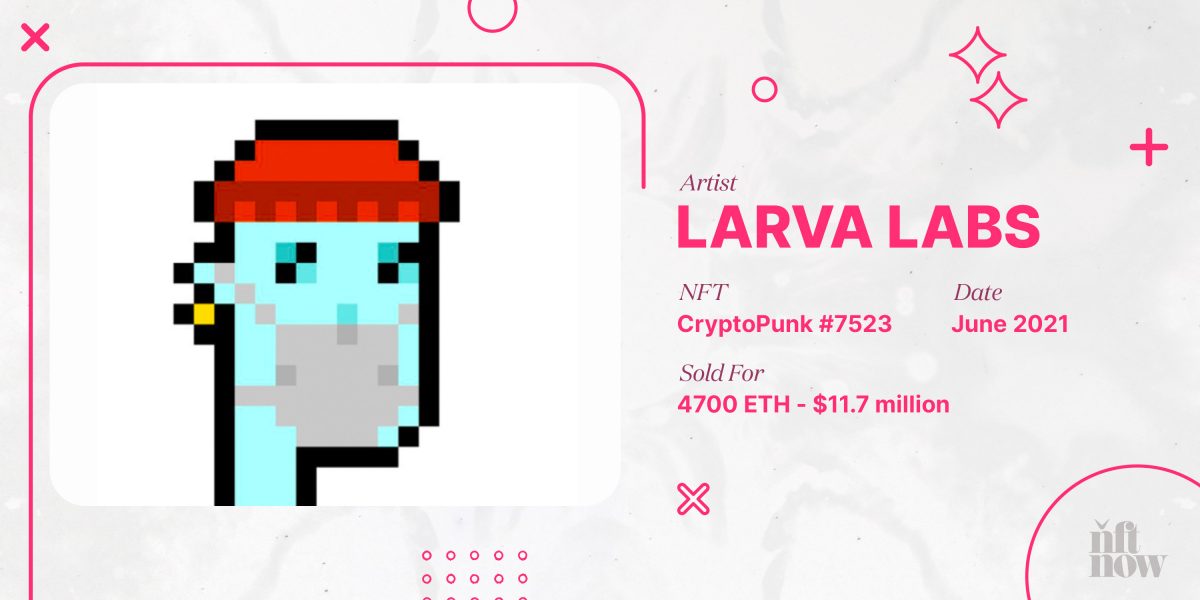 Sale details: Known to many as the "COVID Alien" due to its prominent facemask trait, CryptoPunk #7523 was the largest punk sale of 2021. It's important to note that the blockchain does not reflect this prominent sale, as it occurred as part of Sotheby's Natively Digital auction in June.

Why it's valuable: The original minter of #7523, Straybits, and the Punk's second-ever collector, Sillytuna (who supplied it for auction), are both prominent parts of the NFT community. As a result, the sale was seen as a huge win for the NFT ecosystem and also as a major push toward mainstream NFT adoption.
4. CryptoPunk #5822: $23.7 million (8000 ETH)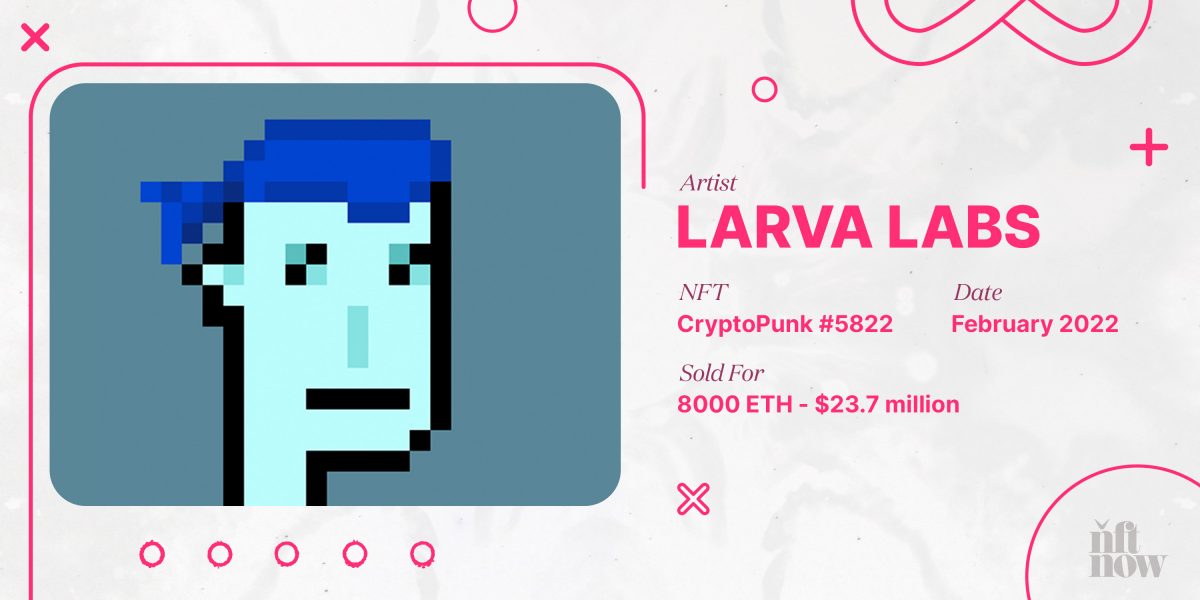 Sale details: The most expensive CryptoPunk ever sold is punk #5822. The alien-style punk featuring a blue bandana sold for $23 million on February 12, 2022 — more than double the cost of the next highest-grossing punk. The buyer is the CEO of Chain, Deepak Thapliyal. He tweeted an image of his punk after the purchase. It came close to being the highest-selling NFT at the time of sale, but it missed the mark by just a few million.

Why it's valuable: Because it's one of only nine aliens in the collection, it was bound to sell at a high price.
3. Beeple, Human One: $28.9 million (4700 ETH)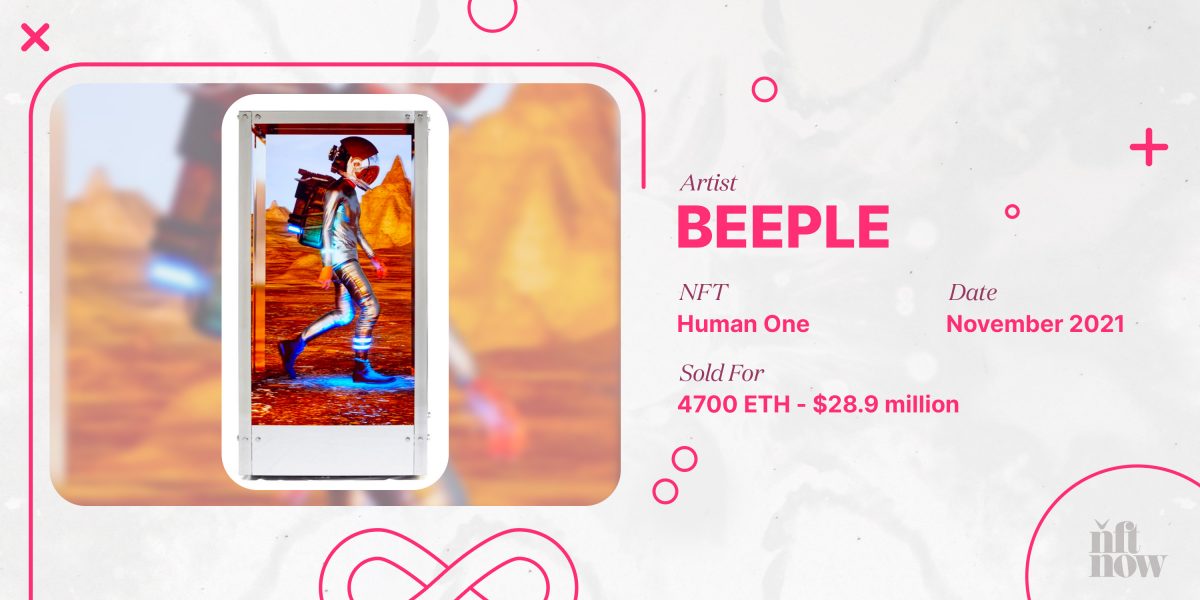 Sale details: Beeple's Human One sold for $28.9 million on November 9, 2021. It was auctioned off as part of Christie's 21st Century Evening Sale. The buyer was entrepreneur Ryan Zurrer.

Why it's valuable: Human One is an NFT like no other. As the first-ever physical piece from the acclaimed artist, both the NFT and the electronic sculpture went up to auction as a single lot. Considering the massive sale of Beeple's Everydays (also on this list), many were unsure what this new, constantly-evolving digital masterpiece would fetch at auction. Yet, as Christie's has continued to help legitimize NFTs as true works of art, it's no wonder that Beeple's Human One would be second only to Beeple himself in 2021.
2. Julian Assange and Pak, Clock: $52.7 million (16593 ETH)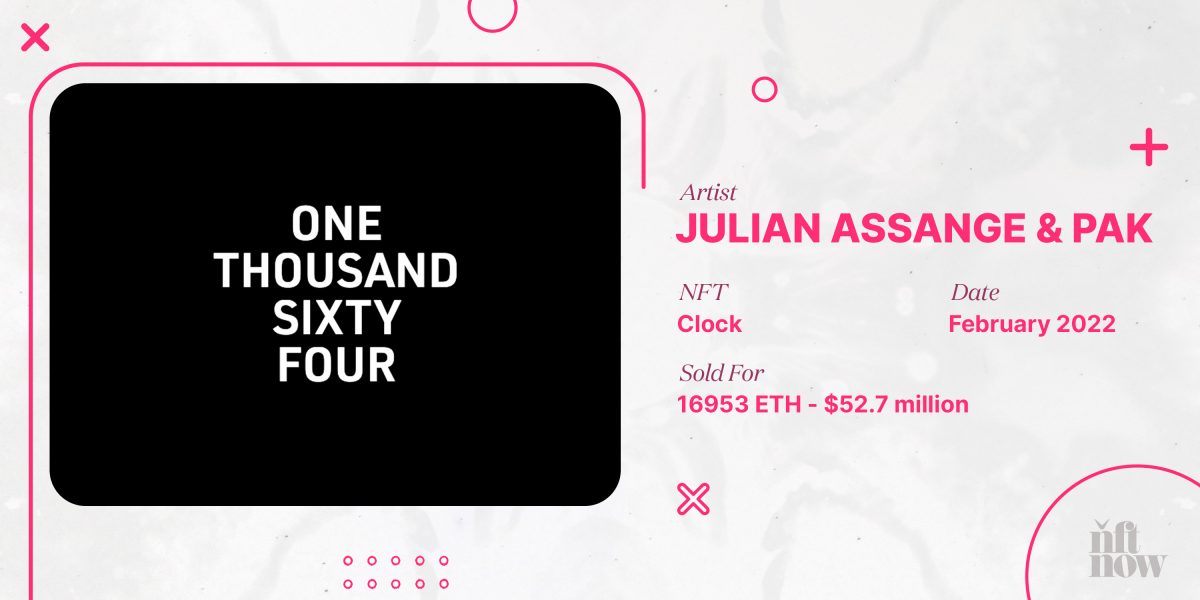 Sale details: In February 2022, Julian Assange and Pak's Clock became the second-most expensive single NFT ever sold. The NFT depicts a timer that counts the number of days Assange has spent in prison. It was curated as part of Pak and Assange's Censored collection, which also featured a dynamic open edition.
Why it's valuable: Pak has remained anonymous throughout their entire career while simultaneously becoming one of the highest-grossing living artists. They took to Twitter shortly after the auction closed, labeling the endeavor "a drop with no creator, developer, platform, middlemen share," that is "from people, for the people." The piece was purchased by AssangeDAO, an organization whose primary mission is to fight for the freedom of the WikiLeaks founder.
1. Beeple, Everydays: The First 5000 Days – $69.3 million (38525 ETH)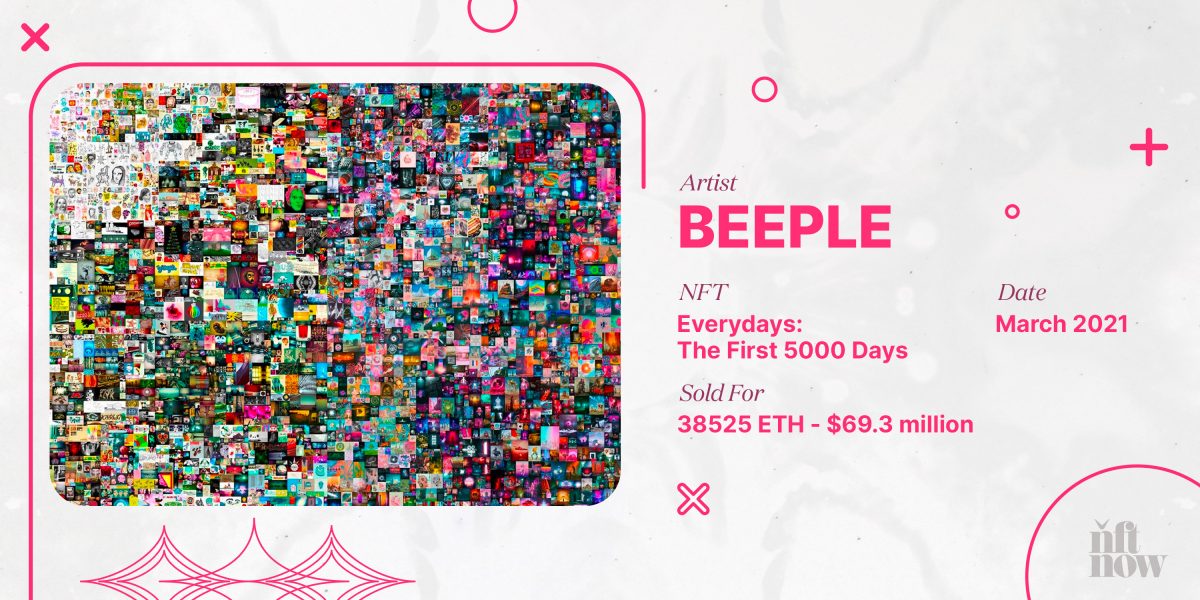 Sale details: The most famous NFT sale (and the most expensive NFT sale to date) was Beeple's Everydays: The First 5000 Days for $69.3 million. Justin Sun was an active bidder on the piece, but he was outbid by $250,000 at the last minute by BitAccess founder Vignesh Sundaresan.

Why it's valuable: Not only was this the most expensive NFT sale ever, but the event created a snowball effect throughout mainstream media, and brought the term "NFT" into households around the world. Before Christie's decided to take a chance on NFTs via its Online Auction, the act of minting, collecting, and trading NFTs was seen as niche at best. But after Beeple secured the biggest bag in all of NFTs, it was clear — even to Saturday Night Live — that the time of NFTs had arrived.
---
Honorable mentions for the most expensive NFT sales
UkraineDAO PartyBid: $6.7 million (2258 ETH)

In February 2022, Pussy Riot's Nadya Tolokonnikova, Trippy Labs, and members from the influential PleasrDAO came together to form UkraineDAO to raise funds for those affected by the Russian invasion of Ukraine. After days of collecting donations, Tolokonnikova initiated a PartyBid — which is essentially a way to crowdfund capital to purchase an NFT on auction — to purchase a 1/1 NFT of the Ukrainian flag.
A total of 3,271 bidders raised around 2,258 ETH (just under $6.7 million). The timeliness of the auction and the unique mechanics of PartyBid undoubtedly helped the Ukraine flag NFT to sell high, and set a precedent for similar mechanisms to potentially incentivize even bigger sales. Although the NFT outsold number 20 on this list, it is included here as an honorable mention because of the unique situation surrounding the sale, as well as the fact that the purchase was crowdfunded.
Additionally, while these pieces didn't make our list of the biggest NFT sales, they still sold at impressive prices.
$4,000,000+

Mad Dog Jones' piece, Replicator sold for $4.1 million in April 2021. According to the artist: "Replicator is the story of a machine through time. It is a reflection on forms of past groundbreaking innovation and serves as a metaphor for modern technology's continuum. I'm interested to see how collectors will respond as the work evolves and the NFTs in their possession continue to create new generations."

$3,000,000+

This list wouldn't be complete without some Bored Apes. Ape #8817 raked in $3.4 million at a Sotheby's Metaverse auction in October 2021. The Ape sports a wool turtleneck, rainbow spinner hat, and silver hoop earrings.
$2,000,000+

Bored Ape #3739 sold for $2.9 million in September 2021. The Ape is a six-trait gold fur ape with a sea captain's hat, a black t-shirt, and laser eyes. Based on these traits, Bored Ape #3749 is the 27th rarest Ape, according to Rarity Tools.
FEWOCiOUS' piece, Nice to meet you, I'm Mr. MiSUNDERSTOOD, sold for $2.8 million in 2021. The digital piece was in MP4 format. However, the winning bidder also received a lifesize physical sculpture of the same title.
The third most expensive NFT sale BAYC sale is #8585, a trippy rainbow ape that sold for nearly $2.7 million on Opeasea. The Ape has an elaborate crown, red heart-shaped sunglasses, and is posed biting its lips.
$1,500,000+

On February 16, 2023, Yuga Labs revealed who had claimed the number one spot on the Dookey Dash leaderboard. Kyle Jackson, a Fortnite player known as "Mongraal" in the eSports world, obtained a high score of 928,522 points, earning him the mysterious and coveted Key.

Jackson went on to list The Key for 2,222 ETH on OpenSea, and it was eventually bought for 1,000 ETH by Adam Weitsman, the CEO of a scrap-metal shredding company with locations across New York and Pennsylvania.
Editor's Note: This post has been updated. A previous version listed Tpunk #3443. This has been updated to the correct number, Tpunk #3442. Further, a previous version of this article listed Clock's selling price as 16,953 ETH. It has since been updated to 16,593 ETH.