Defining the purpose of art is about as easy and wise as drenching yourself in oil and attempting to throw a 7-10 split in a bowling alley without wearing any shoes. It's a theoretically possible but wildly untenable act. For many, the merit of art resides in its very purposelessness, the fact that it need not have a function to be of value.
Still, there are plenty of revealing discussions to be had regarding the why of art, and it's a subject artists throughout the years have themselves attempted to address. One of the more compelling examples of this was given to us by the Swiss visual artist Alberto Giacometti, who once said art's objective was "not to reproduce reality, but to create a reality of the same intensity."
It's by this artistic standard in particular that Canadian-born wilderness photographer and digital artist Cath Simard succeeds.
Anyone who has ever happened upon a breathtaking landscape in nature and tried to capture its scale and beauty knows just how difficult a feat that is to actually pull off. But Simard's remarkable skills as a photographer not only reproduce the raw power of the natural geographies she shoots, her unique eye as a digital editor pushes those landscapes into the realm of the fantastical. The results are surreal composite photographs of a sheer intensity that bend the viewer's conception of nature itself.
Simard's first NFT experiment
Simard's NFT photography can be found on SuperRare, where the 21 photographs currently on display have all sold out. Her engagement with and success in the NFT space, however, was initially born out of feelings of frustration with how images are treated online and how artists often go without either due credit or compensation for their work.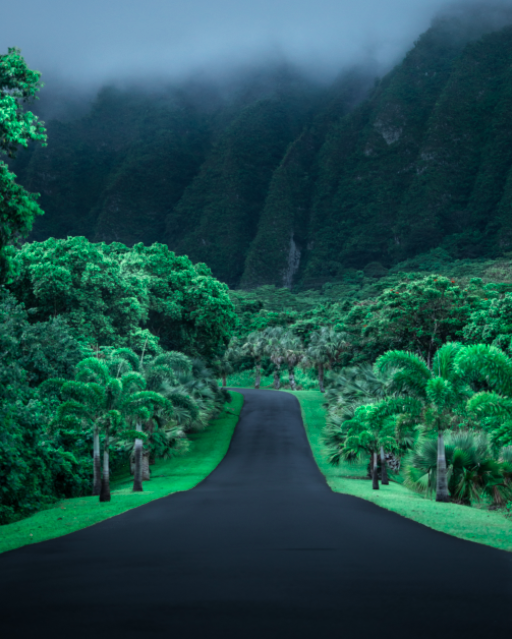 In October of 2017, Simard shared a photo she had taken of a lone Hawaiian road on her Instagram account. It quickly went viral, getting shared across various social media platforms thousands of times, largely without any credit being attributed to Simard and entirely without any monetary compensation.
Rather than continuing to pursue a lengthy and exhausting process of tracking down companies who had used the image without consent, Simard decided to authenticate the original image as an NFT on Ethereum and make it available for free download thereafter. #freehawaiiphoto is the world's first image to have its rights released after its sale on the blockchain, selling for 100 ETH ($303,481). It remains a clarion call for fair compensation to artists in the modern era and a poignant piece of commentary on what it means to own and control an image online.
"NFTs have been amazing for building my name and my brand as an artist, but at the same time, it was hard to balance that with exploration," Simard explained in a conversation with nft now, highlighting the importance of the time she spends away from online communities.
Simard is currently on a shoot in Patagonia, one of the most dramatic and iconic landscapes in the world.
"At the end of the day, I'm an artist. I'm not meant to look at my phone 12 hours a day. So that's why I'm going to Patagonia. I'm staying there until the end of April. For me, that's necessary to get back into that zone of creating."
Using NFTs to raise environmental awareness
The nature of Simard's work means that she produces only a handful of photographs every year, as they involve extensive traveling to remote locations and a lengthy editing process.
The subject matter of these photographs often includes expansive, mountainous terrain from New Zealand, Scotland, Nepal, Canada, and other countries. Shooting in frigid mountain ranges also enables her to capture ephemeral landscapes within these already unique topographies. These scenes often represent a planet in the midst of rapid climate change, something she aims to put on display with her art.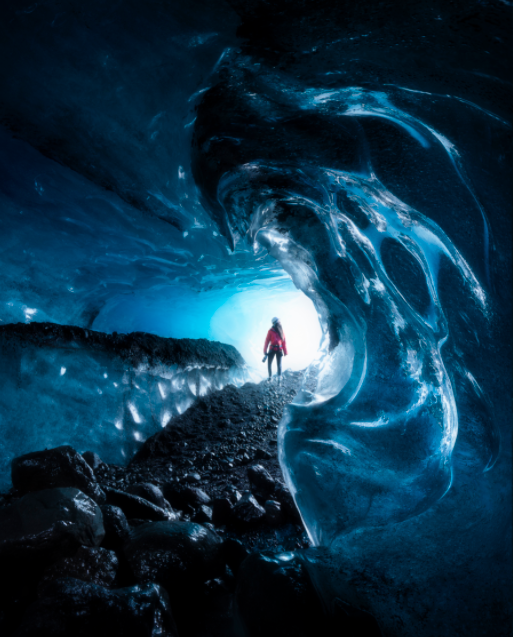 "I love to shoot ice caves," she says of her work. "They are impermanent, they are basically proof that the Earth is changing. The lifespan of those is one to three years, depending on where you are. They change fast, there are only a few people who have time to photograph them. It makes those specific compositions rare."
She often likes to include herself in her images, as doing this helps give a sense of the scale to the viewer and invites them more immersively into the scene.
"This is one of my signature styles. I shoot the sky and the moon separately. Most of my work is composite. I have been developing a technique in recent years […] that really allows me to be as creative as possible. I like to photograph every element separately and come home and make my life hell [while editing it] and put it together like a puzzle. I think that makes my work a little recognizable."
Pushing the NFT space forward with The Metascapes
One of Simard's most recent projects is an AI-integrated endeavor called The Metascapes, an artistic collaboration with Iurie Belegurschi, the owner of one of Iceland's largest photo-tour companies, and Ryan Newburn, a glacier guide and professional landscape photographer.
The three artists uploaded the entirety of their life's work — over 2,500 images and videos all told — to a generative adversarial network (GAN), a type of machine-learning model that can produce new images from the data it's trained on.
In this case, the model was used to create "hyper-realistic landscapes" in a way that blends stylistic elements from all three artists. The fascinating part of how the GAN works is that it's composed of two "competing" neural networks.
In this case, the first generates landscapes, while the second, a discriminator model, works to identify which landscapes are the real images in the system and which are the generated ones. The discriminator then feeds back input on how the generator can improve its image production. In the end, the discriminator is only able to guess with 50 percent confidence the authenticity of an image, meaning the image is so realistic that it's simply a toss-up to guess where it came from.
Simard and her colleagues have curated the most compelling outputs from the machine learning model and have released them as an NFT collection available on OpenSea.
"[It was my] first time doing something outside of pure photography," Simard says of the project. "I've been looking for and experimenting with different mediums. I started to get intrigued by AI. I saw my friends Iurie and Ryan […] and we came to an idea to merge all of our work together and let the AI basically create that new "photographer," which is a perfect mix of our brains and styles."
The collaboration will include an event in Iceland called NFT Iceland Camp, which will take place over the course of a few days in late 2022 and feature collectors, artists, and creatives who want to help "drive innovation and fun in the NFT community." Notably, owners of rare Metascapes NFTs will have presale access to tickets to the camp.
"We wanted to utilize our skills, [so, we said,] let's focus on education and NFTs, but also adventure. [It's a] perfect way to merge an art project and an in-real-life aspect," Simard says.
Projects like these are encouraging. As more and more artists begin to engage with creative NFT-related initiatives, there are myriad winners: the artistic community grows, an increasing number of artists find ways to be properly compensated for their work, and new applications for ever-expanding technologies are found. Thanks to artists like Simard, the future of art and NFTs looks very much like a reality with an intensity not just equal to the one we know, but far beyond it.