The NFT space moves fast. Each day a new project pumps to previously unthought-of levels, only to return back to Earth a few days or months later. For seasoned traders and collectors, these quick FOMO and FUD-fueled market cycles have become a predictable part of the culture. But among all the volatility, few sagas are as unique, established, and documented as that of NBA Top Shot. 
For the uninitiated, NBA Top Shot is a blockchain-based virtual trading card platform designed by Dapper Labs in partnership with the NBA and the NBA Players Association. On the Top Shot marketplace, users can buy, sell, and trade Moments — aka NFTs of NBA highlights — of various degrees of rarity. Like traditional sports card enthusiasts, Top Shot users enjoy collecting memorabilia, and many of them bank on the value of their collections growing over time. 
In October 2020, NBA Top Shot's beta opened to the public. Even those closest to the project couldn't have predicted what transpired over the next two years. In this article, we'll chronicle the meteoric rise and fall of the project and examine what needs to be done for Top Shot to regain its footing as a collector staple.
Top Shot in a nutshell
Built on top of Dapper's Flow blockchain, Top Shot was designed from its inception to encourage mass adoption. Unlike most NFTs, Top Shot packs and Moments can be purchased with all major payment methods and sold directly for USD — no cryptocurrency knowledge or digital wallet signage required.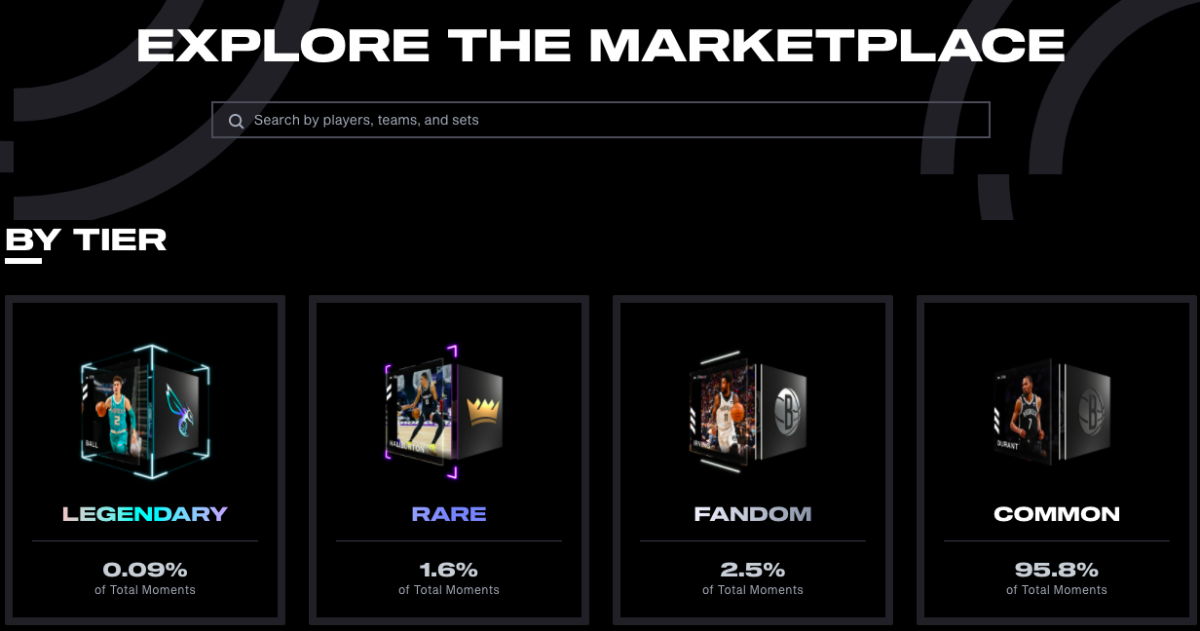 In an interview with The Action Network, Dapper Labs CEO Roham Gharegozlou emphasized the easy onboarding process, stating that the team wanted to downplay the technology behind the product and focus on the experience instead. 
"I try not to talk about the blockchain part," Gharegozlou said. "I say to be good at NBA Top Shot basketball knowledge, you need trading card knowledge and you need to know sort of what's going to be valued by collectors. You don't need to understand anything about crypto or blockchain. Most of our users are coming in as credit card users. They aren't cryptocurrency users and that's sort of what we like about it."
To a large degree, this approach is valid. Learning curves and buggy user experiences are still one of the biggest barriers to mainstream adoption across all Web3 and NFT products. By removing them, it's much easier to reach a significantly larger market right out of the gate. 
And it worked. Not only did Top Shot attract droves of users, but it also opened them up to the world of Web3, NFTs, and beyond.
The rise of Top Shot
Timed with a rise in demand and intrigue for digital ownership, Top Shot exploded in January 2021. Based on data from CryptoSlam, in January 2021 alone, Top Shot generated over $40.5 million in sales volume from 19,185 unique buyers. Compared with previous months, that's a jump of 4,500 percent and 2,008 percent respectively. From there, word spread, and collectors flocked to the platform. Weekly drops became appointment-worthy, with hundreds of thousands waiting for hours in queue for only 50,000 packs. 
In February 2021, Top Shot did over $224 million in sales volume with over 80,000 unique buyers, generating over $45 million in a single day. This unprecedented growth took Top Shot from a project known exclusively in early adopter tech circles to a household name. 
Just about every sports and tech-related media company covered its rise, further driving up the demand. NBA players started collecting their own moments and spreading the word on social media. Operating on a typical supply and demand curve, the prices of all moments spiked with the ultra-rare moments fetching purchase prices well into the six figures. Early investors were turning into millionaires, and new entrants swarmed to Top Shot with the goal of getting rich quickly. 
According to NFT collector and analyst Liam Herbst, the project will forever remain a key part of NFT history. "Top Shot's seamless user experience encouraged many people to dip their toe into NFTs. Once collectors got a taste of the fun, they took the plunge seeking more NFT alpha and unique experiences. The NBA was a pioneer for brands entering Web3 and using influential figures to gain mass adoption," he said to nft now.
But eventually, all good things come to an end. 
The decline of Top Shot
To meet the skyrocketing demand and ease the complaints around queue waiting times, Top Shot released an influx of supply into the market. This led to a sharp downturn in market prices. Many who bought Moments at their peak were left with significant losses. Resellers who did profit from their flips needed to wait anywhere from weeks to months to withdraw their money, leading to even more complaints about the project. 
Floor prices quickly spiraled downwards. Those who were in it for the quick cash flooded out of Top Shot as quickly as they had come in. This left a relatively small pool of unique buyers compared to what once was a massive, vibrant market full of interested collectors.
By the end of April 2021, sales had eroded to around $82 million, a 60 percent decrease from their March highs. By April 2022, one year later, sales were slightly north of $26 million, a nearly 68 percent drop year-over-year. Unique buyers dropped by nearly the same percentage, from slightly over 120,000 to around 37,000. In 2022, total sales figures have dropped consistently month-over-month, and many of the NBA players who were once praising and promoting the project have gone fairly silent. 

The fall was staggering. However, for many, including long-time collectors like TSF, the drop didn't come as much of a surprise. "Account values shot up exponentially in January and February of 2021, as way more users flooded in than there was supply to satisfy in the short term. A correction was inevitable. […] Constructively, Top Shot has tried to be too many things to too many people at times," he told nft now.
Will Top Shot bounce back?
Despite the shocking downturn, NBA Top Shot has a core community of collectors, NFT traders, and NBA enthusiasts who want nothing more than for it to succeed. For this group, the focus is now solely on how the Dapper Labs team plans to rebuild the project to where it once was. 
"There is no doubt that Top Shot can recover and grow into something even more than it has ever been. It will take time for Top Shot to correct some of its mistakes and deliver on its many promises, but when it does, it will allow them to attract long-term collectors whose expectations are aligned with what the platform is designed for," TSF said.
SnapBack Sports founder and Club Top Shot co-host Jack Settleman expressed a similar sentiment. As an early Top Shot investor, he amassed a collection worth over $2 million at its peak. Jack notes that Top Shot had issues with its roadmap and planning, but he believes the project has healthy numbers when it comes to collectors and the partnerships it needs in order to continue building.
"If we had ramped properly up to where we are today, it would be considered a major success. It still is. Top Shot has major partnerships and NBA licenses. These are things that no other 'project' will ever have. I don't think we will ever return to those levels [the top] but the premium Moments should be able to get back up there. But for that to happen, Top Shot needs to solidify its vision and build towards it," he said to nft now. 
For many reasons, Settleman is correct. Top Shot is a massive success in many regards. In mid-May, it crossed the coveted milestone of $1 billion in total sales and announced a historic partnership with Magic Johnson all in the same week. But to turn the ship around, the Dapper Labs team does have a lot of work to do. 
Over the last year, Top Shot has been working diligently to build out its community and create a valuable product that lasts. For Dapper Labs Head of Partnerships Caty Tedman, improving the user experience and safety of its NFT products is a top priority. This includes experimenting with product types and rewards for keeping highlights rather than flipping them, in an effort to protect value for its early buyers while attracting new customers.
"What we're laser-focused on is providing a really good fan experience. Dapper Labs will continue to tinker with its products, pack drop cadence, user interface, and the requirements buyers must meet to buy certain NFT packs," Tedman said in an interview with The Athletic. "It would be disastrous to our business if we did not consider the consumer value and protection."
Top Shot is still arguably the number one product experience in NFTs and is certainly one of the most scalable. Much of this can be attributed to its out-of-the-box readiness for mainstream adoption. While whether the historic project can regain its footing is still uncertain, Herbst encourages current and aspiring project founders to learn from Top Shot's evolution.
"Offering amazing returns is helpful for bootstrapping demand but it's an unsustainable strategy. Ultimately, projects must deliver on their value proposition to holders, regardless of what brands or influencers are involved, in order to succeed," he said.