On June 17, CryptoPunk #8611 was permanently removed from circulation. The NFT, which had recently sold for 54.49 ETH (just over $94,000 at the time), was soon after transferred to an Ethereum burn address, meaning it can never be recovered. From there, a digital asset visually similar to the original CryptoPunk was inscribed on the Bitcoin blockchain as an Ordinal, that ecosystem's version of an NFT, and then sent to a Satoshi wallet. Moreover, anyone who burns a Punk will receive an allowlist spot for a new Bitcoin Ordinals collection: Ordinal Maxi Biz.
The event has raised Web3's collective eyebrow, and for good reason. Punk #8611 isn't the only Ethereum-based NFT or NFT project to make an appearance in the Bitcoin Ordinals ecosystem, and it certainly won't be the last. But CryptoPunks are no regular NFT collection. One of the first projects minted on the Ethereum blockchain, the OG PFP project from Larva Labs has achieved an iconic status not only within the crypto art world but in the world of fine art collecting as well. They're also obscenely valuable as a digital asset, as the lower end of the collection will cost you a cool 44.9 ETH ($86,000 at the time of writing).
So, why exactly are people burning these legendary and costly Ethereum NFTs? To answer that, we need to look at who's behind the Ordinal Maxi Biz project, their aim, and how this could affect the original CryptoPunks collection.
Who's behind the CryptoPunks burn trend?
The buyers of Punk #8611 are part of a Web3 collective called Bitcoin Bandits, an Ordinals project of pixelated NFT characters led by Natan Stein. Stein has spent the last month leading an unspecified number of Bitcoin Ordinals enthusiasts in their mission to collectively buy a CryptoPunk and "move" it to the realm of Ordinals Inscriptions. While it's impossible to translate an NFT from one blockchain to another like this, you can burn an Ethereum NFT (taking it out of circulation) and create its visual equivalent as an Ordinal on Bitcoin, which is what happened with Punk #8611. From a surface-level perspective, the NFT disappeared from one and appeared on the other.
The burning of CryptoPunks is part gall and part belief in the historicity of the Bitcoin's Ordinals NFT movement, something that has split the Bitcoin community in two: Bitcoin purists, who oppose Ordinals (sometimes referred to as Bitcoin maxis), and those who welcome the change.
But the move also includes two other aims. For Bitcoin Ordinals enthusiasts, the first goal is to emphasize that blockchain's potential for innovation in the NFT space. While the blockchain is far older than Ethereum, the latter has, without question, been at the forefront of NFTs for years. With the introduction of the Ordinals protocol in January of this year, a major shift has occurred, and many Web3 enthusiasts believe a golden age for the Bitcoin ecosystem is on the horizon.
Likewise, a portion of Bitcoin Ordinals supporters believe in shaking up the ossified cultural lines that divide the two NFT ecosystems. Burning such well-known and respected NFTs and inscribing them on the Bitcoin as Ordinals, they claim, is a bold and symbolic way to achieve this, though few in the Ethereum ecosystem see it that way.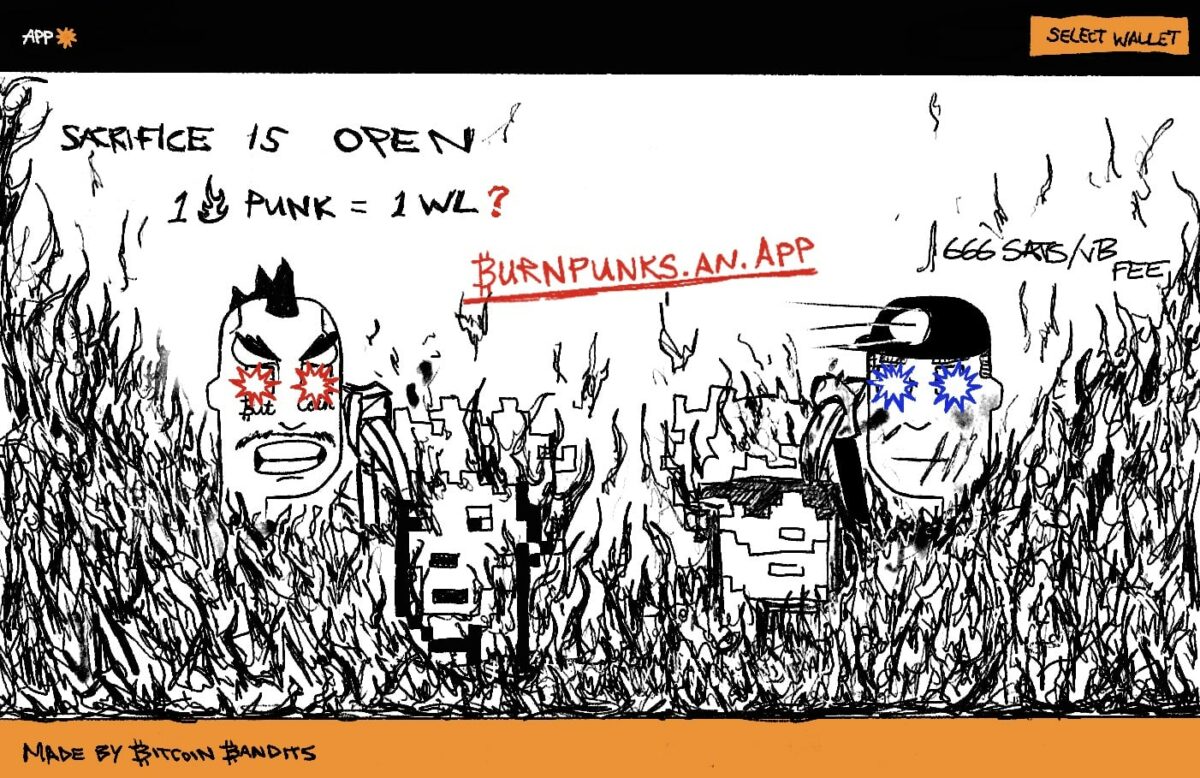 On June 15, the team behind Bitcoin Bandits opened up their burn site for CryptoPunks, offering Punk holders an Ordinal Maxi Biz allowlist spot in return for inscribing their highly-valued Ethereum NFT to the Bitcoin ecosystem. Punk #8611 was the first to cross the threshold, leaving the Ethereum chain forever. #8611 was also fractionalized, and its ownership is split between the individuals who raised money to buy the original Ethereum NFT. A few days later, CryptoPunk #9146 followed suit.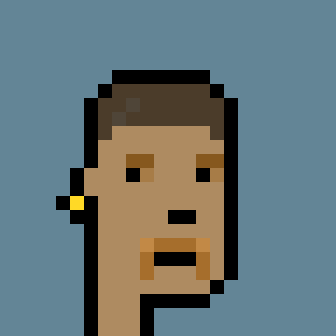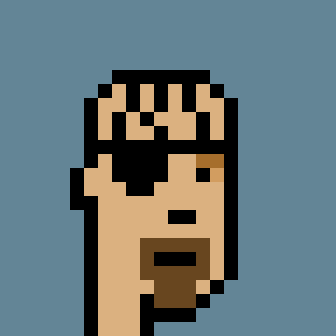 Ordinal Maxi Biz
The Ordinals collection that CryptoPunk burners received allowlist spots for is Ordinal Maxi Biz, a project from zk shark and Web3 historian Nullish consisting of roughly-sketched heads with varying traits, including red, green, and blue eyes drawn by Tony Tafuro. Red-eyed OMBs were the first in the collection, with blue-eyed OMBs being added later and inscribed on Bitcoin Block 78, which was created in 2009.
With a recent introduction of 1,900 green-eyed pieces (inscribed on Block 9, one of the blocks mined by Bitcoin's creator, Satoshi Nakamoto), the collection currently stands at 2.1k pieces and has a healthy total trading volume on Magic Eden's Ordinals marketplace of over 173.44 BTC ($5.3 million). Top sales include OMB #27 for 3.33 BTC ($88,321) and OMB #64 for 3.2 BTC ($83,453). The collection features no enforced royalties or metadata changes and will never move to another chain, according to a collection manifesto posted by the team in March.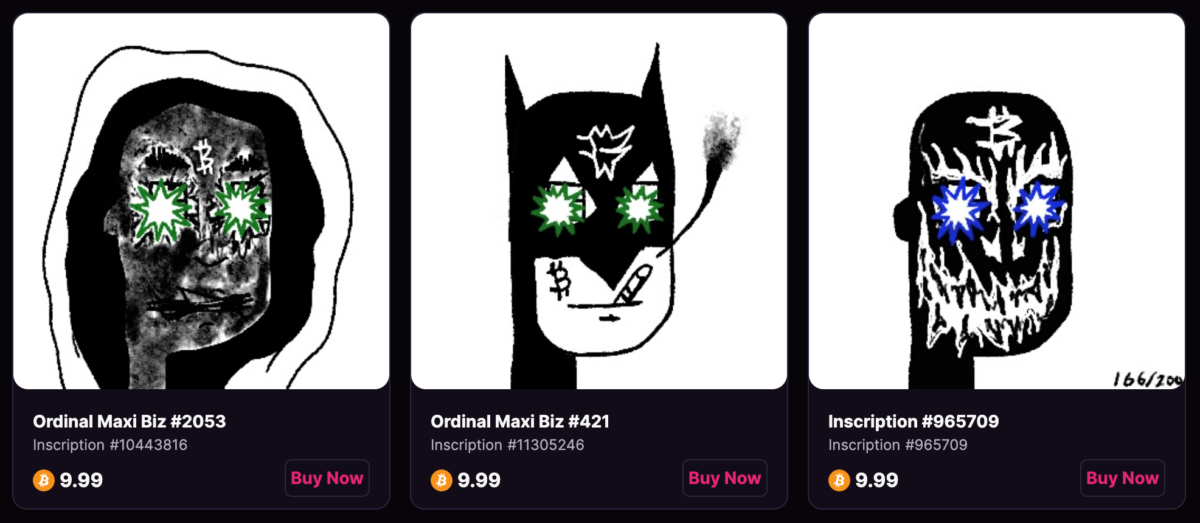 What happens next?
Not everyone is pleased with what Bitcoin Bandits and OMB are doing to the legacy Ethereum collection, with some members of the CryptoPunks community expressing disbelief that people would ever consider burning the NFTs for the new Bitcoin Ordinals collection. Some have speculated that reducing the supply of Ethereum CryptoPunks could drive the price of that collection up, though not many seem pleased with the prospect even if it does occur, given the cultural and historical ramifications of burning a CryptoPunk.
But Bitcoin Bandits isn't satisfied with just going after CryptoPunks, either. On June 27, the team tweeted out a call for people to burn their Azuki NFTs to bring them over to the Bitcoin ecosystem in just the same way.
"Don't let your beautiful Azuki NFTs get diluted with Elementals, bring them to Bitcoin," the team wrote in a seeming attempt to capitalize on the recent controversy surrounding Azuki's troubled Elementals mint.
Ordinals Maxi Biz is still a relatively young Ordinals collection, and it remains to be seen just how its existence and gravity affect CryptoPunks in the long run. Regardless, the pull of the Ordinals protocol continues to be one of the dominant forces in the crypto art world and might just be getting started.