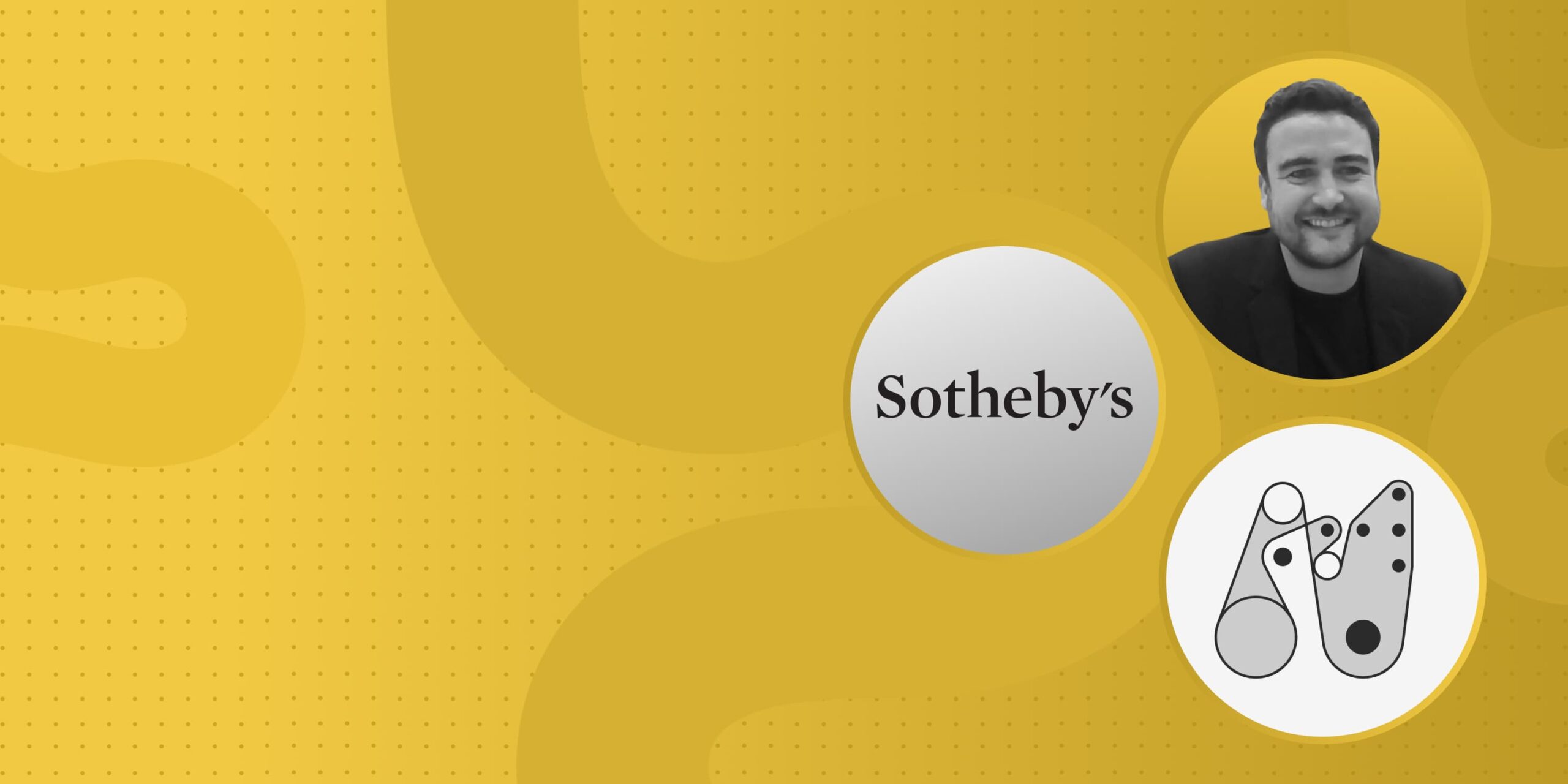 For one night earlier this month, the bear market felt a world away.
On June 15, digital art enthusiasts packed the Sotheby's New York showroom for its highly-anticipated Grails Part II live auction, featuring a notable trove of generative art NFTs headlined by Dmitri Cherniak's Ringers #879 — affectionately nicknamed "The Goose."
The collection being put to hammer came with a checkered past. Curated by pseudonymous collector Vincent Van Dough on behalf of now-defunct hedge fund Three Arrows Capital (3AC), the artwork became ensnared in liquidation proceedings after 3AC imploded following the Terra Luna collapse.
Where many saw a potential fire sale, Sotheby's VP and head of digital art Michael Bouhanna saw an opportunity. Crowned by The Goose's $6.2 million sale, the evening exceeded pre-auction estimates by closing at $11 million. Across two auctions and one private sale, the Grails collection totaled $17 million — an impressive result in the depths of a market downturn.
In this week's nft now podcast interview, Bouhanna takes us behind the scenes of Grails, introduces Sotheby's new Gen Art Program with Art Blocks, and reflects on lessons learned from the Natively Digital: Glitch-ism backlash.
---
Matt Medved: Briefly tell us about your background for those who might not know your story. How did you get into digital art and NFTs?
Michael Bouhanna: I've been at Sotheby's for about eight years, mainly in Paris and London, as a Contemporary Art Specialist. So, I was in charge of looking after the business, getting expertise, pricing, and sales strategy. I got into NFTs through seeing what's on social media and got very curious about them.
It took me some time to understand the technology behind it, and that was at the end of 2020. I discovered some conceptual artists who were doing some very interesting work. The market at that time started to pick up. So, I brought the first NFT sales to Sotheby's in June 2021 for the Natively Digital auction.
We wanted to educate people about the different movements, and it was very successful. At that time, we achieved the record for a CryptoPunk and showed some artists who are today some of the top artists in the digital art space. We started from there, and it became a real passion for me to work in this new, innovative space.
Sotheby's made big headlines with the second Grails auction on June 15. The auction resulted in $11 million in sales in the depths of a bear market, exceeding a lot of people's expectations. How did Sotheby's actually secure the opportunity to auction the assets that were originally with 3AC?
Like many, we were aware of the failure of 3AC and that their NFT collection was subject to be liquidated. The liquidators publicly announced the advancement of the liquidation, so we had the chance to contact them, and in the end, they decided to work with us for many reasons.
First of all, we specialize in selling very complex and important collections in volume, quality, and diversity. So, it was appealing to them that we could propose a global, multi-channel sale. I think our past sales really prove that it doesn't feel like liquidation but more like a celebration of the works and artists who are in this collection.
1/ On The Goose

Going to try to cover different audiences from beginner to advanced so bear with me (some things may be obvious to some of you) pic.twitter.com/6WJrYYcU2b

— 6529 (@punk6529) June 16, 2023
We saw The Goose all over social media and people having fun meme-ing it; it was an enduring image that represented a lot. Beyond that, many notable pieces sold. What made the auction so successful, from your point of expertise?
There are many different components that came together. The first is the strategy to present a fine art sale and move away from just selling NFTs. It's important to talk to collectors the same way we would talk about proper fine artwork.
Then there is the live art auction. It's something important to the core of the NFT community. We offered a great live experience of a very traditional way of selling some masterpieces. It was amazing to have more than 150 people in the room, more than 20 people with the paddle ready to jump on some bids, on the phone, online. It was very vibrant and felt like a traditional sale and a market full of very passionate collectors looking to acquire some great pieces.
There's also the celebration of generative art we've made through the narrative and curation of the sale. It was mainly Art Blocks works, and we can't deny that generative art has a long history coming from the 1960s. Every time we speak about generative artwork on the blockchain, we need to put them in the context of 20th and 21st-century art history.
The real challenge was to turn the narrative from a liquidation, where many collectors thought they could get a big discount in purchasing this work, into a celebration, ensuring that we sell them for the full price in today's market.
"I don't think it's a great entry point for traditional collectors to buy their first NFT for six million dollars."

Michael Bouhanna
There are rumors that several of the underbidders in Sotheby's digital art auctions have been traditional art collectors, as opposed to Web3 natives. What level of interest are you seeing from this demographic around NFTs?
There is some interest from traditional collectors, and it's easier to introduce them to this new medium via lower-value works. I don't think it's a great entry point for traditional collectors to buy their first NFT for six million dollars, but that's why also we wanted that sale to feature every price point.
Every sale like this is a new occasion to have discussions with this traditional type of collector. So, it's a step-by-step process that we educate a bit more every time. And the ecosystem will evolve and become a bit more friendly for them. It connects to crypto in terms of value but also in terms of culture.
Part of the difficulty is understanding how they can enjoy it physically. That's why we really try to showcase works and offer them the same aura of a proper work of art.
🚨 please delete all remaining jpgs by 5pm EST today. 🚨

Thanks to everyone who played along with our silly little nothing!! We had some laughs, sold some monkey pictures. It's been a hell of ride folks but this is clearly the end!!! 👋👋👋 pic.twitter.com/oPCZgDsnz0

— beeple (@beeple) June 16, 2023
Earlier this year, Sotheby's received criticism for its Natively Digital auction on glitch art that originally did not include women artist representation. The company subsequently relaunched the show with a more equitable lineup. What were some of the lessons learned from that?
We had done many sales before the glitch sale, and each time we were very careful in representing underrepresented communities and female artists. Two weeks before that sale, we had a sale dedicated to female artists working with Pussy Riot and Unicorn DAO.
With this glitch sale, we missed a big part of how underrepresented communities and female artists are very important in this movement, more so than other movements. We are very thankful that the community picked up the issue and, in two weeks' time, it was relaunched with a whole new narrative and curation, including many female, transgender, and non-binary artists who've been very key in the evolution of this glitch movement.
So, I'm very thankful. They helped us a lot in making us rework the curation. It was very important for us to listen.
💥SOTHEBY'S GEN ART PROGRAM LAUNCHING💥

We launch a dedicated program dedicated to Generative Art powered by @artblocks_io

💥Highly curated long form series (3 releases per year)
💥Elevated presentation & Educational program
💥Physical exhibitions and IRL Events

🙏🏼Inaugurated… pic.twitter.com/xtVRKRXvjy

— Michael Bouhanna (@michaelbouhanna) June 28, 2023
You've also been teasing a forthcoming project in the generative art space. What can you tell us about it?
It's really exciting and something the whole team has been working on for more than a year. It goes with our new strategy to have a lot of engagement within the generative art movement. We are going to launch a new Gen Art program that will be powered by Art Blocks Engine.
It's a huge honor to be partnering with Art Blocks. I'm a fan myself, and I think they've done an amazing job innovating and creating this whole new ecosystem for artists with these tools. There will only be two or three sales in the program each year, so it will be extremely curated in a very fine art way with exhibition videos and proper education about the works.
I'm very happy with that to inaugurate this GenArt program with Vera Molnár. She is 99 years old. She's like the mother of generative art. She's been all her life seeking the latest technology and innovating and pushing boundaries.
When you look at her career, it's full of different periods, depending on the new tools she was using. And now, she looks at what the blockchain, creative coding, and long-form generative art can provide to making this new body of work. She's been partnering with a great artist, Martine Grasseur, who's known in the generative art space. This sale will happen at the end of July.
It's major news for the generative art scene because she's the artist who influenced so many young artists we know today, like Tyler Hobbs and Dmitri Cherniak. Without the advancements she made in the 60s, we couldn't be here today.
This interview transcript has been edited for concision and clarity.
For the full and uncut interview, listen to our podcast episode with Michael Bouhanna.