Although perhaps best known for kicking off the PFP NFT craze with the CryptoPunks collection in 2017, Larva Labs didn't rest on its heels following that massive "W." Since then, it's launched Autoglyphs, an on-chain generative NFT art collection, and of course, Meebits. A 20,000-piece collection of PFP NFTs hosted on the Ethereum blockchain may very well represent the future of this type of NFT.
Launched in May 2021, Meebits can be viewed as the spiritual successor to the still-iconic CryptoPunks collection. And, if CryptoPunks functions as the ideal 2D avatar for Web2 social media accounts, Meebits aims to be the Web3 equivalent — by giving the iconic CryptoPunks aesthetic a 3D facelift.
So what are Meebits?
As Larva Labs' third big project, Meebits aimed to meaningfully implement what it learned from the two preceding projects — namely, its experience writing the 2D art generator that birthed the initial CryptoPunks collection. Thus, a lot of work went into ensuring the 3D algorithm that generated each of the 20,000 Meebits was up to scratch. Of course, with so many Meebits included in the initial drop, much of this work was focused on ensuring that each Meebit looked good and was a certifiably distinct piece in the collection.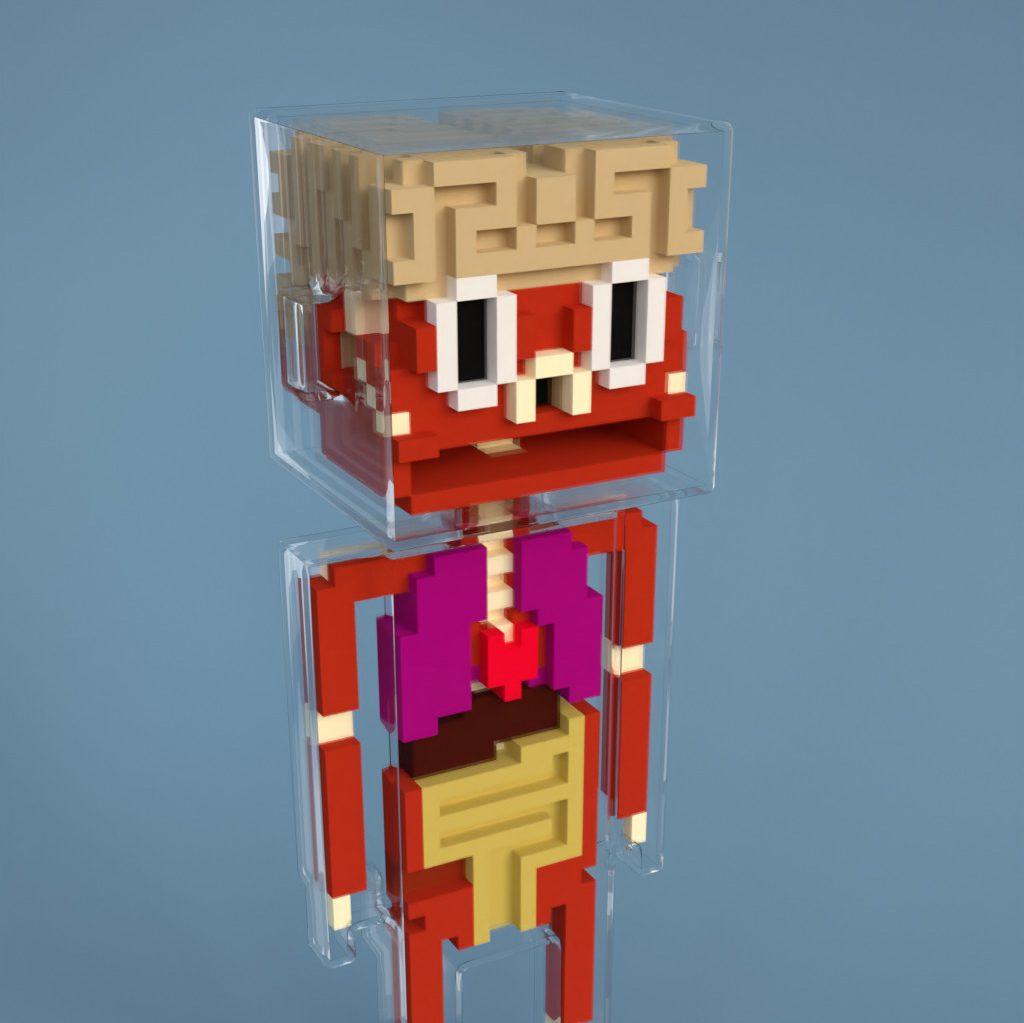 As such, Meebits NFTs can be broadly categorized into seven types. In ascending order of rarity, this includes Humans, Pigs, Elephants, Robots, Skeletons, Visitors, and the truly exclusive Dissected type, of which only five have been minted — with none currently up for sale. As of recent valuations, the average sale price for these rare NFTs is roughly 700 ETH — north of $900 thousand.
Sounds cool. But how do I buy Meebits?
Part of how Meebits broke ground in the NFT space when it launched lies in how much Larva Labs encouraged the Meebits community to share and trade with each other. Crucial to this was the focus on giving its official marketplace a painless user experience.
On Meebits' official NFT marketplace, users can enjoy a zero-fee system that "allows simple buy, bid and ask transactions," together with deeper, more complex transactions such as "'like-kind' trades involving up to 100 Meebits," according to its official site. This is thanks to how the Meebits marketplace is partly run off-chain to minimize gas fees and network usage. But that doesn't mean you'll never run into fees when using the marketplace. Some instances of this still arise; for example, users are asked to cough up the usual Ethereum gas fee when canceling trades in progress.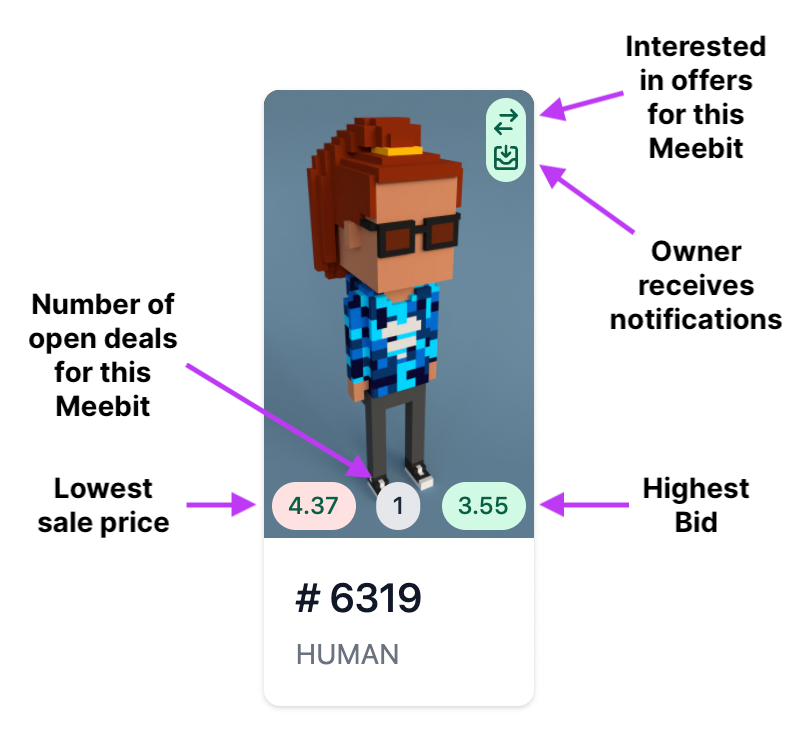 This convenience is also built into the Meebits marketplace's UI, which conveys a wealth of information to interested shoppers at a glance. With all these conveniences to shoppers browsing Meebits' own integrated marketplace, it's hard to imagine looking elsewhere. Of course, the option remains for those browsing through a larger NFT marketplace — Meebits lives there, too. Like other extensive collections, Meebits NFTs are widely available on some of the top NFT marketplaces, namely OpenSea and the Crypto.com NFT marketplace.
A metaverse-ready collection
For comparison, Meebits can be understood as a full-body 3D update to the iconic CryptoPunks style. The twist? 3D here means a voxel art style reminiscent of the OG Punks, other Larva Labs characters, and the virtual denizens of Minecraft.


All this is in service of Meebits' most ambitious goal: to replicate the success, CryptoPunks found on traditional social media in the metaverse. That means ensuring users can access high-quality 3D avatars usable in virtual reality, augmented reality, and everything in between.
To bring this goal into reality, Meebits provided a crucial tool for users hoping to use their Meebits in 3D spaces to their fullest potential: a T-pose OBJ file. No, this isn't let users assert dominance online — it's to help users import their prized Meebits into most 3D modeling and animation software, so they can tinker away to their heart's content.
Why Meebits matters
Despite how Yuga Labs acquired the rights to CryptoPunks and Meebits in March 2022, these brands were built by Larva Labs, and we shouldn't forget it. This sentiment is echoed by day-one supporter and MeebitsDAO Co-Founder Sergio Silva.
"While Yuga Labs' own' Meebits now, the reality is that they're a Larva Labs creation first and foremost," Silva said in an interview with nft now. "Judging from the couple of years that passed before the market [gave high valuations to] Larva's first two collections (Punks and Autoglyphs), I think it might be another year or two before Meebits jump into the spotlight. Larva Labs has always been ahead of the times."
Indeed, Larva Labs' Meebits NFT collection seems designed with the future in mind. For example, the launch of Meebits preceded the launch of Meta's Horizon Worlds metaverse game by several months, in addition to Facebook's highly-publicized rebrand to Meta that brought the concept of the metaverse into the mainstream conversation.
With the promise of interoperability in Web3, as the metaverse continues to build momentum and attract users, Meebits is uniquely positioned to benefit from the forward-looking hype. Today, several open metaverse experiences exist throughout Web3, inside which a Meebit could represent your virtual self.
"I think the Meebits are as close to perfect when it comes to a product," Silva said. "They're the first ever fully-rigged 3D characters for use in any Metaverse, and they have their own no-fee marketplace coded at the smart contract level." Of course, that comes with a catch — "personally, I think they just need time," he added. But that additional time might point beyond building Meebits' community infrastructure.
What does the future hold for Meebits?
In the fall of 2022, we first saw what this slow-building process might yield for Meebits. Beginning on August 15, all Meebit NFTs were given commercial rights, further establishing what the community may and may not create with their Meebits IP in the metaverse and real life. This event also came with the announcement that interoperability had been established with The Sandbox Game, allowing owners to play as their Meebits in the game.
Then, in October, the company launched a new Meebits activation to provide insight into the project's future and to give holders the option to claim free 1/1 prints of their owned NFTs. With the announcement, Yuga dictated that Meebits innovation will happen in phases, with these prints being part of the "MB1" phase.


"MB1 represents a beginning; the first chapter of this story. As the Meebits go adventuring, this evolving site will be your access to every experience along the way," said Meebits Brand Lead Danny Greene via press release. "There will be nine releases to MB1, and a new site will be a launchpad for each new experience, activation, or opportunity."
Keeping in mind Yuga's promise of innovation to come, perhaps the best thing to do at this point in the Meebits timeline is to wait to see how Web3 unfolds in the coming months and years. As integrated accessibility and readiness for the metaverse becomes a more desirable feature for other NFT projects, things will undoubtedly continue evolving for PFP collections and beyond.