If you've been around the NFT space, you've likely seen Nouns' playful pixel art images featuring signature bright colors and simple blocky designs. As time goes on, you'll definitely see these unique characters more and more frequently. Unlike most NFT projects that have a set number of supply before mint, Nouns is an infinite work of art. One Noun NFT is generated every single day "forever."
As a community-driven brand, Nouns aims to use its open-source IP to empower holders to fund their most ambitious dreams and business ideas with their NFTs as the face of the projects. Nouns are already making their mark as brand ambassadors to innovative ventures — representing everything from clothing brands to chocolate bars to extreme sports clubs.
Here's what you need to know about the Nouns project, the ecosystem, and its community.
What are Nouns NFTs?
Nouns is a generative non-fungible token project on the Ethereum blockchain. Each Noun is a 32×32 pixel character made up of almost endless combinations of bodies and accessories, including 242 heads, 140 accessories, 30 bodies, 23 glasses, and two backgrounds.
The first-ever Noun was auctioned on August 8, 2021, and features a fox as a head and pink and purple two-tone glasses.

Nouns operate under a CC0 license, which places the artwork in the public domain and grants users unrestricted access and usage rights.
Every day, the Nouns DAO generates and mints a new Noun, which adds to the ever-growing collection. The Noun is then placed up for auction to the highest bidder. This process ensures that the Nouns ecosystem remains dynamic and continuously evolving while providing a means for community members to acquire and trade unique NFTs.
One hundred percent of the money from sales goes straight into the project's communal treasury. Ownership of a Noun NFT also grants membership to the Nouns DAO, allowing the holder to participate in the governance and decision-making process. Each Noun represents one vote.
How many Nouns are there?
Nouns will generate forever, resulting in a neverending supply. At the time of writing, there are 765 Nouns NFTs on the Ethereum blockchain. Currently, 396 owners have at least one Noun in their wallet.
How can I buy a Noun?
Anyone can participate in Noun auctions on nouns.wtf, a website built and maintained by the project founders. Fans are also welcome to create their own Noun and play around with the traits on the Nouns Playground. All Nouns created so far can be viewed and purchased on secondary on OpenSea.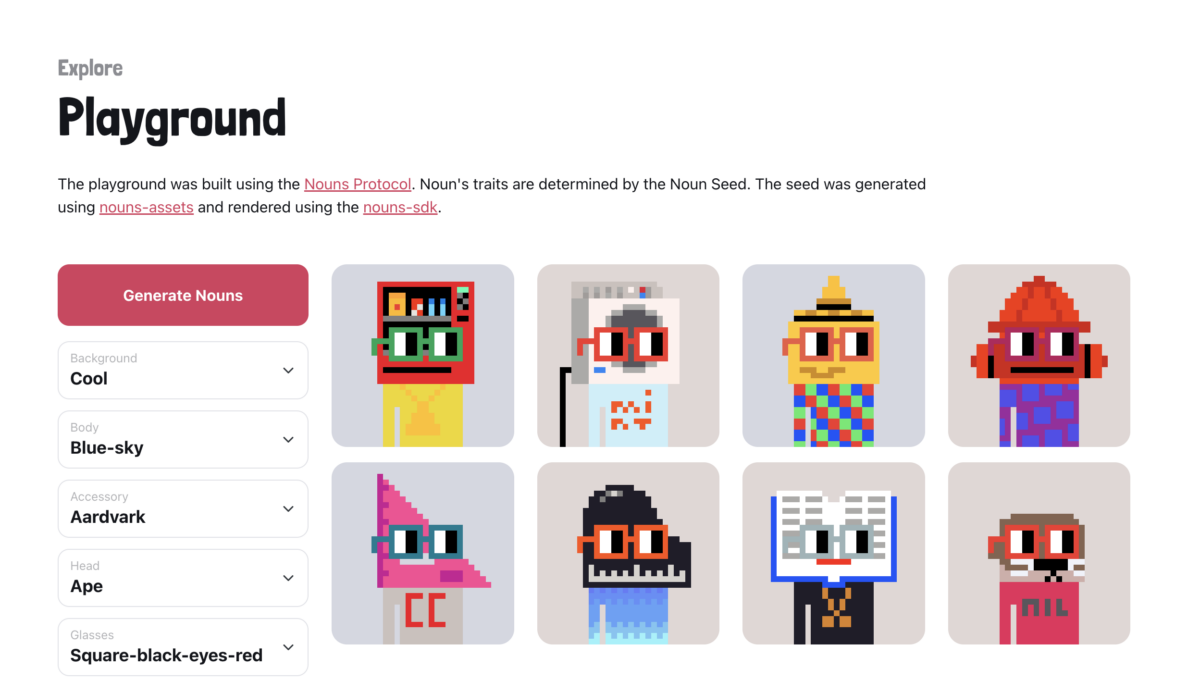 Who created Nouns?
The original founders of Nouns, affectionately named 'Nounders,' are a group of 10 builders, creators, and NFT thought leaders who first initiated the concept of Nouns and Nouns DAO. This includes CrypToadz founder Gremplin, Vine co-founder Dom Hofmann, Chimpers founder Timpers, and Punk4156. Additional Nounders include lastpunk9999, devcarrot, cryptoseneca, eboyarts, punk4464, and _solimander.
To ensure that all proceeds from Noun auctions support the Nouns DAO ecosystem, the Nounders have opted to receive compensation in the form of Nouns. Specifically, every tenth Noun generated during the first five years of the project will be automatically sent to a Nounder's multisig wallet, where they will be vested and distributed among the project's founding members.
Notably, the distribution of Nouns to the Nounders does not disrupt the regular cadence of 24-hour Noun auctions. Once a Noun is generated, it is sent directly to the Nounder's multisig, and the next available Noun ID is made available for auction as scheduled. This approach helps to ensure that the Nouns ecosystem remains fair and accessible to all participants while also providing a means of compensation and support for the project's founding members.
What is the Nouns DAO?
Owning a Noun allows holders the ability to participate in the governance of the Nouns DAO. This includes the ability to propose new initiatives and vote on proposals submitted by other members. If a proposal is approved, it will automatically be executed as a transaction on the Ethereum blockchain.
Nouns can vote on proposals or delegate their vote to a third party. A minimum of two Nouns is required to submit proposals. Nouns DAO has funded countless creative ideas, including fashion collections, Super Bowl commercials, and more. The active list of proposals the Nouns DAO votes on can be viewed here.
Notable proposals
The Rise of Blus: A Nouns Movie
In June 2023, Nouns DAO and Atrium released part one of The Rise of Blus: A Nouns Movie, which features popular NFT characters from the Nouns community. This marked the first-ever animated movie to be funded by a DAO.
The plot of The Rise of Blus centers around the lively floating cloud city of Blus, wherein a daring 13-year-old Noun uncovers a malevolent scheme by the city's aristocrats. The young hero must band together with a motley crew of unlikely allies (other Nouns) to thwart the threat and protect those they hold dear.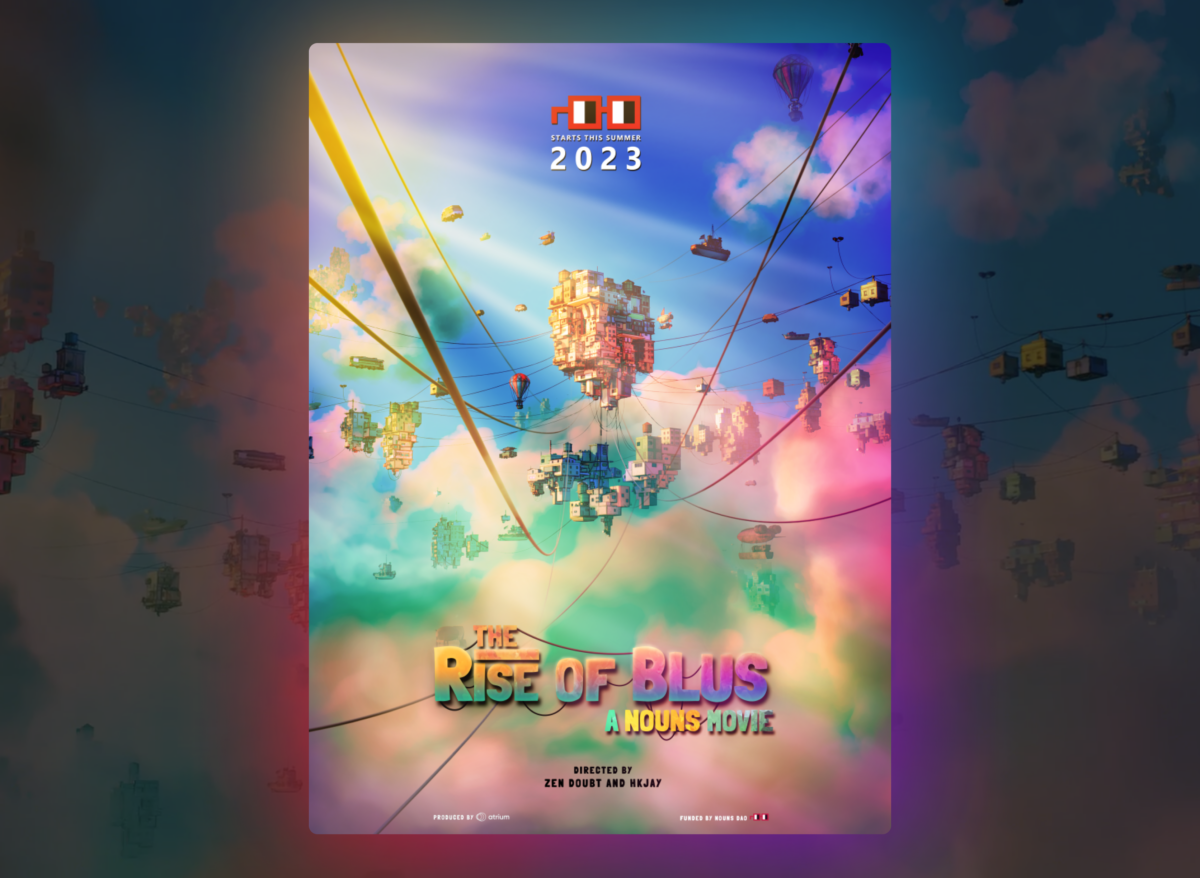 Danit Peleg x Nouns
Danit Peleg is a designer who made headlines when she printed the world's first 3D-printed ready-to-wear collection in 2015. Recently, the Tel Aviv-based creator partnered with Nouns to create five 3D-printed outfits inspired by the NFTs and funded entirely by Nouns DAO. The collection debuted in March 2023 at NFT Paris and includes Queencrown, Loading, Snowglobe, Crt BSOD, and Cash Register.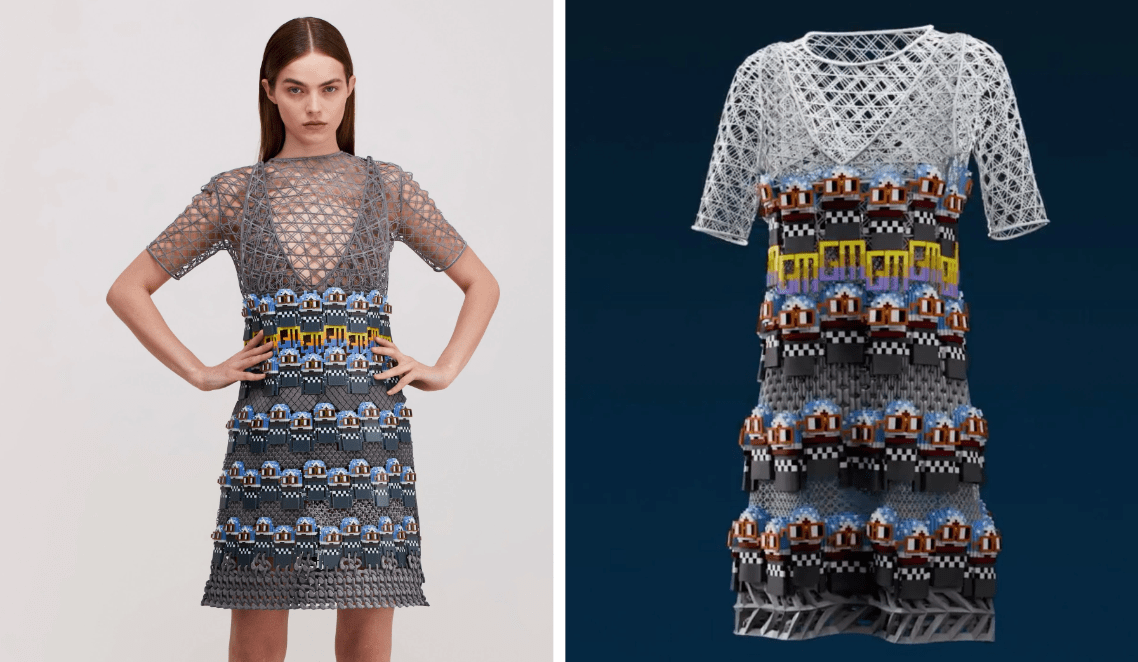 Nouns x Fitz Frames
Nouns × Fitz Frames Prescription Subscription partners with screening and testing partners to provide glasses for kids if they lose them, break them, grow out of them, or just desire a new pair to compliment their style. So Far, Nouns DAO has funded over 3,000 prescription glasses for kids and a specialized examination van delivered in December 2022.
Bud Light Superbowl commercial
In January 2022, the beer giant acquired Noun #179 for 127 ETH. After submitting and receiving approval for a proposal, Bud Light featured the iconic glasses from the Nouns ecosystem (known as "Noggles") in a commercial that aired during Super Bowl LVI. This demonstrated the growing mainstream appeal of NFTs and the Nouns ecosystem, as major corporations are beginning to recognize the unique value of these digital assets.
In addition, the brand also temporarily changed its Twitter avatar to feature Noun glasses. The proposal states that Bud Light "intends to allow holders of the brand's own NFT to collectively vote with their Noun on future governance proposals." In the future, Bud Light may even produce a limited run of cans featuring custom Noun packaging for Noun holders.
The birth of 'Lil Nouns'
Lil Nouns, a project created within Nouns DAO, features a collection of adorable and whimsical Nouns at a more affordable price point. It was founded by 0xsvg and adelidusiam.
These Nouns are smaller than traditional Nouns, measuring just 16×16 pixels, and feature unique and playful designs intended to evoke a sense of cuteness and charm. They are generated every 15 minutes, but anyone can make a Lil Noun here.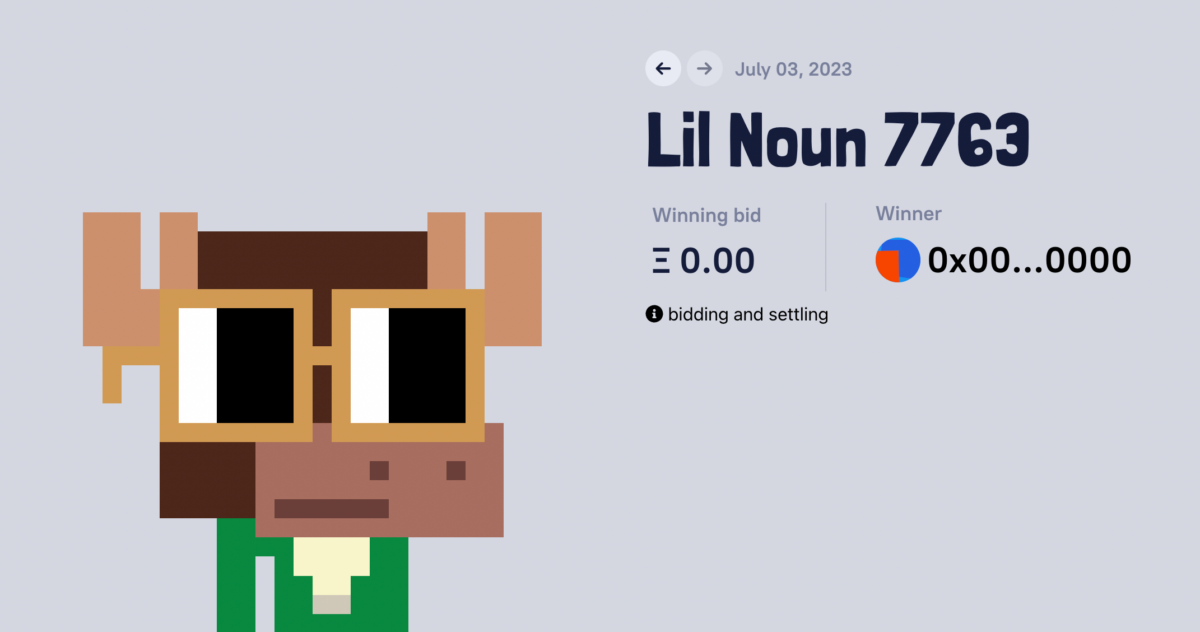 Similar to traditional Nouns, Lil Nouns are represented on the Ethereum blockchain. However, artists create Lil Nouns by submitting their designs to the Nouns DAO. This process differs from the generation of traditional Nouns, which are randomly generated through a unique algorithm. Once a design is approved, the Nouns DAO mints the new Lil Noun and adds it to the collection.
For those interested in joining the Nouns DAO community but unable to afford a traditional Noun, Lil Nouns provide an accessible entry point.
The future of the Nouns ecosystem
Nouns has come a long way since its 2021 launch, yet the team behind the project still has more in store. At 2023's ETH Denver, Nouns DAO developers David Brailovsky and Elad Mallel announced that the team plans to implement new features such as private voting, enhanced security measures, and a more dynamic user experience to further strengthen the Nouns ecosystem. Examples include dynamic quorum, ragequit design space, a conditional objection period, and more.
Every day, as new Nouns are created, the DAO forges partnerships with brands and creators to fund fresh and innovative projects. The growing community of members submitting and approving proposals will continue to expand the influence of the Nouns ecosystem.