Avenged Sevenfold are taking their fans into the metaverse on the wings of Deathbats. The heavy metal band announced early in November that they're launching their own NFT project — the Deathbats Club — in December on AvengedSevenfold.io at a starting price of between .06-.08 ETH. The collection is meant to not only build upon the community of A7X fans, but also to reward those who are following the rockers into web3.
The NFTs, which are inspired by the band's logo of a skull with bat wings, are a collection of 10,000 tokens with different traits and rarities that will reward their owners with a variety of goodies. "We want to add so much value that you'd have to be crazy to sell that token. We want it to be like you're treated like royalty when you have that token from the band," frontman M. Shadows told nft now, noting that the traits are "very comparable" to what Bored Ape Yacht Club did. "We want our fans to understand that we know we can sell out our collection to flippers — we don't want that. We want our fans to get it first, get them educated on [NFTs], get them into the space."
Among the perks? Free concert tickets and meet-and-greets, and airdrops of goodie boxes to fans' homes, for starters. And for the lucky ones who hold the 1/1s of each band member? Major bonuses crafted around each musician's personal passions and talents, such as a round of golf for you and your friends with M. Shadows, and guitar lessons with Synyster Gates, redeemable each year for as long as the band wants to keep doing it.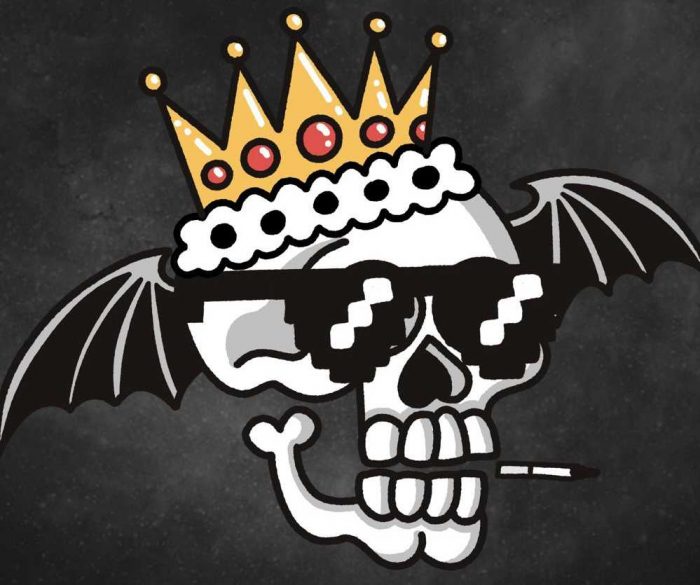 And it seems like they're in it for the long haul. Though the NFT space has seen massive growth in 2021 (Q3 saw NFT sales skyrocket to $10.7 billion), with many celebrities and musicians venturing into the space, Avenged Sevenfold isn't in it for the quick cash — they're NFT purists.
M. Shadows and Syn told nft now that they hold some seriously coveted NFTs in their deep wallets. Among them are several CryptoPunks, Bored Apes, Cool Cats, Fidenzas, CrypToadz, Wicked Craniums and many, many more. "We have a lot of premiums," shared M. Shadows. "We have too much stuff of everything — it's practically pathetic!"
Being heavily invested in the NFT space, it's no surprise that M. Shadows and Syn aren't taking the band's NFT project lightly. They've already spent six months on getting the Deathbats Club just right, from the art — done by independent punk rock artist Phil Howell — to the incentives to figuring out how to get their less tech-savvy fans on board, all to better serve their community of followers.
Entering Bat Country
Before there were Deathbat NFTs, there were CryptoPunks. M. Shadows — who was already getting into crypto in 2016 — started hearing about the retro-flavored PFPs in early 2020, about two and a half years after the collection launched. And by early 2021, the singer was ready to have one of his own. After he purchased his first Punk, the Bored Ape Yacht Club swung into the NFT space, and he minted those too.
"I saw what happened with [the Apes] and the utility that they brought," he shared. "Then we started putting the pieces together: Anyone with an audience should probably be using the blockchain and connecting their fans and the community and building it that way."
Since the launch of the first 10,000 Apes, the project has shown how NFTs can not only bring a community together (having an Ape as your social media avatar is an easy identifier and a major flex), but also give collectors ownership (those who hold Apes own the commercial rights for their specific NFTs). There's also what feels like rewards galore, ranging from airdropped "serums" that mutate an Ape, to entry to coveted exclusive events such as the BAYC Warehouse Party during NFT.NYC in November, which featured performers The Strokes, Beck, Lil Baby and more.
Seeing what BAYC accomplished inspired Avenged Sevenfold. "We were like, 'Wow, they kind of created this out of thin air. We have 20 years of audience building, so this will be easier for us than it is for them in a way," said Shadows. "What we have to do is be really respectful of what this is and don't just ruin it. Take what NFTs are doing right and then take our audience and take them into that world."
"So we created the Deathbats Club, which is every single thing that [fans] want from us, which is our time, our energy," he noted. "Allowing them to build on it — which will eventually be a decentralized platform for us — building out The Sandbox, building out the experience, building the community. And the only way we can do that is with tokens."
The Value of Connection
One of the first things M. Shadows and Syn did? Boot up a Discord for the band, which currently boasts more than 32,000 members. The purpose of it was to help fans explore the NFT space and the band's upcoming project by educating them, and also to share their art.
"So it started becoming, 'Oh, you understand the ecosystem; you understand the community," explained Shadows of their Discord discussions. "We're not selling you a piece of art — we're selling you an experience. It happened slowly, but it was inevitable. I think it's inevitable that everyone's going to do this."
"I think the band's really excited about the utility of everything," Syn added of the Deathbats Club project. "We're really excited to have the deeper connection with our fanbase, and that's what we sit around and ideate the most about — what can we provide them: free meet-and-greets, or things that are more creative, like exclusive listening parties, or guitar lessons, or tips and advice on the business."
With this much value-add behind their NFTs, M. Shadows emphasized that he really doesn't want the collection falling into the hands of people who just want to make a quick buck, and so, he's intent on helping fans understand the NFT space and what holding one of A7X's tokens means. "We want our fans to get it first, get them educated on it, get them into the space, and get them at the base level the cheapest price to get in on, instead of, they find out a year from now and the floor is 5 ETH. So our biggest thing is education."
As it turns out, there was some learning to be done on both sides.
Getting Schooled
The band launched in 1999, long before NFTs were even an idea. So it's no surprise that despite 20-plus years of building an enviable fanbase, not all of A7X's followers have quite wrapped their heads around non-fungibles and what the band is about to release.
To help the group grasp how much of the NFT space their fans understand and what their appetite might be for Avenged Sevenfold NFTs, the guys launched their first collection, Into the Ether, in May for free. The drop of 101 tokens featured art done by painter Cam Rackam, as well as previously unreleased music.
"We wanted to see where the fanbase was based on education and what they would think about it," shared Shadows, explaining that the band added some code to the NFTs so that they could see how many fans actually had NFTs in their wallets. That number? An underwhelming 17. "So it was an eye opener to us that, OK, there's a lot of people that are new to this space that are not collectors and they don't know what this is. So we airdropped the 17 that had NFTs, because we wanted to make sure they were in hands that wouldn't lose their seed phrase."
Six months later, the band's first batch of NFTs has increased its floor price from 0 to 3 ETH on OpenSea, the biggest marketplace for digital collectibles. What's more, the band even got a CryptoPunk in exchange for Into the Ether #101. "We actually traded the highest one for a CryptoPunk — a guy wanted it, we said it's not for sale, and he traded us a CryptoPunk for it," said M. Shadows of how A7X snagged Punk #1432 in August. "So yeah, the band has a CryptoPunk now."
The singer said that the trade solidified the idea for their next drop, a larger collection with utility. "The 101 stand alone because they're the first one, and people simply aren't willing to sell them, which is kind of cool, but there's no liquidity," he explained. "So it's like we need a bigger collection where people can get in at a lower price and be a part of this community."
The education wasn't all on the band side, though, and the community is playing a part. Syn shared that the group has been working on getting their fans into the Discord channel to learn about NFTs. "You can get unbelievable amounts of information and knowledge there," he pointed out. "It's a really helpful community."
M. Shadows also shared that the group has been shooting educational videos to help fans get into the NFT space, and they'll be released leading up to the drop of Deathbats Club.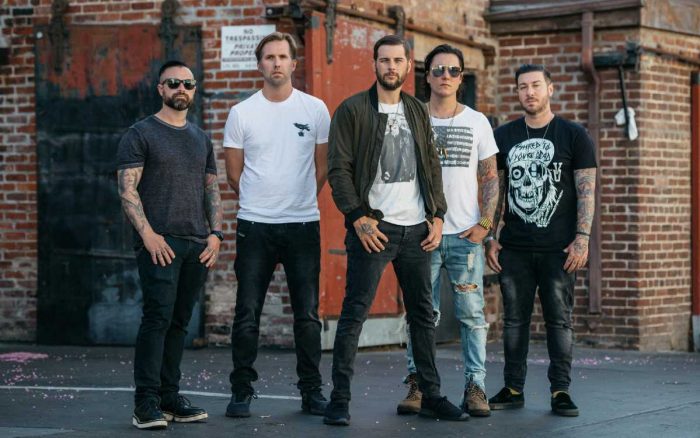 Keeping It Personal
There's a reason the band chose to do 10,000 tokens for the Deathbats Club despite having a much bigger fanbase. "We just wanted to keep the digital scarcity thing," M. Shadows explained. "We can superserve 10,000 people. It's not going to be as personal if it's 20,000 to 30,000."
What's more, A7X has seen how the 10,000 number has worked so well for other incredibly successful projects, ones that the singer and guitarist have in their wallets. "I think 10,000 worked really well for the Apes, for the Punks and the Cool Cats and all that. We're going to start there and see if this gets out of hand, and if we need more," M. Shadows said. "But we don't want to devalue the 10,000! We have a lot of thinking to do."
Maybe so, but he and Syn made it clear that the band has already put a considerable amount of thought into the project to get it just right — for the group, the fans, and the NFT space. "A7X being a band, we have to go, 'What do NFTs mean to us' and fully step into that," M. Shadows said, adding that they're already planning ahead.
"We just want to be well planned out because I've seen a lot of projects drop and they're like, 'Oh, I guess we're gonna buy some land and Sandbox, and then I guess …,'" the frontman shared. "We've been building in Sandbox for six months; we're gonna have stuff ready. When three months after our thing drops, we're gonna be like, 'Hey, want your avatars with Sandbox, and here's the land. It's already done.' We're gonna have things built out."
Flying Into the Future
Avenged Sevenfold may have big plans for their NFT project, but they also have huge hopes.
"World domination!" Syn cracked.
But even better, a booming community. "I'm always looking a year or two out: of this community that is completely thriving, they're completely happy with owning their token, they're completely building out their gambling in the casino in The Sandbox, they're having parties, they're doing virtual hangs," envisioned M. Shadows. "We show up and do poker nights or hang out with them, then we go to shows and we can interact with these people in real life and have parties and fly people out."
"Think about a community just based around all of these records that we've written," he added. "Hopefully, it becomes bigger than the music, to where you can take that out and they still want to be part of that community. That's my biggest hope."
Avenged Sevenfold will announce a drop date for the Deathbats Club in their Discord, where you can also get more information about the project.
Related Content:
Images courtesy of Avenged Sevenfold.