With the Supreme Court's recent decision to overturn Roe v. Wade, political and social relations in the United States are again being strained. Whatever your opinions on the decision, or toward abortion in general, there are certain facts about abortion bans that must be taken into account when formulating those opinions. And those facts are clear and easy to see, thanks to a growing body of evidence gathered from a range of studies.
The expert consensus suggests two clear trends pertaining to these kinds of restrictions. The first is that bans do not result in any significant, long-term decrease in abortion rates. While they sometimes lead to a temporary decrease in rates as people attempt to adjust to new conditions, such trends are shown to be unlikely to last.
The second is that abortion bans do not affect all people equally. While some pregnant individuals who live in states with strict bans will ultimately find ways to undergo the procedure (via traveling out of state or worse, finding illegal and highly unsafe methods to do so), others will simply be forced to carry the pregnancy to term. It is not a mystery who will have to face such a scenario.
"In fact," writes Michelle Oberman, an internationally-recognized scholar in ethical issues regarding pregnancy and motherhood in the Journal of Law and the Biosciences, "we have a surprisingly clear picture of those who the bans are most likely to deter: they will be disproportionately young, poor, Black, and brown women. Abortion bans come as one in a long list of factors that circumscribe the reproductive lives and life options of these Americans."
With these facts and the Supreme Court's recent decision in mind, we felt it appropriate to highlight a number of NFT projects that support and directly fund organizations working to defend reproductive rights in the United States.
Salem Ilese and Nadya Tolokonnikova drop "Crypto Boy"
Salem Ilese teamed up with Pussy Riot's Nadya Tolokonnikova for an NFT music drop in May 2022, leveraging the project for a charitable cause. The pair released "Crypto Boy," a satirical take on the stereotype of the "crypto bro," for sale at 0.1ETH per edition. The song, which you can still purchase, raised 86.4ETH ($105,462 at the time) and has seen 11.7ETH ($14,437) in total sales volume on OpenSea.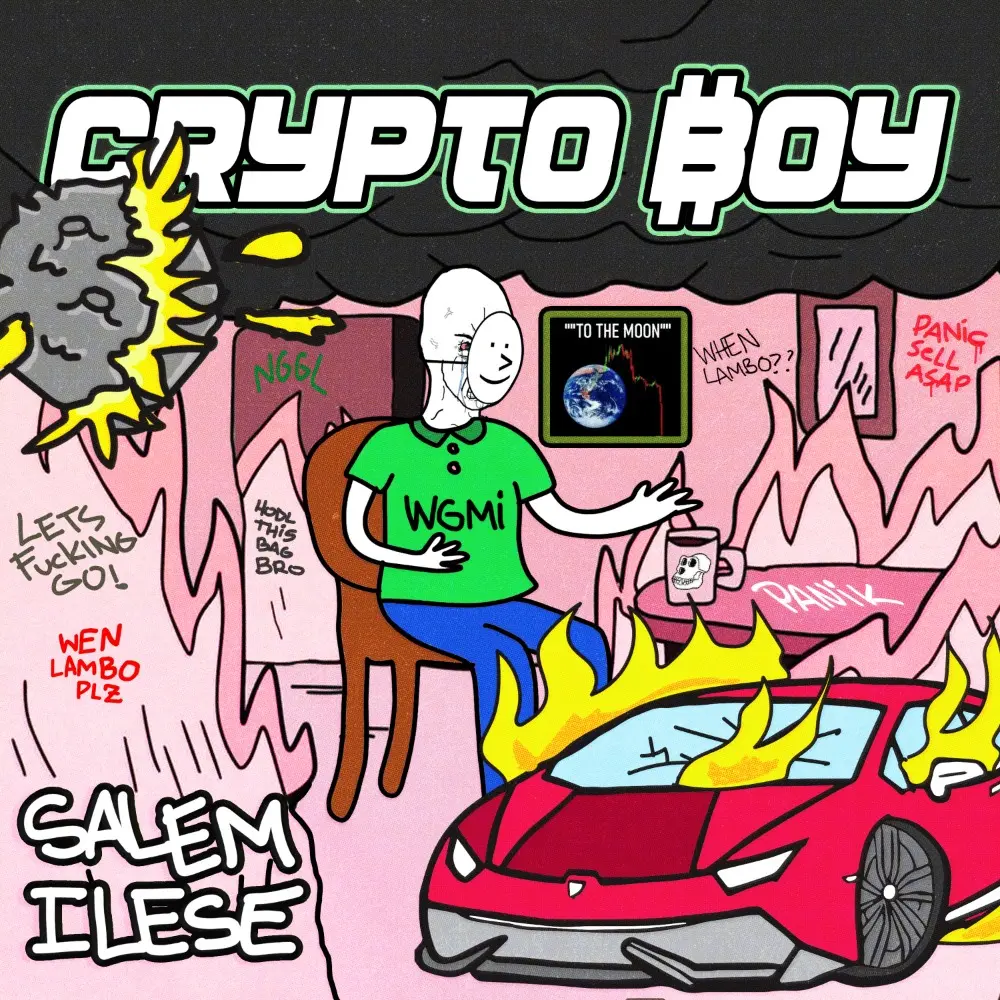 The project was designed specifically with the (then potential) overturning of Roe v. Wade in mind. All proceeds are being donated to the Center for Reproductive Rights. Of the project, Ilese said, "It's imperative that we band together and fight to protect our fundamental rights."
UnicornDAO launches LegalAbortion.eth
LegalAbortion.eth is a crypto wallet that functions as a donation center for traditional reproductive rights institutions (like Planned Parenthood) who don't otherwise have the logistical means to accept such donations.
A product of UnicornDAO — an initiative co-founded by Pussy Riot's Nadya Tolokonnikov that aims to redistribute wealth to women and LGBTQ+ individuals — and Endaoment, a Web3-focused philanthropic organization, LegalAbortion.eth is the culmination of lessons learned from UnicornDAO's previous humanitarian fundraising efforts.
By using what's called a multisig vault (basically, a wallet with shared custody that greatly increases its security) and buying the ENS domain LegalAbortion.eth, the group has done a lot to assuage common fears and worries of scams generally associated with Web3 tech to further encouraged donations.
Individuals can donate anonymously. Proceeds from the initiative will be distributed among a group of seven organizations dedicated to supporting reproductive rights. These include the Center for Reproductive Rights, Fund Texas Choice, SisterSong Women of Color Reproductive Justice Collective, NARAL, Fòs Feminista, Planned Parenthood, and URGE: Unite for Reproductive & Gender Equity.
Key supporters of the project include Sia, Andrew Wang, William Tong, ThankYouX, SnowFro, Jill Moriarity, and Consensys Mesh. Adding his influence to the cause, Emmy-nominated photographer John Knopf announced on Twitter that he will be using the wallet for his upcoming NFT drop, donating 100 percent of the proceeds to the cause.
As of the time of writing, Endaoment has raised just under $70,000 in donations. If you're interested in supporting the group, head here to donate.
Jenny Holzer responds to Roe v. Wade decision
During a May 11, 2022 broadcast of a Fox News panel discussion of COVID-19, vaccine mandates, and mask policies hosted by Tucker Carlson, the channel's chyron read: "MAKING AN INFORMED CHOICE REGARDING YOUR OWN BODY SHOULDN'T BE CONTROVERSIAL."
Picking up on the scene's uncanny resemblance to conceptual artist Jenny Holzer's Truisms series (1977-87), ACLU employee Gillian Branstetter screenshot the image and tweeted it out, saying, "This is like a Jenny Holzer installation or something right." Holzer's Truisms work often dealt in the sarcastic and ironically juxtaposed.
Holzer saw the tweet and turned it into an NFT named "BODY," auctioning it off for 12.10 ETH ($14,587.28 at the time) and donating the funds to Planned Parenthood, the Center for Reproductive Rights, and PAI. The auction is still open and accepting bids.
CowgirlDAO
With the tagline, "We're angry, so we're getting organized," another group taking advantage of Endaoment's efforts is CowgirlDAO, which launched the 10k F— YOU collection in May 2022. 
Spearheaded by Molly Dickson of Computer Cowgirls, an NFT community that already donates a portion of their NFT collection proceeds to groups supporting abortion rights, 10k F— YOU intends to raise $3 million for abortion rights. 

The 10,000 NFTs come in three editions: "My Mom Said You're Not Supreme, Alito," "Kick Rocks, Kavanaugh," and "Never Heard of you, Coney Barrett." Collectors can mint these editions for 0.03, 0.09, and 0.9 ETH, respectively. The art and smart contract behind the collection were donated to Endaoment, which receives the proceeds and donates them to charities with the advisement of the CowgirlDAO.
The Giving Block makes it easy to donate
In February 2022, the NFT collective Crypto Chicks became the first to donate crypto to the International Planned Parenthood Federation. Elissa Maercklein, Crypto Chicks CEO and CMO, contacted the IPPF and helped ensure the group would accept crypto donations in the future via a platform called the Giving Block.
Similar to how Endaoment operates, the Giving Block allows people to find an organization of their choice (among their many campaigns, such as the Crypto for Women's Rights Campaign) and easily donate to the cause of their choosing.