In the latest in a string of legal actions relating to the crypto industry in recent weeks, Alex Mashinsky, the co-founder and former CEO of the now-bankrupt cryptocurrency lending platform Celsius, was taken into custody on Thursday, Bloomberg reported. The development follows an extensive investigation into the company's abrupt downfall, according to a source familiar with the situation.
The U.S. Securities and Exchange Commission (SEC) has leveled accusations of securities fraud against both Celsius Network and Mashinsky. This lawsuit was swiftly followed by legal actions from the Commodity Futures Trading Commission (CFTC) and the Federal Trade Commission (FTC).
"From March 2018 through June 2022, Defendants Celsius Network Limited and its founder and CEO Alexander Mashinsky raised billions of dollars from investors through unregistered and fraudulent offers and sales of crypto asset securities," the SEC's legal filing reads. "Defendants falsely promised investors a safe investment with high returns through its 'Earn Interest Program,' they misled investors about the financial success of Celsius's business, and they fraudulently manipulated the price of Celsius's own crypto asset security—the so-called 'CEL' token."
The SEC's complaint contends that Celsius Network's token, CEL, and its Earn Interest Program are securities. The complaint states, "In this case, Celsius offered and sold CEL and the Earn Interest Program as securities […] Celsius and Mashinsky never filed a registration statement or had one in effect with the SEC for their offers and sales of securities through the Earn Interest Program."
A foregone conclusion
Earlier this month, reports emerged suggesting that Mashinsky and Celsius Network could be facing legal action from the CFTC. The investigators at that body have reportedly concluded that the defunct lender and its CEO violated regulatory rules by providing misleading information to investors.
Celsius Network declared bankruptcy in July of last year. Subsequently, the crypto consortium Fahrenheit emerged as the successful bidder for the company's assets.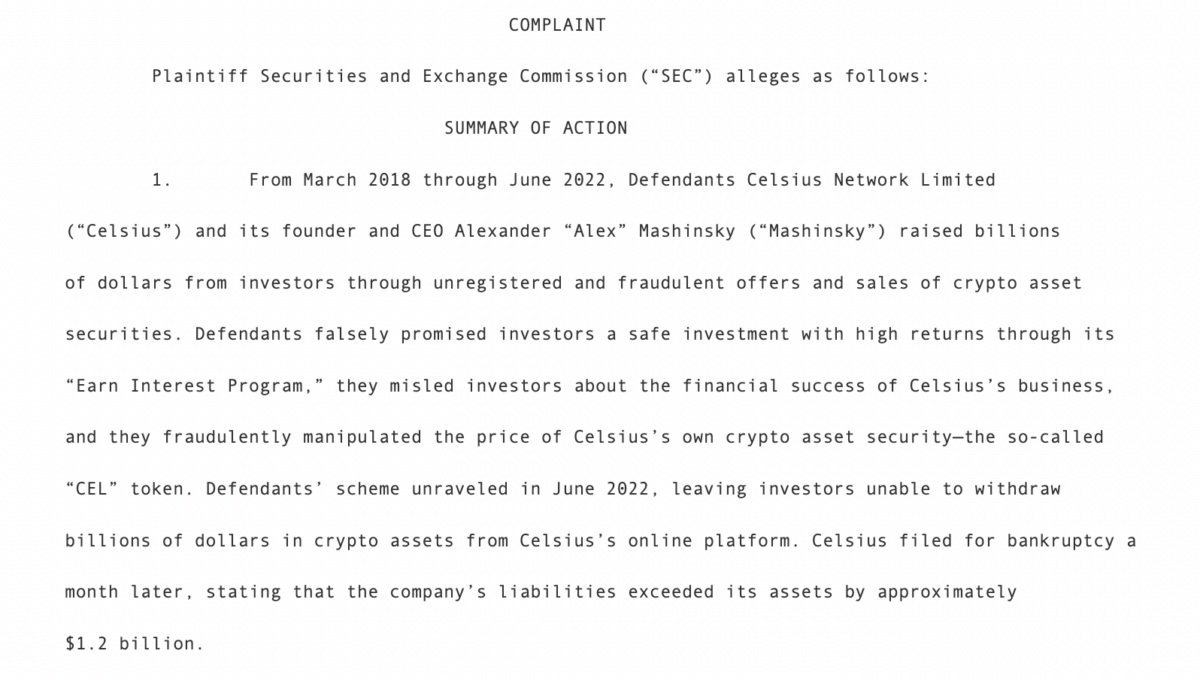 New York Attorney General Letitia James had previously filed a lawsuit against Mashinsky, alleging that he had deceived investors about the financial health of the company.
Mashinsky's arrest and the legal actions against Celsius Network underscore the increasing regulatory scrutiny facing the cryptocurrency industry. As the sector continues to grow and mature, navigating regulatory compliance will be a key factor in the success and longevity of crypto platforms and services. However, some believe the stringent nature of the SEC's regulatory approach is driving crypto innovation out of the U.S.