There's a general consensus within the digital community that early adoption often yields the greatest rewards. In the context of Meta's newest Twitter rival, Threads, creators have a unique opportunity to establish their presence and grow their influence.
Threads is currently less saturated than platforms like Twitter, so some Web3 users find it a more focused environment. Less noise doesn't mean a smaller audience – it means a higher chance of being seen and engaged with.
Whether you're an artist or brand navigating the Web3 space, here's how you can optimally harness the capabilities of the new Threads App to boost your presence and influence.
Exclusive drops
Conducting an exclusive drop to reward your early supporters offers several advantages. Beyond showing your appreciation, it can create buzz due to the limited availability of the drop. For example, in honor of the launch of the platform, Empress Trash announced a free mint to her followers exclusively on Threads.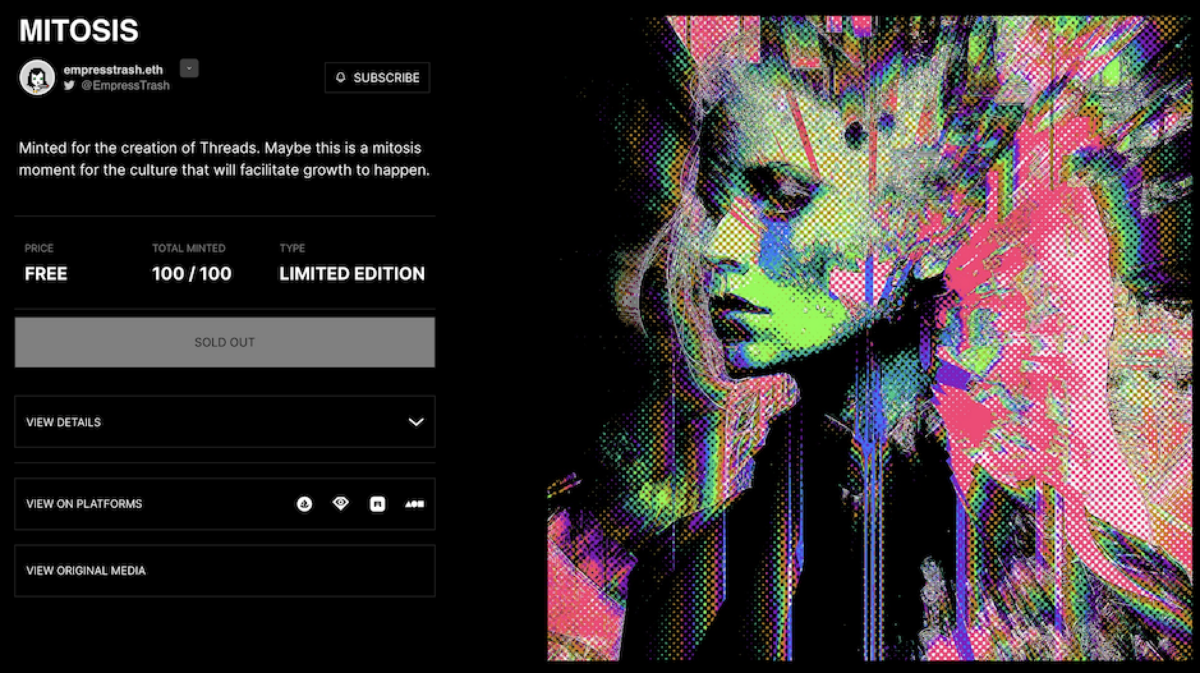 Share NFT art
While Twitter is known for fostering longer analytical discussions and debates, Threads is currently comparatively simpler and stream-of-consciousness-focused rather than news focused. Artists like ThankYouX and Vinnie Hager have been using Threads to share their thoughts and art freely.
Digital and pop culture artist Bryan Brinkman, who is on both Twitter and Threads, observed a significant contrast in the user cultures between the two platforms. Additionally, he pointed out that the structural design of Threads offers substantial benefits for artists.
"Threads has the potential to mesh Web3 people into the Instagram/Meta ecosystem that has historically been hostile towards NFTs," Brinkman told nft now. "From an artist's standpoint, I see immediate advantages with horizontal image displays, and unlike Bluesky, videos and gifs are allowed."
Promote positivity
Many users have been recently posting about their Threads being removed due to "violating community guidelines." While the creators of these posts argue that their content was simply sharing news, memes, or jokes, it appears that the Threads moderation team has a different interpretation of what adheres to their guidelines.
"My hope is that artists use this new platform to share the good of the Web3 ecosystem instead of the cynical hot takes we often see on Twitter," Brinkman added. "This is an opportunity to educate and onboard new artists and collectors."
Bring your Instagram community over
Threads presents a unique advantage over starting anew on other platforms. It allows users to transfer their existing community from Instagram directly onto Threads. This feature negates the need to build a following from zero. Users can enjoy a large audience base from the get-go, instantly amplifying their reach and engagement.
The future of Threads
It's still too premature to declare Threads as the definitive Twitter killer. The longevity of the current hype surrounding the platform and its potential to outshine Twitter, in the long run, remains a subject of speculation, especially with a potential lawsuit in the mix. Social media platforms evolve, and public tastes shift in unpredictable ways, making it challenging to foresee the ultimate outcome.
However, being prepared for every possible outcome is a smart move. If Threads ascends to Twitter-level prominence, having an established presence, understanding the platform's dynamics, and knowing how to leverage its features to your advantage will put you several steps ahead. So, whether you're a Web3 creator, project founder, or digital artist, this platform could be your next big opportunity to shine.
Regardless of the future, the rise of Threads underlines a shift in digital conversations where adjusting and pivoting communication skills are the key to thriving.