The utility of Web3 conferences was once undisputed. However, things have changed in recent years. High ticket prices, poorly curated installations, and less-than-inspiring panels have left many dissatisfied.
The consensus is that things need to change, and Consensus has answered the call (apologies for the pun).
Curated by CoinDesk, Consensus is one of the biggest annual events in crypto and Web3. And it seems that the event team is evolving considerably for the 2023 iteration. Today, CoinDesk announced a series of partnerships aimed at creating a token-gated experience for the event. It's centered on Microcosms — an NFT collection that will give holders three years of pro-pass access to Consensus and a multi-tiered rewards system that unfolds from 2023 to 2025.
Microcosms explained
For quite some time, NFT ticketing has remained the underdog of the NFT market. While some of the world's largest music festivals have started to experiment with this kind of ticketing, Web3-centric events outside of the music mainstage have remained relatively untapped. With Microcosms, CoinDesk is hoping to change this.
Each holder will receive a unique piece of generative art created by Brooklyn-based artist Fahad Karim. Speaking to nft now, Sam Ewen, Head of CoinDesk Studios, noted that the art was conceived and created alongside the utility. "The art itself unfolds over a three-year arc to match the three-year access rewards that are companion airdrops," he explained.
The project was created in collaboration with Art Blocks Engine and TokenProof and made possible through Passage Protocol's proprietary Dynamic NFT API, which allows brands to create large-scale, customized digital collectibles that hinge on member loyalty. Through this partnership, the team says that they aim to bring real value to those who are "invested in the future of the blockchain and Web3."
"So many projects in this space don't think past the mint or drop. This project is setting an example of what's possible, from its generative artwork to the way long-term utility is expressed," said Passage Protocol Co-Founder Meral Arik via press release.
The collection features 1000 pieces, which will cost 1.5E each.
Interested in collecting a Microcosms NFT? You'll have a Pro Pass automatically dropped to your wallet for Consensus 2023, 2024, and 2025. Aside from that, you'll get access to different incentives that correspond to different levels of rarity. "Other than the yearly ticket to the show, which everyone gets, the access rewards have their own rarities and are randomized and dropped each year for the next three years," Ewen explained.
In 2023, the rewards include things like a speaking slot at Consensus, a booth on the show floor (a $19,500 value), a comped hotel stay, 25 Infinite Objects, and much more.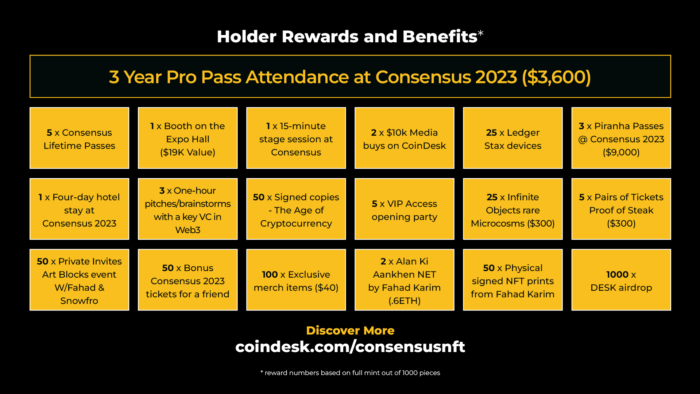 Moving beyond the ordinary
Microcosms gives Consensus attendees a lot more to enjoy and experience than what can typically be found at the event. However, the endeavor is most notable because it speaks to the company's larger commitment to Web3.
Instead of running a standard event with standard tickets, they are experimenting with Web3-based technologies that can be used to increase utility and value and deepen their relationship with their community. Having released the $DESK social token in 2021 to foster similar levels of utility and engagement with their readers, this latest move is, perhaps, just the next logical step.
To learn more about the vision behind CoinDesk's blockchain-powered conference, and to mint an NFT from the Microcosms collection, visit the official mint site here.